Soft Skills vs. Hard Skills: Developing the Right Combination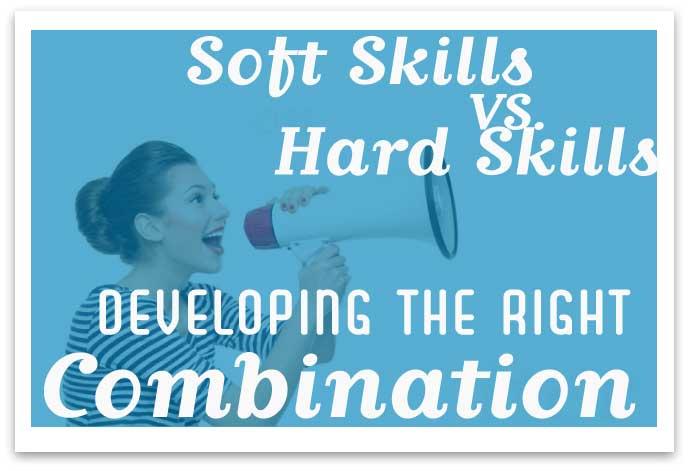 There are multiple factors that go into building the right skills to create a successful career. Soft skills and hard skills are two central ones. Hard skills are skills that can be taught and learned in school such as math, computer science and how to use Photoshop software. Soft skills refer to those behavioral competencies that include communication skills, conflict resolution, working with a team, and creativity. Essentially, hard skills are about your ability to execute a certain type of task or activity and soft skills relate to a person's interpersonal skills.
The only way to develop the right combination is through research and practice. Research the skill sets that your ideal employer seeks and take a personal inventory assessment of your skills. What are you good at? What do you lack? How can you improve? These are important questions to ask yourself and answer honestly. Once you have identified your strengths and weaknesses, you are in a better position to consciously take the steps necessary to improve. You should be able to understand how and why you react to certain people and situations in a particular way, what makes you uncomfortable or upset and what drives you.
Once you have done the necessary research, you can then begin seeking opportunities to practice soft skills such as self-confidence, stress management, self-promotion and presentation skills.
Take a public speaking or public advocacy course
Join a public speaking group like Toastmasters International
Volunteer with a professional association, non-profit or an extracurricular activity
Practice active listening
Strike up conversations with strangers
Craft an elevator pitch and practice promoting yourself to mentors or friends
Study different time management techniques to find the one that works for you
A combination of both kinds of skill sets will separate a mediocre candidate from an exceptional one. In order to develop a good combination, you need to work on your soft skills that require emotional intelligence as much as you develop your hard skills that require brainpower and logic. The criteria for hard skills are more black and white than they are for soft skills, which vary depending on the company culture and coworkers.
For more resources and information on branding and career development, be sure to check out TheBrandingMuse.com.