Sponsoring Girls' Education With She's The First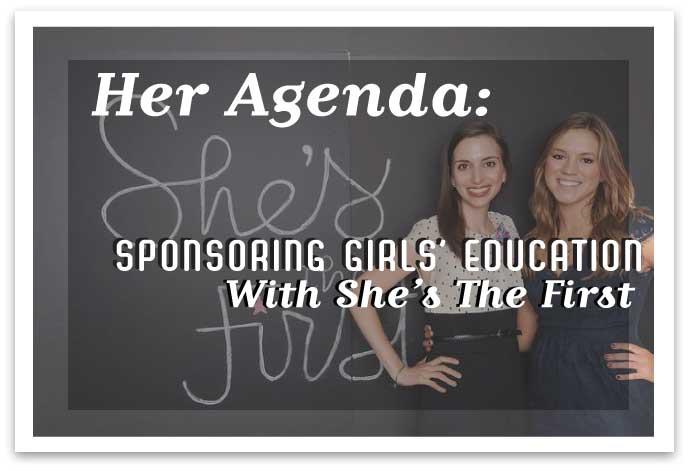 It all started in 2009, with a simple idea by a 23-year-old recent college graduate that wanted to make a major difference in the world.
Educating young women has one of the highest returns of investments for aid. Knowing this, a young Tammy Tibbetts had the idea that it was possible to make a positive impact by helping girls in developing countries be the first in their families to graduate.
The need to educate girls is still a global issue. According to The State Of The World's Girls 2012 report, there are 39 million 11-15 year-old girls out of school. If adolescent girls stay in school and obtain real skills, research shows that they will earn more income in the future, marry later, and have fewer and healthier children.
Tibbetts founded She's The First, a nonprofit that sponsors girls' education in developing countries. The organization now has a presence in eight countries around the world including Ethiopia, Kenya, South Sudan, Tanzania, Uganda, Guatemala, India and Nepal. And now, the organization is on the brink of something that can take them to the next level, they're nominated for a Chase American Giving Award.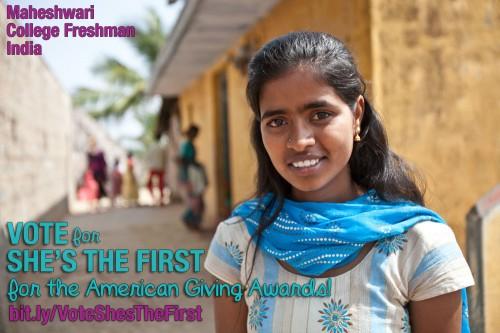 Article continues below advertisement
"[She's The First has grown] beyond our wildest dreams. It's a true testament to the power of social media," says founder and president Tammy Tibbetts.
With their university campus chapters and campaigns She's The First promotes making a difference globally by getting involved locally. Through the creativity of campus chapters and social media, the organization has been able to make a huge impact. Campaigns like The Annual Tie- Dye Cupcake Bake-Off and The Girls Who Rock Concert, raising awareness and funds for young girls around the world has become seamless.
In a few short years, She's The First has made great impact and gained national attention. All their hard work has lead to this important milestone, a nomination in the Educators & Mentors category for NBC's American Giving Awards.
"It would be everything we need to grow tremendously in the next two years!" says Tibbetts. If She's The First wins this award, the organization will receive a grant of twenty-five thousand dollars to one million dollars.
The equation is simple. Funding to She's the First equals more sponsorships for girls internationally, more girls graduating, more campus chapters benefiting from leadership and global advocacy, and more outreach to mentor first-generation college students in the United States.
Article continues below advertisement
"Until this year, we had no operating budget. 100% of the donated money goes to girl's tuition. As the only paid staff, my job is to find other funding for programming cost. This grant will allow us to fund more schools, increasing leadership building and reach our goal of supporting 600 girls by 2014," says Tibbetts.
Take a look at the their official nominee video:
Article continues below advertisement
To win this grant, She's The First will need to receive the more votes than the other four other organizations within the Educators & Mentors category. Voting takes place from Nov. 27-Dec. 4, on Facebook.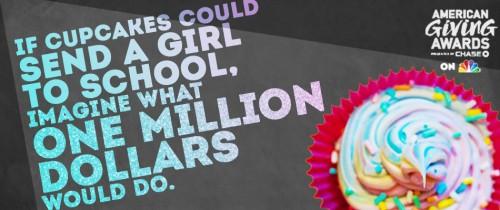 Article continues below advertisement
Tammy Tibbetts has made her agenda into a reality in just a few short years. "It starts with a small step, look for people who share your interest. Be active on social media. Whatever you are passionate about express it and you will be so surprise who will come out and ask if they can help," says Tammy.
Make sure you tune into the show on Dec. 8th, 8pm EST on NBC, to see the results!
Her Agenda is part of the She's The First league of extraordinary voters! Be sure to vote to support She's The First and spread the word. Let us know in the comments if you voted!
Link to vote: http://bit.ly/VoteShestheFirst