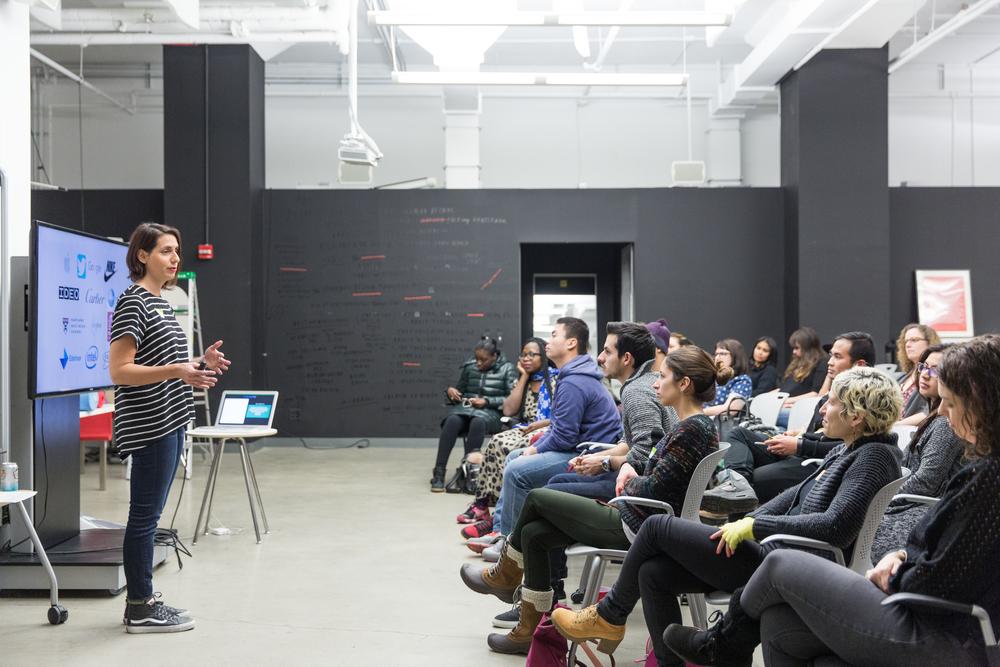 Stare into the eyes of a stranger and mirror each other's movement.
Use a ball as anything but a ball while uploading the results on the Boomerang by Instagram app and bring supplies to an imaginary party.
The above scenarios are just a few of the wonderfully foreign and fun activities I participated in at the "Visual Improv: Embrace the Chaos" workshop in New York. The workshop was led by improvisation ("improv") facilitator Lisa Pertoso and visual story-maker Daniel Castro.
As a group, we began by discussing assumptions we held about improv. Some responses included, "organized chaos, off the cuff and funny." We came to learn it can be and is all of those things, but most importantly it requires the use of "Yes, and."
Lisa explained this doesn't mean we agree with everything, it means we accept any premise to be true. If your partner or group member says, "we are at a carnival" then you are indeed at a carnival regardless of your personal feelings.
By using "yes, and" instead of "no, but," we allow more ideas to flow and a web of ideas to begin to build. Daniel described this as "deferred judgment," whereby everyone shares any and all ideas with no fear or filter.
Most importantly, improv showed us the magic of a time constraint. Because the clock was ticking, each of us had to come up with ideas "on the spot," which left less room for perfectionism or overthinking. If we are given one month to finish a task, we have more time to judge, perfect, criticize or procrastinate our work. However, if we are given a few minutes, we must start immediately and let the juices flow as they may.
Admittedly, I was stumped at times but as the seconds flew by I eventually blurted something out, just as the rest of the group did. As part of a final exercise, we were asked to write down the first few thoughts we had about another group's Boomerang clip. We engaged in "deferred judgment" and by the end, this was the result:
Article continues below advertisement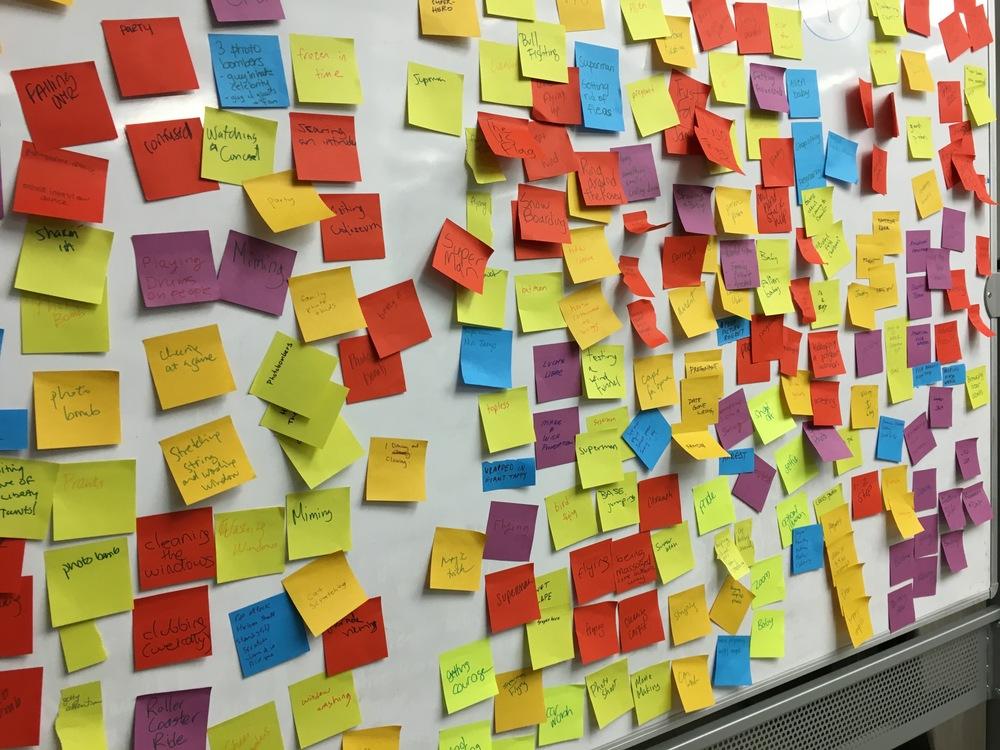 At this point, we began a filtering process where we started to combine some of the post-its, which gave birth to new and interesting ideas. It is at this point that judgment steps in to siphon the best ideas until a final product is reached. The instructors noted this is a great way to brainstorm projects and ideas in the workplace.
When we leave judgment for later we allow everyone to contribute freely. It creates movement and is a sort of "warm up" for the creative process. In the end, the results are delightful and even surprising.
Lastly, we were left with a challenge, which I will extend here. Next time you are stumped for social content, try to let loose, let go of perfectionism and judgment and simply come up with something, anything! Have fun with it.
If you're looking to shake things up in 2016, stretch your creativity or simply explore something new, perhaps improv is for you. Lisa Pertoso facilitates improvisation workshops to inspire people, teams and organizations to explore creativity, embrace change, and enhance collaboration. You can check out her workshops in New York City. Daniel Castro is a visual story-maker. He has trained for many years to achieve the title of Creative Super Ninja and now collaborates with talented artists to materialize the impossible.