Supreme Court Sets Precedent for Women's Reproductive Freedom
By
Eve Stern
Jun. 27 2016, Published 2:53 p.m. ET
June 27th marks a milestone win for women's reproductive rights everywhere with the Supreme Court's decision to strike down a Texas law which would have severely reduced the number of abortion clinics in Texas, immensely decreasing access to women's health and reproductive freedom.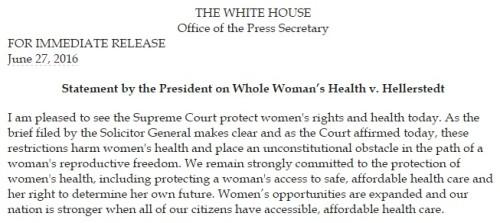 Article continues below advertisement
The majority opinion was written by Justice Stephen G. Breyer, joined by Justices Anthony M. Kennedy, Ruth Bader Ginsburg, Sonia Sotomayor and Elena Kagan. Chief Justice John G. Roberts Jr. and Justices Clarence Thomas and Samuel A. Alito Jr. dissented. The decision was 5 to 3.
The first landmark case regarding women's rights to abortion was during Roe v. Wade in 1969. Before the case, women were not allowed to have abortions in the state of Texas (in addition to many other states) absent of rape or incest and instead were only issued pending the safety of the women's life.
The case in turn moved for the legalization of abortion for women across the U.S., with the Supreme Court acknowledging that women's constitutional right to privacy "is broad enough to encompass a woman's decision whether or not to terminate her pregnancy" (Roe v. Wade, 1973). However, the Supreme Court also decided to leave cases of abortion regulation up to individual state governments breeding a controversial arrangement due to the fact that each state government differs on ideas of religion, women's rights, health, and reproductive freedom.
Article continues below advertisement
What made the Whole Woman's Health v. Hellerstedt case even more crucial was the circumstances. Texas lawmakers in search of a loop hole essentially forced abortion clinics and doctors to adhere to ridiculous restrictions that would have limited the number of abortion clinics available to women in Texas, who had already closed 30 abortion clinics since 2011.
These constraints were not only exclusive to Texas – Iowa, Michigan, California also maintain similar restrictions having shut down numerous abortion clinics in that past five years. This pattern proves even more so how vital the Supreme Court's latest settlement is.
Just like Roe v. Wade, the Whole Woman's Health v. Hellerstedt case will establish a precedent for other states to follow and take suit.
In addition to the President's Statement from the White House POTUS also tweeted:
Women's opportunities are expanded and our nation is stronger when all of our citizens have accessible, affordable health care.
Hillary Clinton celebrated the Supreme Court ruling as well citing, "a victory for women across America. By striking down politically motivated restrictions that made it nearly impossible for Texans to exercise their full reproductive rights," she shares in her full statement, "the Court upheld every woman's right to safe, legal abortion, no matter where she lives."
Article continues below advertisement
SCOTUS's decision is a victory for women in Texas and across America. Safe abortion should be a right—not just on paper, but in reality. -H — Hillary Clinton (@HillaryClinton) June 27, 2016
Regardless of those who remain dissatisfied with the ruling women now have even more hope to continue fighting for their rights to gain the proper access they deserve to achieve quality healthcare and choice.