Most people pair their chocolate chip cookies with a glass of milk, but Tamera Mowry-Housley is not most people. The NAACP award-winning actress, Emmy award-winning television host, and author prefers to enjoy her chocolate chip cookies with a glass of wine, especially after a busy day. In fact, this trademark comfort food combination inspired the title of her newly released memoir, You Should Sit Down For This: A Memoir About Life, Wine, and Cookies.
Most of us know Tamera Mowry-Housley as a beloved TV star—one half of the memorable duo on the hit show Sister, Sister and a former co-host of the FOX talk show The Real. Tamera's peppy Sister, Sister character stole the hearts of millions, but the path from teen starlet to grown woman with a family and thriving career wasn't always smooth.
Now, a proud wife and mother, Tamera lives each day unapologetically on her own terms, and her memoir full of hilarious stories and sisterly advice empowers other women to do the same.
Her Agenda chatted with Tamera about her memoir, her new Prime Video series, returning to acting, overcoming internet trolls, and more.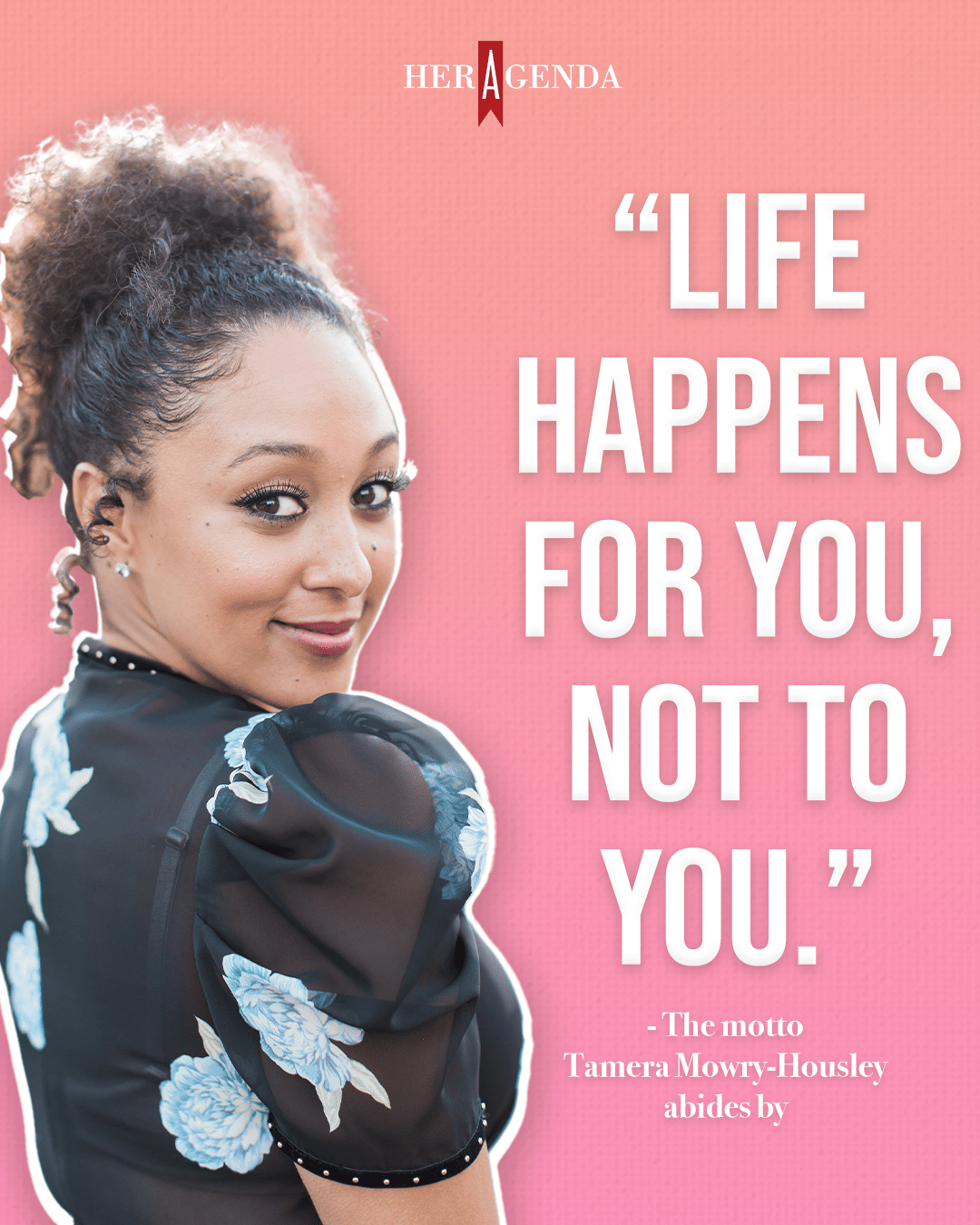 Article continues below advertisement
Her Agenda: You have been in the spotlight for decades. What inspired you to write and release your memoir now at this point in your life?
Tamera Mowry-Housley: I wanted to make sure I had something to say. I didn't want to just write a book for the sake of checking off a box saying that I wrote a book. I had written one with my sister, it was a preteen book, Twintuition, but it was fictional. I wanted [my] experience to be the driving force of the book. It wasn't until the pandemic when our lives all slowed down that I thought 'okay, I just turned 40 not too long ago, I think it's time to write a memoir.' I've talked about my experiences on The Real but not in detail, and that's how it was birthed.
Her Agenda: When I saw the tagline 'a memoir about life, wine, and cookies' I was hooked. What can readers expect from your memoir?
Tamera Mowry-Housley: When I was in college, you know there were a lot of stressful moments there, and [with] dating, I would always want to go home to ponder what the hell just happened! So, you know, some people, they'll just eat a tub of ice cream. I literally would go home, have a glass of wine, chocolate chip cookies are my favorite cookies, and I would have that. It is so yummy and still to this day, if I'm having a stressful moment, it's time to have some chocolate chip cookies and a glass of wine. It always kind of winds me down.
Article continues below advertisement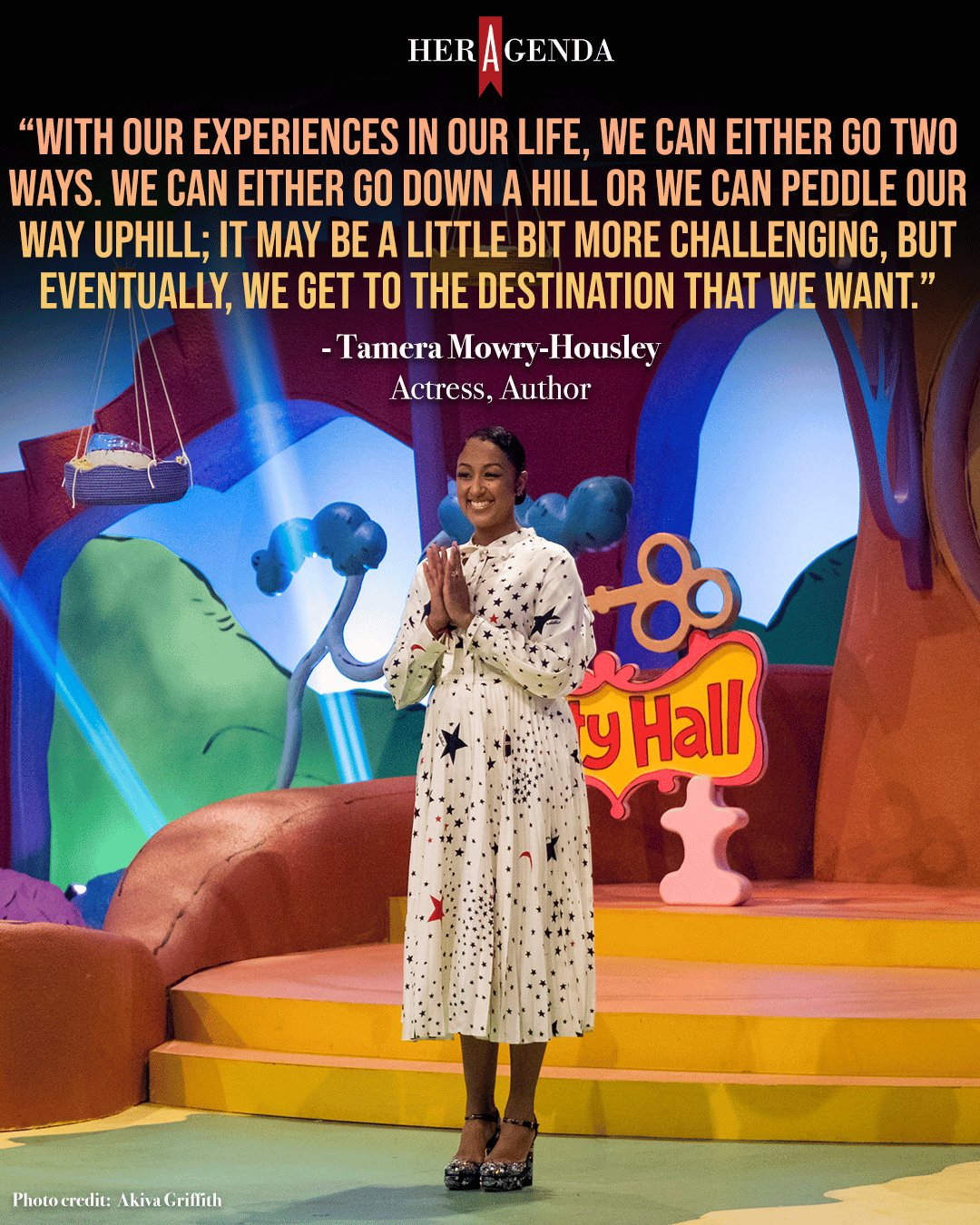 Her Agenda: What do you hope readers take away from the book?
Article continues below advertisement
Tamera Mowry-Housley: There are a couple of things that I want people to walk away with. I want people to know that [with] our experiences in our life, we can either go two ways. We can either go down a hill or we can peddle our way uphill; it may be a little bit more challenging, but eventually, we get to the destination that we want. That was kind of the gist of the memoir. I wanted people to know yes I am here now, but that's not how I started. I had to go through a lot to get to where I am today, and quite frankly I still do. So, writing that actually encouraged me through some of the things I am currently going through. I'm a huge sharer. When I go through something, I want to tell my friends; I want to tell my mom. My friends have gone through things and have learned certain things from their experiences, and I want them to share that with me. The Tameraisms in my book, some of the concepts you may have heard of, some you may not have but they are little bite-sized versions of wisdom that I have learned that have helped me throughout my life to get through a hump. I believe that we can always learn from our life experiences, whether challenging or easy. I want people to know that there's hope and [it's not] how you start; it's how you finish.
Her Agenda: Your love for acting was reignited three years ago. In fact, your new movie Inventing The Christmas Prince recently premiered on Hallmark. What inspired your return to acting?
Tamera Mowry-Housley: I'm very proud that Hallmark is allowing us to tell our stories and to have more and more films with people of color. I was a Hallmark [fan], but I didn't see myself for some time, so when they came to me and said 'would you like to produce some films and would you like to act in them?' I said 'yeah, absolutely!' There was a responsibility that was given to me, and I'm grateful [for it]. I have learned a lot, and I feel very honored and blessed to have been given that opportunity.
Article continues below advertisement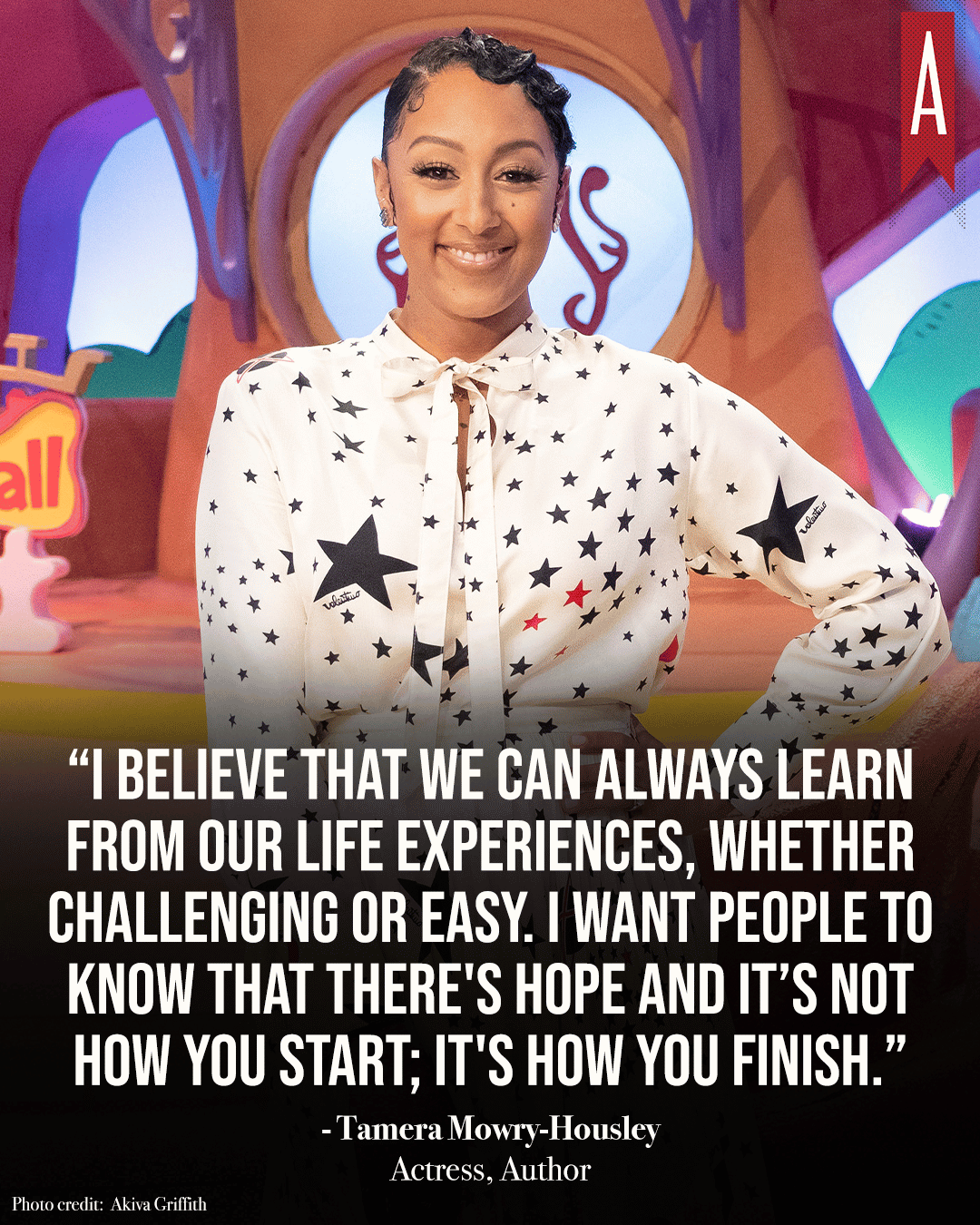 Her Agenda: Do you have any other acting projects coming up?
Tamera Mowry-Housley: There are some in the making! Prayers up that it comes to fruition. I can't share anything right now, but hopefully soon. There's a lot of work that happens behind the scenes before something is greenlit and I'm doing a lot of work behind the scenes.
Her Agenda: You also have the Dr.Seuss Baking Challenge streaming on Prime Video on December 13. Can you talk with us about that?
Article continues below advertisement
Tamera Mowry-Housley: I love to bake. I love Dr.Seuss so when I found out that they wanted me to host the show that has both of those elements it was a quick yes. I was so excited! What makes this show different is you have nine teams, and each team is made up of a pastry chef and a cake artist. Some of them may have known each other, but most of them do not. They have to learn to work together quickly and to realize their strengths and their weaknesses and how they can work together to win that competition. The pastry chef is great at making things taste great. The cake artist is great at designing the cake. You can have a great design, but it tastes not as great, or you can have something taste great but not have a great design, so the bakers had to learn to mesh well together [while doing] lots of fun challenges like smoking a desert and putting some crazy ingredients together all while making an amazing Dr. Seuss character look like it has popped out of a Dr. Seuss book and have the signature characteristic of their main characters. So, it was very challenging, but these bakers are fantastic.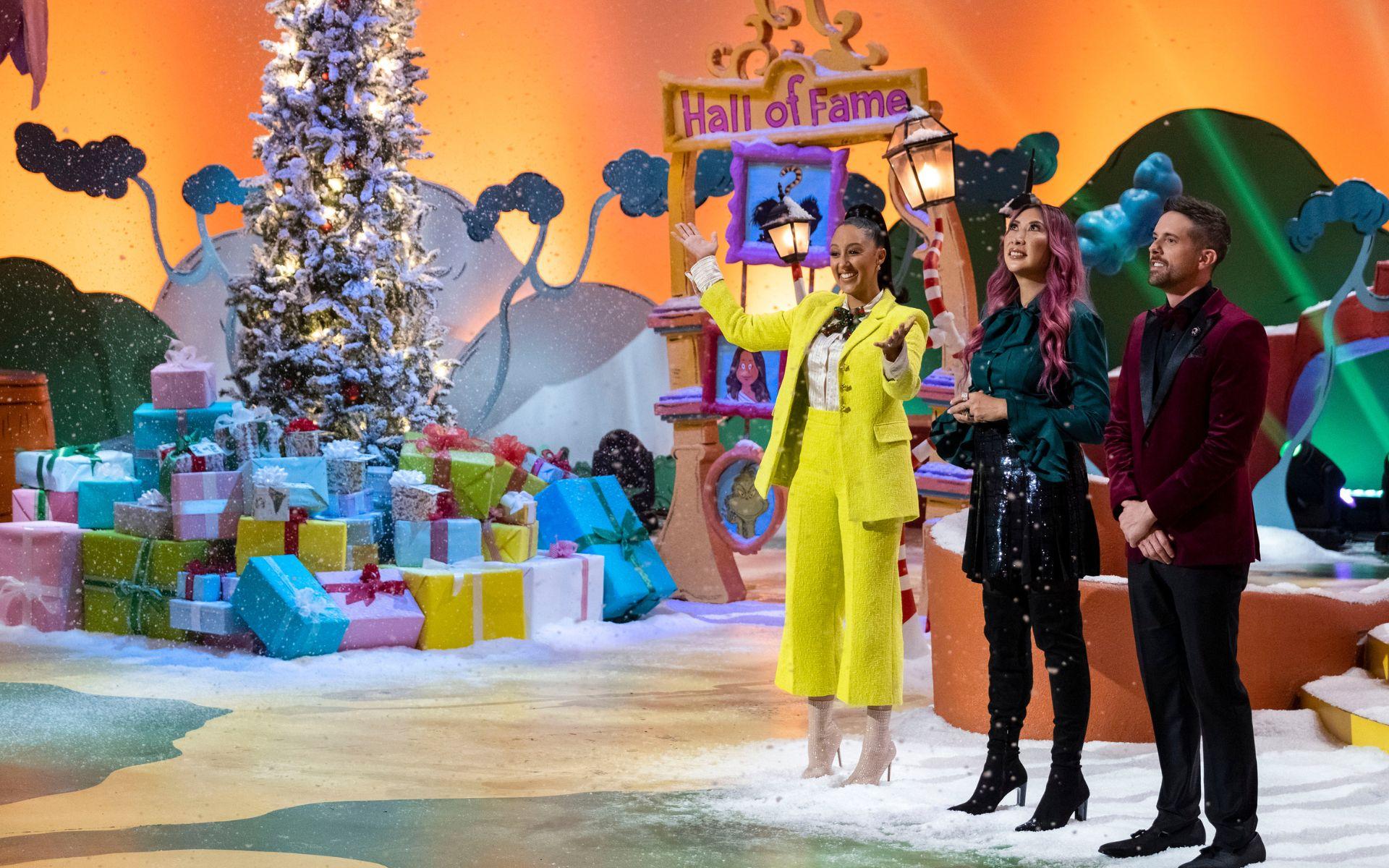 Article continues below advertisement
Her Agenda: You have a lot going on both on and off the screen. How do you stay centered and protect your mental health from trolls online?
Tamera Mowry-Housley: I did a talk show when social media trolls were birthed, so I experienced the height of that and what I learned is it doesn't matter who you are. You can be the nicest person in the world, it's always going to be 80/20. There's always going to be at least 20% of people who do not like you, and you can't control that. You can't change [it.] The more I tried to change their opinion, the more they disliked me. We live in a world where people have many opinions, but they're not facts. The people that truly know you and that you love, those are [the people whose constructive criticism you can take under consideration.] I feel we have to decipher constructive criticism from just criticism. People like to criticize and troll and all that; that's none of my business. That's on you. You deal with that. I'm not going to make an agreement with those opinions and the things that you have to say. You deal with that. But if it's constructive? That's different. Let's learn. I'm all about learning and growing, and usually, someone who's going to be constructive isn't going to be destructive. So, if your criticism is destructive, that means you've got some destruction in your life that you have to work through and I'm going to pray for you. That's how I get through that.
Her Agenda: What's your motto?
Tamera Mowry-Housley: Life happens for you, not to you. I always like to learn from my past experiences, and I always get out on the other side of a challenging experience and ask myself 'what did this experience teach you? What's the important lesson in this?' It's important to learn from it because if you don't, you'll still have to learn from that particular experience, but just in a different scenario.
[Editor's note: This interview has been edited for length and clarity.]