Taraji P. Henson's Career Journey Is All The Inspiration You Need To Keep Going & Never Give Up
By Rhonesha Byng

Sep. 22 2015, Published 12:09 p.m. ET
It's not often that we get to witness the true progression of a career in the public eye.
We hear sayings like 'a career is a marathon not a sprint' and 'there's no timetable for success.' However, in the age of social media, viral sensations and '30 Under 30' lists it's hard to maintain perspective on the time it takes to get to the top — especially in the realm of entertainment. But for Taraji P. Henson, the turning point in her career took almost two decades to come to fruition.
Henson plays Cookie Lyon on what many say is the most watched new show in 23 years. Over 17 million viewers tuned into the season finale of Empire and the character that the world has fallen in love with is none other than Cookie. To top it off, after just one season, Henson was nominated for an Emmy for Outstanding Lead Actress in a Drama Series.
But after almost two decades in the industry and several false starts, there are critical lessons we can learn from the slow and steady progression of Henson's career that can apply to anyone, no matter what industry you're in.
Article continues below advertisement
1. Rejection Is Part of The Journey
Taraji P. Henson says she knew since the age of five that she was meant to be an actress. From the very second she stepped on stage before an audience and said something that prompted a reaction from the audience, she was hooked.
But after trying out for a professional performing arts high school and getting rejected, Henson moved away from her pursuit of acting. Instead, she tried to look into a career as an electrical engineer. However, after enrolling at North Carolina Agricultural and Technical State College and failing pre-cal her father convinced her to enroll at Howard University to pursue a major in theater.
"I auditioned for a performing arts high school, didn't get accepted, and I thought that meant I couldn't act, Henson told Vanity Fair after she was nominated for an Oscar for her role in The Curious Case of Benjamin Button. "So I never acted again until I failed pre-calc in college. I decided I was going to try Electrical Engineering. That sounded good . . . So, I failed, and thank God I did because it forced me to study what I really wanted to, and that was acting."
Article continues below advertisement
2. You Will Need To Take Risks, And Some People Will Think You're Crazy
It was not until moving to Los Angeles with only $700 to her name and a young son, that Henson was able to start her career as professional actress.
"People thought I was crazy," Henson, told PEOPLE of deciding to leave her lucrative job back home in Washington, D.C. to take a shot at making it big in Hollywood.
After graduating from Howard University, Henson was working as a supervisor on a five-star dining cruise when she packed up her son Marcel, and moved to California at the age of 26.
"My dad knew that acting was my calling," says Henson. "One day, he looked at me and said, 'How do you expect to catch fish on dry land? You have to go where the jobs are.' So I moved out here."
After almost two years of auditioning, in 1997, at the age of 27 Henson first appeared on the small screen playing a 16 year old in the show The Parent 'Hood. That moment followed a consistent stream of small guest and recurring roles on sitcoms like Smart Guy, Sister Sister. In 2001, she finally landed her breakout movie role opposite Tyrese Gibson in the film Baby Boy.
Article continues below advertisement
3. Focus on The Work, Not The Glory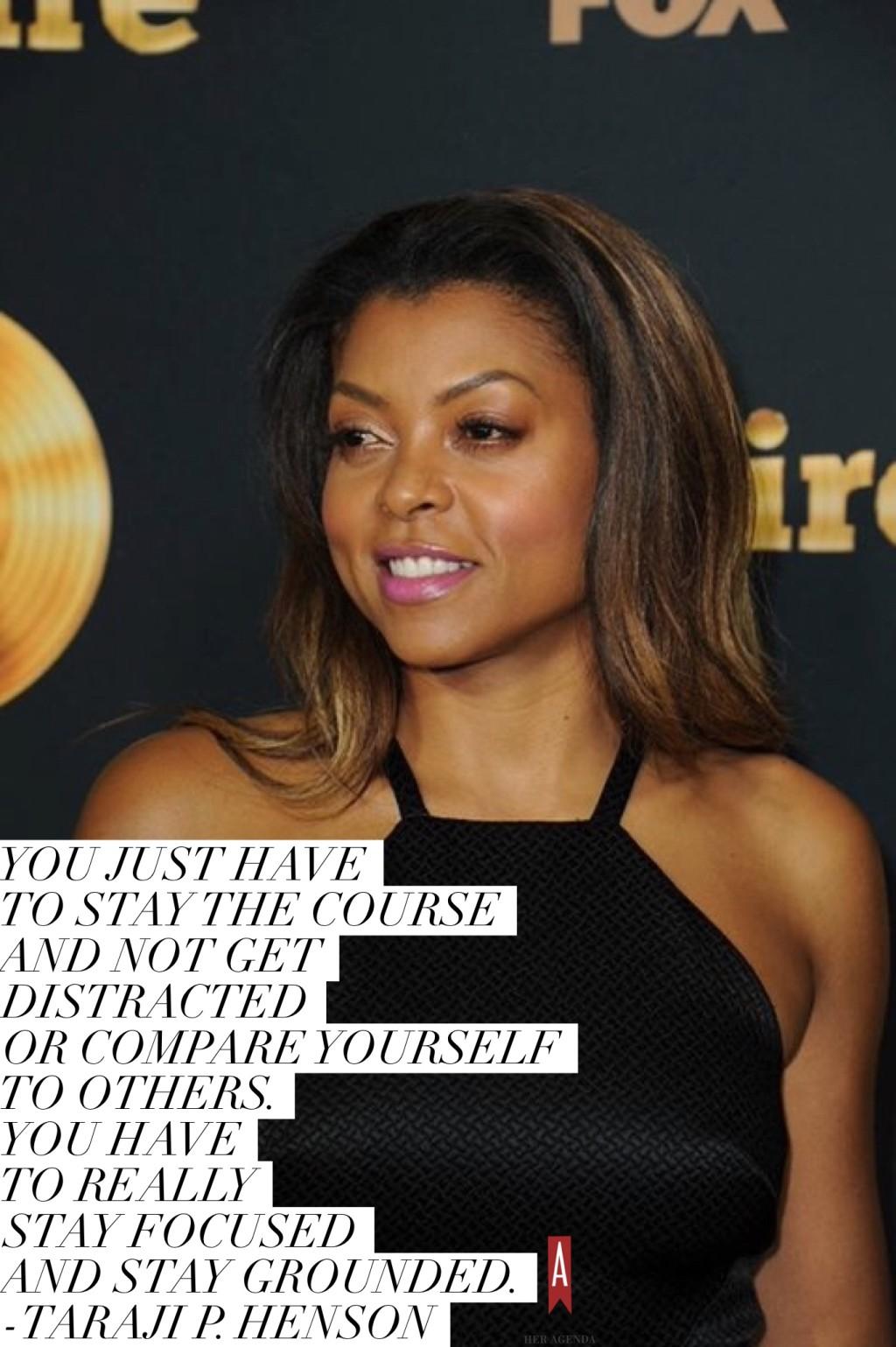 "I went to school. I went broke. I ate peanut butter and jelly…99 cent menu at McDonald's to put myself through college," Henson said in an interview with Angie Martinez.
"I'm about the craft, that's all I care about, THE CRAFT. I didn't do it so everybody could know my name. That's why I've been under the radar. I could have blown myself up — I needed it to be about my talent, not anything else. Not who I'm with, who I'm dating, who I'm married to. That's nobody's business," she went on to explain.
After close to two decades in the industry, almost 30 movie roles, and roles on over 13 TV shows, it's not until the role of Cookie that Henson is getting the recognition her talent deserves.
"You're on fire," said Angie Martinez in a recent interview with Henson.
Article continues below advertisement
"Yea, Cookie's stolen my light," responded Henson. "It's crazy because I been here. Y'all are just catching up, but alright."
At 45 years old, Henson's journey is a true testament of what it takes to build a meaningful career: hard work, dedication, grit, and staying true to yourself even when no one is paying attention. Obviously, we can't say "no one" was paying attention to Henson, but there's a considerable difference between her star power before and after Empire.
"It goes to show all my hard work paid off. The best is yet to come," said Henson in an interview on Power 105.1.
Article continues below advertisement
"You just have to stay the course and not get distracted or compare yourself to others," she explains. "You have to really stay focused and stay grounded."
4. Don't Get Distracted, and Don't Be Afraid To Create Your Own Opportunities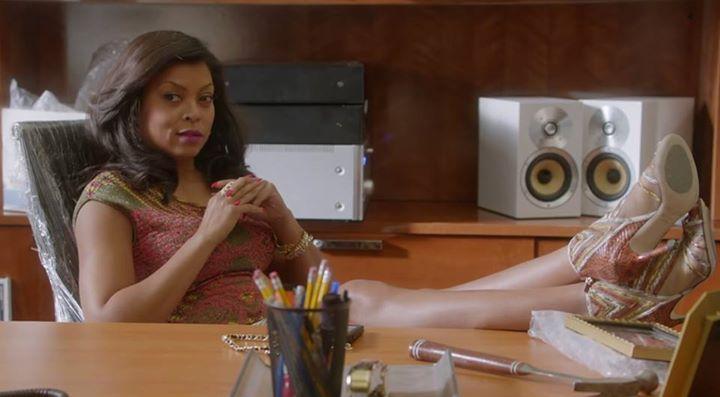 Article continues below advertisement
While her resume seems steady in hindsight, as she pursued her career there were gaps. To fill those gaps, she kept herself busy by creating her own opportunities that would keep her focused on the work. Henson along with her friends would produce theater productions with her friends.
"I wasn't in California to party and go to clubs," she says. "I just kept myself immersed in the craft of acting so that when opportunity struck, I would be ready."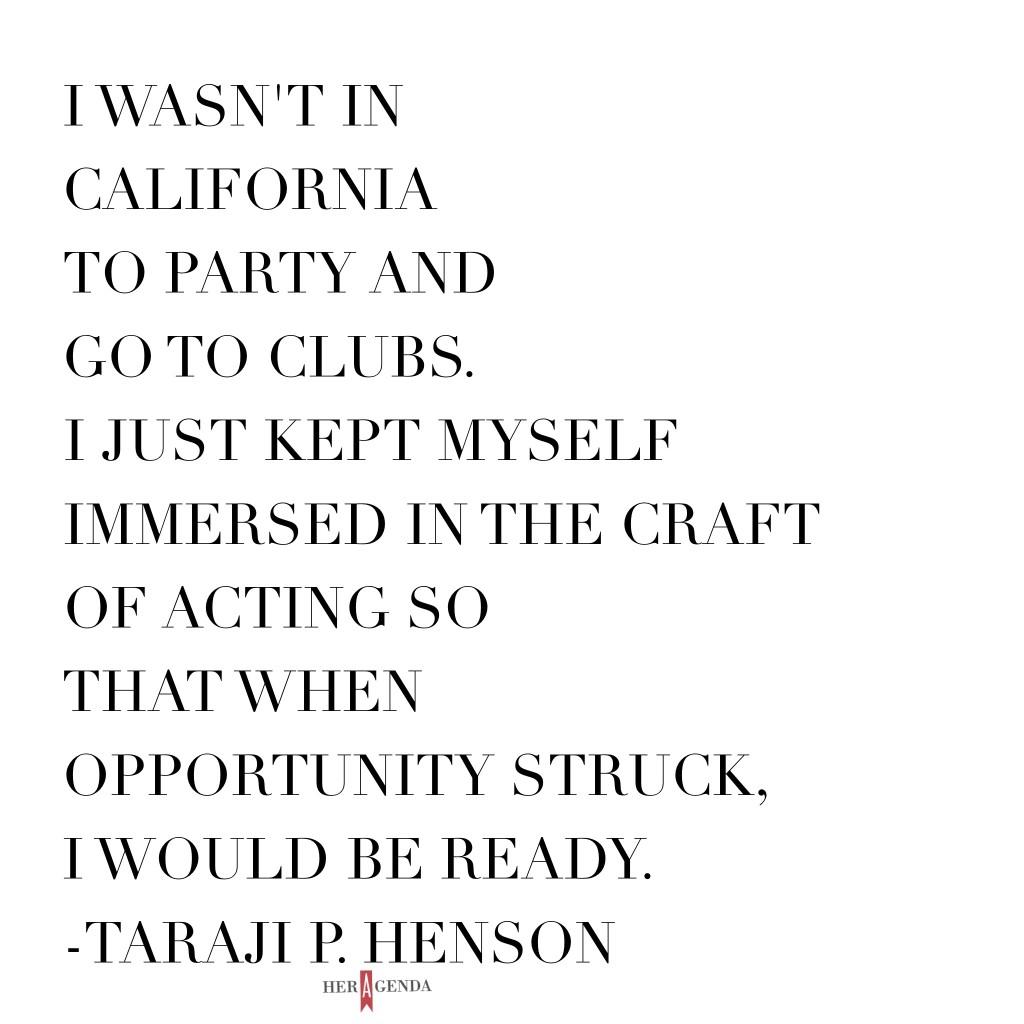 Article continues below advertisement
5. Don't Let Boys Distract You From Your Coins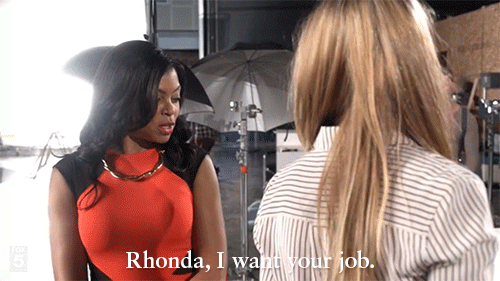 "Don't blur the lines with business and pleasure. I don't let boys come in between me and my coins. AJ Johnson told me when we first did Baby Boy, she said 'if you sleep with them why would they want to work with you again?' That just always stuck. You have to learn to keep it separate because it can cloud the work."
Article continues below advertisement
6. Face Your Insecurities Head On So They Don't Show Up In Professional Settings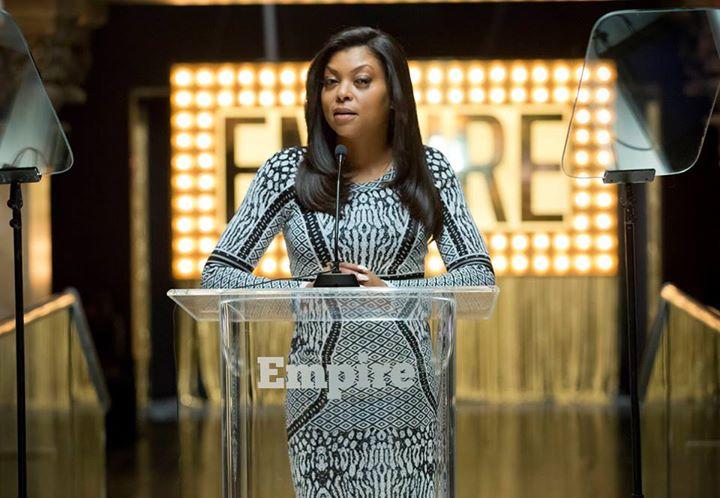 You might have a big presentation or you may have to give a big speech in front of an audience. In those moments, think about the bigger picture. It's not about you, it's about the message, or the project.
When Henson had to film a sex scene for Baby Boy, she was nervous, so she took steps she needed to in her private time to deal with what was to come.
"I knew to go home the night before and deal with all of Taraji's insecurities so Taraji would not come in that room with Jody. I went home and stripped down naked and looked at everything I didn't like so I dealt with it then. So when I went to work the next day, I had already dealt with it."
Article continues below advertisement
7. A Detour Is Not The End of The Road
When I got pregnant in college, people said, 'This is it for her.' But I did not stop," Henson said.
"I never missed a class. I was in the school musical when I was six months pregnant—we just made the character pregnant."
"When I graduated, I carried my son across the stage. I wanted to be an actress; I moved out to L.A. with him. People were like, 'Are you crazy, moving to California with your son?' My father was like, 'Leave him home.' I said, 'I can't leave my son at home.' [And eventually] my father said, 'That's your baby. That's your blessing. He's going to be your strength.' And you know what? He was. I didn't have time to go to the club to 'network.' That's B.S. No business deals go down at the club. So I didn't get caught up in that. I had a mission. I had to make my dream come true. If I didn't, what was I proving to my son?"
Article continues below advertisement
8. The Road To Success Is Not A Straight Path
"I've had so many false starts," says Henson. "If it's easy, what story are you going to tell? Nobody wants to hear about how easy it was. That doesn't inspire anyone."
"Yes. I put myself through college. I worked at the Pentagon during the early part of the day, the middle part of the day I went to school full-time, and at night I was a singing-dancing waitress on this small dinner cruise called the Spirit of Washington."
Article continues below advertisement
9. Do What Makes You Happy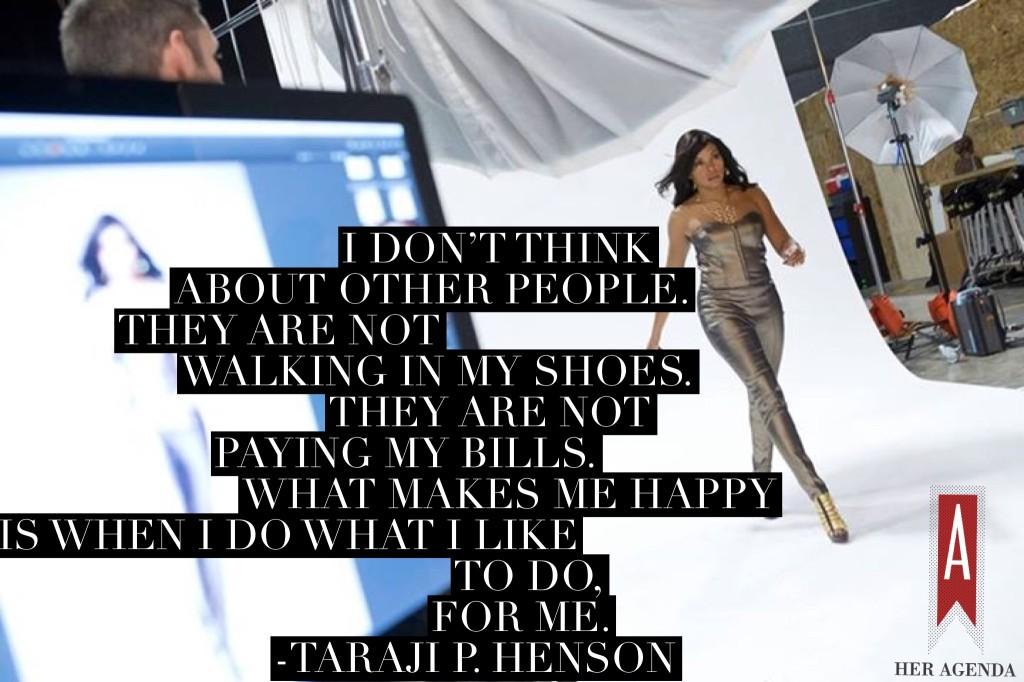 "I don't think about other people. They are not walking in my shoes. They are not paying my bills. What makes me happy is when I do what I like to do, for me," Henson says.
"Fear will cripple you, fear will kill you, fear will make you believe you're not worthy. After 17 years in prison, Cookie feels there is nothing to fear. She made it out alive. In her mind that's how strong she is. We all have that strength inside us. We just have to choose it."
Article continues below advertisement
10. Sometimes An Amazing Opportunity Is Disguised…
Okay. We all remember the first time Henson appeared opposite Terrence Howard in 2005's Hustle & Flow. Howard played a pimp with dreams of becoming a rap star, and she played one of his prostitutes. Not exactly a role you want to be remembered for right? Well, at the Academy Awards, Henson had to perform the film's Oscar winning song, "It's Hard Out Here for a Pimp" — and she wasn't too happy about it at first. But you know what? She sucked it up and did it anyway.
"I sang that in front of my peers," Henson said. "It was both amazing and embarrassing. But I think the song won for the same reason that people love Cookie. It was about coming from nothing, having goals, and going after them." She paused. "And it was extreme. People love extremes."
11. Final Advice To Her Younger Self
"I would tell her to not change a thing and to stay on the path that she's on. You just can't give up."
Article continues below advertisement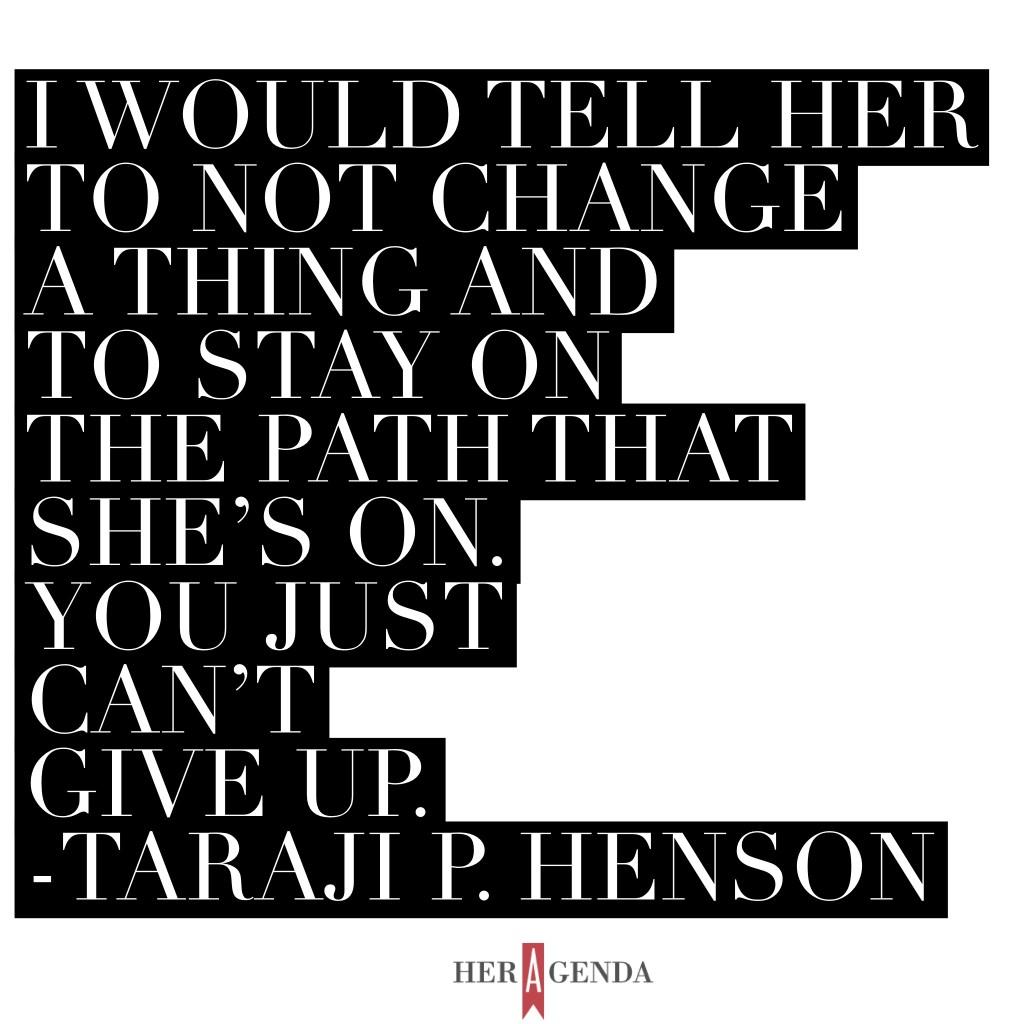 Timing, hard work, constant preparation and focus are all the key themes we can take from Taraji's incredible career journey. And it doesn't stop there. In 2016, the Oscar-nominated actress is expected to release a memoir.
And, now that you're motivated and inspired, let's leave you with just a little more magic to make your day: Taraji P. Henson alongside power women Kerry Washington and Mary J. Blige in Apple Music's newest commercial. YAS! Can we just say, Squad Goals?
Photos Courtesy FOX via Facebook | Image Quote Edits – Her Agenda