Tashira Halyard Is Building The Career Of Her Dreams With 'Politics And Fashion'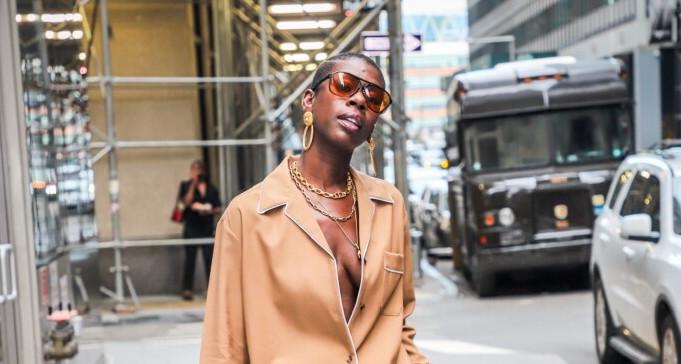 Tashira Halyard is a former public policy lawyer who pivoted to become a full-time social media influencer with her platform "Politics And Fashion." As a fashion influencer, she's challenging the narrative that social justice issues and fashion don't belong together by highlighting fashion brands, Black travel lifestyle content, and her expertise as an equity consultant for anti-racism efforts.
She also serves as co-host of the 'justUS,' a podcast where she and her best friend, Margo Lindauer, who also has a background in law and social justice, discuss topics like wellness, joy, and women's issues.
Her Agenda caught up with Halyard on her journey to becoming a full-time fashion influencer, the significance behind Politics & Fashion, and why the justUS is relatable to women today.
Her Agenda: I want to touch on your blog, "Politics And Fashion." How are you able to mesh the two interests together?
Tashira Halyard: I often think that when people see the term politics, their assumptions are that I'm talking about political science or American democracy. Those things are important, but it's not actually what I'm talking about. I'm talking more about the politics of adornment for Black women, and what it means to take up space. I'm talking much more about fashion from a social justice Black feminist lens. I like to say that my space is much more mission-driven and truly a place for community. I use my blog and social media to build sisterhood and elevate the issues, concerns, joy and laughter of women and families of a big age.
Article continues below advertisement
Her Agenda: Let's talk more about that. Can you tell me more about what it means to be in a 'big age'?
Tashira Halyard: It's another word for midlife. We find that there are a lot of negative narratives around aging in our society, no matter your gender, but especially for women in America, for sure. We see women as young women who are supposed to marry and have children. And then it's like they die, like there's nothing in between. Margo and I wanted to speak to women who are in that midlife space heading towards being where they want to be in their careers but don't quite feel confident in where they are in the world. Or even if they do, they're going through things that we all go through.
Article continues below advertisement
Her Agenda: How did you make the transition from serving as a lawyer to going full time as an influencer?
Tashira Halyard: After law school, I worked in public interest law, but I developed a very toxic relationship with work over the years because of the company's organizational culture. I dealt with a lot of imposter syndrome because I was one of very few, if not the only Black person that had my job. At this point, as I'm accelerating in my career, I get breast cancer. As I'm treating cancer, my younger cousin dies, and I arrive late to his wake because I'm writing a grant report for work. Shortly after that, I realized that all of this is fake. I don't have to have this toxic relationship with my job.
While doing chemo treatment, I started to imagine how radically my life could be different. I had this idea in my head that I could work in luxury retail. So, I pass my resumes to boutiques here in the DC metro and got a call back from Saint Laurent. By the time I was about two and a half years in the job, that's when I was able to leave and transition to Politics and Fashion full-time.
Article continues below advertisement
Her Agenda: How do you see the podcast growing in the future?
Tashira Halyard: We will be pretty busy for sure. We are looking forward to sharing our story and joining a speaking circuit. We also are hoping to host more of our own live events next year. We have a bunch of big goals like writing a book together. All in all, I think that the reception that we are receiving demonstrates that our instincts were spot on. We have been so blessed to be able to create the very thing that we were looking for.