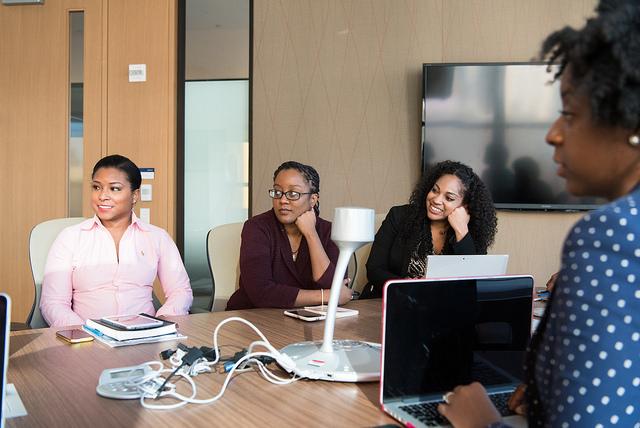 Tech Companies Still Struggling To Find Best Ways To Hire Diverse Talent
By
Anna Tingley
Aug. 9 2016, Published 12:19 p.m. ET
It's old news that companies, big and small, are blindingly white and male-dominated.
Yawn. We know. What's new?
Aiming for more diversity in the workplace is a goal that seems so simple but yet some of the smartest most innovative companies of our time can't seem to achieve it.
While one would think that firms could simply hire more diverse employees, new studies have shown that it's really not that simple. Most job applicants within competitive fields — particularly business and tech — are referred by current employees, already narrowing the field for hiring executives. And although that's a pragmatic recruiting system, it also perpetuates an unceasing diversity problem.
"Too often that is a surefire way to keep your workforce looking exactly the same. You wind up referring your friends, who look just like you," explained Emily Peck, the Business and Technology editor in her article for the Huffington Post.
But businesses such as Accenture, a global management consulting company, have made their first step towards diversifying the workplace: acknowledging the problem.
In an in-depth statement on their website, Accenture's Chief Executive, Julie Sweet, revealed the demographics of their 48,000 U.S employees. And with their not-so-surprising stats (6.3% Latino, 7.4% African American, and 50.3% Caucasian), they developed a detailed strategy for adding more color and estrogen into their offices. And yes, it takes a detailed strategy to create a workforce that parallels the diversity of the U.S.
Article continues below advertisement
The plan includes paying employees bigger referral bonuses when they recruit a woman, veteran, or someone of color, and that person ends up getting hired. Accenture isn't the first company to give bonuses for diverse referrals though. They were most likely inspired by Intel, who began paying their employees up to $4,000 for these referrals in 2015. While it's still too soon to see the effects, this double bonus is working towards diversifying a workforce that was three-quarters male.
Article continues below advertisement
Many other major tech companies have also implemented similar bonuses and regulations. Facebook began requiring at least one minority to be included in each of their division applicant pools, Apple has highlighted an increase in the hiring of minorities and women, and Google has pledged $150 million to "focus on diversity initiatives." The latter company's workforce is 70 percent male.
Google, we love you. But 70 percent male?
And for good reason, it turns out Google was ashamed of their lack of diversity too. "We've always been reluctant to publish numbers about the diversity of our workforce at Google," writes Laszlo Bock, senior vice president of People Operations at Google, in a blog post from 2014. "We now realize we were wrong, and that it's time to be candid about the issues."
There's no question that these calls to action have been catalyzed by this newfound transparency. "We released these numbers because we think transparency is really important," says Sweet.
Time will tell if these incentives will actually lead to a less homogeneous workforce, but it's advised that other companies follow suit with tech companies. Not only does does diversity look more impressive and politically correct (not to mention, it makes sense), but it also has way more significant pay-offs.
According to the Harvard Business Review study, diversity "breeds innovation, helps in problem-solving, retains top talent, and contributes to the greater good."
Article continues below advertisement
The first steps towards reaching this goal – being honest and creating incentives – have been taken. Now these companies have to stay loyal to the challenge, carry through, and break down the already-crumbling white-male patriarchy.