Tech Leads The Way To Make Streets Safer For Women
By
Jashonda Williams
Dec. 22 2016, Published 2:30 a.m. ET
When a woman steps out of her house, she expects to be subject to cat calling and harassment by men on the street. But violence and harassment is not something women should be forced to deal with on a daily basis.
Every day women face harassment and assault that comes with walking the streets, with often nowhere to turn for help. It has never been safe for women to walk alone at night, and harassment is making women also afraid to walk the streets during the day. Plus, assaults against women are becoming more common and frequent in poor neighborhoods.
It can be a scary thing, especially for young women, to deal with the unwanted comments and advances of strange men during their daily routines. Young women and girls experience sexual assault at a higher rate than anyone, with one out of every six being the victim of rape or attempted rape.
Article continues below advertisement
A national survey conducted in the U.S., revealed that 65% of all women have experienced street harassment of some kind. Among those women surveyed, 23% had been sexually touched, 20% had been followed, and 9% had been forced to do something sexual. For a lot of women, they either are discouraged from filing a report, or feel they have no one to go to for help at all. With the rise of these attacks around the world though, people are looking to tech innovators to create a solution that can possibly save lives.
Attacks against women aren't only a rising issue in the U.S, but women living in the slums of India are afraid to even leave their homes. In the poorer parts of New Delhi, many people do not have bathrooms in their homes and are forced to use public bathrooms, where many women are targeted for assault. In 2015, there were 84,422 reported assaults and 34,651 reported rapes, according to India's national crime statistics. After a woman was raped and brutally beaten by five men in New Delhi in 2012, a wave of fear and shock prompted many tech-based solutions in the form of online maps and mobile apps.
Article continues below advertisement
Women in India now have 40 apps available to them to use for their personal safety, but not all of them actually address the issues they face. One of these many apps is Himmat, which translates to "courage" in Hindi. The app was launched by the Delhi police and would send a user's location right to the police control room. The problem was, no one reported an actual attack and it became one of the many apps that did not create a solution for women subject to attacks.
There are also non-tech initiatives being created in efforts to help women combat these types of gender-based problems. Red Elephant, for example, is a campaign set up to coordinate safety efforts but also provide emotional and legal support for women as well. Their research completed this year shows that of 4,300 women, over 2,500 of them have a safety app on their phones but 72% say they have not used them at all. Women's safety charity, Akshara, found that 95% of women in India have experienced sexual harassment on the street – so why are these apps not helping?
Article continues below advertisement
Apps created in past did not give women in India the tools they needed to fight rape and assault. In the U.S., work was being done by Nancy Schwartzman and her colleagues to create the Circle 6 app, through the White House's call for "Apps Against Abuse" in 2011. The competition solicited mobile tech solutions to allow young people to get help when they are in danger of sexual assault or domestic violence.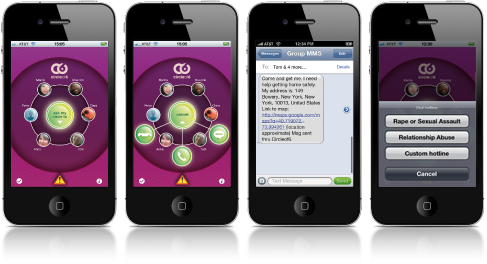 Article continues below advertisement
Circle 6 allows users to enter six contacts that will be informed if there is an emergency or potential danger. There are four, GPS enabled components to the app:
Get home safely – Lets your friends/family know where you are and if you need a ride
Bad Date – This feature is meant to give you an interruption if you are in an uncomfortable situation, in the form of a call or text
I need advice – The component connect the user with useful information about healthy relationships
Emergency button – Connects users to U.S hotlines and an emergency number that can be the police or a trusted friend, depending on preference
Article continues below advertisement
After the 2012 rape and death of a young woman in New Delhi, Nancy Swhartzman found the Circle 6 inbox full of inquiries and the next step was to create a version for users in India. Now the app is being used in 26 countries and has been downloaded 57,000 times.
The Indian version of the app was released earlier this year, and Circle 6 had to work hard to make sure the app considered the cultural differences of its Indian users. Terminology, language translation, and cultural norms were all things to take into consideration. The term "date" for one of the features turned out not to work so well and with 152 different languages, the hotline feature was also a challenge; and since many women don't feel safe contacting the police, it connect them with the Lawyers Collective instead.
Circle 6 is a non-profit organization, funded by grants, currently working on making the app sustainable, the goal is to never charge users a fee.
"It's not, 'Emergency! Urgent!' It's a gentle-feeling safety tool. It's something you're choosing. We've heard from a lot of students. Parents have been using it for teens, which I didn't expect. And sex workers have been championing it. I'm really happy about that," said Schwartzman, co-creator of Circle 6.