As the president of America's largest Black bank, OneUnited Bank, Teri Williams shares a passion for the almighty Black dollar; creating wealth and educating others on doing the same. The Black dollar is projected to reach $1.7 trillion by 2030, according to a report released by McKinsey & Company yet, the wealth gap seems expeditiously large.
Leaders like Teri Williams work every day to close it utilizing specialized technology-driven banking catering to our community and pro-Black programs that include Harriet Tubman banking cards to accelerated business loans with no credit checks. For us, by us, this president has the Black consumer in mind.
Her Agenda: Take me on a day in the life of a bank President especially for those of us that have no idea what your responsibilities are on a daily basis.
Teri Williams: It's funny that you ask that question because I was thinking about that recently. I think there's this view that a president sits on high and gives all of these demands; giving the view that there's less work but in reality it actually means more which is not a bad thing.
The vision of the bank comes from people like you, we get feedback from our community that feeds our vision. It's our collective vision for this institution. My job is to turn that vision into a reality. It's hiring people. It means that we create the jobs that are needed to execute that vision and to make sure that we have the services.
Recently we introduced the business loan program and small dollar loan program that doesn't require a credit check. We introduced the podcast because we're basically listening to our customers as well as our supporters asking them what they would like to see on the platform.
Her Agenda: Essentially that means that you could be doing anything at any given time on any given day?
Article continues below advertisement
Teri Williams: Yes. Let's just go over the past few days. After the long weekend, I came into our Miami offices because I had a few things that I had to check on. I wanted to check on our hiring just to see how things were going there as well as the training of the new staff to make sure things were going smoothly there. We're doing construction on our Miami branch and what first seemed like a little deal has actually turned into a big deal, moving from a walk-up ATM to a drive through so we're going through a whole zoning process with the county and I wanted to push that along. That took up half the day and then I got on a plane to Boston. This is a secret but we're buying a building here and the closing was today.
Delegation is important but there are certain things that can't be delegated given that this was a significant purchase for us so I wanted to go and kick the tires. But what was wonderful about it was that I got to meet the owner of the building and his wife and I'm so glad I did. They've owned the building for 40 years and it was a very emotional thing for him but he said he was so happy to be selling the building to the bank because the building is in our community and this man and his wife had been serving the community for 40+ years. He was just glad to sell it to a Black bank that's in the community. Even though there were attorneys and accountants and money was exchanging hands, it gave me an emotional connection and at the end of the closing, the wife actually prayed for me and for us. So for me, that makes it all worth it.
Article continues below advertisement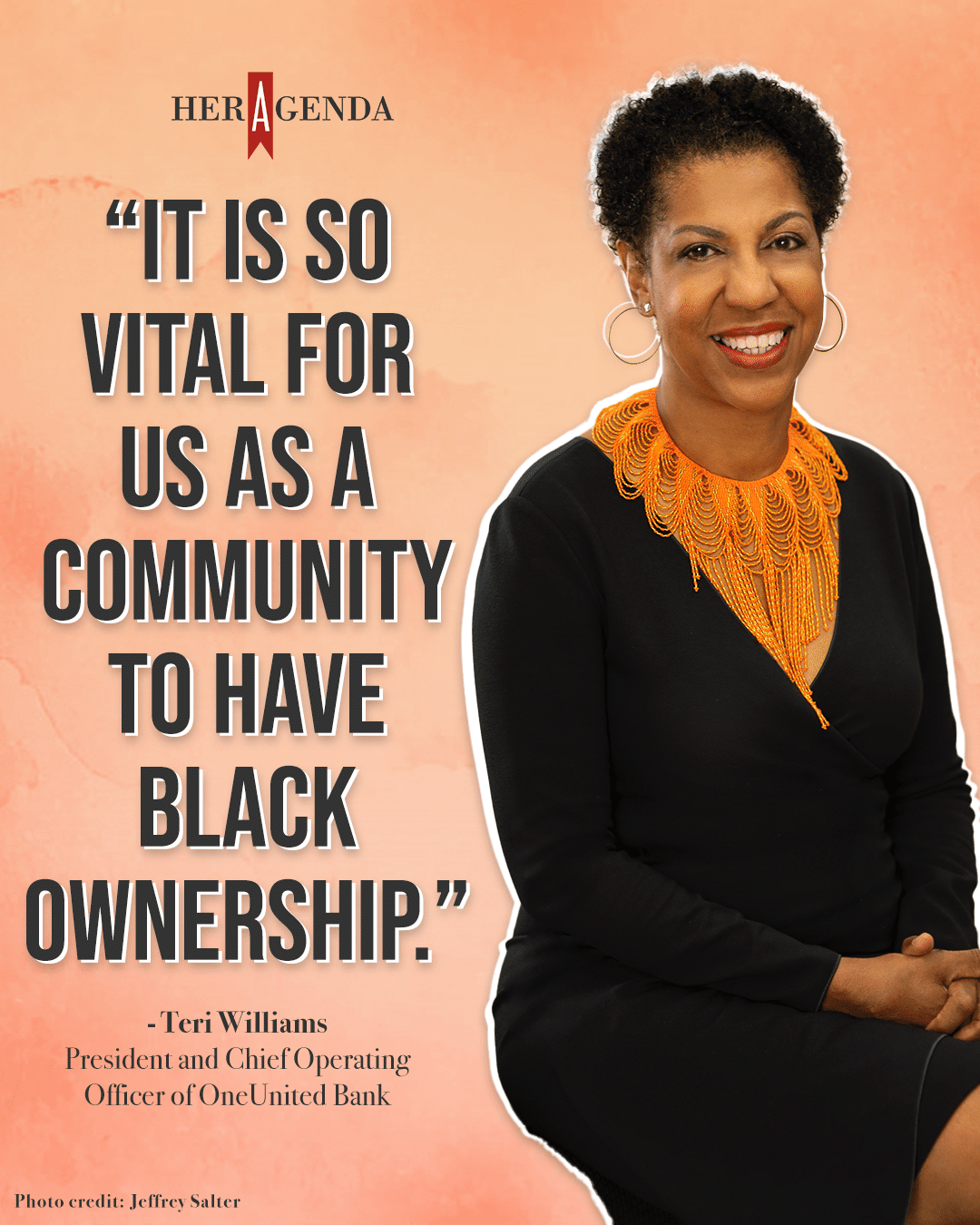 Her Agenda: Why are Black banks still so vital in 2022?
Teri Williams: It is so vital for us as a community to have Black ownership. – whether that's ownership of property or ownership in businesses. The reality is that we're a capitalist society that's built on ownership. When you own you have a stake; you have power. It means that you have a sense of doing what it is that you want to do on your property in your business and in your community. So much of what we do in the banking business; other banks just don't do. We've been doing early paydays two years before the other banks started and of course, we've supported Black Lives Matter since its inception.
Article continues below advertisement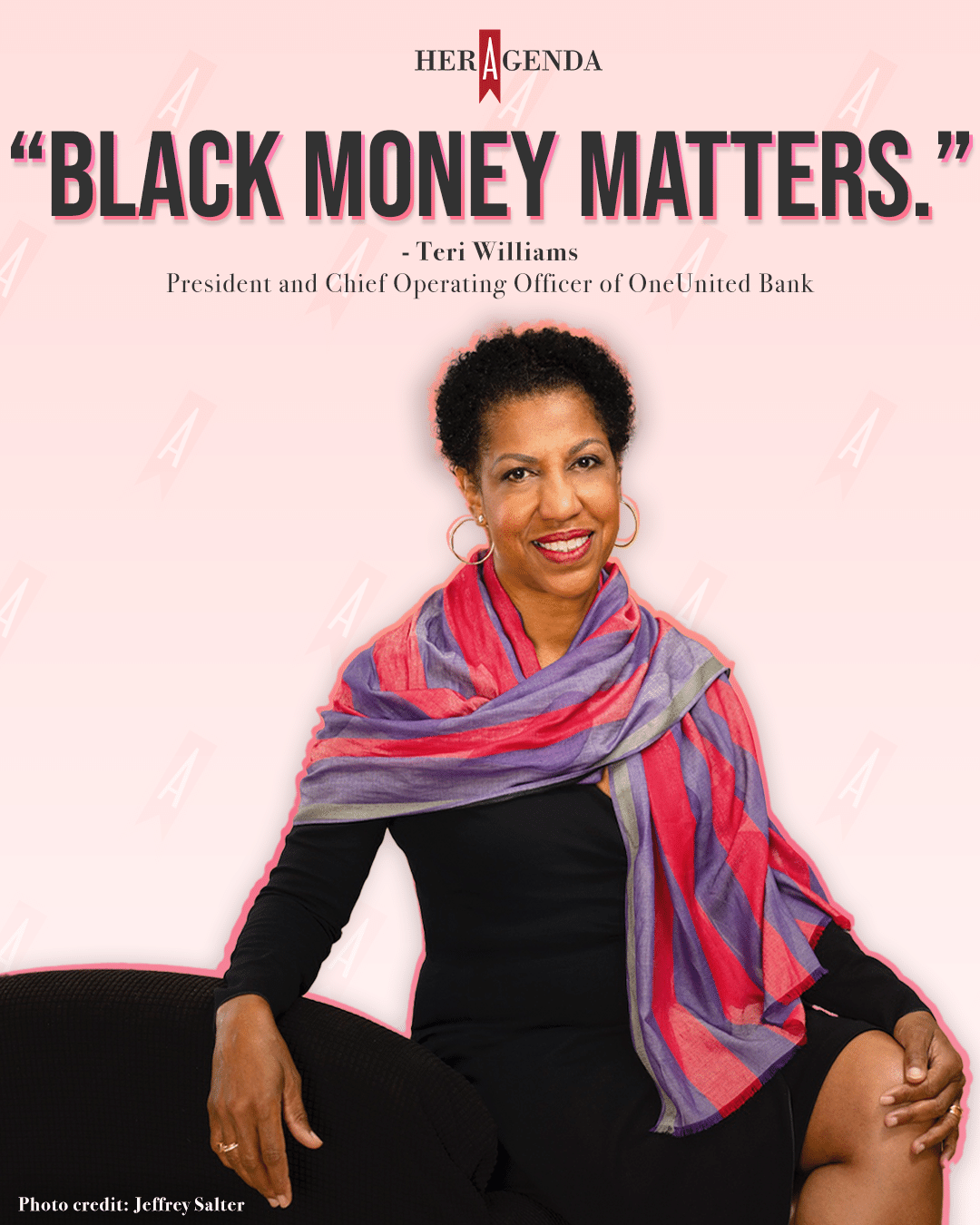 Her Agenda: Where have you most seen your impact as President?
Teri Williams: The biggest impact that we have had in taking the reins of Buy Black, Bank Black, and Build Black movement. It really started with WEB Dubois and we're on the same journey but we made it more visible and more possible and much more focused on our community in 2022, especially through the use of the internet and technology. We've also put more emphasis on the Black dollar. When we started the bank 25 years ago, we couldn't even get an audience because when people think of Black folks, they rarely think of money. Today the
Black dollar is not where it needs to be as far as being fully respected but it means so much more now than it did before. Black money matters.
Article continues below advertisement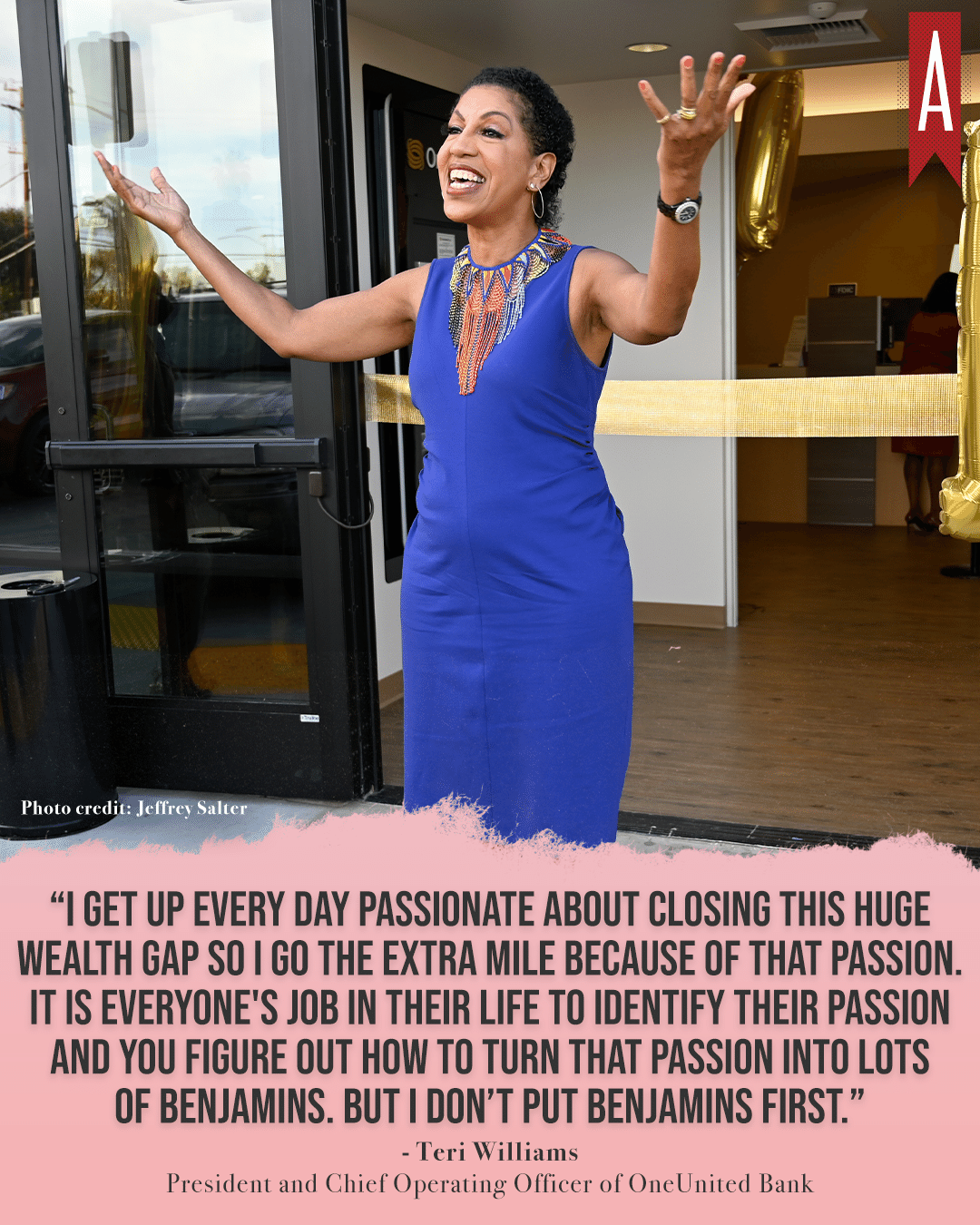 Her Agenda: Is it always about the Benjamins?
Teri Williams: I would say definitely not. I always tell young people, when choosing a career path, don't do something because you think it will bring you lots of money. Do something that you're passionate about. You're going to be competing with people that have passion. I am passionate about helping people build wealth AND I'm passionate about the benjamins. So if you're running a bank and you're only doing it because of the paycheck, you won't be able to compete with me. I get up every day passionate about closing this huge wealth gap so I go the extra mile because of that passion. It is everyone's job in their life to identify their passion and you figure out how to turn that passion into lots of benjamins. But I don't put Benjamins first.
Article continues below advertisement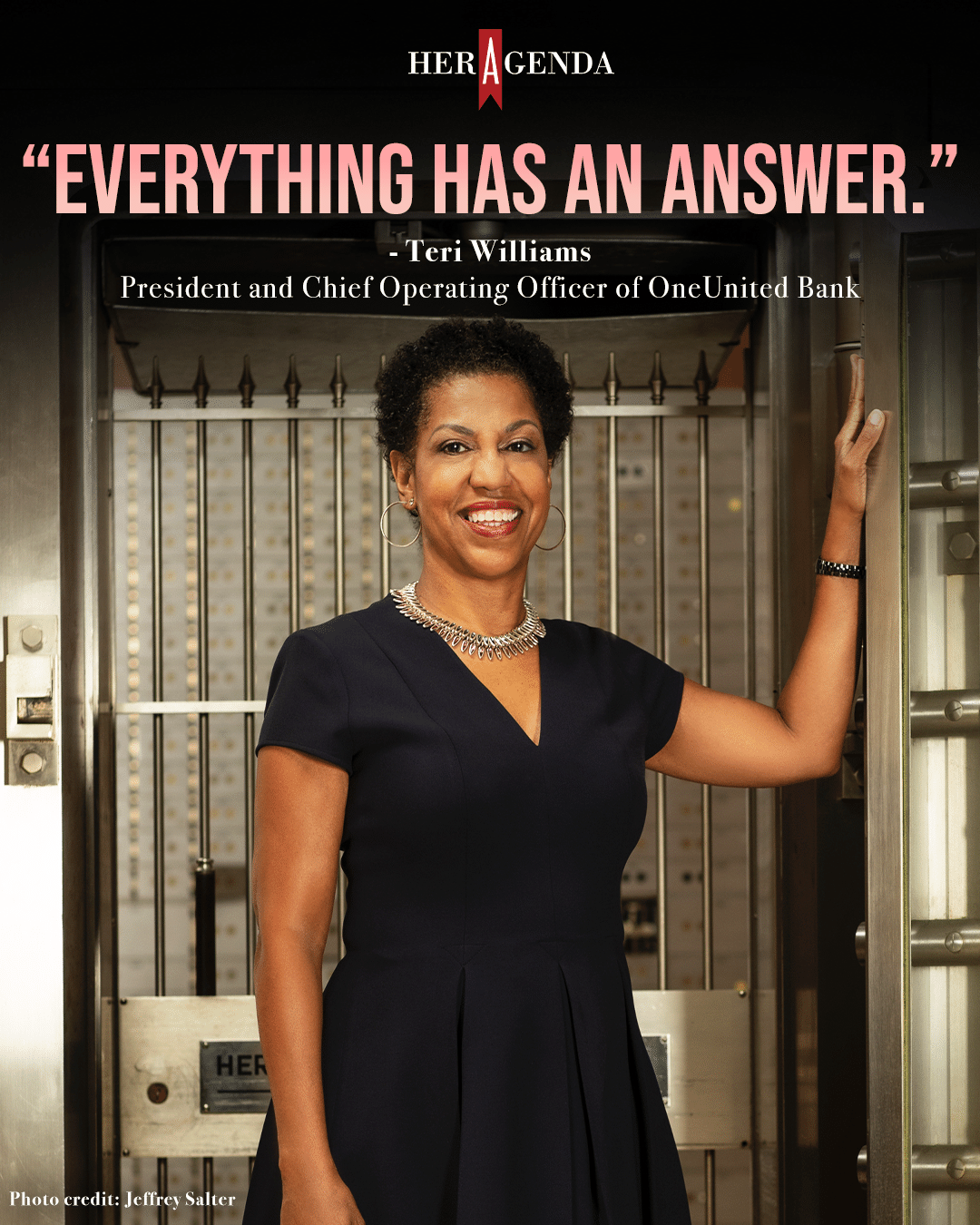 What is your mantra that you live by for all of the aspiring bosses that are reading this article? What do you live by every day?
Teri Williams: Everything has an answer. Typically the answer really isn't that hard. Some people try to pretend that it's hard because it gives them some sense of importance but for me knowing that there is an answer gives me a sense of power that I can figure it out. I always tell people that you can figure this out.
[Editor's note: This interview has been edited for length and clarity. The main headshot photo credit is Jeffrey Salter.]