The 'Nasty Woman' Playlist You Need To Get Shit Done
By
Chasity Cooper
Oct. 20 2016, Published 9:25 a.m. ET
Last night during the final presidential debate, GOP nominee and business mogul Donald Trump was up to his usual antics in trying to convince America that he is fit for the highest office in the land.
In one of his ridiculous attacks against democratic nominee Secretary Hillary Clinton, Mr. Trump referred to her as a "nasty woman."
"Nobody respects women more than me." —Donald Trump earlier tonight
As soon as I saw the #NastyWoman hashtag on Twitter, songs on songs on songs came to mind because, music is life.
I doubt that The Donald knew what he was doing when he made this egregious assumption about Secretary Clinton, but it has charged up women to feel empowered rather than threatened by his sexist comments. It's been dubbed the feminist rallying cry that Hillary's campaign needed, and someone bought the URL http://nastywomengetshitdone.com and redirected it to Hillary's campaign website.
Article continues below advertisement
And because as women we can be driven, smart, powerful, sophisticated and ratchet at the same time, I felt compelled to put together a kick-ass playlist of #NastyWoman jams. This is dedicated to all my fellow millennial women who are focused on their goals and killing it each and every day. So continue to swerve, twerk and enjoy yourself in all of your beautiful womanly glory.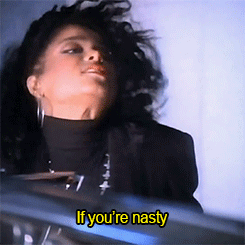 Article continues below advertisement
Press play on the list below and prepare to turn up, embrace your independence and continue to get shit done: