The National Library's Tiniest Bookworm Is A 4-Year-Old Who Has Read Over 1,000 Books
By Shanthi Blanchard

Jan. 13 2017, Published 6:26 a.m. ET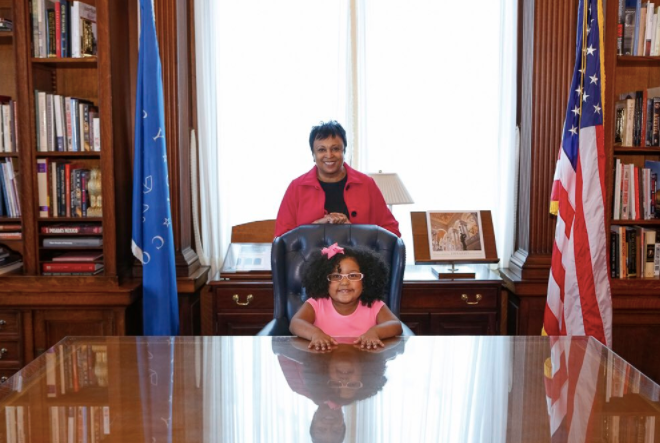 The National Library's tiniest bookworm has read 1,000 books and she would like to read at least 500 more before kindergarten (those are her words not ours).
On Wednesday, 4-Year-Old Daliyah Marie Arana became the 'Librarian of the Day' for the Library of Congress. The Georgia native was invited to the nation's largest library by Carla Hayden, the Librarian of Congress. Even though 80% of librarians are women, the Librarian of Congress position was held exclusively by white males for the duration of our country's history. Hayden is the first female and the first African American to hold the post.
Article continues below advertisement
Hayden  – who was first contacted when Daliyah's mother requested a visit – was impressed by the little girl's extensive reading list, passion for books and desire to be a librarian (or a paleontologist) when she grows up. Clearly, she has time to decide.
It was fun to have 4-year-old Daliyah Marie Arana of Gainesville, GA as "Librarian For The Day." She's already read more than a 1,000 books. pic.twitter.com/MQfwlUrakO
"She just kept saying how the Library of Congress is her most favorite, favorite, favorite library in the whole wide world," Haleema Arana, Daliyah's mother said to the press.
During her tour of the library with Hayden, Daliyah met members of the library staff, read books to Hayden, and sat in on executive roundtable meetings.
Pictures were posted on Hayden's twitter account of the pint-sized reader trekking through the library with her hands behind her back – very closely resembling Hayden's own stance – looking up at the librarian in wonder. The interwebs melted.
Article continues below advertisement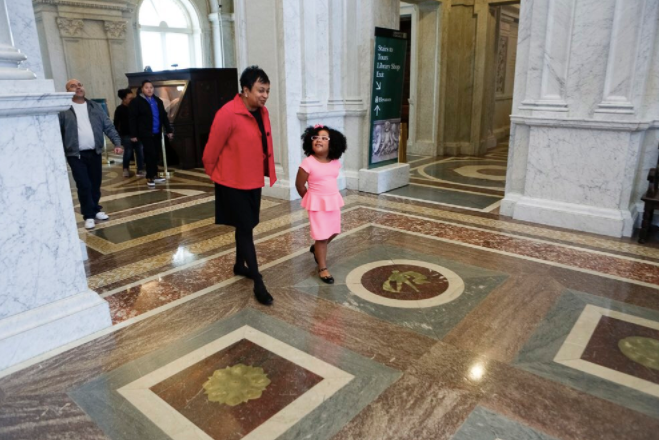 Haleema Arana began reading to Daliyah early, and taught her daughter to read when she was merely two years old. Haleema stated to The Washington Post, "She wanted to take over and do the reading on her own. It kind of took off from there. The more words she learned, the more she wanted to read."
Daliyah's astuteness for books is incredibly impressive. She has two older siblings, ages 10-12 years old, and she is able to read books they bring home, with help of course. There is also an online video of her reading a college level poem text, a speech called "The Pleasure of Books" by William L Phelps ( see below).
Article continues below advertisement
Implode with joy and happiness now.
But it was the Georgia Public Library literacy program called 1,000 Books B4 Kindergarten that sparked Daliyah's journey at 2 ½ into obtaining the monumental feat.
"I read 1,000 books by the time I was 3 years old and I hope to read 100,000," she told a local Georgia news station this past November.
Girl, you can do anything.