The Ray Rice Video Sparks National Domestic Violence Conversation, Prompts Increase In Calls To Hotline Reporting Abuse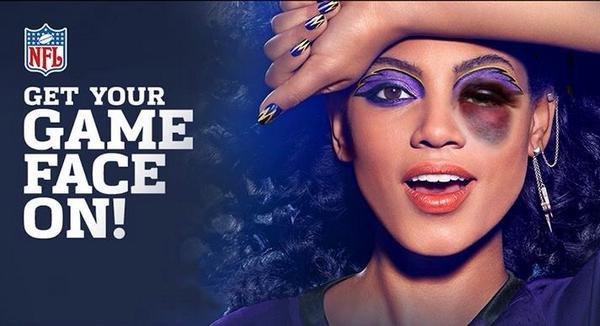 The news has been over flowing with stories about the National Football League since a video of former football player Ray Rice was leaked on TMZ. In this video you see Ray Rice punch his fiancee in an elevator. As you can imagine, this video has sparked a lot of conversation.
From new personal conduct policies to, everyday the public hears new stories focusing on the NFL. Businesses like the hotel chain have dropped sponsorships with the League. The most recent topic, however, is around CoverGirl not dropping their sponsorship of the NFL.
Featuring women like Ellen Degeneres, Katy Perry, P!nk, and Queen Latifah, has always been the face of female empowerment. So, after releasing a line of NFL-inspired beauty products to "get your game face on," people got pretty upset. In fact, people have actually photoshopped bruises onto CoverGirl's advertisements in protest. The people who are doing so are urging people to boycott CoverGirl cosmetics until Roger Goodell, NFL Commissioner, is fired.
, senior digital editor for The American Prospect, is credited as the first person to create the photoshopped ad. She posted the photo on Twitter last Thursday using the hashtag #GoodellMustGo and it has gone viral ever since.
In response, CoverGirl commented, "As a brand that has always supported women and stood for female empowerment, CoverGirl believes domestic violence is completely unacceptable. We developed our NFL program to celebrate the more than 80 million female football fans." They go on to say, "…we have encouraged the NFL to take swift action on their path forward to address the issue of domestic violence."
Whichever perspective you hold on CoverGirl's current situation or the NFL in general, the scandal has no doubt raised awareness about the issue potentially saving another woman's life. According to the National Domestic Violence Hotline for two days after the Ray Rice video was leaked there was an 84 percent increase in phone calls about reports of domestic abuse.
The CEO of the hotline, Katie Ray-Jones told the Huffington Post, "We had an outpouring of women saying, 'Oh my god, I didn't realize this happened to other people.' They thought they were living a life that was very unique to them."
Domestic abuse is all to common and a lot of people who experience it believe that there is no way out. The hashtags#WhyIStayed and #WhyILeft on Twitter have recently rallied people together to share their stories of abuse.
So many things have come out of this Ray Rice scandal, but it shed light on a very uncomfortable, scary issue. If you or someone you know is experiencing domestic abuse, there is a way out. The number to the National Domestic Violence Hotline is 1-800-799-7233. This line is open 24/7 if you have any questions, seek resources, or need help.