The Tips You Need To Make Working While Traveling Easy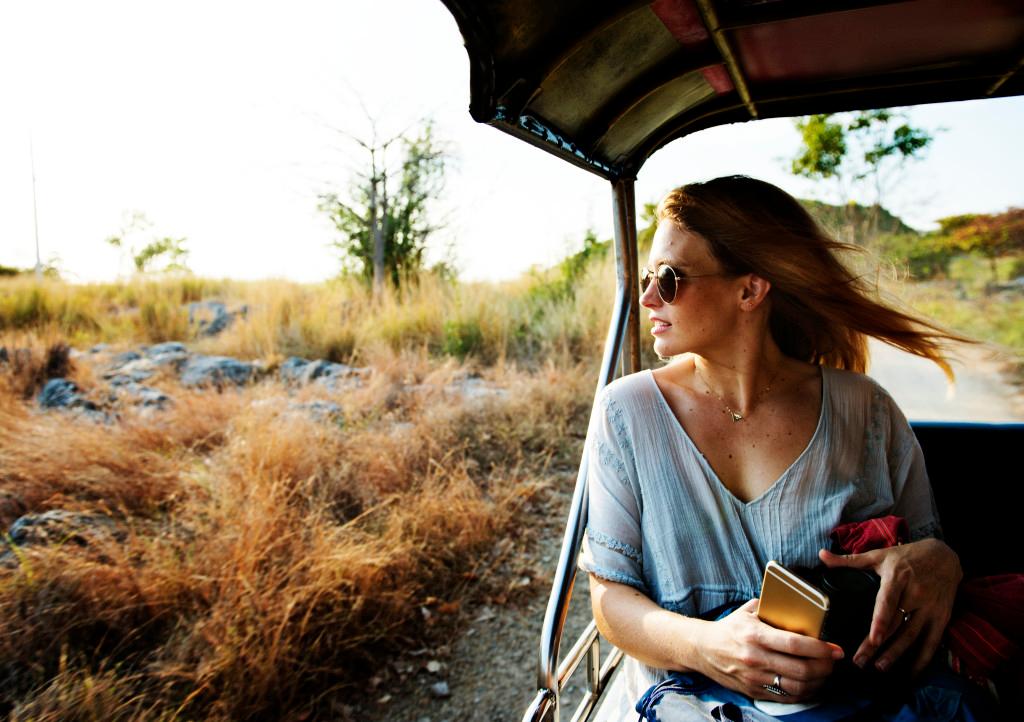 I'm what some people would consider a nomad. Right now I'm based in Chicago, but I travel once a month on average, and every Fall I travel for two to three months straight. I've even given up my apartment—because of a combination of factors and bad luck—to couch surf for six months while nursing a broken foot.
This might sound a lot like freelance life—or possibly like I'm a remote worker, but I'm actually Skillcrush's Director of Operations. It's a fulltime job and I manage a large team, no matter where I am in the world. I have to be on time to meetings, deal with crises, and be available for much of the workday, so I've pretty much mastered the art of making anywhere into a highly functional office.
Every traveler is different and so is every trip—ditto with workplaces. Keep in mind that my needs are different than that of a freelancer who works while traveling, and same with my priorities. I don't always stick to my own rules, and they certainly don't have to be yours, but with some tailoring to your personal preferences, you can use my guidance as a baseline to start planning your own trip.
1. Slow down

Take another look at that carefully curated itinerary in which you jump from city to city in an effort to maximize your time abroad. Then cut the list of destinations in half. You'll thank me—I promise! On my first big trip, I visited big cities and spent about six days in each of them. This is barely enough time to explore when you're on an actual vacation, and exploring time will be even more limited since you'll still be working. I found that I was less stressed, and enjoyed my stops more, when I erred on the side of giving myself too much time.
Article continues below advertisement
2. Make sure you can work from "home."

The first month-long trip I took overseas (to London, Paris, Amsterdam, and Berlin), I stayed at a combination of cheap hotels, hostels, and Airbnbs. I wanted to keep my costs down even though I was traveling in some expensive cities, and since it was an experiment of remote work, I tried a little bit of everything.
The second time I went abroad, I visited cheaper cities, like Krakow. This allowed me to stay almost exclusively in Airbnbs, which is my preference 90 percent of the time. Hostels are fine for vacation but not great for my productivity—if I need to take a meeting at 11 p.m., I don't want to wake my bunkmate or try to shout at my Google Hangout over the noise of the hostel's bar—and hotels are good for working but somewhat isolating when you travel solo as much as I do. Airbnbs are my happy medium!
Article continues below advertisement
I almost always opt for a private room in a shared apartment because it allows for personal space and the privacy I need to work at odd hours without disturbing others, while still giving me the perks of living with a local who can answer my questions about the bus system or recommend a good place to buy groceries. At least half the time, I've ended up making dinner or going out with my host, and it's always a highlight of my stay.
Most apartments in more developed countries will have decent Wi-Fi, but if you're staying in a developing area—or just want to be extra sure it can handle your crazy calendar of video calls,—consider asking your host for an internet speed test. (Google will even do it for them! All they have to do is search for "internet speed test.")
I'm sure more than one host rolled their eyes at me. I feel very much like a spoiled American the few times I've asked, but it made me feel so much better when I was a newbie traveler. (I had enough anxiety without the threat of an internet crisis!) One host quickly declined my booking, but the rest were all happy to provide it when I explained that I would be working while I was there. I simply wrote:
"Hi, I'm Caro. I work remotely for a startup. I'm going to be traveling through Europe this Fall and I'd love to stay at your place while exploring the city. Since I'll be working while I'm there, I was wondering if you could let me know how fast the internet is? Even a quick check on speedtest.com would be really great so that I know if I need to budget for backup internet. Thank you!"
Article continues below advertisement
That last bit about budgeting for extra internet is to make sure they don't think I won't book with them if the internet isn't fast enough—I might opt for a different place, but this lowers the chances of them rejecting me as a guest! Most people are totally game. Some even offered to clean off their desks, hook up external monitors, or otherwise make their apartment more work-friendly.
3. Use my language hack.

I don't speak any languages other than English, so when I go to countries where I may have trouble finding English-speakers, I have one hack that helps me get by: I learn that language's articles, the words for "the" or "a." That way, when I see a sign, I can easily think "Okay, that word means, 'the,' so the world before or after it is a noun." Then, I can pop that noun into Google Translate and better orient myself. As far as communicating with locals, I pantomime, I Google Translate, I smile, and make my best effort. People are usually kind and want to help. It just take some flexibility: There have been plenty of times when my food comes and it is definitely not what I ordered. You just have to roll with it.
Article continues below advertisement
I'll also seek out expat spaces so I don't feel so isolated…which brings me to coworking spaces.
4. Coworking spaces are your friend, or at least your backup plan.
Long term travel—especially when you're hopping to a different city every week—can come with major decision fatigue. You don't have your "usuals" to fall back on for every decision, like where to go for dinner, buy groceries, pick up tampons, and every errand becomes an adventure.
It can be helpful to develop small routines, and for me, that means finding a comfortable coworking space. Even though I probably won't work there every day, it's nice to have a place where I know the deal: how the coffeemaker works, where the bathroom is, and that no one cares if I take my video calls in the communal kitchen. (Those phone booths are really hot, okay?)
Even if you don't think a coworking space is your cup of tea, you should still consider making note of at least one before you arrive in a new city. You never when your apartment's Wi-Fi is going to crap out unexpectedly because you, I don't know, accidentally set the router on fire. (Not that I am speaking from experience or anything.)
Article continues below advertisement
Coworker and Desktime have directories of coworking spaces, but you can also just do a little Google sleuthing to find one that looks friendly and has a cheap day rate. In my experience, you can expect to pay between $15-$40 depending on where you are.
Some spaces won't have all of the information you need on their website. Don't be afraid to reach out! Email the space a few days before you get to town to confirm the price, check in policy, and any amenities you definitely need. (Do you need to book ahead of time? Where do you go when you show up? Can anyone use the phone booth?)
5. Coffee shops can give you a change of scenery every day.

The Work Hard Anywhere Cafe Finder App is a must have for anyone who likes to work from coffee shops. You can use it to not only discover nearby places, but find out how fast their Wi-Fi is, whether or not they serve real food, take cards, and so on. It'll even tell you how likely you are to find a table.
In places where it falls short, Placestowork and Workfrom have similar directories with crowdsourced info. And there's always Yelp and Foursquare.
Article continues below advertisement
6. Coworking meetups are work spaces that come with new friends.

If you like to work with people, but don't want to shell out for a co-working space, you can find like-minded folks at a coworking meetup. These groups are usually full of freelancers, remote workers, and travelers who meet up to work from coffee shops, libraries, and other public spaces on a semi-regular basis.
There are Jelly chapters all over the world that have semi-regular co-working days at coffee shops, libraries, and other public spaces. You can find others by searching Meetup.com for groups related to freelancing, remote work, and coworking.
I don't know if I'll always be such a nomad. My life right now (single and childfree) allows me more flexibility than I may have in the future. And I definitely feel a sense of urgency to spend as much time traveling as possible before becoming a bit more settled. But I know that I'll always travel in some capacity, no matter what my situation looks like.
You can make work travel as easy or as complicated as you want: If a new space everyday sounds exciting, go for it! If you want to post up the same place for your whole trip, that's your prerogative. You have unlimited options because that's the whole point of remote work—having the freedom to design the life you want.