The United State Of Women Summit 2018 Calls For Less Talk, More Action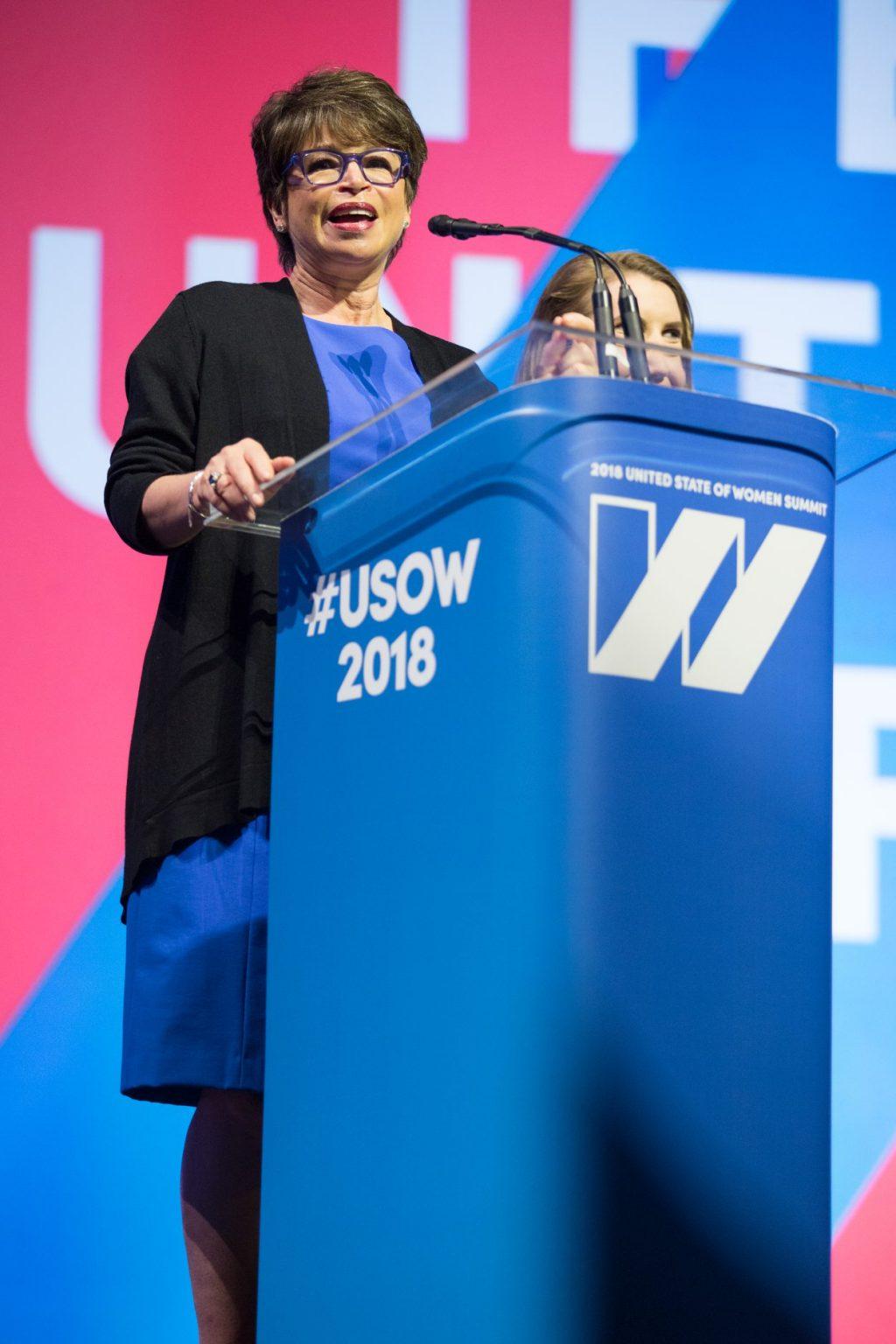 Less talk more action. The United State of Women Summit, a conference dedicated to the advancement of women's equality, returned after a gap year with a goal to spur one million actions that break down the barriers holding women back.
On May 5th, thousands of women, girls and allies from across the country convened in Los Angeles California over the span of two days to tackle issues around economic empowerment, human rights, community organizing, gender-based violence, education, reproductive justice and more. Leading the conversation was a host of notable celebrities, politicians and community activists such as Michelle Obama, Kamala D. Harris, Tracee Ellis Ross, Tarana Burke, Yara Shahidi, Valerie Jarrett, Jane Fonda and more.
The first leg of the summit took place at the historic Shrine Auditorium and Expo Hall with a morning coffee talk between actress Sarah Michelle Gellar, her Foodstir business partner Galit Laibow and "The Real" co-host Jeannie Mai. Economic empowerment of women through entrepreneurship was the topic of conversation and would prove to be a theme throughout various aspects of the summit.
Following the chat the conference officially began with a mainstage presentation which included warrior songs sung by indigenous women, calls to action by social good organizations, remarks on what a more united state of women looks like and stirring conversations on hot button topics like racism, voting and sexual misconduct.
After the morning mainstage presentation, conference goers attended their choice of breakout sessions, ate free lunch from local food trucks and engaged with over 150 women-owned businesses and organizations throughout the Shrine Auditorium and Expo Hall. During this time attendees were gifted USOW canvas totes equipped with the book "Better Together: 8 Ways Working with Women Leads to Extraordinary Products and Profits." The United State of Women went a step further by providing free on-site childcare for attendees by partnering with Collab & Play, the first coworking and collaboration space in Los Angeles with on-site childcare.
Article continues below advertisement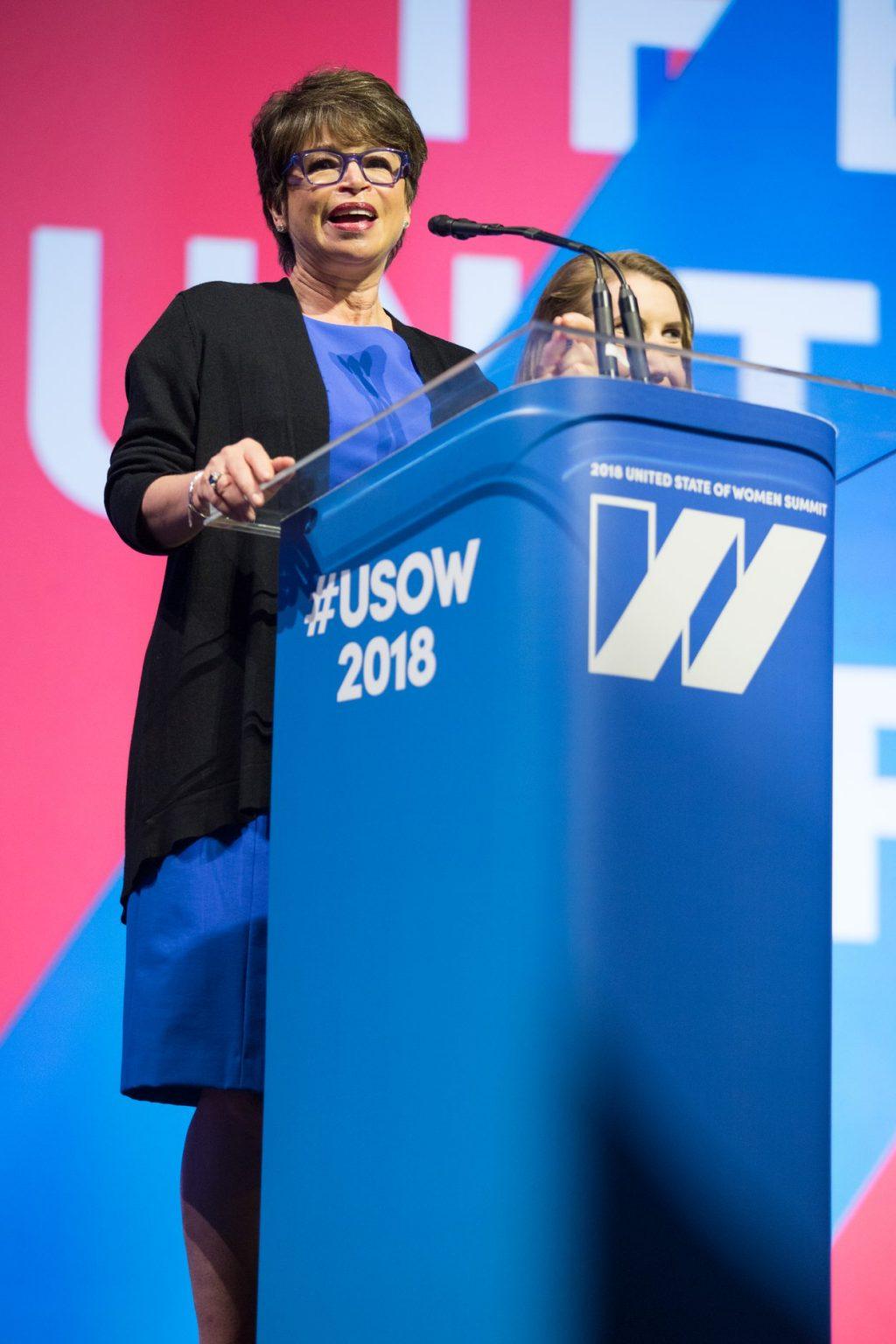 Day one ended with a mainstage presentation just as it began but this time the energy couldn't be contained. The keynote conversation featured Michelle Obama in conversation with Tracee Ellis Ross and everyone was besides themselves. Audience members were so excited to see and hear their "Forever First Lady" that she couldn't be properly introduced. The cheers from the crowd were so overpowering that she walked out in the middle of her invitation onto the stage to help the audience regain their composure.
Article continues below advertisement
Instead of hosting day two's events at the Shrine Auditorium and Expo Hall, USOW had attendees fan out across Los Angeles to attend skills-based trainings hosted by over 40 community partners making change on gender equity in Los Angeles — further activating their mission to serve as a catalyst for one million actions that break down the barriers holding women back
Here are some of the best quotes and takeaways from the 2018 USOW Summit:
Be gentle with yourself: Don't let your life be consumed with the work. Taking care of yourself is part of the work. Protect what makes you happy. I want you to live. Let your existence be your resistance. – Tarana Burke
2. You have to start practicing who you wanna be. If you wanna be dependable then you have to be dependable. If you want people to trust you then you have to be trustworthy. Practice who you wanna be every single day.- Michelle Obama
3. Women talk about sex more than they talk about money. – Sallie Krawcheck
4. Your ability to be vulnerable is strongly connected with your ability to be courageous. – Anasa Troutman
5. Sometimes it's not about choosing your battle it's about choosing your weapon … You can't argue with people who don't care about the facts. You argue with who you sleeping with not with who's paying you. Don't let other people's stupidity mess up your shit. – Amanda Seales
Article continues below advertisement
6. Oftentimes we [people of color] are our own limitation of imagination. We don't realize that we don't have to ask for permission anymore. – Morgan DeBaun
7. Our activism in the past has changed the country but we never run the country. We have changed the rules but we never made the rules. We have changed the culture but we have never set the culture. We have always powered everything but we have never truly owned power in this country, until now. – Ai-jen Poo
9. Step into your own personal power and heal your community. – Kiran Gandhi
10. You can't get so caught up in your own thing where you forget what you came to do. – Beverly Bond
11. Intersectionality is about power. It's about power being built. It's about power being shared in solidarity. – Ange-Marie Alfaro
Watch the conversation between Michelle Obama and Tracee Ellis Ross below: