The US Olympic Team Has The Most Women, But Women Athletes Blocked From Competing Equally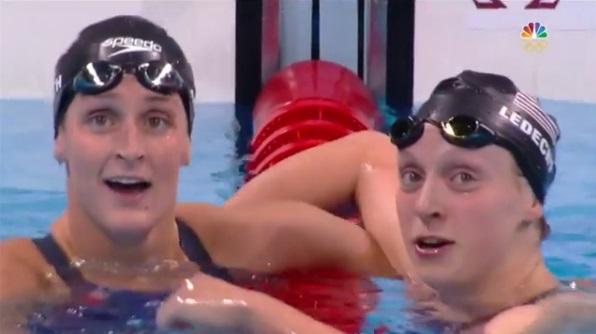 By
Eve Stern
Aug. 9 2016, Published 3:30 a.m. ET
In less than four minutes, Katie Ledecky simultaneously won her first gold medal of the Rio Games and beat her own world record for the 400-meter-freestyle swimming event.
This is the 12th world record she set since participating in the 2012 London Olympic games.
A video posted by NBC Olympics (@nbcolympics) on Aug 7, 2016 at 10:59pm PDT
With 262 men and 292 women, the US Olympic team won before they even arrived, with the most competing female athletes for any nation in a single game's history. Yet despite Ledecky and the other 291 women competing in Rio, they are still held back from the chance to prove their ultimate strength and skill to the world equally against men.
Although Katie Ledecky holds the world record for the 1,500-meter win, 13 seconds faster than any female in history, in the Olympics, the 1,500-meter swim is only open to men. The cap for women swim races ends at 800 meters. To say women have fewer endurance capacities is proven false, yet still, a massive gender gap remains.
According to a recent analysis by the Wall Street Journal, the Rio Olympics offers 169 events for men, with only 137 for women. The International Olympic Committee signs off on which sports are present in the games, but it is the federations who decide on the formats for the events. With a stated mission of gender equality, the IOC has been pressing the federations to expand and allow more women's events.
With not merely enough thanks, women have constantly worked to break the Olympic gold ceiling since it's beginning in 1896 when women were not allowed to participate. From zero to over 125 events, female athletes have pushed back, broken barriers, and demanded participation in all events.
Article continues below advertisement
For example, as pointed out by WSJ, before 1984 women were not allowed to run in Olympic marathons, before 2004 they were kept from competing in wrestling, and before 2012, kept out of boxing. While there is no physiological reasoning behind having shorter courses for female athletes, this is the case for numerous events. In tennis, women compete in the best out of three sets, while men play best out of five. In cycling, the men's road race is 62 miles longer than the women's. The list of inequity goes on.
The differences make no sense in a world where women compete and train for the same duration as men, making the hypocrisy embarrassing.
Instead, women athletes have to continue to fight and highlight the misconception that women are less capable or deserve less opportunity than male athletes. "What's up with that? How is that possibly fair?" Claressa Shields, Olympic boxer asks.
"I go in there to seek and destroy and to win," she explains. "I feel like I broke barriers doing that, and I made a new definition of women's boxing. To be honest, I want to go down in history as the best women's fighter who ever lived."