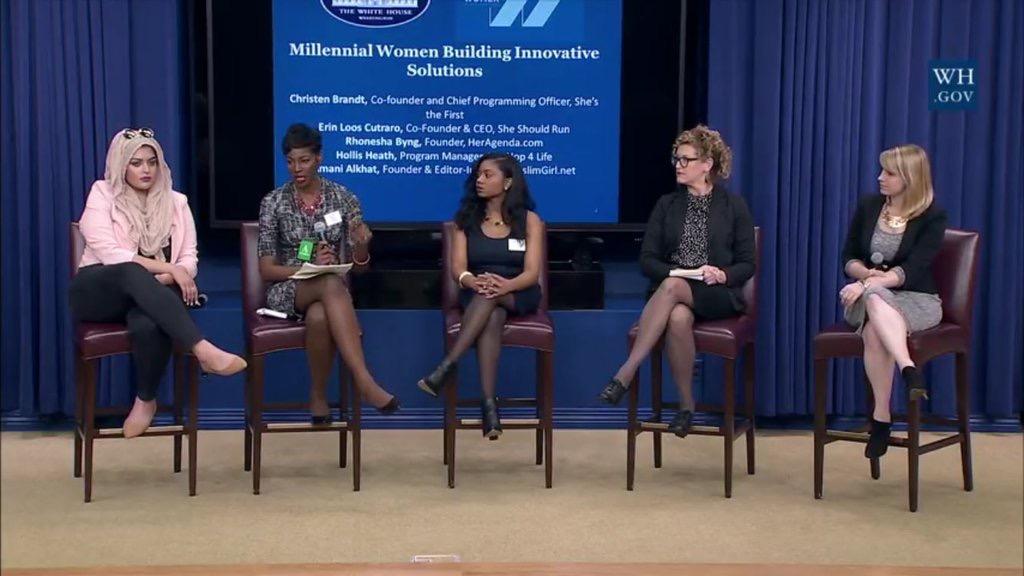 The White House Wants To Know About The Key Issues Millennial Women Face
By
Rhonesha Byng
Apr. 7 2016, Published 3:30 a.m. ET
I was invited to speak on behalf of Her Agenda at the White House about one key issue millennial women face along with innovative solutions I've witnessed.
On March 25th, The White House Council on Women and Girls hosted The United State of Young Women Forum. The purpose of the day was not to talk at us, but have a discussion with us (millennial women) about the issues that matter to us. This forum took place in preparation for a large women's conference taking place on June 14th called The United State of Women Summit.
To prompt an authentic discussion, and hone in on what millennial women actually want to address The Council on Women and Girls invited millennial women building innovative solutions to give lightning talks. I alongside Christen Brandt, co-founder and chief programming officer at She's the First, Erin Loos Cutraro, Co-Founder & CEO of She Should Run, Hollis Heath, Program Manager for Hip Hop 4 Life and Amani Alkhat, Founder & Editor-In-Chief, MuslimGirl.com had the opportunity to speak in front of a room of 180 young women leaders from across the country.
The day began with breakout sessions around topics including entrepreneurship, economic empowerment and violence against women. We were then welcomed by Tina Tchen, Assistant to the President and Executive Director of the Council on Women and Girls.
We were then treated to hearing Valerie Jarrett, senior Advisor to the President and Chair of the Council on Women and Girls speak during an armchair discussion with Taylor Trudon from MTV News.
Article continues below advertisement
Jarrett also touched on the challenges that she experienced but with an inspiring message. "There's going to be a lot of pain along the way, but part of being a leader is absorbing that pain and pushing forward."
One of my favorite pieces of advice she shared was on going after what you want both personally and professionally and being unapologetic about it.
"Own your decisions and don't let anyone make you feel guilty about it," she said.
We also got the opportunity to hear the incredible story of how she originally met Michelle and Barack Obama and how they went essentially from mentees to mentors throughout their relationship.
Then came the time for the lightning talk. When I was asked to speak, I considered very carefully which issue I chose to focus on.
Article continues below advertisement
While at Her Agenda we are focused on career, what we've learned is that millennials view their lives in totality and everything from their personal to professional worlds intersect. So, when I am asked about what issues millennial women care about, I am sometimes hesitant because…there's a number of them.
Top of mind is the tampon tax, the leadership gap and the pay gap. Just this morning, I read new data from the Census Bureau that because of the wage gap women lose $430, 480 over a 40 year career (in comparison to a White man in the same time period). Looking further, for Black women the gap increases to $877, 480 and for Latinas there's more than $1 million at the table.
Then, keeping balance in mind, many millennial women are telling me they're burning out. They're exhausted, and they don't feel like they're getting access to the right opportunities. 67 percent of millennial women claim they likely to leave their current occupations within the next five years, mostly because of lack of opportunity to advance.
This brings me to the issue that we hone in and repeat the most at Her Agenda, the gap between ambition and achievement. One stat we share often when speaking to investors about the "problem" we're looking to solve is the fact that women hold 53% of corporate entry-level jobs, but only 37% of mid-management roles and 26% hold vice presidents and senior manager roles.
Article continues below advertisement
You can't be what you can't see. This is why at Her Agenda we make a strong effort to shine a light on women who are breaking barriers and achieving things society said was not possible.
With that said, I focused on the lack of visibility of women in leadership positions, and the lack of access to opportunities and resources as a result of a lack of connections and mentorship.
Here are the notes of my speech:
My name is Rhonesha Byng.
I am the founder of Her Agenda, a digital media platform working towards bridging the gap between ambition and achievement for millennial women.
Despite graduating at higher rates than men and making up half of the labor force — only 18 percent of women are in positions of power.
14.6 percent are executive officers.
And less than 5 percent are Fortune 500 CEOs.
At Her Agenda we believe in the philosophy that you can't be what you can't see. So we make every effort to shine a light on women in leadership positions who are breaking barriers and achieving things society said was impossible.
Everyone in this room knows that what I described is a result of not just one thing but a combination of systematic and internal barriers.
As millennial women one key issue we face is equal access to resources and opportunities to change this pattern so we can become the ones setting the agenda, making decisions and making our opinions known.
Article continues below advertisement
The barrier to entry to not only leadership positions within corporations but even the pathway to entrepreneurship for women is too high but there are groups out there making efforts to equal the playing field.
Groups like digital undivided working to give access to capital to black female founders and orgs that I'm a product of like the Emma Bowen foundation which provides paid internships and mentorship to minorities looking to work in media.
If today we increase access to resources, mentoring opportunities and access to capital for women, tomorrow we will have more women running the world and a better world will exist because of it.

Following the lightning talks we got the opportunity to hear from women in leadership positions in government from the Special Assistant to the President for Economic Policy to the Executive Director of Let's Move! The day ended with a Town Hall style discussion inviting the voices from the room to speak up and speak out about what they want to addressed during the summit.