The Woman Behind the Revolution: Free Angela and All Political Prisoners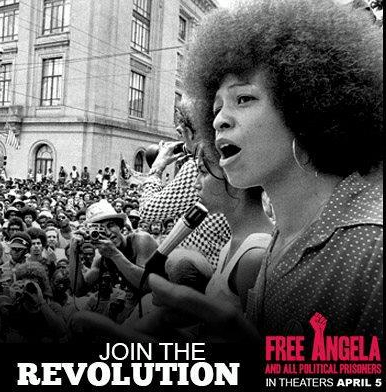 The political-crime-drama documentary Free Angela and All Political Prisoners directed by Shola Lynch gives an in-depth look into the life of Angela Davis. Scheduled for release in select AMC theatres on April 5, 2013, Free Angela tells the historic narrative of Davis' career as a professor whose social justice and activism interests led her to be placed on the FBI's 10 most wanted listed in 1970.
The events leading to Angela's journey towards becoming a political icon were like a domino effect. As an international scholar, Davis sought to use her education on communism to become a part of the Black Nationalist Movement. Therefore, Angela Davis became branded as a terrorist and threat to the United States government. Her political arrest and imprisonment gave birth to an international movement that questioned: What is the meaning of political freedom and who has the privilege to receive it?
Shola Lynch's representation of Davis allows the audience to have an in-depth perspective and feel as if they truly know Davis on a personal level. Because of Lynch's critically acclaimed first documentary Chisholm '72- Unbought and Unbossed, Davis felt secure that Lynch could accurately portray her riveting life. Davis' intention to "speak to young people in the 21st century to give them a sense of what it means to feel collectively powerful and capable of changing the world" allows Lynch to intricately explain why and how Angela Davis became a symbol of power.
Instead of centering her trial's theme on race and gender relations in American society, Davis's focus was based on inclusivity. Her movement's purpose was based on political prisoners and the agency of those who were deemed second-class citizens. Davis's case became an example of how laws are negotiated or determined based on people and their demographics.
With all the ingredients of a drama-driven crime thriller, Free Angela and All Political Prisoners engages viewers with imagery that captivates the reality of such a defining moment in American history, reminding us there is still work to be done within our political system.