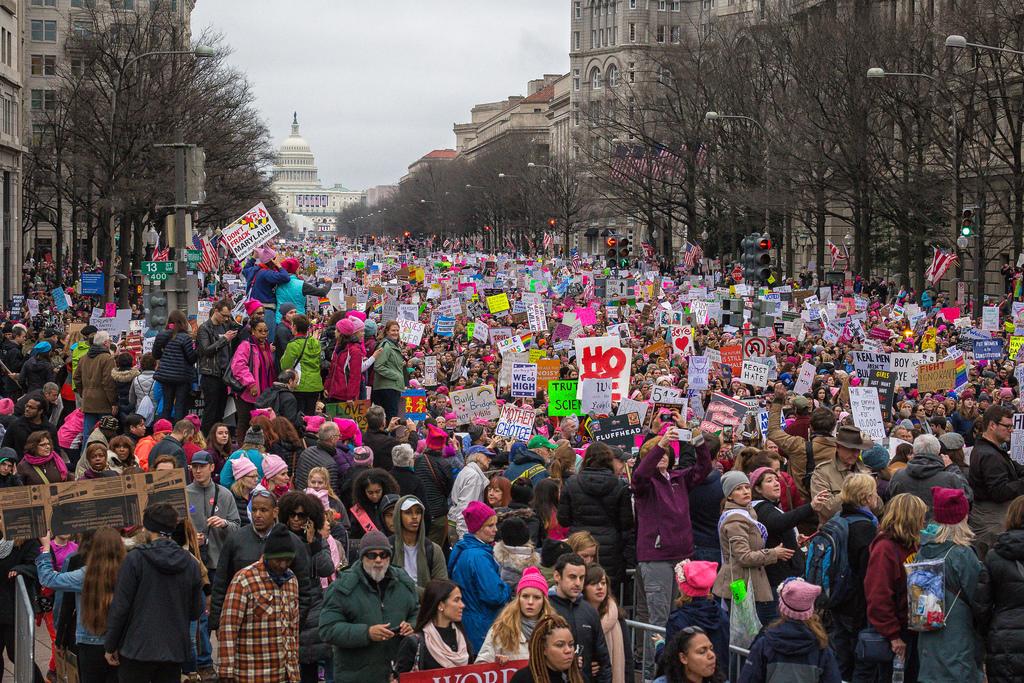 The Women's March Just Made History. Now What?
By Shanthi Blanchard

Jan. 23 2017, Published 7:41 a.m. ET
If you attended the Women's March this past Saturday, you just became part of history.
As early numbers for the march came in this weekend, it quickly became apparent that original estimates of attendees across the country were blissfully conservative. Crowd scientists believe that this past weekend's Women's March may have been the largest protest the nation has ever seen.
According to the Women's March website, over 5 million people participated in the protest worldwide. Washington D.C., the nation's capital, ended up bringing in anywhere from half-a-million to one million people. L.A. brought in nearly 750,000 marchers, which is just under 20% of the population in the city proper.
When it came to the march this past weekend, you could pretty much point at any major metro hub, and double (if not triple) any original estimate of the crowd's expected size.
Movingly, these marches didn't just stop in major metropolitan areas, but made their way into over 500 cities around the U.S., including conservative areas and smaller cities dotting the bible belt and into the south.
Article continues below advertisement
Despite the drastic minimization of the White House in a sadly guised attempt to manage the overwhelming response and participation in these protests, one thing was clear – women (and men) were untied against the Trump administration's views against women.
The march was an overwhelming success. Yet the truth of its success will be in the days, weeks and years ahead. The Women's March will need to succeed where other protests before it have failed – in unifying the energy of an organic movement into continued action.
Organizers of the protests have already given clear indications that there will be no 'catching of breaths' before the next stage of the movement picks up. Saturday night of the protest, organizers created a four-hour event called, "Where Do We Go From Here?", which trained over 2,000 organizers on how to turn mobilization into political action.
Despite a flux in the focus of organizer's causes (healthcare, education, prison system, etc.), Senator Jeff Merkley insisted to the New York Times that marchers were united by their disdain for Trump: "Trump is the cure here. He brings everybody together."
Article continues below advertisement

One thing is very clear: the march cannot be a one-off, but rather the signaling of a much larger movement that will take place across a series of civic actions, protests, organizing, and campaigning. It will need a unifying northern star in order to encompass large-scaled continued mobility and change. Luckily (or unluckily), between Trump's twitter handle and his administration's questionable planned policies, there should be enough cosmic energy to keep people fired up well through 2020.
Article continues below advertisement
In the meantime, several courses of action have already begun to fuel the next steps of the movement. The Women's March has posted a new campaign on their website which promises to keep momentum going. 10 Actions/100 Days will closely follow Trump's first 100 days in office, and post civic actions people can participate in to voice their discontent and create civic change in palpable and action orientated ways.
The first action has already commenced and involves writing a postcard to your Senators about what matters the most to you, and how you will continue to fight in the weeks ahead. They are also encouraging people to invite friends or fellow marchers out for drinks or dinner, talk about your march experiences, and write these cards together.
Organizers seem to recognize that many diverse interests and causes underlay the momentum behind the Women's March this past weekend. But it will be up to those who attended to make their voices heard these next four years.