In Their Own Voices: From Aly Raisman And Laurie Hernandez The Untold Stories Of U.S.A. Gymnastics
By
Devi Jags
Oct. 26 2020, Published 4:05 a.m. ET
The platform that Raisman and Hernandez are creating for female athletes, and women everywhere, are changing the traditional narrative around U.S. gymnastics – stories brushed under the rug.
Olympic gymnasts Alexandra "Aly" Raisman and Laurie Hernandez, part of the "Final Five" gymnastics team that brought home gold at the 2016 Olympics, certainly stand out in the realm of women in sports. Their brave, but horrific claims against abuse in gymnastics have been heard all around the world.
Defying Gravity: The Untold Story of Women's Gymnastics
The new six-part docuseries now streaming on Glamour's youtube channel has given gymnasts a chance to finally tell their stories. Hernandez tells Glamour Magazine, "I loved having the opportunity to do that in a way that was creative and exciting and entertaining but also truthful and authentic to me." To both Hernandez and Raisman, the focus in media headlines was dominated by abuse in gymnastics.
Article continues below advertisement
Hernandez spoke out about her abuse in May 2020, along with the June 2020 release of Netflix's Athlete. In the film, gymnasts exposed decades of abuse by doctor, Larry Nassar, that was coddled by the U.S. Gymnastics organization. The 2017 uncovered reports of allegations against U.S. Gymnastics finally gave this army of female athletes a voice.
Raisman says, "the media is a huge part of allowing for change to happen in the gymnastics world and in our society. I'm extremely grateful for that, but the headlines have also made it hard to talk about the joy in gymnastics. I was really excited about having the opportunity to talk about my love for gymnastics."
The Power In Telling Their Own Stories
Throughout the Defying Gravity series, Hernandez and Raisman both share their experiences in realizing why the mental health journey was so vital to their sport and finding power in their voice. The two women share the importance of speaking up about their feelings and having someone in your life that you can trust. Raisman also shares her perspective as a young athlete (referring to 2016) as "not having the tools or knowledge to understand how important the mental aspect of it is," versus the physical part of the sport.
Hernandez discusses only finding her voice more recently this year. She recalls the case that opened earlier this year, where she eventually had to speak about it. The gymnast turned to social media with a vulnerable post, sharing her experience.
Article continues below advertisement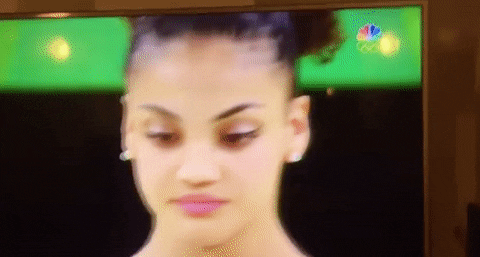 There were thousands of responses that read "I didn't realize that this had happened to me too. I completely blocked it from my brain. And then I realized I had a similar situation like you," Hernandez shares, which sparked an entire movement.
Article continues below advertisement
#MeToo and Beyond With #GymnastAlliance
After the release of Athlete A, Hernandez and Raisman were flooded with heartbreaking stories from gymnasts on Twitter using #GymnastAlliance. Raisman explains, "it's gymnasts from all around the world speaking up and sharing their stories. And it is heartbreaking. It's hard to put into words. I find it just so incredible at the same time. I feel so many emotions as I'm sitting there reading it. Some of it is super triggering because I can relate to it."
Article continues below advertisement
The stories of abuse and push for change within the U.S.A. Gymnastics is also introduced in the film Defying Gravity. The women describe this as intentional, to describe every angle possible [of gymnastics] so that one story doesn't define the other. "Kicking off that conversation and making sure that people are listening, it's really important" Hernandez explained.
Raisman eloquently stated "you can talk about the sexual abuse problem in the sport and in our society. You can talk about how there are many gymnasts that have eating disorders or depression or anxiety. But I think it's equally as important to also talk about the love that we have for the sport and all the incredible things about it. And I think that what makes this project with YouTube very unique is that they're able to do both."
Article continues below advertisement
The Future: The Tokyo Olympics 2021
Laurie Hernandez is currently training for the upcoming Olympic cycle in Tokyo 2021, which is much different than the 2016 landscape. "I realized it's not the sport that's bad, but maybe it was the environment. It took me two years to realize that the environment that I was in wasn't the best for me and for those around me, but it's not the sport that I didn't like or that I wanted to stop," added the gymnast.
Hernandez is training in New Jersey, although due to the COVID-19 pandemic, her primary coaches are not with her. NBC Sports report, Hernandez's coaches are training her from 2,000 miles away.
A former gold and silver medalist in Rio, Hernandez was the youngest U.S. female Olympian across all sports at age 16. She took a break from competition after the Olympics, won "Dancing with the Stars" and began her comeback in 2019, attending her first U.S. national team camp since the Rio Games in November.
With the extra year of training, Hernandez is using the time to work on techniques and focusing on the joy of trying new things. "We forget that the whole fun of the sport is trying these new things and being a crazy athlete. That's the whole point," says the gymnast.
IF YOU OR SOMEONE YOU KNOW HAS BEEN SEXUALLY ASSAULTED, CALL NATIONAL SEXUAL ASSAULT TELEPHONE HOTLINE AT 1-800-656-HOPE (4673) OR VISIT ONLINE.RAINN.ORG.