This NASA Astronaut Is About To Make a Historical First
By Shanthi Blanchard

Jan. 10 2017, Published 7:38 a.m. ET
"It was 1980. I was about nine-years-old and my brother came home and he looked and my grades, and my twin sister's grades. And he said, 'You know you guys could become aerospace engineers, or even astronauts,'" says Jeanette Epps in a NASA interview about her career.
"This was at the time that Sally Ride and a group of women were selected to be astronauts for the first time in history….I said, 'Wow. That would be so cool.'"
In May 2018, Epps will be setting another first. Last week, NASA announced that Epps will be joining the International Space Station team, making her the first Black American astronaut on the crew.
Article continues below advertisement
Epps will join the ISS team for Expedition 56 as a flight engineer and remain on board for Expedition 57. She  will be in company with five other international team members, including her fellow NASA veteran astronaut Andrew Feustel and their Russian counterparts. Although there have been over 200 visitors to the space station since 2000, most have been white and male. Epps will be the 14th African American to travel into space.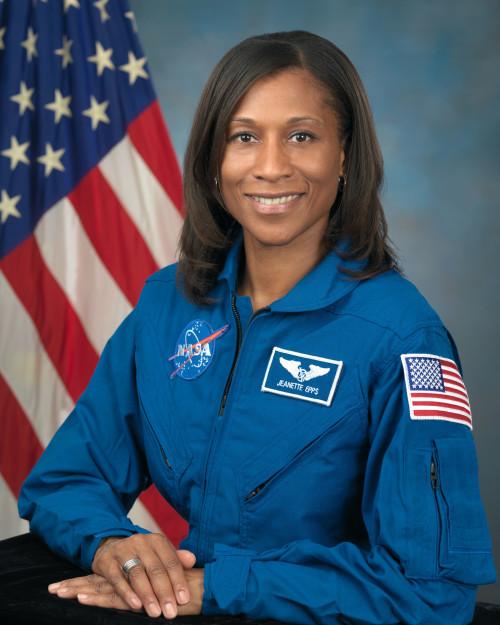 Article continues below advertisement
Epps background reads like the . Epps carries with her degrees in physics and engineering, as well as a PhD from the University of Maryland. Epps had her first experience with NASA during her PhD program, a time in her career where she also authored several publications. But it would be years before she joined the NASA program for good. Post-doctorate, Epps went on to impressively author many patents as a researcher. She then went to work for the CIA for seven years (as one casually does) going out into the field, which included a four month stint in Iraq. Then, in 2009, she was recruited into NASA's astronaut class. Because Epps.
Most recently, Epps has taken on the role of 'modern figure' in NASA's new Modern Figures campaign, which launched to celebrate hidden and modern women figures in the NASA space program. Despite the success of Epps and the women of color that have proceeded her, overall, black women make up just 1% of doctoral degrees in STEM fields. The campaign plays an important role in highlighting the advancements women and women of color have made for the NASA program, and in encouraging more young women to get involved in STEM.
Article continues below advertisement
Epps for her part, seems to be embracing this role with vigor and tact, publicly endorsing the film, appearing in a NASA clip promoting it and penning a interviews with publications to reach out to younger audiences.
"Anything you don't know is going to be hard at first," Epps says in a NASA/Hidden Figures segment, in which she gives advice to women in STEM,  "But if you stay the course and put in the time and effort in, it will become seamless eventually."