This Year, Keep Your Stress Low and Happiness High With Black Zen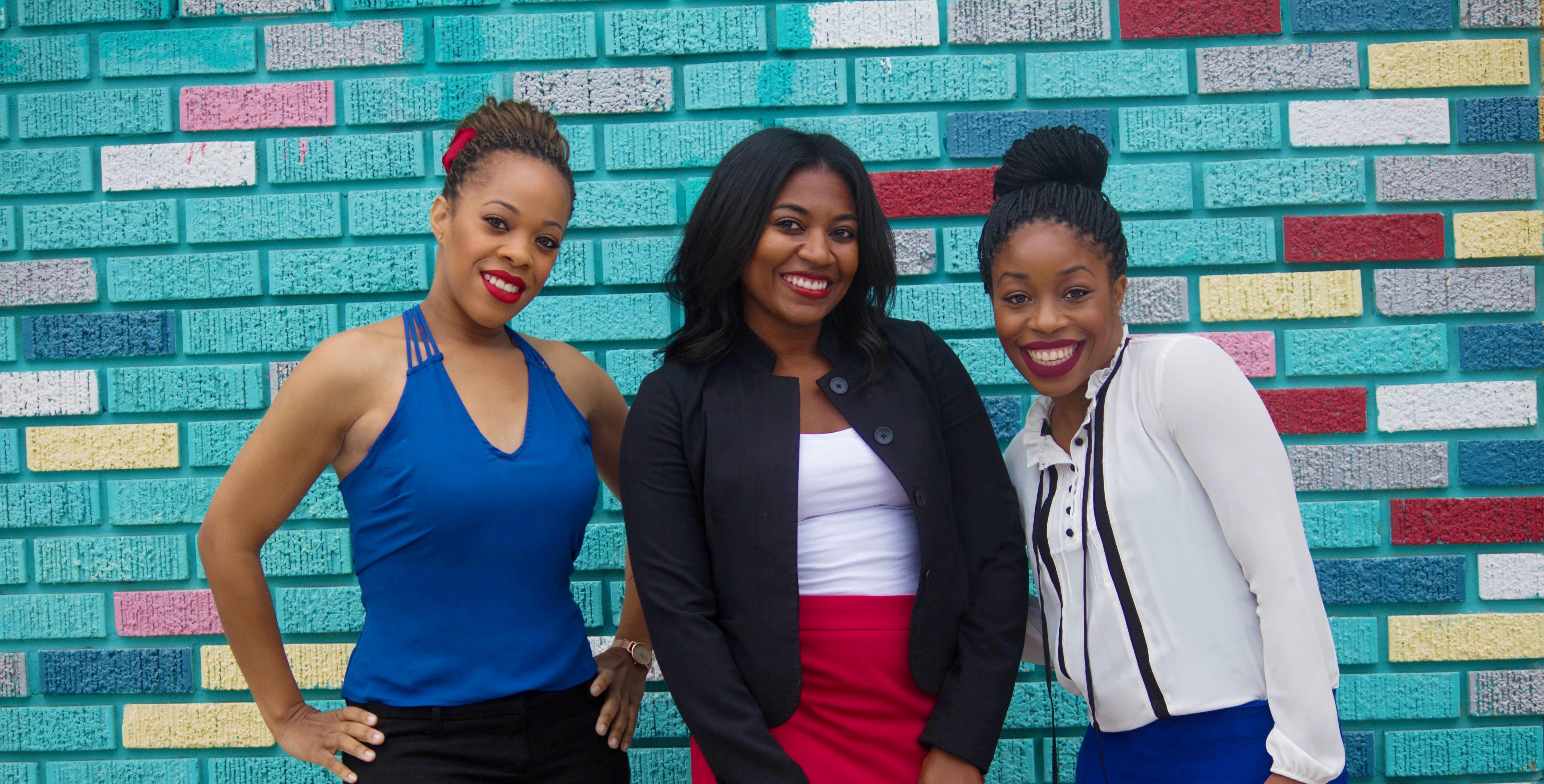 2016 left many of us stressed out, exhausted, and emotionally drained.
When the clock struck 12:01 am on New Year's Day, millions of people around the world rejoiced as 2017 ushered in its spirit of infinite possibility, optimism, and hope. We returned to our work routines on January 3rd relaxed, focused, and ready to conquer the overflowing email inboxes and other outstanding projects left incomplete from the holiday season.
But let's face it – after January 31st (maybe even before that) are we still going to have that same bright-eyed, bushy tailed excitement necessary to conquer the rest of the year? Of course not.
Luckily, there are three young women who want to ensure that when life does come at you fast, you will be able to handle it in a cool, calm, and collected fashion.
Stacey Johnson, Jasmine Johnson (yes, they're sisters), and Sherna Stephenson are the co-founders of Black Zen, an online movement designed to help millennials incorporate guided meditation to reduce stress and promote happiness in their lives.
Research shows that 20 minutes of meditation a day can allow us to become more focused and aware of our surroundings. Established in August 2016, the ladies are working together to encourage their community to practice mindfulness and make time for self-care.
Her Agenda caught up with "The Trio" of this unique digital platform to discuss why meditation is key, and how they plan to zen-fully take care of business in 2017.
Her Agenda: What inspired you ladies to launch Black Zen? With your various talents, how did you all come together and decide that this was the venture you all wanted to collectively pursue?
Stacey Johnson: Sherna and I were at dinner one evening browsing through various meditation apps (like Headspace) to see what would be most helpful in our journey to meditation. At the time, we felt that none of the mindfulness apps out there were speaking to us in a way that we could understand, nor were the issues they discussed reflective of our real-life problems.
Article continues below advertisement
Sherna Stephenson: It's important to note that we all came into meditation at different times in our lives. I came into it through yoga a few years ago. We were all meditating, but didn't talk about it – because no one really talks about it! When Stacey asked me to be on the board of her nonprofit organization that focuses on meditation, health, and wellness, that's when everything began to snowball and Black Zen started to take shape.
Jasmine Johnson: As far as our individual talents are concerned, I've been an event planner for over ten years, so I focus on bringing Black Zen events to life. Stacey is the numbers person, and through her nonprofit, she is applying for grants to help fund our project. Sherna is our resident techie and marketing expert – so while each of our skills play a different role, the whole project comes together really well.
Her Agenda: To some, meditation seems boring and hard to get into. What advice would you have for those who are looking to get into it, but don't know where to start?
Article continues below advertisement
Jasmine Johnson: I lived and worked in New York City on and off for about 10 years, and it's the kind of place where it's hard to find peace sometimes. The way the city is designed, people are always moving and you are constantly striving to do something. I remember I had gotten so frustrated because, when you are ambitious and you have #BlackGirlMagic, you feel as though you can do anything, right? I was trying to do so much that it got to the point where I couldn't see the forest for the trees.
I knew I had to pray about it, but when I sat down to pray no words came out. The first time when I was like, 'Lord, I'm just going to sit here and I'm not going to say anything because I'm so full and I don't know what to say.' I just knew that I had to shut up for a second, so I sat in silence until I heard something. And that was really my first meditation – it was like an offshoot of my prayer.
But that's not going to be everyone's experience. Rather than thinking of meditating as this foreign concept, just think of it as quieting your mind for a moment. The more that you can do that, the peace that you experience will help you make better decisions because now things don't affect you they way they used to — you're more proactive than reactive."
Article continues below advertisement
Sherna Stephenson: When I started to really focus on meditating, I noticed that there's a true benefit in calming your mind. For anyone who thinks they can't do it, I will say that I'm the girl that when I started, one minute was too much for me. Now I can sit for an hour.
Stacey Johnson: When I started meditating, I was going through a lot in my life and found it easy to just 'go to the mat' (their slang term for a meditation session) and sit for 45 minutes to an hour. It was so relaxing and good for my mental health at the time.
The Black Zen app is expected to come to market later on this year, but as the ladies prepare for the launch, future users can sign up to join the Black Zen community and download a free guided meditation.
HA: Our generation is constantly bombarded with notifications from our many electronic devices. How can we silence the noise and take advantage of the benefits of meditation?
Stacey Johnson: First, we need to learn how to turn everything off. The constant barrage of notifications that makes you think you need to respond or react to something immediately.
Article continues below advertisement
Sherna Stephenson: It's an opposition to what meditation is trying to get you to do. Meditation wants you to take a beat; to create space between your responses. But everything in our lives right now is in demand of a response. With Black Zen, we're trying to create the counter to that. Now more than ever, meditation is so important because of the constant influx of information we receive. It's really important for us to find that stillness and to reset. If you take just two minutes at the beginning and at the end of your day, you can start to see the effects of meditation. I guarantee if you do that for a week, the next week will look different because you'll be coming from a different place — and it doesn't require a lot.
While you may not have time during the work day to 'go to the mat' for an extended period of time, the ladies of Black Zen stress the importance of practicing mindfulness. Whether it is a two or five minute meditation, the Black Zen app will meet users where they are so they don't have feel like experts. "Meditation builds compassion," Stacey says. "If you're mindful during the day, you're more inclined to meditate at night."
Without giving too much away, Jasmine, Sherna, and Stacey shared that when it launches, the Black Zen app will be something millennials will want to use everyday.
Article continues below advertisement
"It's going to be one of those apps that is very engaging, but also social," Jasmine says. "The main difference between our app and the ones currently on the market is that you'll be able to share your experience with others."
"We're purposely de-emphasizing the aspect of time within the app, so that it's just what you can do," Sherna states. "For minorities specifically, we're doing a lot of content development so that the app is relevant to your life and what you're trying to achieve. If we can help you to destress and thrive through meditation, that's what we want to do."
Within the app itself, there will be different modes that will empower users to become better at meditating and not to feel intimidated if it is their first time practicing.
"Our first free guided meditation is about 30 seconds," Stacey says, "because we've realized that it might be a challenge for beginners to just silence their minds for that period of time."
"But even outside of the practice mode, we're creating modes that are very conversational, light-hearted and relatable," Jasmine says. "And hopefully, this will change the way you think about your day."
In addition to bringing the app to market this year, the ladies of Black Zen want to continue using their skills to collectively and organically bring this idea to life. With a grant they received in late 2016, they look to host a series of events that will bring people together and make meditation a much more social activity.
"Aside from the in-person events, we're looking to start a movement of young minorities to make meditation a common thing that our community does often," Jasmine says. "If this becomes a generation thing, how powerful would that be?"