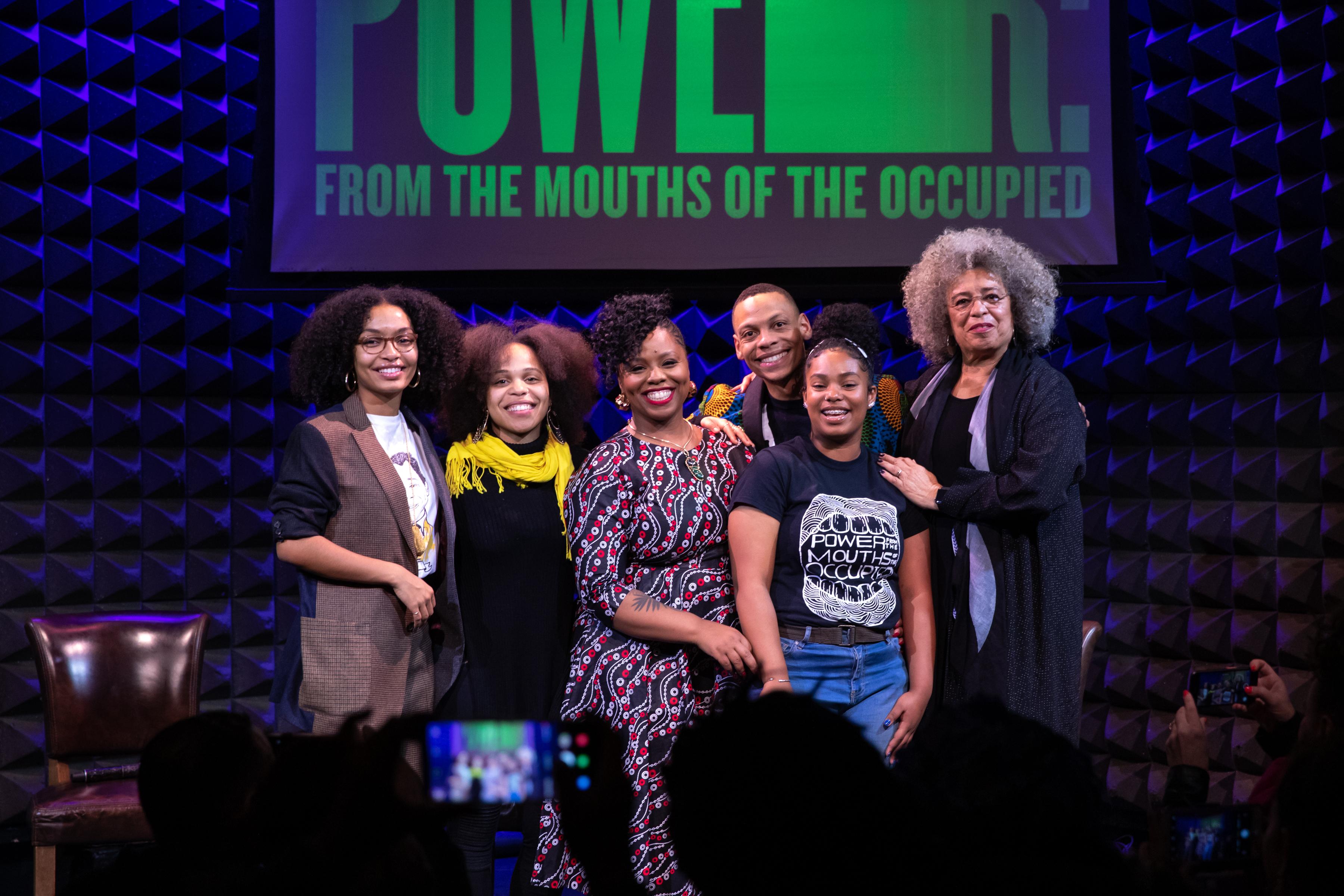 Three Generations Of Activists Discuss Strategies For Building Power, Healing And Racial Justice
By
Esthefany Castillo
Mar. 5 2019, Published 12:52 p.m. ET
What happens after the hashtag? It's now normalized to use hashtags to memorialize unjust killings of an innocent person at the hands of police. #SandraBland #EricGarner #PhilandoCastile are just three out of the millions of hashtags. But Patrisse Cullors, cofounder of #BlackLivesMatter (used over 41 million times since its conception) is putting her energy into diving deeper into these stories and those yet to be told.
On the evening of February 24, over 100 attendees filled Public Forum Theater in East Village, New York City to experience the performative documentary POWER. This space of Black story-telling, community building, and healing was created by Patrisse Cullors, artist and cofounder of the Black Lives Matter movement. In the second half of the program, Cullors was joined by civil rights activist and writer Angela Davis as well as Yara Shahidi, a young organizer most commonly known for her role as Zoe on the television show Black-ish.
The theme for the night was centered on the POWER that can be galvanized within the Black community through story-telling – as both a strategy for community building and as a means of historical documentation of criminal injustices.
"Power comes out of survivors' stories," Cullors stated when introducing the performative pieces.
Cullors then handed the stage to Thandiwe Abdullah, Marcel Baugh, and Donnay Edmund. The spoken word artists hailed from across the cross country from Los Angeles, Brooklyn, and Seattle, respectively. All of them, despite living miles apart from one another, in different districts where the laws of jurisdiction difference, still shared stories of pain, trauma, and fear at the hands of police.
Article continues below advertisement
One by one, Abdullah, Baugh, and Edmund transported us to the distinct times in their lives as young Black American citizens when the police degraded their personhood and both physically and/or verbally abused them because of the color of their skin. More than once, the performers' eyes welled up and as they choked up their delivery vibrated frustration throughout the room.
Empathy proceeded to fill the space, for too many in the audience have at one point experienced the same thing. Tears were pushed back as traumatic stories of police violence, guns pressed on temples, Black bodies being tear gassed for no reason, and literal moments of disappointment towards police were relived as a way of invoking POWER and uniting everyone in the space.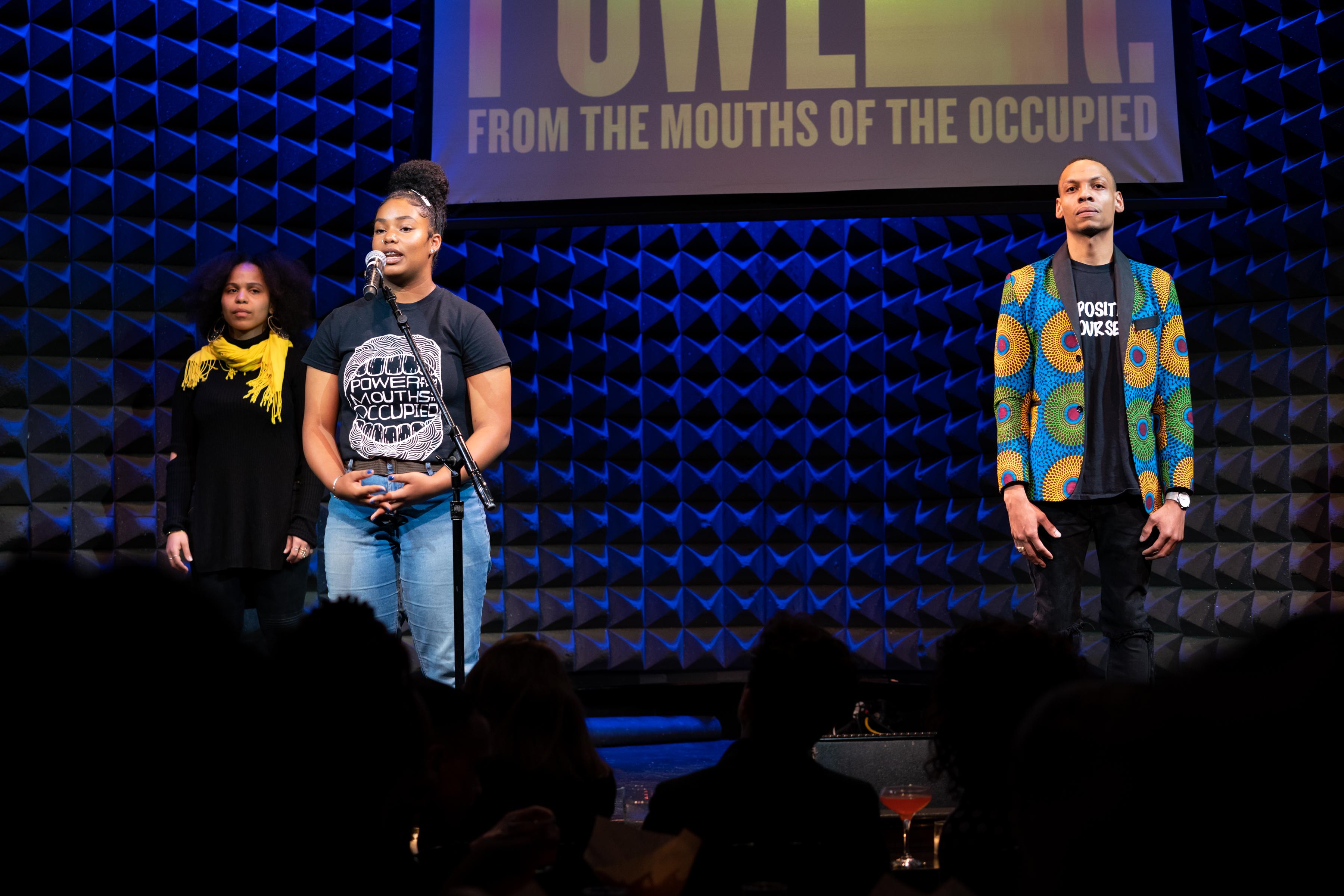 Article continues below advertisement
What the audience experienced after left many speechless. Yes, there is power in the stories of survivors, but also so much pain that needs healing. There was a heavy silence after the performative pieces; so much so that Cullors asked the audience to collectively take part in three deep breaths before turning over to our neighbors to discuss how we felt.
Shahidi timely questioned, "if we can understand that these injustices are at a systemic level and that there is, in fact, pain and trauma, then who in the end is tasked with the healing?" With this question, Cullors, Davis, and Shahidi began to have an open intergenerational conversation about the current opportunities for, limitations of, and the value of social media when speaking about civic action.
Article continues below advertisement
A critical point in the conversation came when the Cullors, the founder of one of the largest modern social movement, #BlackLivesMatter, whose growth has been facilitated by social media, stated that "there is no way a movement is accelerated online, only real people do that can do that…there was real offline work that was put into that."
She continues to mention that it was real people who created the hashtag, did the organizing, talked to people and families who had lost loved ones, and who shared stories and build power in numbers. Shahidi, an organizer herself, followed the statement was stating "there is no offseason to civic engagement." She clarified that often time when we think about "the work" we consider the one day we go to the voting polls to be enough, when in fact civic action is a withstanding commitment to advocate for and build power to bring for change.
Article continues below advertisement
"The most political work doesn't happen when we vote, it happens in the everyday acknowledgment of the work of people, not only votes," Davis said. Moreover, on the topic of social media, Davis paid respect to young generations who get a lot of criticism from older generations. Davis speaks about her acceptance of the differences in the activism of the younger generation.
"Our way was different than those who came before us…it was new and different. Similarly so is that of the younger generation." Beside "this is historical conjunction. This is a wonderful time to be young in so far as you can recognize that this work matters."
Angela continued to say that she believes "Trump could have been prevented." Cullors agreed with her and put into example what Davis meant. Cullors believes more could have been done by the Black community when Obama was in power. We failed in believing electing him was enough and so we never pushed him hard enough for legislation nor criticized his actions.
In the audience were the mothers and family members of people who, in this digital age, were turned into hashtags and whose opportunity to share their stories were stolen from them. This has not only been a physical loss for the families, but also a loss to the movement because their stories will never be spoken about in the first person. If the goal is to no longer need to hashtag our family members, POWER suggests building community through storytelling, creating spaces for healing, using social media alongside traditional organizing, and going out of our ways to be involved in change beyond just going to the voting poll.