Three Myths About Why Black Women Can't Achieve Equal Pay Debunked
While many women recognize equal pay day in April, equal pay day for Black women equal pay isn't recognized until July 31st..
Although the day has now come and gone, it's still important to have this conversation on an ongoing basis, We know that all women make less than the average white man but Black women make significantly less. In order for Black women to make as much as a white man, they would have to work until July 31st for the pay to be equal. In reality, what only takes a white man a year to earn, takes Black women 1.5 years to earn.
Here are three myths about earning equal pay that need to be debunked:
Black women should work more to earn more
Black women actually work more hours than white women, and this growth in working hours has increased about 19% since the 1970s. While both men and women of all backgrounds have increased annual hours worked, the significant growth of these hours has been led by the women.
Also, Black women who are married with children, typically work 200 hours more than white and Hispanic women. In a 2015 study by Economic Policy Institute, data shows that married Black women with children, worked 339 more hours than Black single mothers and 132 more hours than childless, non-elderly Black women. What this shows us is that even when tasked with more responsibilities, Black women continue to show up and work hard despite the circumstances.
If Black women want to make more money, they should go to school
Black women are one of the most educated groups of people in our society, yet lack of education claims seem to be the explanation for the wage gap. About 30% of Black women have at least a bachelor's degree or higher. Regardless of education level, Black women are paid much less than their white, male counterparts.
In 2016, a study done by the Economic Policy Institute illustrates that even Black women with advanced college degrees earned less than white males who only have a Bachelor's degree.
Article continues below advertisement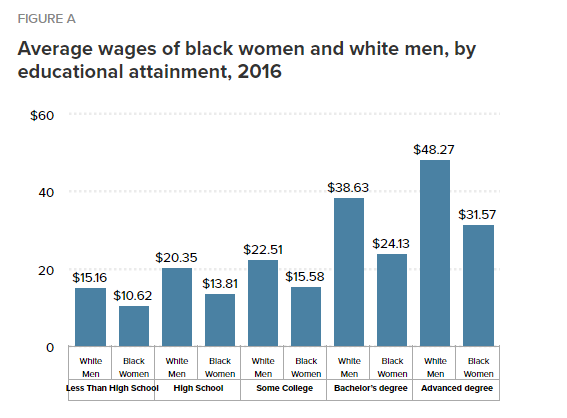 Image: Economic Policy Institute, State of Working America Data Library
Black women should choose higher earning jobs to close the wage gap.
The truth is, even in "female dominated" fields, women still earn less than men, especially Black women. Even a Black female surgeon earns $18/hr less than her white, male counterparts.
The table shows that regardless of occupation, whether it be a high paying job or lowing paying, Black women are underpaid. While Black women have more numbers in low-wage positions, changes in minimum will have a huge impact on them. The minimum wage increases expected to take full effect in 2024 could affect 1 in 4 Black women.
Article continues below advertisement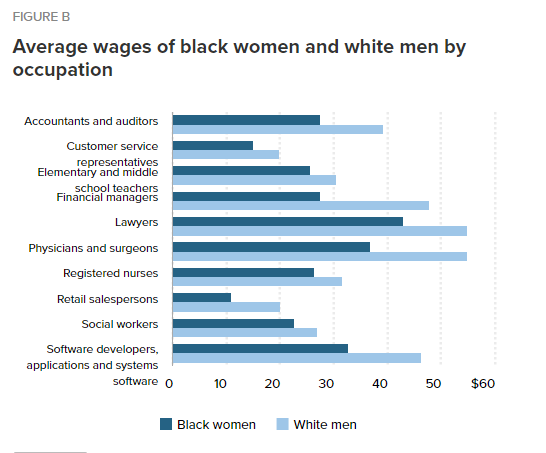 Image: EPI Analysis of Current Population Survey Outgoing Rotation Group (CPS ORG), 2012-2016
The issues aren't about personal circumstance of city, age, occupation or education level but just the fact that Black women are discriminated on two different levels. When only part of you is marginalized, it's easier to dig yourself out of the systemic traps of racism and sexism. But for Black women, and other women of color, your entire being is subject to these forms of discrimination.