The Internet's Response To The Latest Tiffany & Co. Campaign Featuring The Carters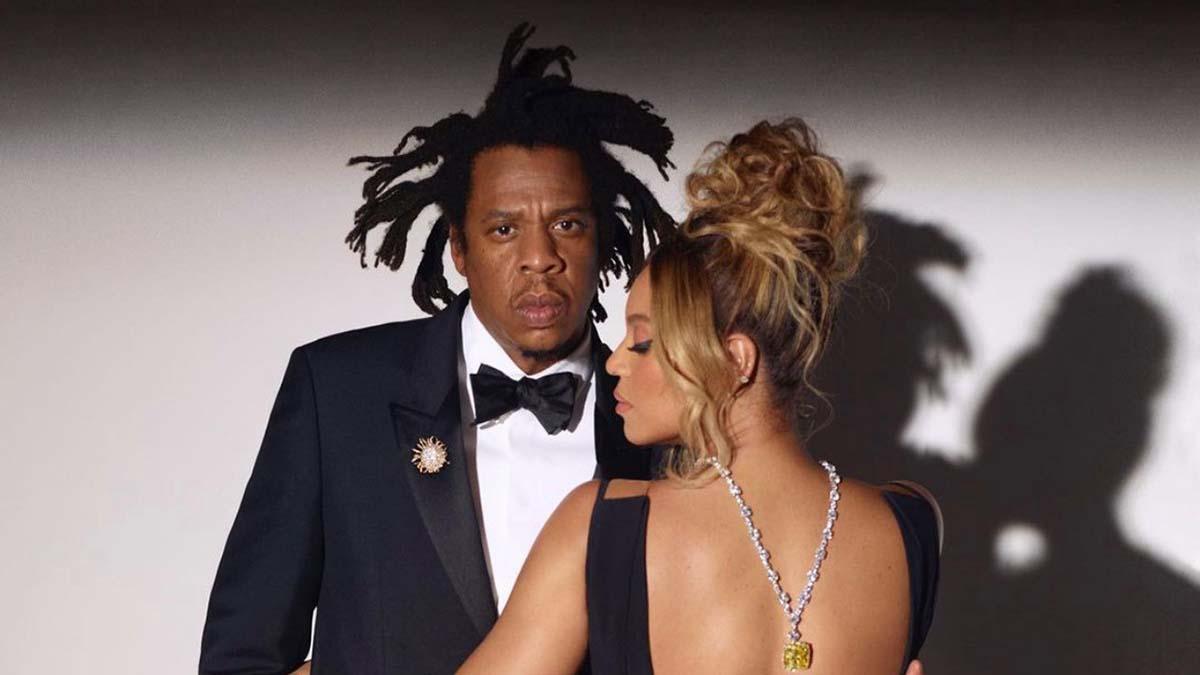 "Love is the diamond that the jewelry and art decorate" – The Carters.
Tiffany & Co. recently released their newest ad campaign featuring hip-hop power couple, Beyoncé and Jay-Z, as the brand's ambassadors.
"An iconic couple. A prolific artist. Jean-Michel Basquiat's painting, "Equals Pi" (1982) makes a rare public appearance with two of today's most respected creative forces," stated the Tiffany & Co. twitter page.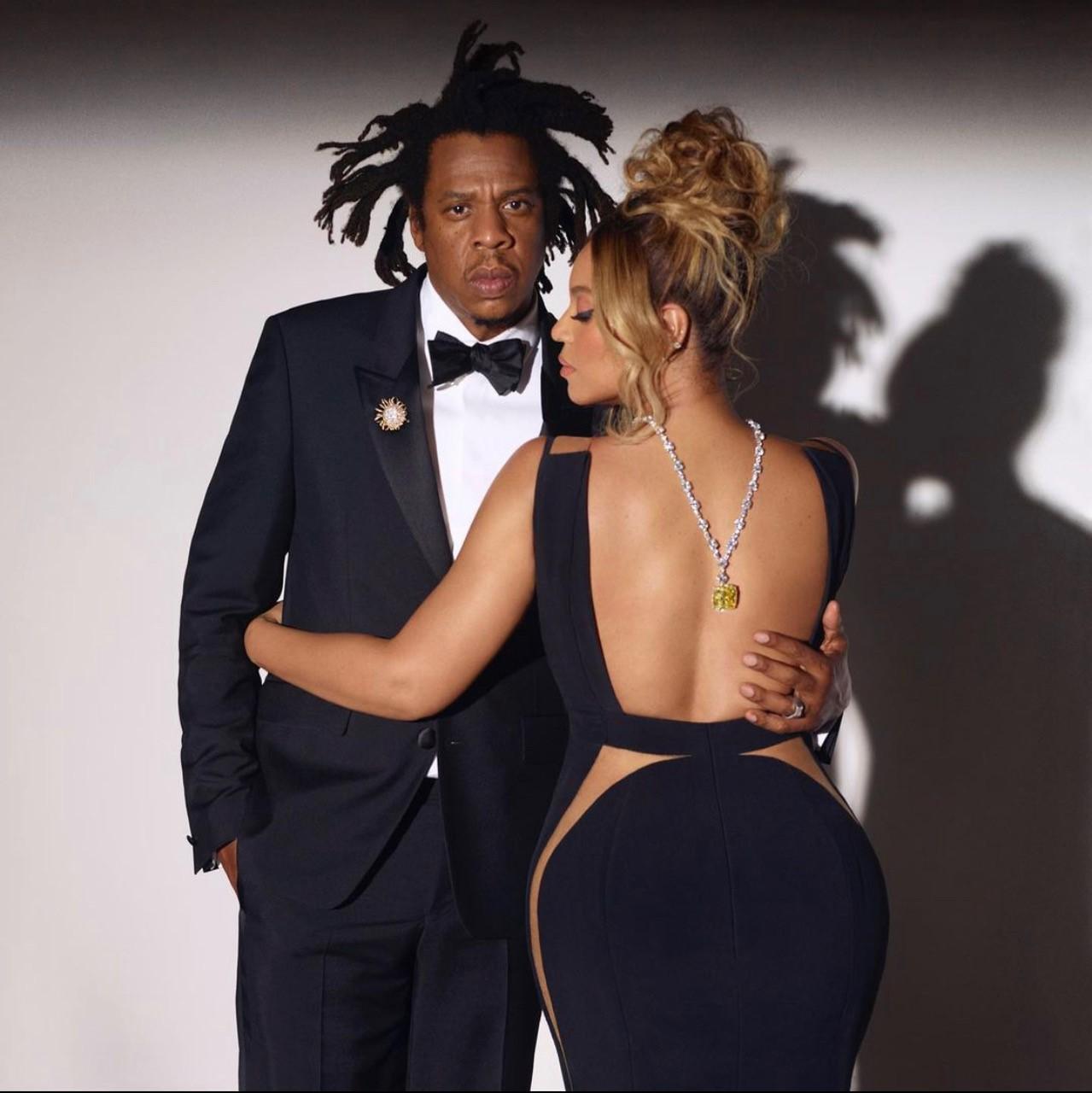 The campaign is filled with historic first but does not go without controversy as the Carter's set the internet ablaze, as they always do when the photos were released.
In the stunning photos first revealed on Tiffany & Co.'s social media and shared by Beyoncé on her Instagram, the Carter's pose in front of Jean-Michel Basquiat's rarely seen 1982 "Tiffany's Blue" "Equals Pi" painting. While Jay-Z lounges in a chair dressed in a suit, Beyoncé stands tall wearing a black dress, black sheer gloves, and the iconic Tiffany's Yellow Diamond necklace.
Article continues below advertisement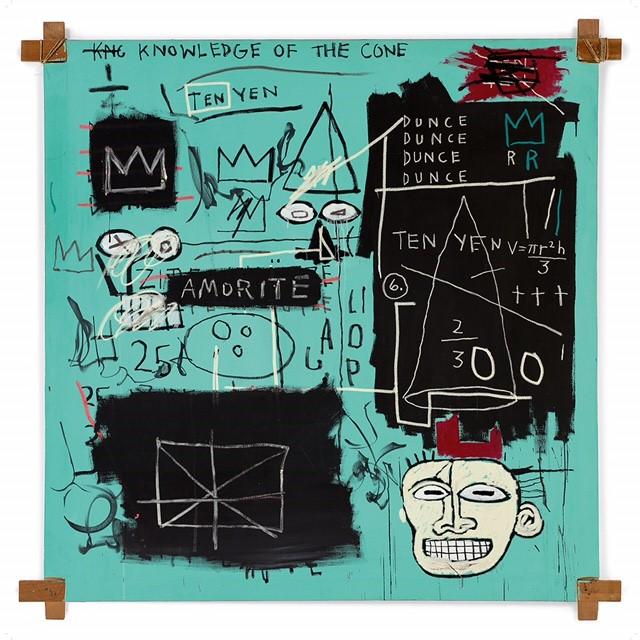 Positive Feedback
As history would have it, Beyoncé became the first Black woman, and the fourth woman in the world, to wear the 128.54-carat stunner which was unearthed in South Africa in 1877. A brief history of the stone's unearthing can be found here. Jay-Z wears the legendary "Bird on a Rock" brooch by Jean Schlumberger but is reconstructed as a pair of cuff links. This also marks the first time the couple is seen together in an ad campaign.
The Carter's are known to only associate their name with causes and organizations that benefit the culture, so it comes as no surprise that this partnership with Tiffany's is set to benefit HBCUs.
Article continues below advertisement
According to CNN, Tiffany & Co said it will donate $2 million towards scholarship and internship programs for Historically Black Colleges and Universities. More information will be released at a later time.
In a statement, Alexandre Arnault, Executive Vice President of Product and Communications for Tiffany's & Co., stated "Beyoncé and JAY-Z are the epitome of the modern love story. As a brand that has always stood for love, strength, and self-expression, we could not think of a more iconic couple that better represents Tiffany's values. We are honored to have the Carters as a part of the Tiffany family."
Mixed Feelings On Social Media
Social media was filled with mixed reviews of the Carter's newest business venture. Some people took one look and loved it instantly while others had questions wondering if this is what Basquiat would have wanted, and concerns on why a Black woman is only now getting to wear a diamond originally from the African continent.
One social media user responded "Basquiat would have hated y'all for this," under the jeweler's Twitter post.
Article continues below advertisement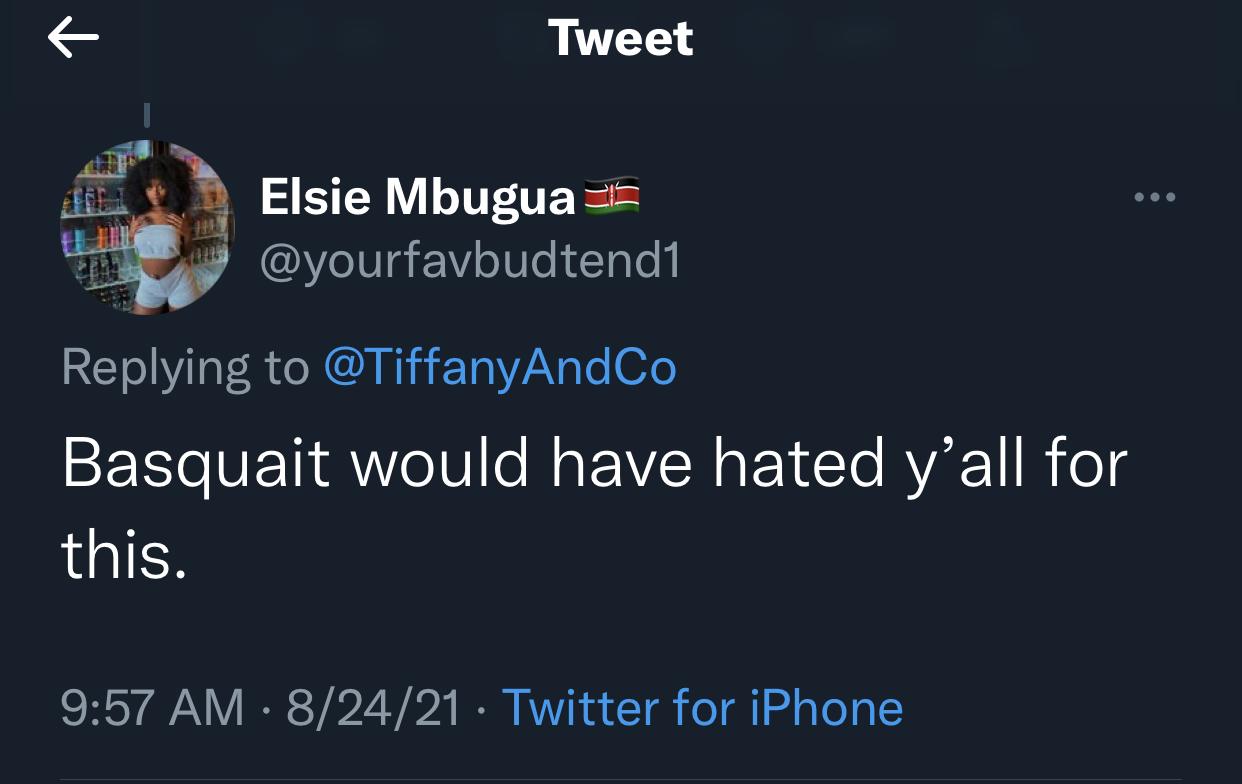 Another Twitter user tweeted "Bring back the stone that was stolen by Charles Tiffany from South Africa, Kimberly in 1877," about the Yellow diamond.
Article continues below advertisement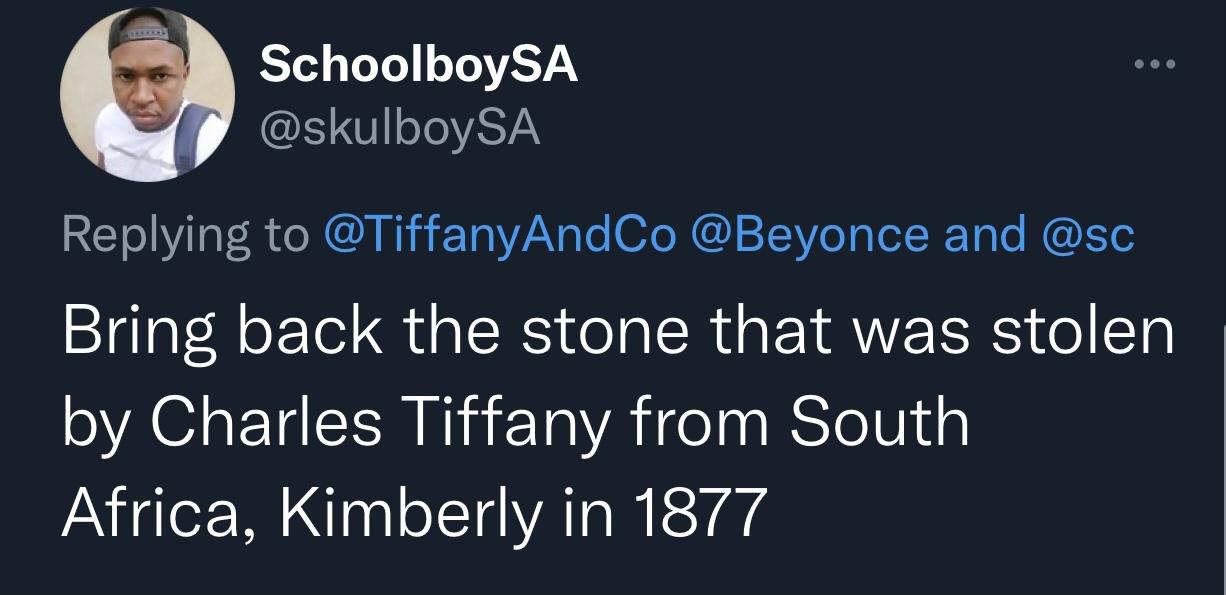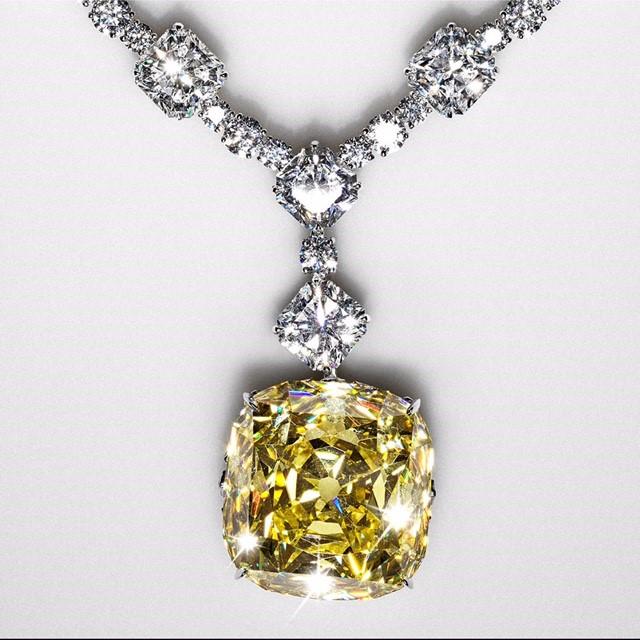 Article continues below advertisement
Not everyone was upset at the ad campaign, another social media user posed the question "Whites are owning land in South Africa, but Blacks South Africans are concerned about a Diamond in America. When are you demanding the stolen land here in SA? Just say you have a problem with Beyoncé and move on."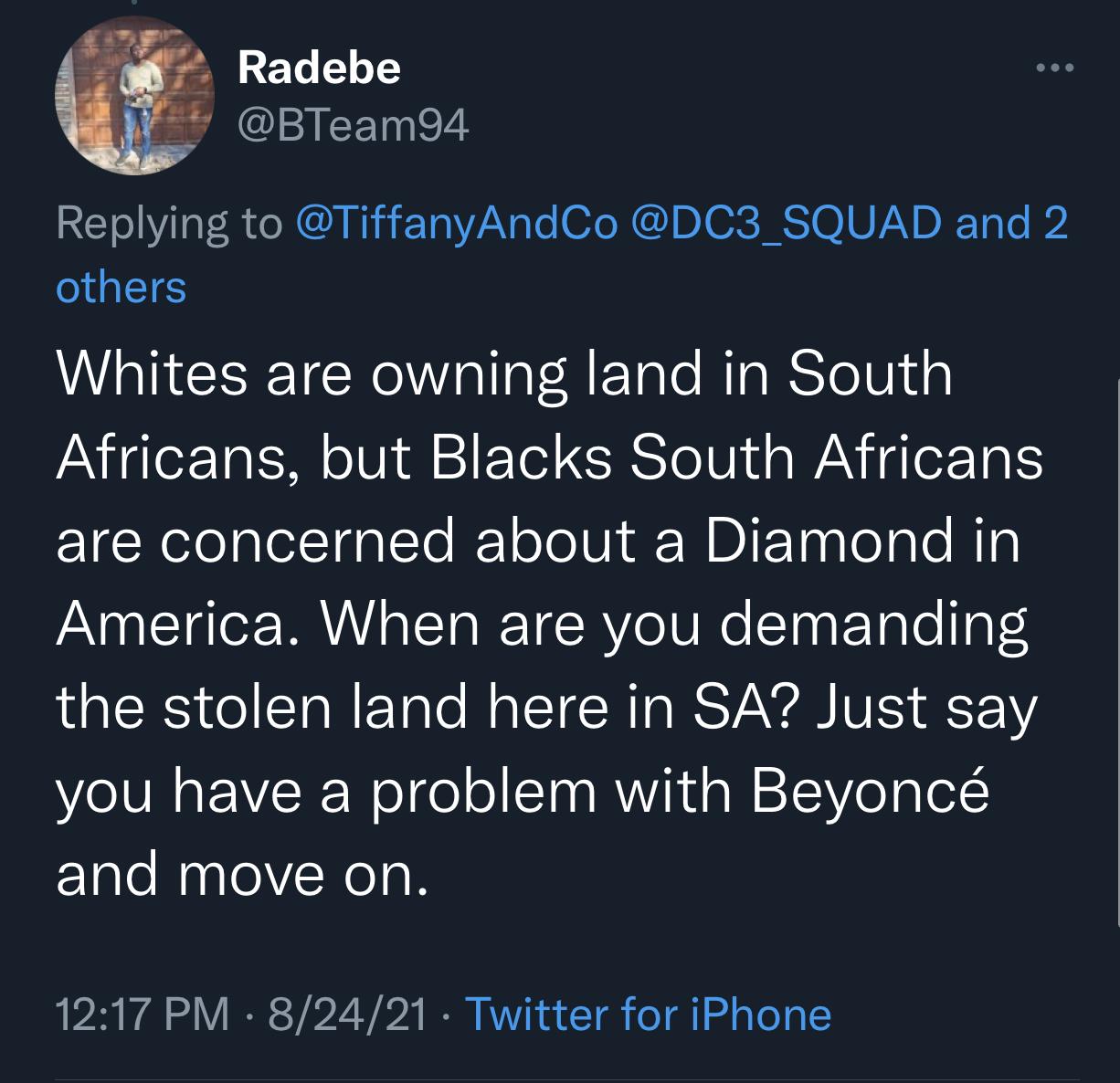 Article continues below advertisement
"Iconic couple!! I love them so much! This is definitely the best people Tiffany could have!! Beyoncé looks stunning!" said another.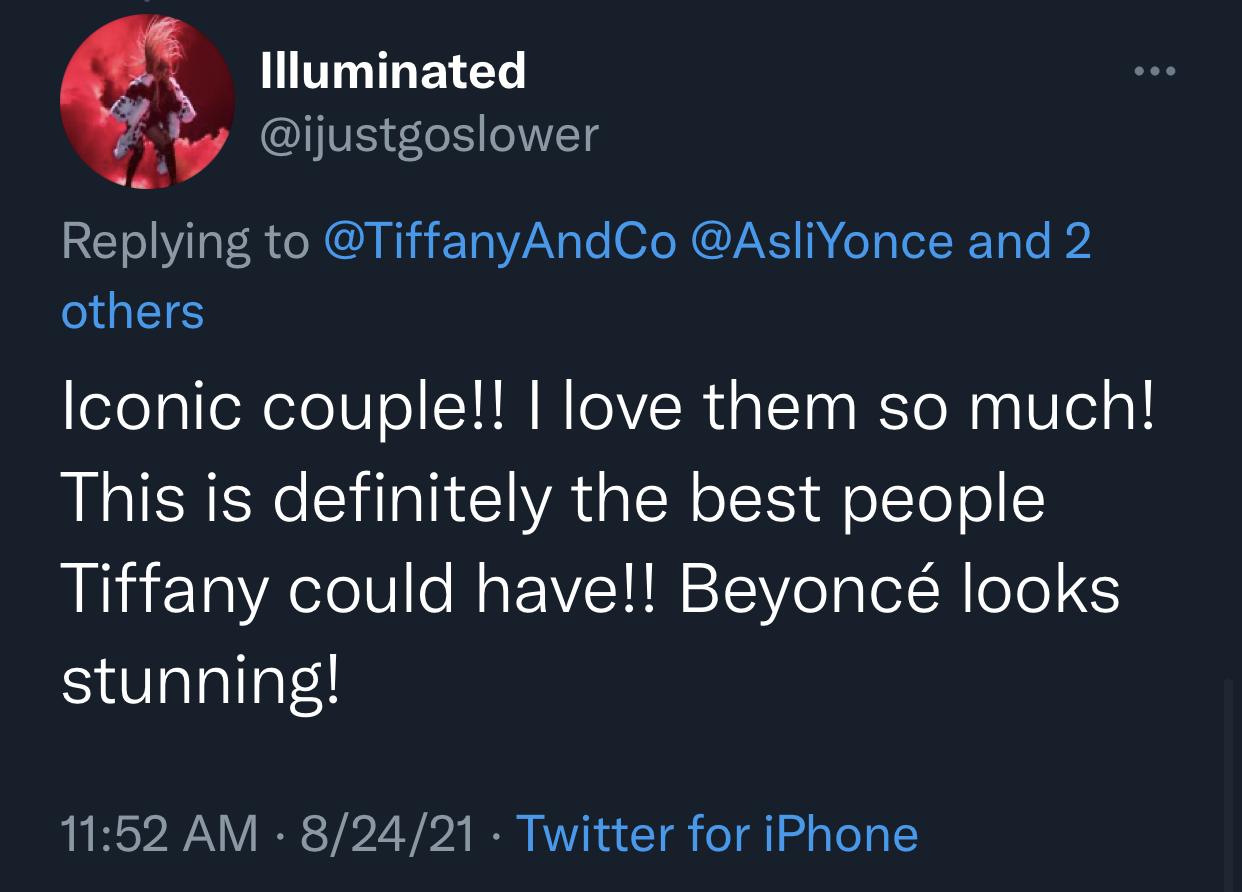 Of course, there will be music! The company says it will release a film that includes a rendition of "Moon River" "reimagined with vocals by Beyoncé." The song was written for Hepburn to perform in Breakfast at Tiffany's.
The film launches on Sept. 15, and the "About Love" campaign is launching globally on September 2nd, with additional films set for release later this year.