If there is one takeaway from Tracy McMillan's writing career it is this: if it is your story, you stick with it. You write every version, and simply put — never stop writing. That is why Tracy is where she is today.
As a television writer, Tracy is best known for her work on Mad Men, Marvel's Runaways, and the United State Of Tara. But her more recent show UnPrisoned is inspired by her real life. Starring Kerry Washington and Delroy Lindo, the father-daughter characters navigate their relationship after release from his longtime incarceration, a story Tracy knows firsthand. Using humor to humanize the incarceration experience, Tracy creates a show that explores how the prison system affects everyone in the family, mentally imprisoning each member differently, and the work people do to set themselves and each other free.
Following a viral blog post in The Huffington Post in 2011, Tracy is a relationship expert and author of a memoir, 'I Love You and I'm Leaving You Anyway' and the relationship guide 'Why You're Not Married… Yet.' Since 2018, Tracy is also the host of the OWN reality show Family Or Fiancé, where she coaches people on how to better love one another. The show follows the dynamics between eight engaged couples who bring their disapproving families together under one roof. The show will return for its fourth season in July 2023.
It is evident through her robust body of work through various mediums Tracy McMillan has a true gift for taking real-life events and turning them into a powerful story of growth and love.
Article continues below advertisement
Her Agenda: Did you know you wanted to be a writer? Was there a specific moment you knew that would be your career?
Tracy McMillan: It's so funny because, of course, I've answered this question before, but it's a pretty complicated question. On the one hand, no I didn't always know. But then I remember being eight years old, standing in the living room and going, 'I have an idea for a TV show. I wonder if I put it in a letter, and send it to ABC, I wonder if they'll get it?' But then I was a sort of practical child. I knew, 'oh, they probably won't get it and where would I address it to anyway?' So yes, there was a part of me that imagined somehow working in media, but I'm not sure I thought of the idea of being a writer, per se.
I went to college, I studied broadcast journalism, and I started writing TV news after graduation. I did that career for sixteen years.
Article continues below advertisement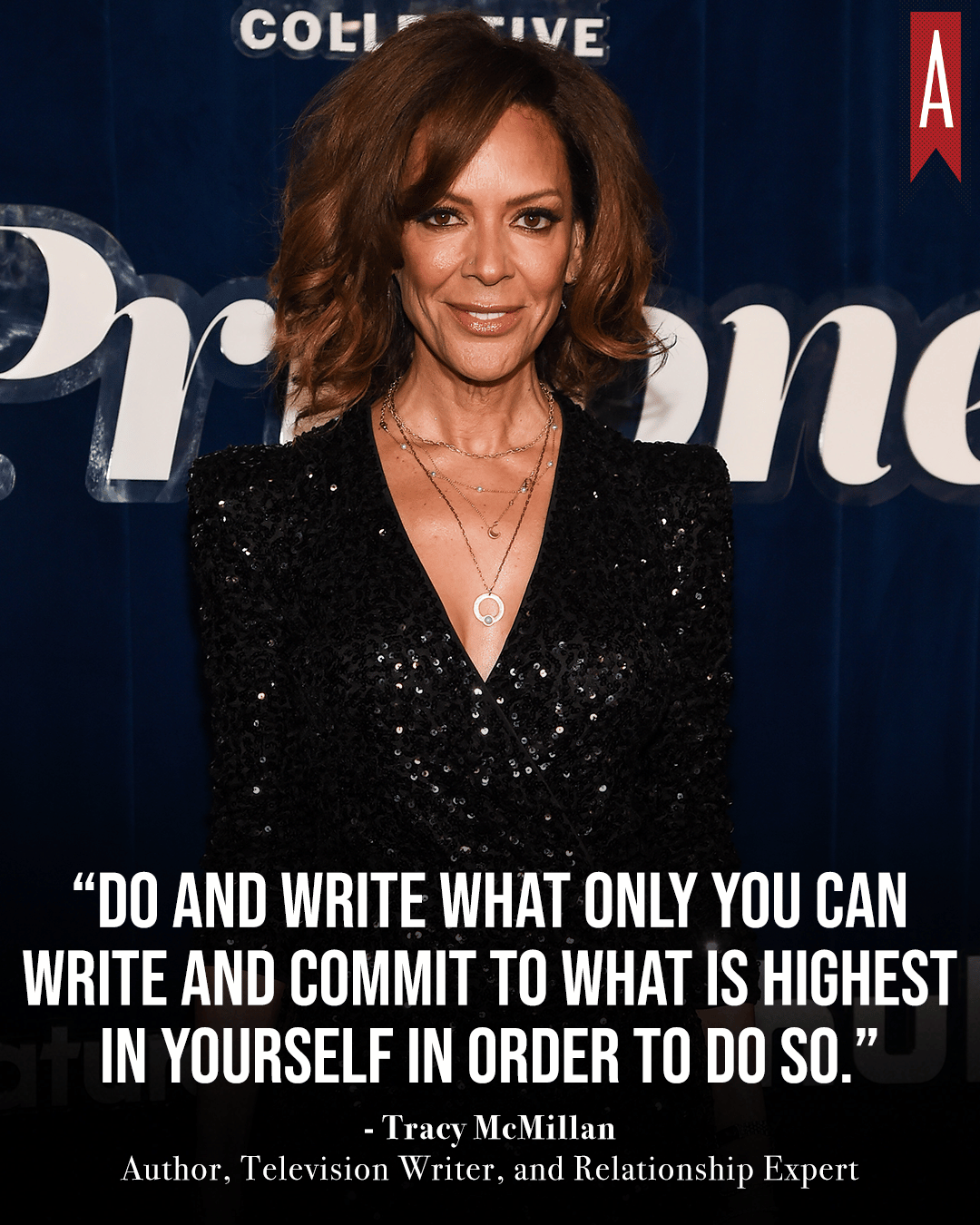 Her Agenda: What was the transition from television news to writing film/TV like?
Tracy McMillan: I knew I wanted to start writing scripted [television]. I wanted to write something that was longer than thirty seconds or however long a TV news story lasted. My first attempts were not skilled because writing scripted television or features has a lot of skill involved in making it happen. I had to develop those skills on my own. I didn't get a master's degree in it, so I would give myself assignments. I would say I'm going to write a feature film. I'm going to write a sexy thriller. I'm going to write a one-hour light hour for television. I'm going to write a half hour. I gave myself a number of assignments, and I just started getting better at writing.
Article continues below advertisement
Eventually, I wrote something that felt like it was a level up from everything that I had been doing up until then. I gave it to my one friend in the business, and she said, 'Oh, I'm way too busy to read it, but I know you can write,' and she gave it to her agent. And she said, 'If he likes it, they'll call you. If he doesn't, he won't.' He called me eight months later. That was the beginning of writing scripted television. I went in in February of 2006, we met, and I got my first job in June of 2007. In that year-long period, I was incredibly focused on becoming a better writer. For me, it was not about having one great script. It was about having many, many things that I was working on and writing. There is no substitute for writing 150 scripts that no one ever sees.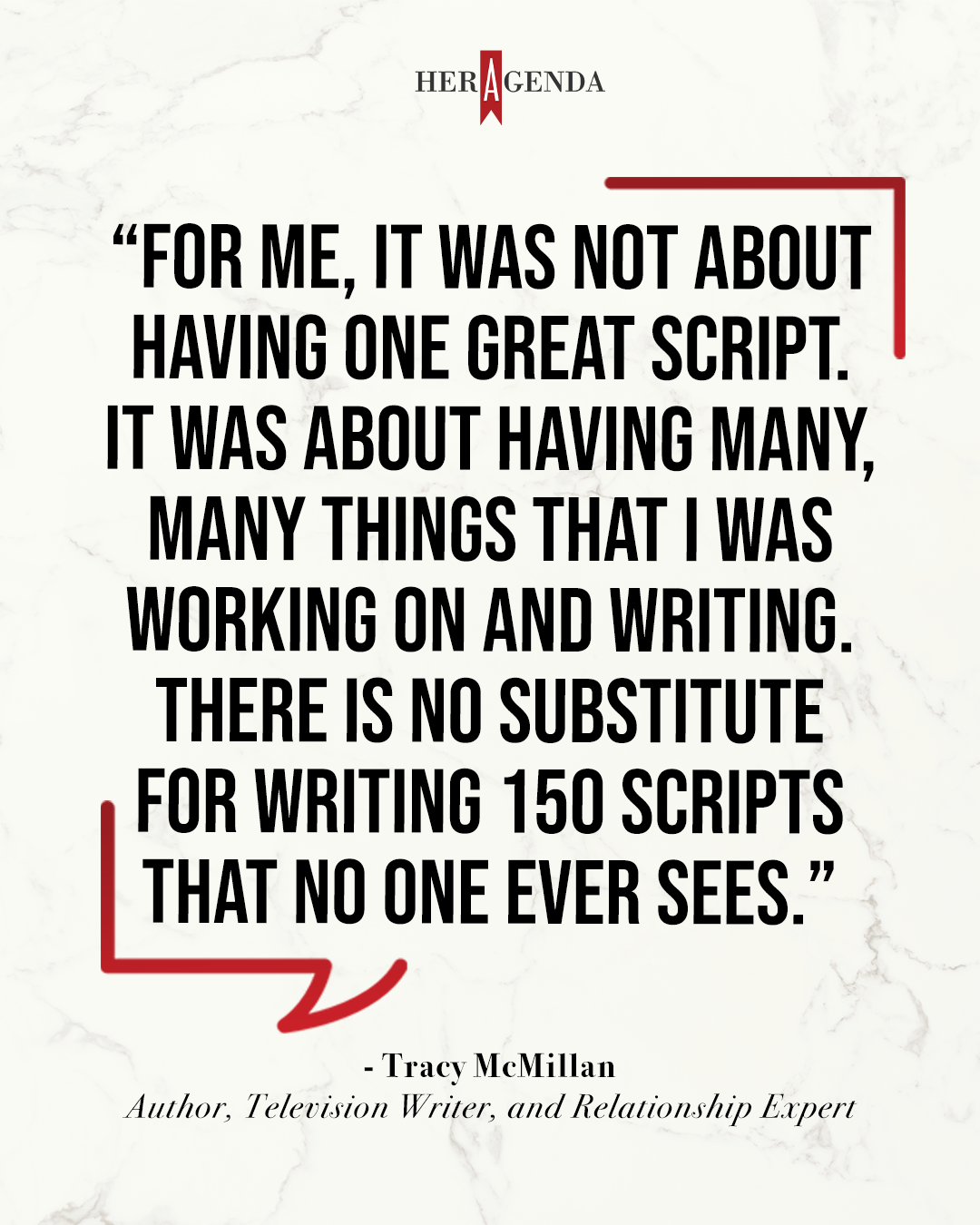 Article continues below advertisement
Her Agenda: Do you have any advice for switching careers/industries? Or that 8 month period before the agent saw your scripts?
Tracy McMillan: I executed the assignments I gave myself. Most of those things never saw the light of day. But one of them became my calling card — the script that got me pretty much all my early jobs. A lot of times a studio or a producer will ask for other samples of your work. Then some of these other scripts became my samples, so I could submit myself for all sorts of different kinds of jobs. When people can see that you can do different voices and different things, that's really the job of being a scripted television writer. It is not necessarily to write your passion project. It is to be able to write in other people's voices and understand what makes a show. It is so that you can turn out a draft that is going to help that showrunner be that much further down the road when they have to rewrite it, which is part of the process. The way I say it is, you just want to be the writer that when someone throws you the ball, you make a basket. That is what's going to keep somebody employed.
Article continues below advertisement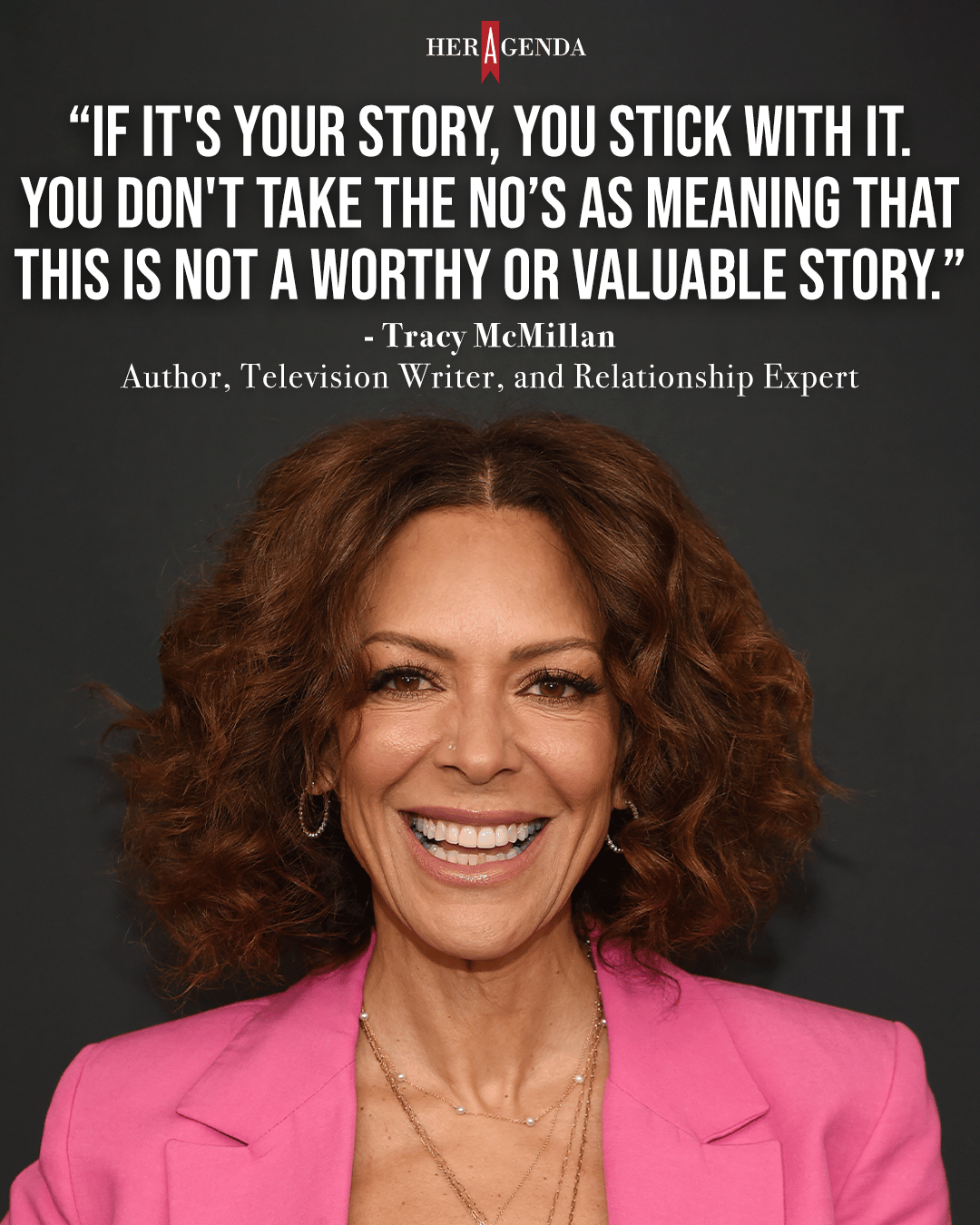 Her Agenda: What led you to write your viral blog post with The Huffington Post, 'Why You're Not Married?'
Tracy McMillan: A friend was producing a staged reading series in Los Angeles where writers would read essays. They said to me, 'We should do an essay or Sit and Spin,' which is the name of the staged reading series.
This is another tip that I would give — when people tell me to do something like, 'You should write an essay and do it as a staged reading,' then you say, yes.
I was like, 'Huh, well, what should I write about?' I said well, I've been married three times. I could write about that. Then I wrote 'Why You're Not Married.'' People enjoyed it in the staged reading that night, and then I put it in a drawer for four years.
Article continues below advertisement
Then, I took it out when I had a book, and when I wanted to write some pieces that supported the book. So I was like, 'Well, I have this piece.' I gave it to an editor at The Huffington Post and the rest is history. It became the most-read piece of all time for like two and a half – three years.
You don't really know when something you write is going to pop or be useful. I think it's smart to create your own IP, your own intellectual property. That's what an essay really is — something that you can write as a TV show, feature, or book. You can do it as a play. I mean, shoot, you could probably do it as a theme park ride. We are in the business of creating intellectual property. That's what a writer is. If you're smart, you write your own IP, and then you develop off of your own IP. You don't have to wait for somebody else to do it.
Article continues below advertisement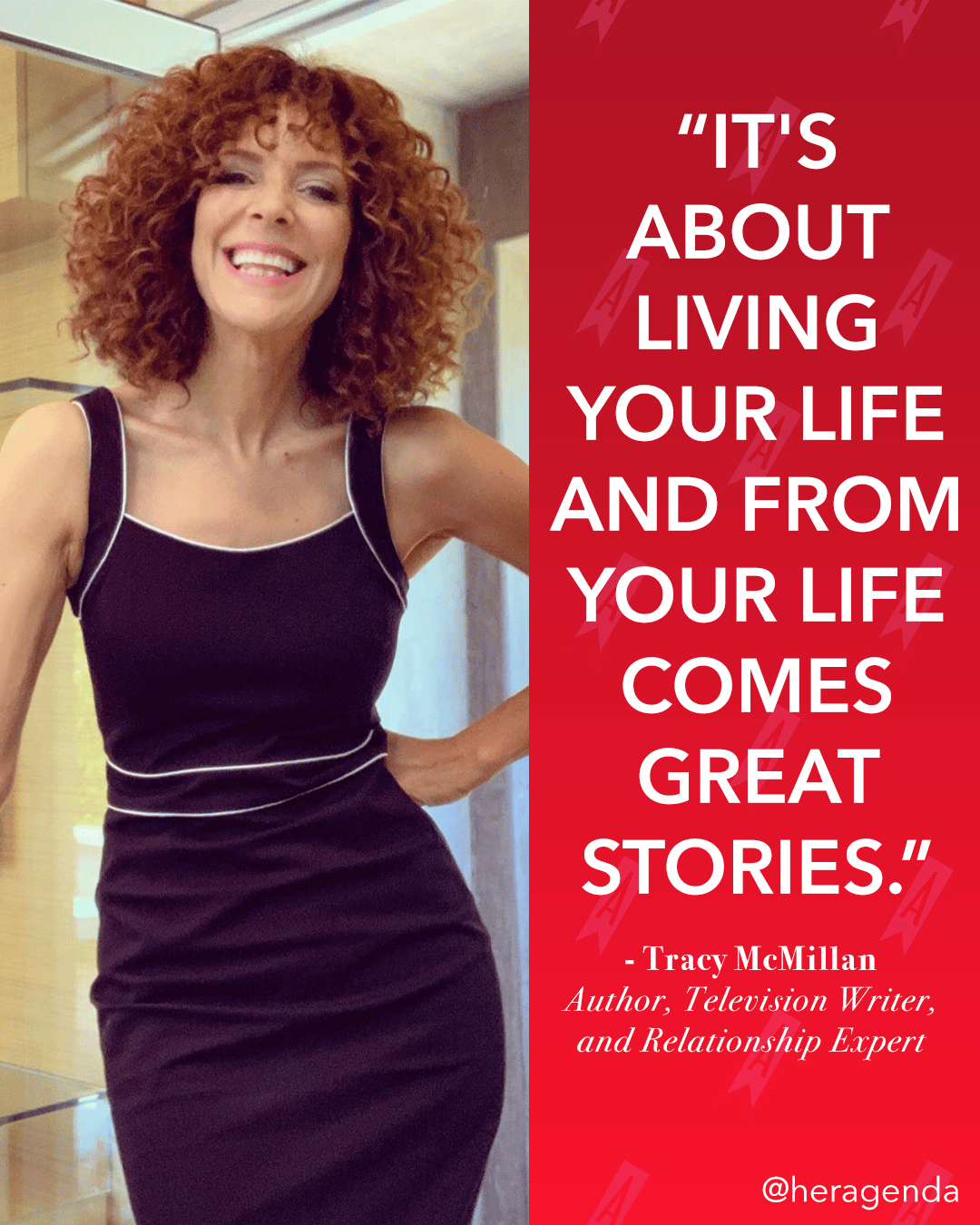 Her Agenda: Can you speak more about creating your own IP? When you wrote this blog post and it went viral, did you know it should be a book and that you were going to go in this direction of creating your own IP?
Tracy McMillan: After the staged reading, several people came up to me and said, 'You should do that as a book.' So then a friend put me in touch with her book agent. I wrote a proposal. We took it out, and fourteen people said no. Then I put it in the drawer. Four years later, I take it out as an essay to just drive traffic to my book — a different book that I've written — a memoir. We gave it to however many publishers. I sold it in the pre-empt for a lot of money. The same book nobody wanted in 2008 or whatever year that was, all of a sudden, the whole world wants it in 2011.
Article continues below advertisement
It sold as a pitch to ABC. I've taken this one essay that I sold for $500,000 as a book. I sold it as a sitcom. It was like, 'Oh, that's what we're doing here. we're creating IP.' That is how I learned that I am in the IP business. You should always put an essay out there first, then develop off your own intellectual property. Then you know have it go a little bit viral or place it somewhere where some eyeballs are on it. Then you take it and see if somebody wants to buy it at broadcast as a television project. Now, that is not what I did with UnPrisoned. UnPrisoned was loosely based on my memoir — it is more like the sequel to my memoir.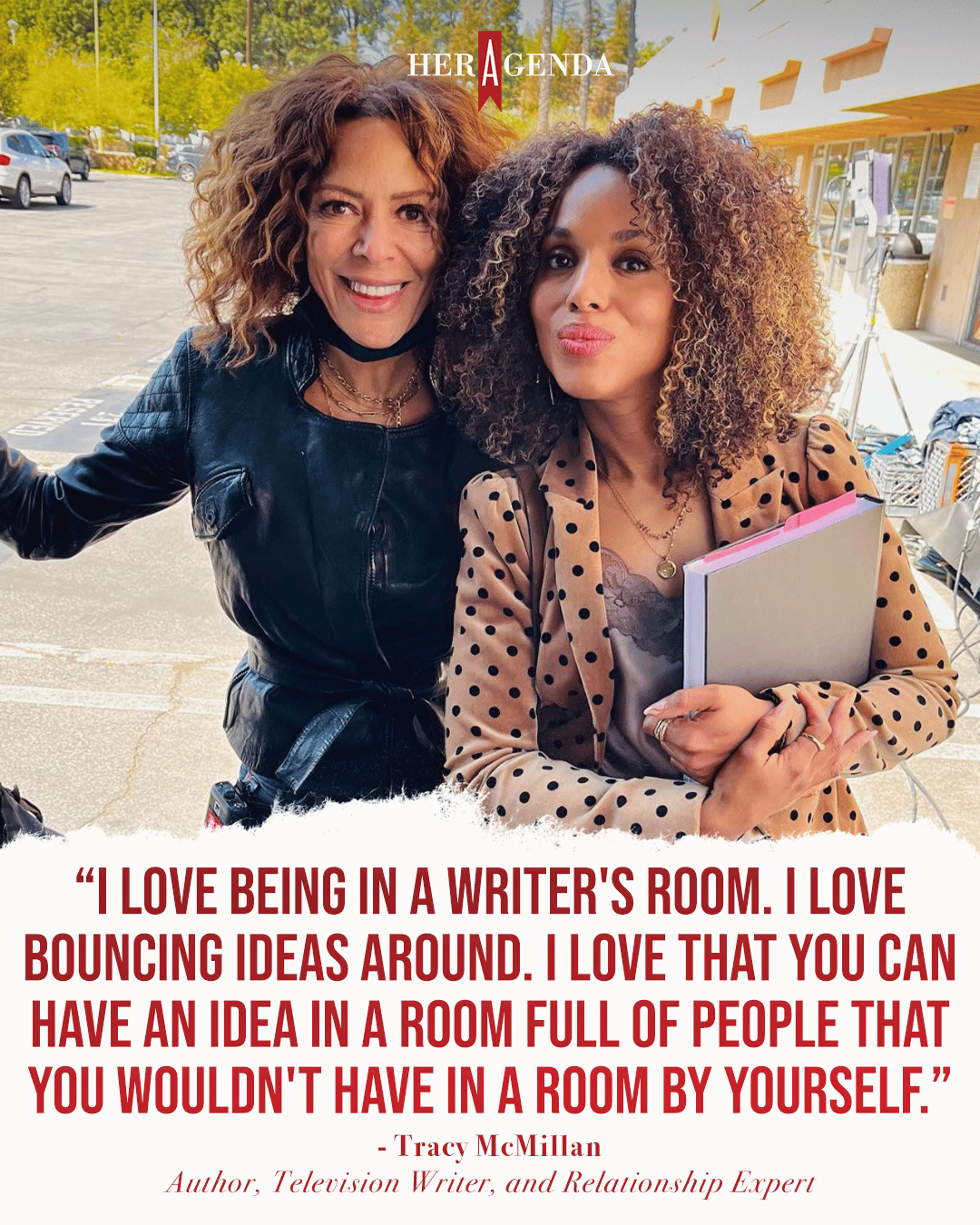 Article continues below advertisement
Her Agenda: When speaking about your new show, UnPrisoned, with POPSUGAR — you mentioned that you've been writing versions of this story for as long as you can remember. Can you describe your writing process and why this is the version that made it to the screen?
Tracy McMillan: When I first did it, it was called Life After Life. It was me as if I was still married to a version of my first husband whom I married when I was nineteen. We lived in a gated community in Scottsdale, Arizona in that version. My dad gets out of prison and comes to live with me and my two children. I wrote that in 2006. I've written many versions of it, in different iterations — the idea that my dad gets out of prison, or that a dad gets out of prison, and has to establish a relationship with his daughter. They were different ways of exploring the story because the point for me was exploring the story. Now, the reason this version made it is, I don't think anybody really knows the answer to why a given version of something makes it to the screen. But I will say a pretty good guess is that Kerry Washington decided she wanted to make it her next starring role.
Article continues below advertisement
There are projects with big [names and brands backing them] that do not move forward every day. But this was the perfect storm. It was Kerry Washington and Delroy Lindo. It was a period of time when people are looking for something that is heartwarming, and real, but grounded that has a meaningful story that is hopeful and loving. I just felt like the time was now. But the first time I wrote it was 17 years ago. If I hadn't stuck with it, the time would not be now. The time would have been never. I think the point is if it's your story, you stick with it. You don't take the no's as meaning that this is not a worthy or valuable story. You've taken a tiny thing and just go, 'Okay. Well, I'll be back.'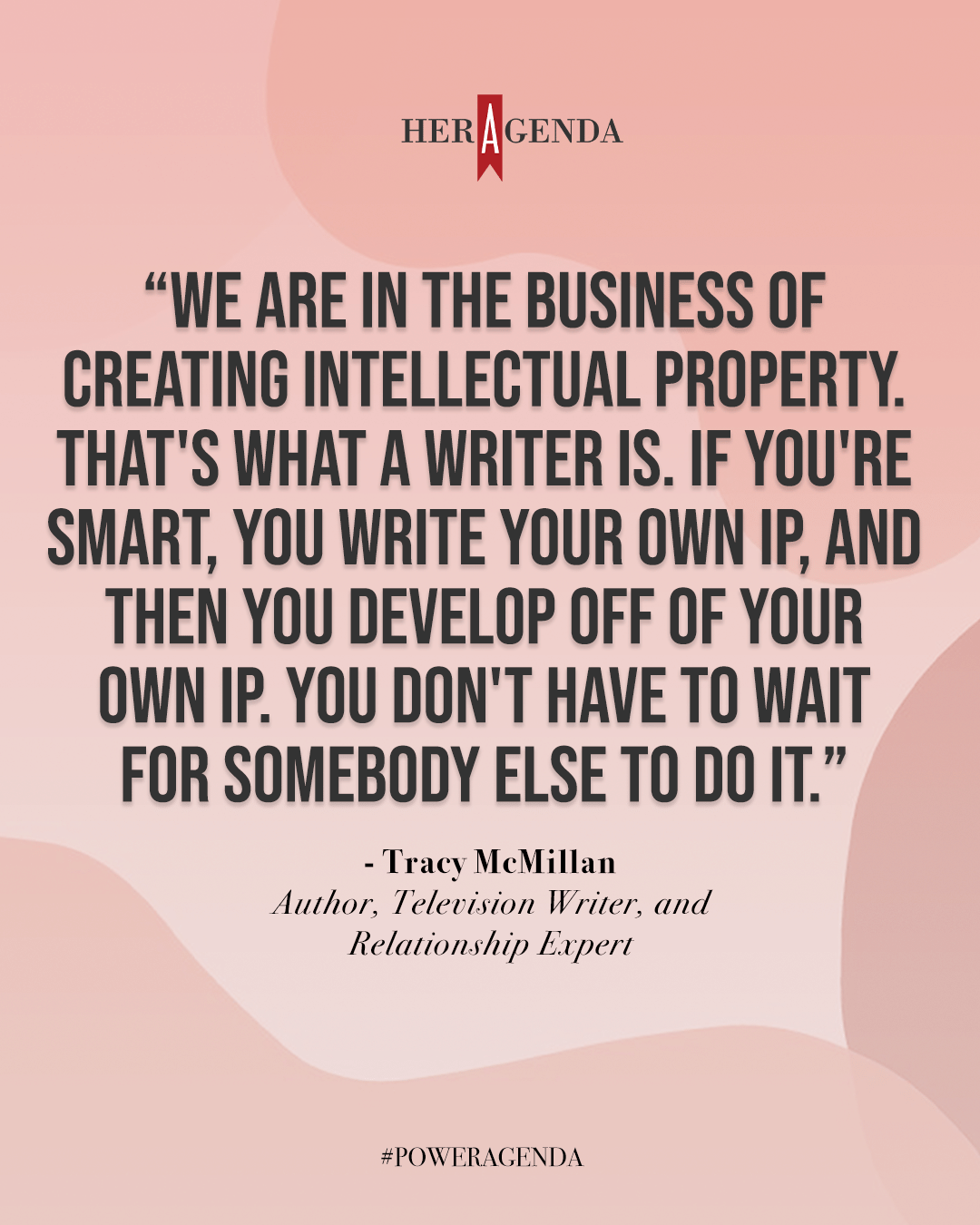 Article continues below advertisement
Her Agenda: The storylines viewers see in UnPrisoned are nearly all based on your real life which you wrote about in your memoir, 'I Love You and I'm Leaving You Anyways.' What was it like to adapt these stories from a memoir to episodes for television? What was it like seeing Kerry Washington bring that character to life?
Tracy McMillan: It has been an incredible process to have Kerry and Delroy create characters that are based on — they're not even my dad and me —they are characters who are facing the same circumstances my dad and I faced, that our family faced. Adapting those stories is sometimes pretty straightforward. Sometimes it's more nuanced and inspired by something that happened in real life. That's the nature of storytelling. Even when I'm writing scripted television on other people's shows, very often you're taking a kernel of something that happened to you in real life. You're finding a way to fictionalize it so that the emotional truth is still there. The circumstances might be different in the story. I feel like kind of the essence of what we do as writers is to take real things and fictionalize them in ways that are truthful.
Article continues below advertisement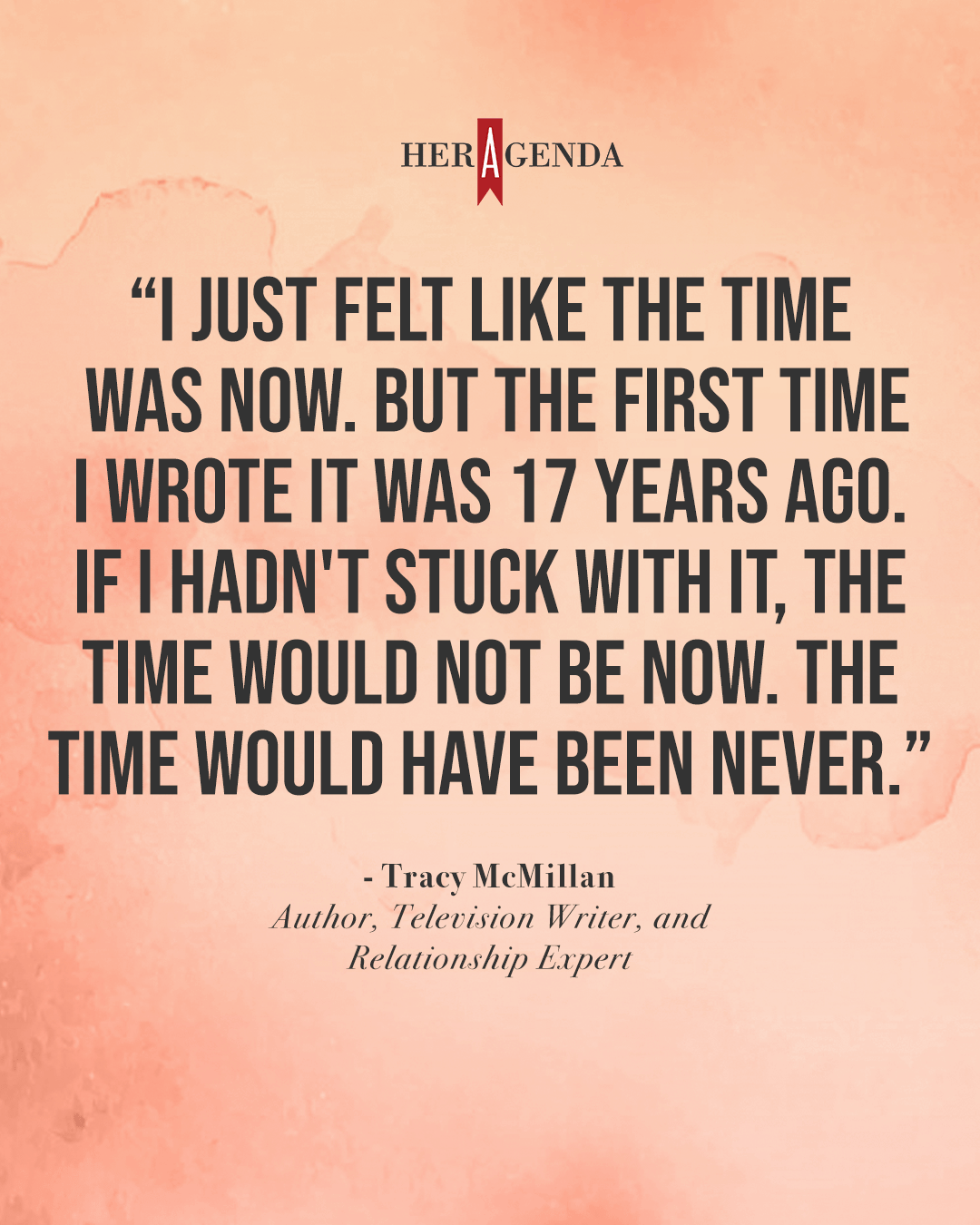 Her Agenda: Can you give us insight into what it is like to be in a writer's room (i.e. how you flesh out ideas, and how you create a storyline)? What was one of your favorite shows to work on?
Tracy McMillan: I don't have a favorite show to work on. I really love the collaborative process. I love being in a writer's room. I love bouncing ideas around. I love that you can have an idea in a room full of people that you wouldn't have in a room by yourself.
Article continues below advertisement
I think there's something about the [human] species that we have flocking behavior and when we come together for the purpose of creation, we're tapping into each other's minds and hearts, and energy fields in ways that I'm not sure anybody's ever proven what happens. There is definitely something amazing and magical that happens in a collaborative process. To me, that is the best part of the job. Then bring in all the trucks, the equipment, and the actors, and do it again. They now take that material, and they do something that the camera watches. Then we send the trucks home, and we do it in editing where this whole magic happens again.
"I am very excited to have season two of UnPrisoned. I don't know if that's going to happen yet, but I feel really good about it."

Tracy McMillan
-
Article continues below advertisement
Her Agenda: How has your writing process changed over the years? What are you excited about next?
Tracy McMillan: I'm working on a feature for Sony about a female rapper. I'm excited about that. I am very excited to have season two of UnPrisoned. I don't know if that's going to happen yet, but I feel really good about it. I have lots of stories to tell there. Then I see myself writing another book, maybe a series of essays. I'd like to open the door to something I haven't even thought of yet because I would say all the best things in my career have come — well I would have really never really imagined, to be honest. It's about living your life and from your life comes great stories.
Her Agenda: What is your personal motto?
Tracy McMillan: Do and write what only you can write and commit to what is highest in yourself in order to do so.
[Editor's note: This interview has been edited for length and clarity.]