Tulaine Montgomery is the epitome of resilience, mindfulness, and thought leadership. As the Co-CEO of New Profit Montgomery is on a mission to support leaders whose work is guided by the input and expertise of communities. With years of expertise, she has expanded social enterprises internationally. In addition to her track record of social enterprises, Montgomery is a thought leader speaking to audiences around the world about her experiences within the social impact space and using her voice to advocate for opportunities and access.
In this candid interview, we spoke to Montgomery about demystifying impact philanthropy, creating "brave spaces" to leverage room for others' voices, the influences that inspire her success, and advancements New Profit is working on to support impact leaders.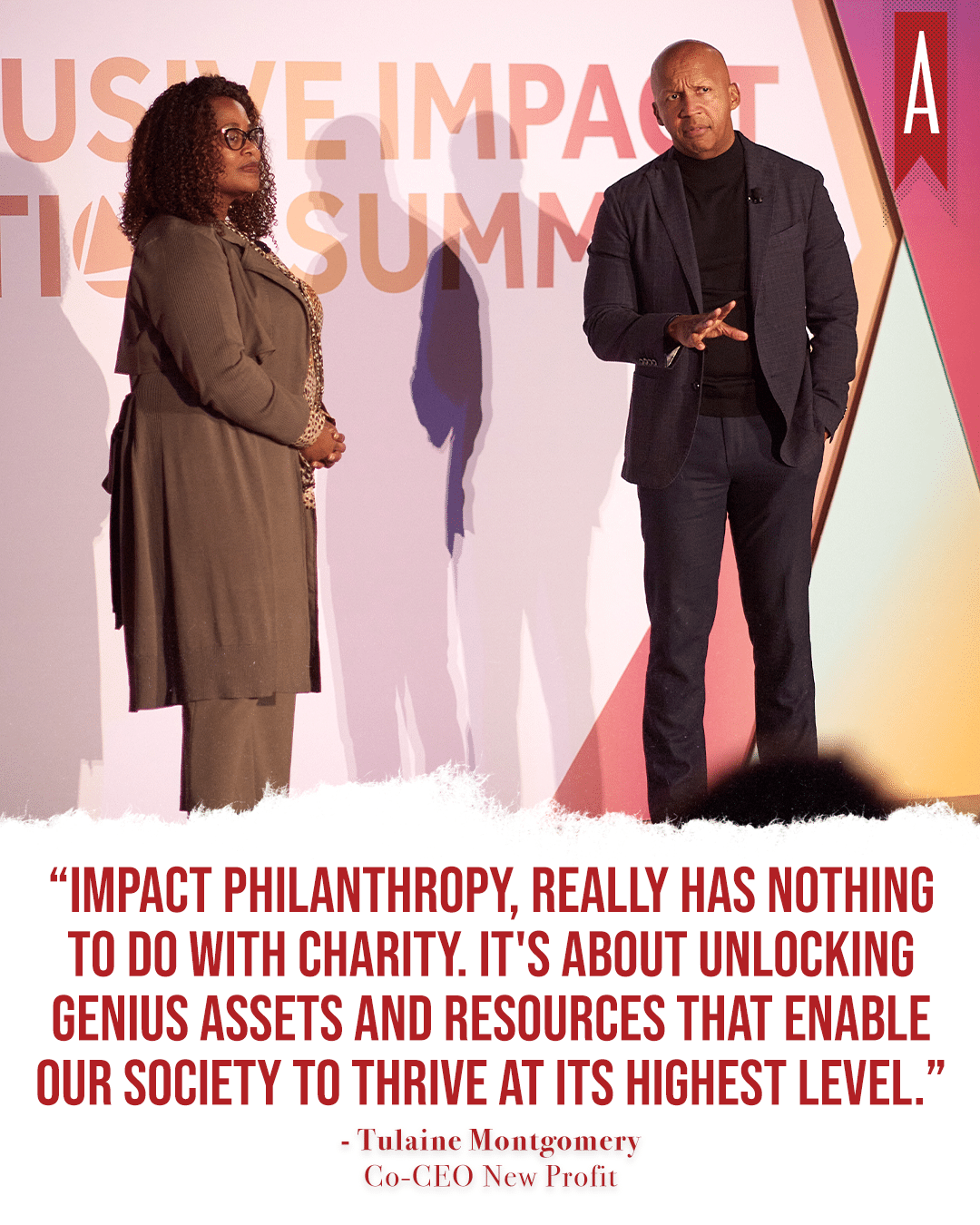 Article continues below advertisement
Her Agenda: What do you believe is the biggest misconception about impact philanthropy?
Tulaine Montgomery: [One of the biggest misconceptions is that philanthropy] particularly impact philanthropy, is a close cousin to charity. Charitable acts between individuals are a beautiful thing. However, when we talk about institutions, mental models, and what the core beliefs are that drive institutions' impact philanthropy, really has nothing to do with charity. It's about unlocking genius assets and resources that enable our society to thrive at its highest level.
The truth is that the communities and people in systems that are often considered beneficiaries, in philanthropy are also the experts and asset holders. That's where the genius resides because that's where the expertise exists – at the community and constituent level.
Article continues below advertisement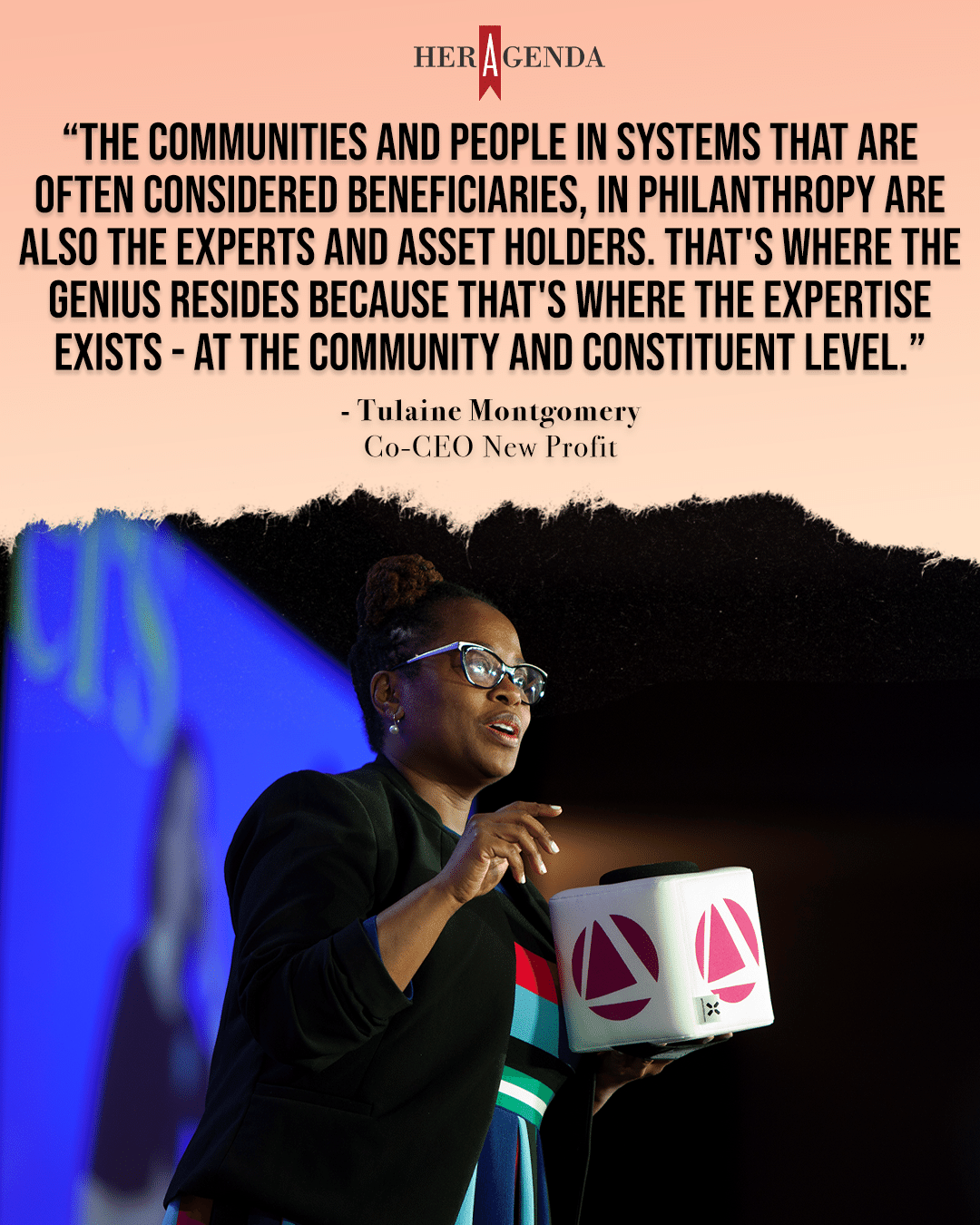 Her Agenda:In an interview, you did with Worth media last year, you touched on how as a society, we need to get better at supporting great ideas and solutions. How are you advancing on this idea through your work with New Profit?
Tulaine Montgomery: Well, a few different ways. In 2018, New Profit commissioned research to understand how US-based philanthropy invests in leaders of color, particularly African American and Latinx leaders. According to the US census, about 30% of the US population identified as African American or Latinx, and only 10% of mission-driven organizations in the US were led by African American or Latinx, identified leaders. And yet only 4% of our philanthropy went to organizations led by African American or Latinx individuals and teams.
Article continues below advertisement
So one thing that we're doing is documenting the current state and coming up with a strong diagnosis of what is strategically broken about philanthropies under-investment in proximate leaders and leaders of color. In philanthropy, you have to document to build the evidence.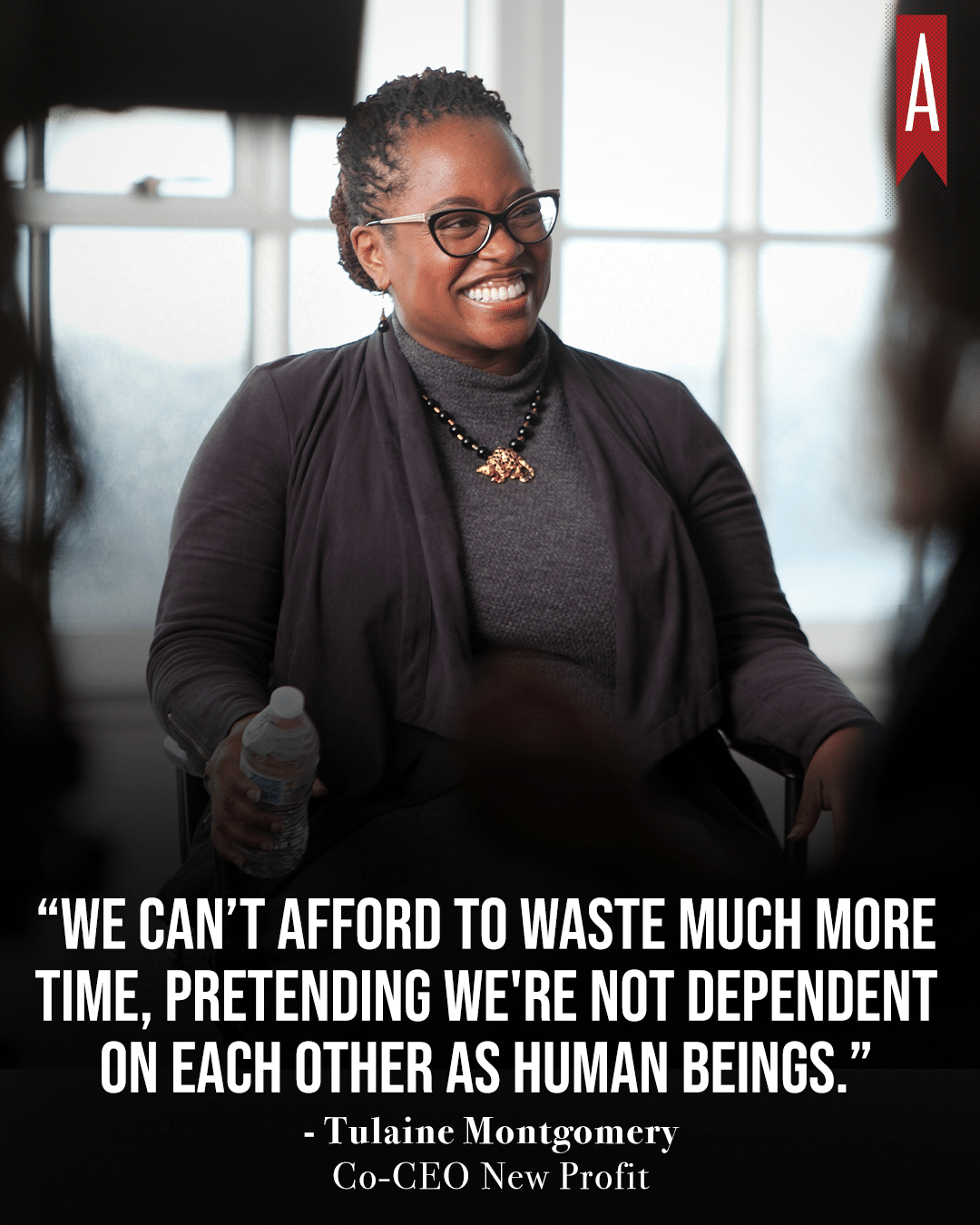 Article continues below advertisement
Her Agenda: Your father is a master drummer in ethnomusicology more specifically you mentioned being raised in a call and response tradition. In what ways has this tradition shaped how you show up in social and professional settings?
Tulaine Montgomery: It shows up all the time because I'm never in denial about the fact that we are always exchanging energy. We are all physiologically wired to be impacted by each other, and we now have the science to show the impact of being in proximity, physical proximity to somebody who is happy, who is sad, and who is afraid.
A by-product of being raised in the call and response tradition, in my work as a social entrepreneur, and currently in philanthropy I'm looking for leaders, networks, and coalition communities that honor our interdependence. We can't afford to waste much more time, pretending we're not dependent on each other as human beings. The best that we can do as people living in this age of acceleration is be active, adapt, and connect.
Article continues below advertisement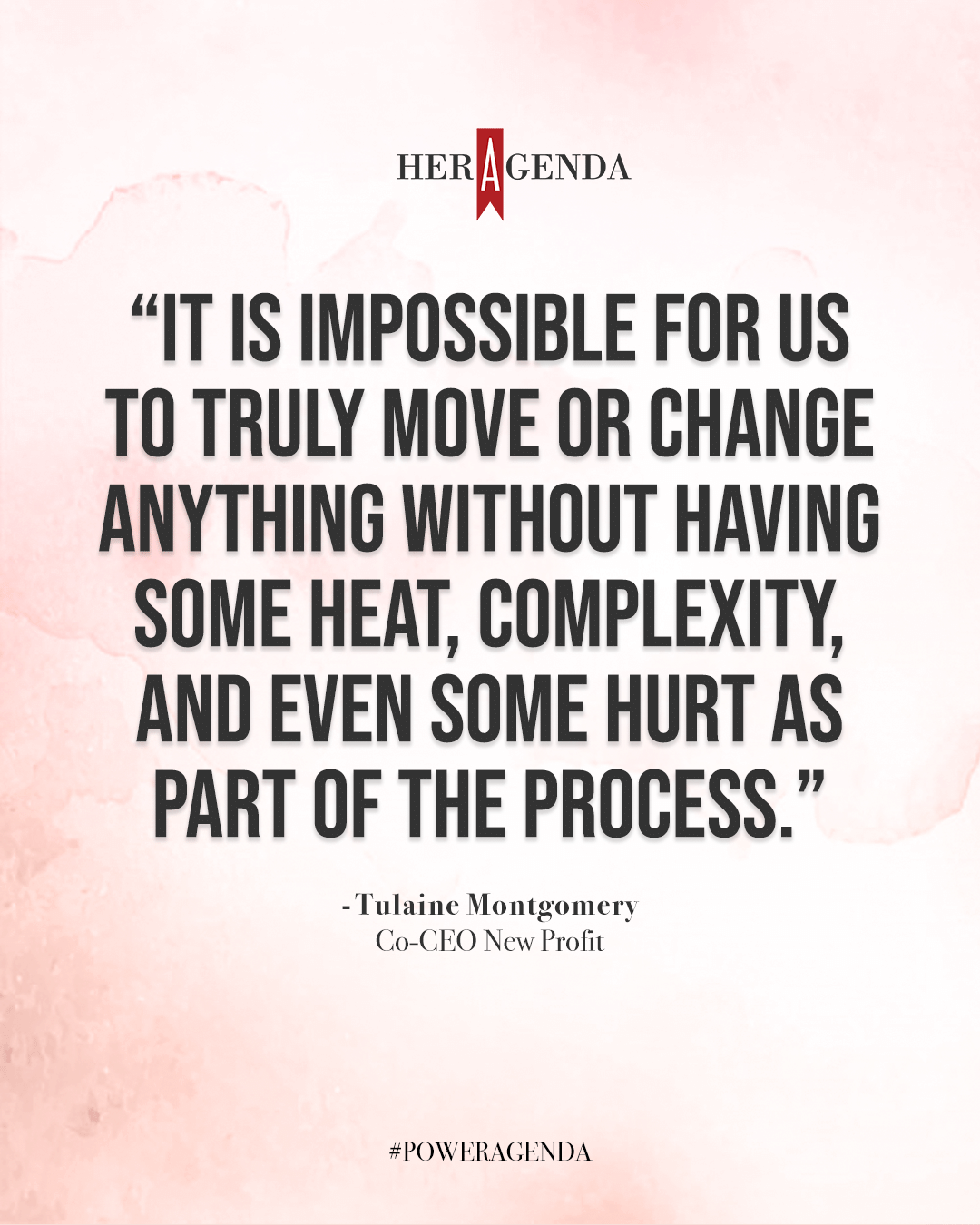 Her Agenda: You speak about having the readiness to listen when you walk into a room. How do you create the space or contribute to creating the space for people to speak up?
Tulaine Montgomery: There's a phrase that I've heard and use a lot! "Change happens at the speed of trust." What happens before that conversation is as important as what you set up during the conversation itself. [I strive to establish healthy norms around how we'll treat each other, especially for difficult or charged conversations.]
What does dignity look like? I focus on creating spaces that aren't safe because I do think "safe space" is a bit of an illusion [Instead I lean towards what Mickey ScottBey Jones calls "brave spaces."]
Article continues below advertisement
It is impossible for us to truly move or change anything without having some heat, complexity, and even some hurt as part of the process. We can commit to being brave enough to stay at it when it's not easy. Brave enough to give another human the benefit of the doubt. To lead with grace even if there's something that they did that is upsetting to us. To tell the truth about the impact, but not define and dismiss the person as their worst action or their biggest mistake. All of which takes courage. I invest time before conversations to build a relationship so that people can trust me and others who are holding space that's really important.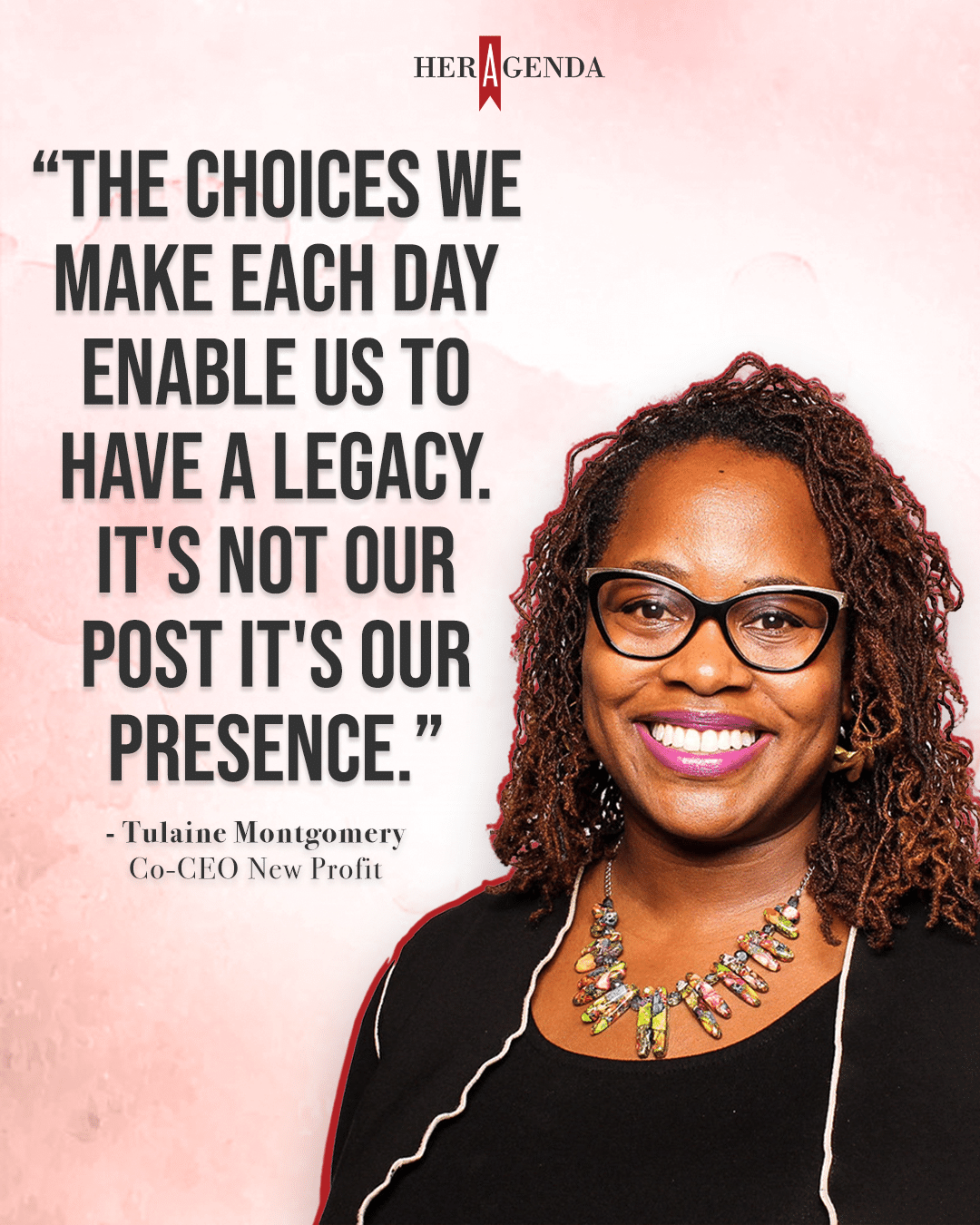 Article continues below advertisement
Tulaine Montgomery: It is really easy for us adults to confuse our rhetoric and our language with our behavior, our choices, and our actions. James Baldwin reminds us what we teach speaks more loudly than any essay you write or tweet you send. No matter how many views you get it's how you live that is always going to be the most powerful example. [The greatest teacher and influence is our life.] The quote reminds me where influence truly resides. That is not meant to be in opposition to social media or in denial about its power and presence. It is to say that we shouldn't delude ourselves to think that those digital spaces replace the power of how we show up and how somebody feels in our presence. The choices we make each day enable us to have a legacy. It's not our post it's our presence.
[Editor's note: This interview has been edited for length and clarity.]