U.S. Dep't of Treasury is Set to Put a Woman on the $10 Bill in 2020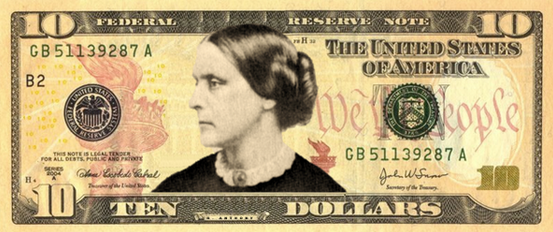 According to Time the department announced yesterday that a woman will be replacing a male on the bill, she will be a notable woman in U.S. history and also a symbol of democracy. The new note would be revealed in time for the 100th anniversary for women's right to vote which was able to happen due to the 19th Amendment.
"America's currency makes a statement about who we are and what we stand for as a nation," Treasury Secretary Jack Lew said on a call Wednesday according to Time.
Similar to what the group Women on 20s did, the Treasury Department launched a campaign to ask the general public for ideas about what the bill should actually look like. This summer the department will have town-hall meetings to create a conversation with the public about the creative design of the new bill.
"The public outreach is going to give us a chance to hear from the American people about their ideas for what kind of symbols, ideas, and representation should be on the $10 bill," Lew said.
As far as the public, in light of the major campaign to get women on the $20, some have voiced strong critiques that women asked for the $20 and instead, got the $10 – semi reflective of the issue of women and the pay gap.
It should have been the $20. But, hey, you ask for $20 and they give you $10. Amirite, ladies? http://t.co/brQO9uJ2tf
The Treasury Department encourages Americans to utilize #TheNew10 on twitter to share ideas, thoughts, symbols, designs and feedback about to help with the redesigning of the $10 currency.