Viacom Presents The Woman Behind the Production: A Conversation with Mara Brock-Akil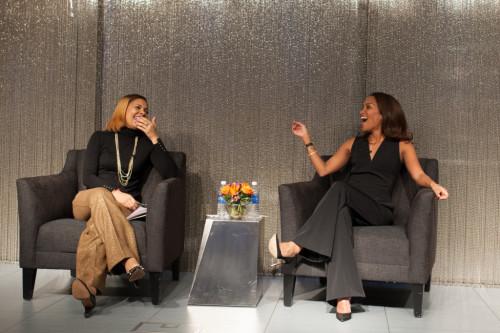 Essence Magazine's Cori Murray and Mara Brock Akil at Viacom
From New York's Fashion Week to All Star Weekend, the Grammys to the Oscars, February is the shortest and yet one of the busiest months of the year. However, even amongst all of these events occurring, it is important to give light to yet another important celebration–Black History Month.
On Wednesday, February 11th, over a hundred women and men fought the bone-chilling NYC winter weather to be at an event titled, Spark the Flame: The Land of Creativity & Production, featuring a conversation with Mara Brock-Akil. The event was hosted by Viacom (the global mass media company that heads networks such as MTV, BET, Vh1, Nickelodeon and many more) to reflect on black culture throughout the Viacom brands.
Highlights included hearing from emcee of the night, executive producer Kimberly King, a lovely spread of finger foods and wine, and the icing on the cake–an advance screening of the third episode of BET's hit series, Being Mary Jane. After a jaw-dropping episode, Cori Murray, Entertainment Director of Essence Magazine, kicked off the discussion and Q&A with Mara Brock-Akil, asking questions about the creation of Being Mary Jane and the controversial messages it sends across America's airwaves every week.
Brock-Akil admitted that the idea of Mary Jane's character had been in her head since the 6th season of Girlfriends. It was too late in the series to change the dynamic of the show, so she kept this secret character to herself and kept jotting down ideas in her journal. It was not until she got the deal with BET that she was able to make her "passion project" come to life with a slight push from her partner/husband, Salim Akil.
Article continues below advertisement
"I didn't want to do it if I couldn't do it right. It wasn't worth it if I had to compromise."
BET took a leap of faith with Mara Brock-Akil and Being Mary Jane. It is the network's first scripted drama. When looking for the perfect actress to bring Mary Jane to life, Salim mentioned Gabrielle Union immediately. Salim and Mara met with Gabrielle and her manager on February 11th (ironically exactly three years prior to this event). Their meeting was on the same day as that news first broke out about Whitney Houston's unexpected death. As a result, the burning question of "what do you want to be remembered for?" made Gabby immediately call Mara back and take the job. The show has now already been given the green light for a third season.
Being Mary Jane is a series centered on a successful broadcast journalist who tries to find the perfect balance between her professional and private life. Although the concept seems simple, it is anything but. Mara Brock-Akil explains, "It's about a woman's life. Just getting through the day is her drama […] It doesn't have to be explosions or a high-speed chase. As an artist, I wanted to express this on television with the proper audience."
Article continues below advertisement
Even so, this black woman's day-to-day schedule has had a strong effect on its viewers. Although everyone claims to the love the show, women tend to describe it as "difficult to watch," and men will admit they "didn't know we, [women of color], suffered like that." Many people would take these statements as discouragement, but this is the fuel that keeps pushing Mara to cover such honest, eye-opening topics within her shows. She wants to open the conversation for people of all backgrounds to really understand what each other is going through.
"There are times when I didn't know if I was seen. If I can show and explain our 'see me, hear me' cry, I will have felt successful."
There are three major themes that Mara Brock-Akil wants to showcase through her series, Being Mary Jane. First, she wants to propose the question, "Is motherhood and marriage the end all to be all?" She wants to create a safe space for all women to be safe enough that if they choose not to be mothers, it doesn't make them a bad person. Second, she highlights how it is both a gift and a curse to be the successful one in one's family. The third thing she wants to remind everyone of is that black women are constantly being left out. Whether it be the neo-feminism movement or the Black Lives Matter movement—it's mainly targeted to white women and black men.
Article continues below advertisement
"White women, we have been there for you in your success, where are you for ours? Brothers, we quickly and constantly fight for you, but we need you," Brock-Akil explained.
Because Mara Brock-Akil shared so much insightful information, we decided to share a portion of the Q&A from the event.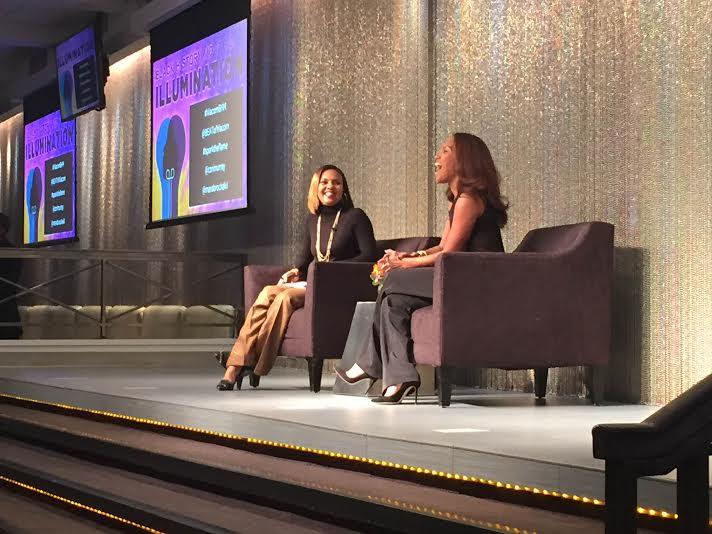 Article continues below advertisement
Audience: In the first episode of season two, Mary Jane throws her pet fish and his glass bowl out the window. I noticed that Mary Jane also lives in a glass house. Was that done purposefully?
Mara: I love when people notice the aesthetics of things because we take as much time on that as we do with writing the script. Glass is very transparent, and Mary Jane's house is like her own fish bowl. You can watch her in her world, but it also serves as a reflection for us. We should be reflective upon ourselves to see how we can become better, especially for those that find it hard to watch.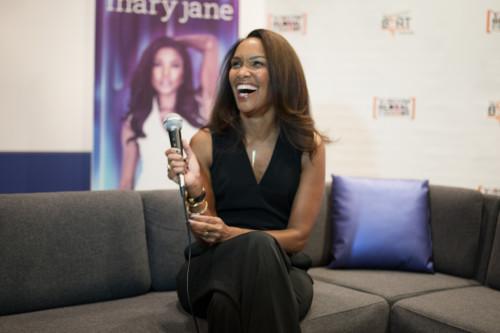 Article continues below advertisement
Audience: In last week's episode (Season 2, Episode 2), Mary Jane says to her friend "I don't want your life, I want your life on Instagram." Why did you include that painfully honest line?
Mara: Now in media, especially with images, it's all about marketing. On Instagram, we tend to sell our best selves. I took this opportunity to say everything we see is not real. Mary Jane didn't want the day-in and day-out life that her friend has to deal with but strictly the picture perfect moments she chooses to share with the world. It is time for us to be ourselves and just be human. We're not perfect and that's okay.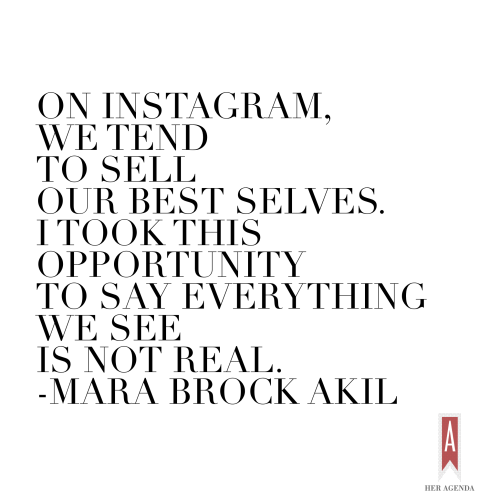 Article continues below advertisement
Audience: I have noticed that throughout all your series, you choose the best music. I've even discovered some of my favorite songs and artists through your shows. Does music play an important part when you're putting together each episode?
Mara: Definitely. Musicians can get to the emotions and soul faster than anyone or any dialogue ever could. When I was writing the pilot for the show, I was a huge Alanis Morrissette fan and would just have her CD on repeat. It wasn't until the song "Mary Jane" came on that I decided it was the perfect name for this character.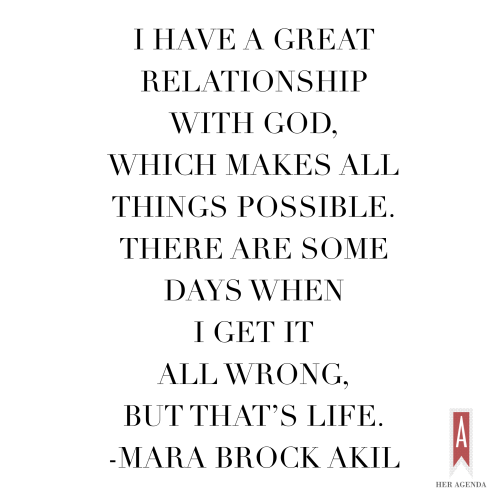 Article continues below advertisement
Audience: Everyone in this room knows you're a successful businesswoman, but you're also a mother and a wife. How do you balance the many hats you wear?
Mara: It's hard. Trust me. I make time for my husband in the morning. Then I become a mother. I'm making breakfast, fixing lunches, making sure they're prepared for the day. Then Salim and I head to work with an amazing team that makes thing flow perfectly. Honestly, I can do it all, because I married well. Salim is a good man, and we're partners in everything. I also put a time limit on certain situations. Once I hit that time limit, I have to stop dwelling on it and move on. Lastly, I have a great relationship with God, which makes all things possible. There are some days when I get it all wrong, but that's life.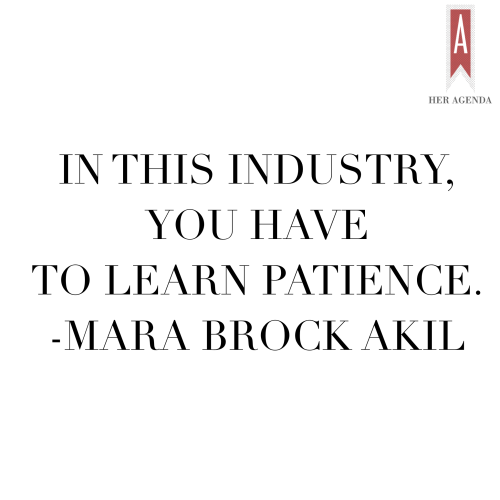 Article continues below advertisement
Audience: We are all secretly waiting for proper closure on the series, Girlfriends, which we as fans have to accept that it may or may not happen. How do you personally handle the politics of the business?
Mara: I want closure too! I feel like I left those characters out at sea, and I want more than anything to bring them to shore and let them rest, but it's not that easy. If the series was valued from the beginning, it probably would have had a proper ending. The value and message [of] Girlfriends was ahead of its time. We deserve the budget to finish it, but sometimes you can't speak until people are ready to listen. Also, I believe what is for you is for you. I did my best. You, as the audience, did your best, because you showed up every week and tuned in. What will happen will happen. In this industry, you have to learn patience.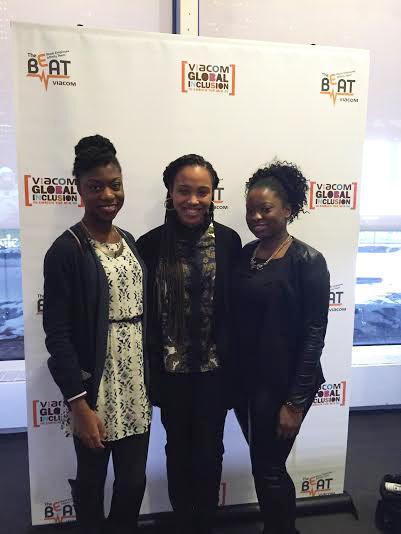 Her Agenda Contributors Asha Boston, Tiffany Stewart and Alyssa Reid at the conversation with Mara Brock-Akil event.
Overall, the event was quite an experience and very eye opening. The biggest insight we took away from this experience was that you can have it all with the right support system, spirituality and a belief in one's self. Mara Brock-Akil is one among few who is serving as a voice for women of color, and so, Her Agenda was very grateful to be in the presence of such a honest, dynamic spirit.