Vicky Loza has dedicated the majority of her career to ensuring she provides affordable resources for everyone to work out.
From her sold-out Vicky the Fit Chick Bootcamp tour to pivoting to an online-based curriculum as a result of the pandemic. Loza's can-do attitude, fierce personality, and no-nonsense motivational workout style have amassed her a fitness community of over 100k followers and counting. Inspiring others to understand that no matter what walk of life you come from you can become the healthiest version of yourself.
Community and family are the core foundation of her personal fitness journey. Dedicating time to continue to pour back into others and lift as she climbs. Loza organizes charity events for small Latina business owners donating the proceeds to Latina street vendors. All while utilizing her social media accounts to provide free fitness resources and fitness-based content for minority-based followers targeting all fitness levels.
From humble beginnings, a reality check from her mom, and a passion for health and fitness we chat with Loza to take a deeper dive into her journey and how she continues to empower her community.
Her Agenda:You mentioned in various interviews that your mother was one of the driving forces behind the start of your fitness journey. How has your fitness journey evolved since your initial conversation with her?
Vicky Loza: Well, it wasn't a conversation, it was more like a statement on her end telling me basically to get my life together. That's saying it nicely because I was only 19 years old, and I was getting close to around 200 pounds. But quite honestly, if my mom would have never told me that and would have not said it the way she did, I would have been comfortable with where I was in my life probably, getting unhealthier by the second. If she hadn't told me that I wouldn't be where I am today.
Article continues below advertisement
Her Agenda: In minority communities, there's a major health disparity in terms of access to fitness, and wellness resources. What is your contribution to ensuring these communities have access?
Vicky Loza: I was one of those minorities that grew up with pretty much nothing. So when I started working out, I started doing workouts on demand. I always just take something free from Jillian Michaels, or Shanti and I loved it. I would just do that on repeat over and over again, from home.
Obviously, years down the line, I got my idea of doing home programs to follow along to from my personal experience with at-home workouts. I've always tried to make my programs and now my app accessible for my Latino and African American followers because the world already is expensive enough.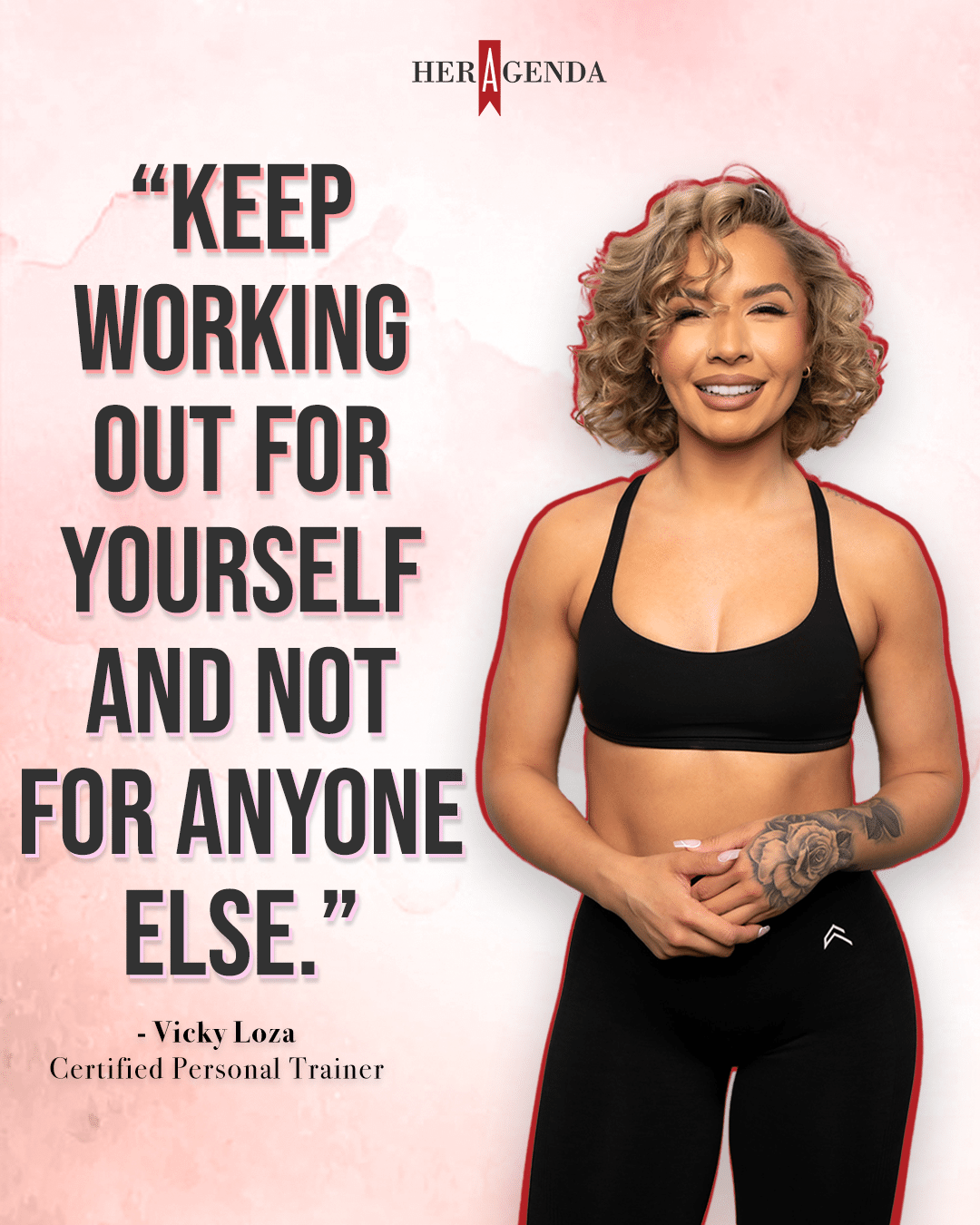 Article continues below advertisement
Her Agenda: In your late teens, and early 20's you mention struggling with body dysmorphia. What steps did you take to overcome this struggle? How did it parlay into your brand as "Vicky the fit chick?"
Vicky Loza: I went from being overweight to being drastically thin. I was just at a place where I couldn't be happy with my body and I couldn't win. At 23 years old when I started working out it finally resonated with me as far as, okay, I'm coming into the gym every day I'm putting in the work I need to get out of my head. All I was telling myself were negative thoughts but I switched my mentality to I'm coming to the gym, I'm getting better.
The results will come and at the end of the day, everyone's always going to have something to say about my body. Let me not even worry about what people are saying. That pep talk successfully transferred over, to my brand. This is what I tell women on Instagram; people are always going to have something to say about you or your body. Do their opinions really matter? Or is it more of what you think about yourself and all the hard work that you're putting in? I think you have to keep working out for yourself and not for anyone else.
Article continues below advertisement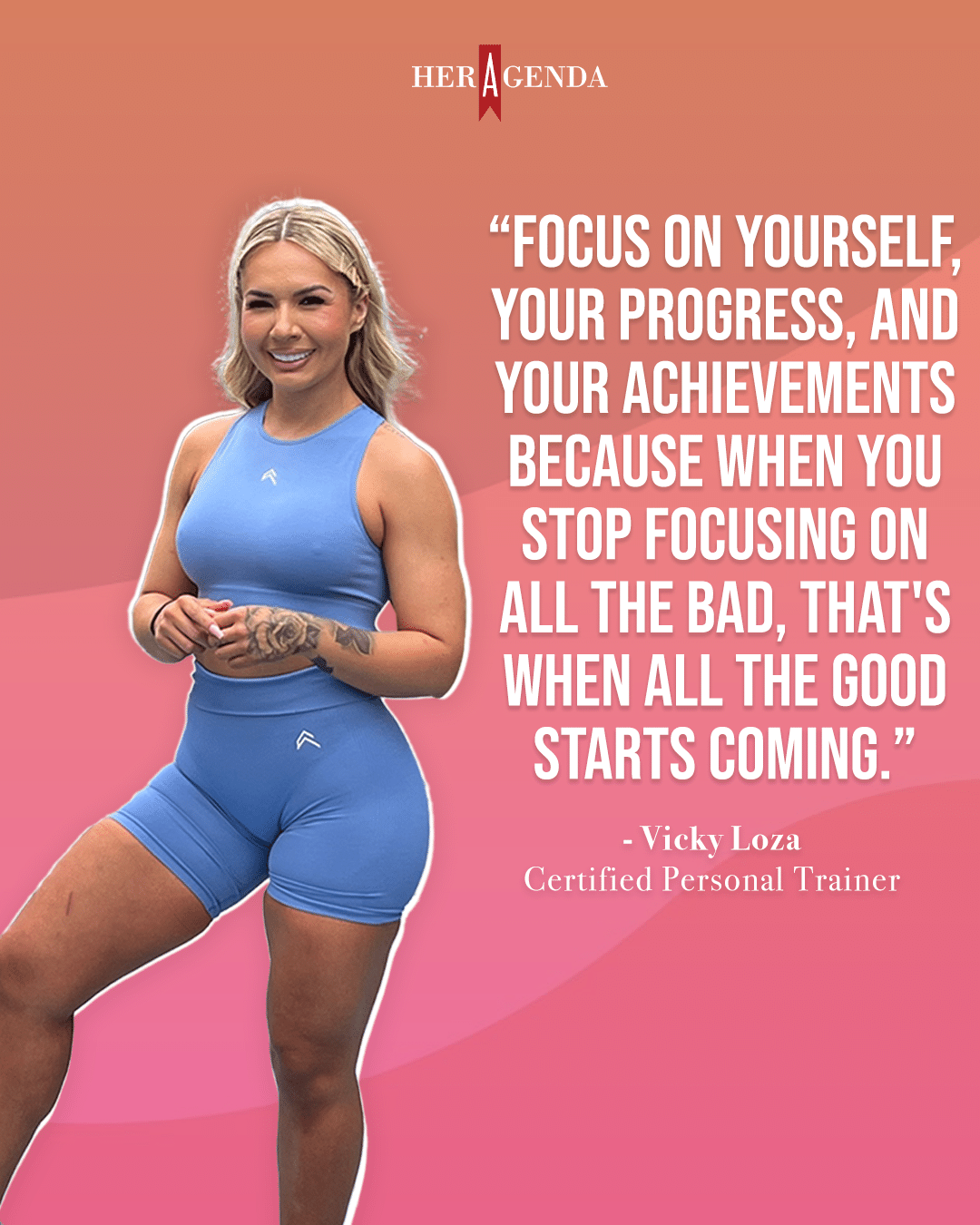 Her Agenda: Congratulations on your recent recognition by Telemundo as an unstoppable woman. On the topic of unstoppable women, what is the greatest piece of advice you received from one?
Vicky Loza: Not to compare yourself to others, and their journeys. Focus on yourself, your progress, and your achievements because when you stop focusing on all the bad, that's when all the good starts coming.
[Editor's note: This interview has been edited for length and clarity.]