WATCH: Misty Copeland in Coversation with Amy Astley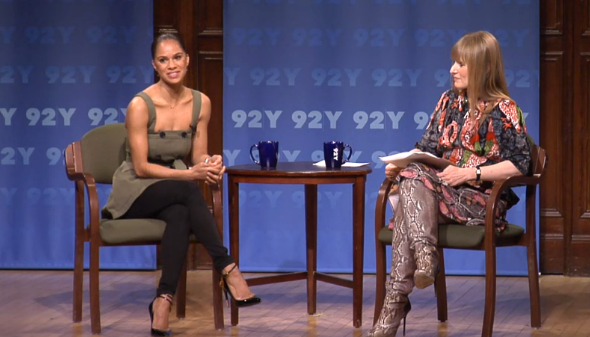 "I think my whole journey has been different from what people expected and what people assume" explained ABT soloist, Misty Copeland.
By now we're all familiar with the story of Misty's late bloom into ballet. However we know that with her hard work and determination it is possible to start training at 13 and progress to be a world renowned prima ballerina.
Whether she's dancing or simply talking about her day, on a stage, Misty emits nothing but grace and class. Her aura is hard to ignore and prevails through her entire talk with Teen Vogue's Amy Astley at 92 Y. Misty joined Amy for a candid and inspiring conversation about her career. From shooting her new documentary entitled, A Ballerina's Tale to starring in Swan Lake, Misty proves time and time again that she's truly a force to be reckoned with.
When asked about Nadia Comaneci writing her TIME cover story Misty shared, "I was so inspired by her and her story and she was definitely an influence on my dancing." Like most dancers, Misty knows that sometimes you have to take a few steps back before spiraling forward. Over the past years she has not only stepped back but extended a hand to help develop initiatives to support young dancers in low income neighborhoods. Her current project (in partnership with ABT), Project Plie, seeks to combine training and support of ballet students from communities previously underrepresented in American ballet companies. The website explains that the program aims to create a nationwide network of partner professional ballet companies who are committed to diversity.
Article continues below advertisement
Misty's dance resume is a testament of her commitments as it proves to be quite diverse as well. Who else can go from a classical company Port de bras to plié-ing for pop-star Prince?
And who knows what next? When asked what would be the ideal hip hop song to choreograph to, Misty shared "Maybe something J Cole. I'm really into J Cole right now, because he's saying something." Although later admitting she's not much of a choreographer, that's one collaboration we'd like to see happen!
Watch the entire chat here: