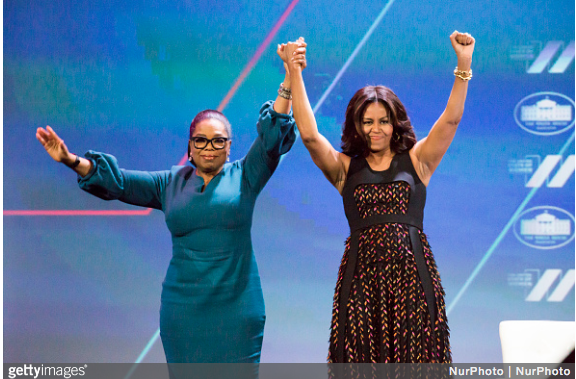 (Watch) The United State of Women Summit Focuses on Power, Purpose, and Breaking Barriers
By
Rhonesha Byng
Jun. 22 2016, Published 2:37 p.m. ET
The concept of power and what it means has evolved and in 2016 true power is about unapologetically embracing your authentic self, and your ambition in spite of the barriers and struggles you face.
This notion of power was illustrated in full force during the first-ever United State of Women Summit that took place on June 14th, in Washington D.C.
"The stories we tell matter," explained President Obama during his powerful speech where he also identified himself as a feminist. Obama's statement is important because in a world where we often focus on the stats about the lack of women in positions of power, we also need to highlight the stories of women who are in these positions. You can't be what you can't see, right?
Seven and half years ago, Obama created the White House Council for Women and Girls as one of his first acts as President. Last week, the collective efforts of the Council manifested into the United State of Women Summit. From Economic Empowerment, Health & Wellness, Educational Opportunity, Violence Against Women, Entrepreneurship & Innovation, Leadership & Civic Engagement 5,000 activists, changemakers, and allies from around the United States gathered to discuss the progress we've made in each of these arenas as well as identifying solutions to create greater progress as we move forward.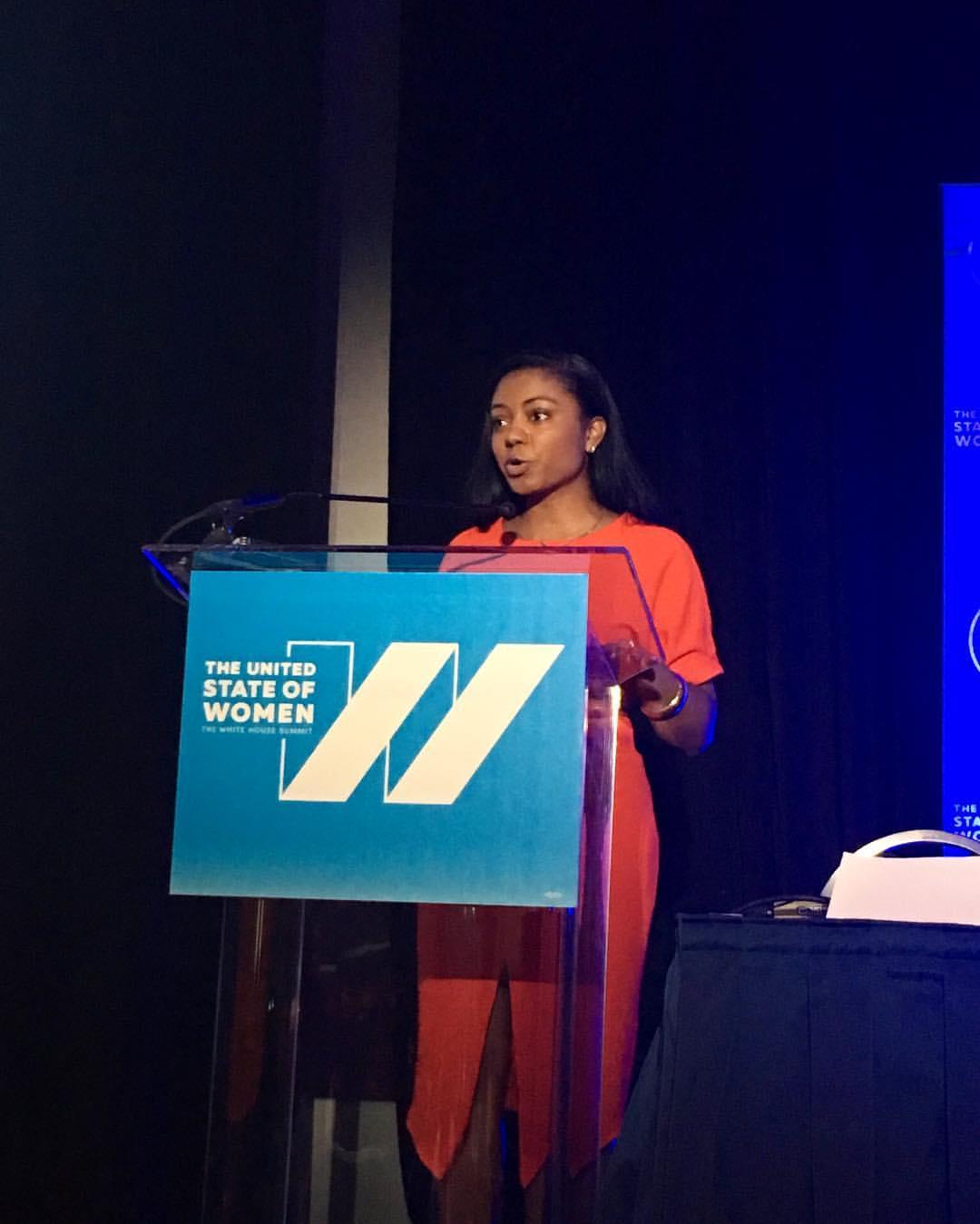 Article continues below advertisement
A number of high-profile CEO's, celebrities and politicians were present and spoke including Michelle Obama, Oprah Winfrey, Warren Buffett, Kerry Washington, Mariska Hargitay, and more. Her Agenda was also part of this day, as several of our contributors had the chance to attend in person and I moderated a panel discussion called All In: Building Inclusive Movements and Engaged Citizens.
"This summit is about championing women in their own authentic voices," Sarah Jones shared from the stage.
Watch the entire summit in the video below:
Article continues below advertisement
To give you some insight on the day, we identified a few of the voices that touched us the most:
Cecile Richards, President of Planned Parenthood
Article continues below advertisement
Plain and simple, our favorite quote from her from this day was: "You only get what you fight for!"
Barack Obama, President of the United States
Article continues below advertisement
The President was electric when he took the stage. Here are a few of our favorite segments of his speech, and you can watch the full video yourself in the above clip.
"But our country is not just all about the Benjamins — it's about the Tubmans, too. We need all our young people to know that Clara Barton and Lucretia Mott and Sojourner Truth and Eleanor Roosevelt and Dorothy Height, those aren't just for Women's History Month. They're the authors of our history, women who shaped their destiny. They need to know that.
Rosa Parks wasn't simply a tired seamstress who sat down by accident. She was a civil rights leader with the eye of a strategist and the heart of a warrior. She had the confidence to board on that bus, the courage to risk her own life and liberty for the sake of ours. History did not fall into her lap — she seized that moral arc and she bent it with her bare hands in the direction of justice.
Article continues below advertisement
That's the story that's still being written, today, by our modern-day heroes like Nancy Pelosi or Sonia Sotomayor or Billie Jean King or Laverne Cox or Sheryl Sandberg or Oprah Winfrey or Mikaila Ulmer or Michelle Obama – the countless ordinary people every day who are bringing us closer to our highest ideals. That's the story we're going to keep on telling, so our girls see that they, too, are America — confident and courageous and, in the words of Audre Lord, "deliberate and afraid of nothing."
Gloria Steinem, Activist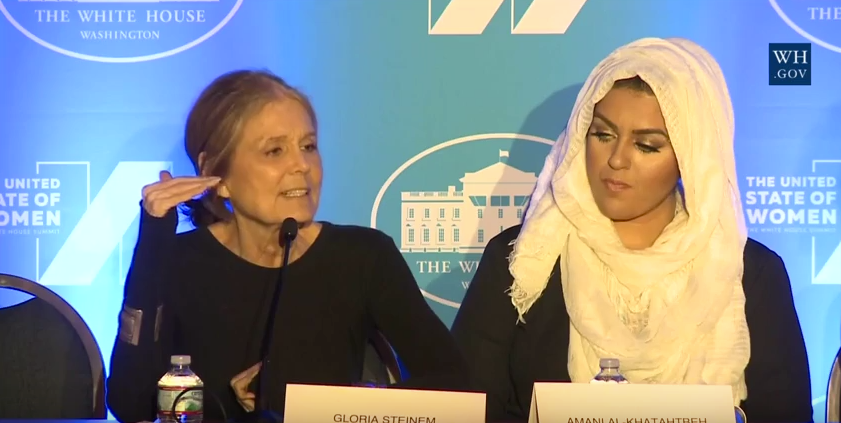 Article continues below advertisement
During a panel of powerhouses including Shonda Rhimes, and moderated by Luvvie Gloria Steinem shared the following:
"Our brains are organized on narrative. We've been sitting around campfires for 100,000 years telling stories. We don't understand or really absorb facts and statistics. If you tell me a stat I will make up in my mind a narrative as to why it's true. It is the way we organize our thoughts.
The media is the current campfire, and as long as some people are not allowed to tell their stories in this circle they will not be visible and other folks who identify with their stories will not feel that they can be present.
Most of our serious news people, are still devoted to facts and generalities. That's part of the reason that we are so into celebrities because we're starved for narrative and it's like celebrities are the only narrative in town on the nightly news. We really need to think seriously about this and it needs to be absorbed."
You can watch the full panel at the 09:06:00 time code in the video of the full summit above.
Article continues below advertisement
First Lady Michelle Obama and Oprah Winfrey
This was a fantastic discussion about owning who you are and knowing your worth and not being afraid to let people know. It was a great moment to witness two powerful women discuss these topics on this platform, the "mmm mmm mmm" moment is great. You can watch the full conversation in the video above, and a few of our favorite snippets below:
"It's not about what people say about you, it's about what you actually DO (that counts). So the best revenge is success — and good work. You don't have to say anything to the haters. You don't have to acknowledge them at all. You just wake up every morning and be the best you you can be. And that tends to shut them up."
Oprah: What can men do to help women?
Article continues below advertisement
Michelle: "Be better. Be better fathers. Be better husbands. Don't 'babysit' your own kids and think you're taking one for the team – they're YOUR kids!"
"But the work always continues. And by that I mean we're never done. We can never be complacent and think that we've arrived now as women. Because I hear this from young women. Some of you young women who aren't feeling the pains that many of our predecessors have felt — you think, well, there aren't any problems, women's rights, we've got this all figured out, I'm already equal, I'm good — I'm just like, oh, just you wait, you'll feel it.
So the work continues. And for all the young women in this room, all the young men, we can never be complacent. Because we have seen in recent times how quickly things can be taken away if we aren't vigilant, if we don't know our history, if we don't continue the work."
Oprah's final words to Michelle: "As Maya (Angelou) said, you make me proud to spell my name: W-O-M-A-N."
Article continues below advertisement
Amy Poehler, Actress, co-founder and President, 'Smart Girls'
"Not only can we do whatever a man can do but we can do most things better and our frustration comes when people get in the way from us being at the wheel. Let us drive we will get you there faster and safer. Give us the wheel or take it from someone."
Article continues below advertisement
Joe Biden, Vice President of the United States
We can't close this piece without mentioning the powerful speech Joe Biden made about violence against women and rape culture in America.