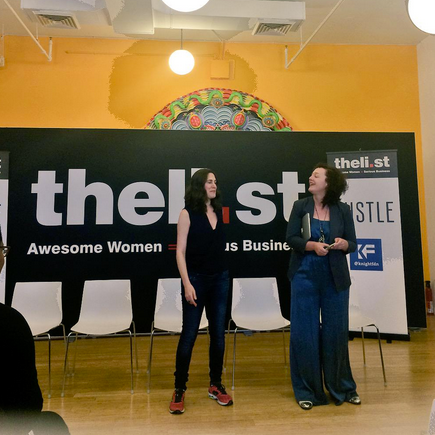 We Spent The Day Learning About The #PowerHabits of Awesome Women — & Of Course We Took Notes
By Darian S Harvin

May 20 2015, Published 3:30 a.m. ET
I'm having a moment. It involves soaking in every piece of sound advice I hear from experienced women.
Don't get me wrong, in my 24 years of life so far I've done, and continue to do, some great things. But I'm not running a company or leading a team or developing a product, or writing compelling, viral articles, just yet. So when you let me sit in a room, and listen to women who are? I listen closely.
Advice on networking & cultivating relationships with people are aren't like you.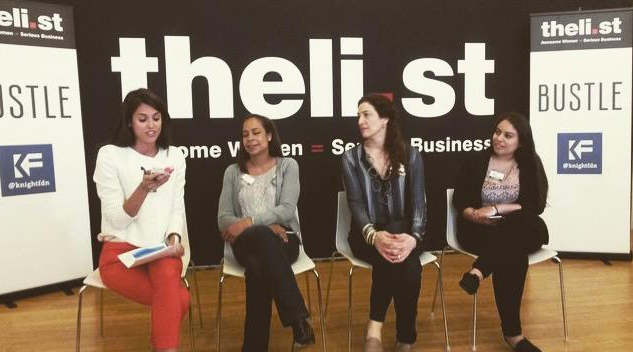 Article continues below advertisement
photo credit twitter: @feministabulous
This is networking 101, so it was nice to hear from women who probably get cold emails all of the time say, 'Send them. You never know. But here are suggestions on how you should do it.' Or, 'This is how I do it.' Here are some things to keep in mind when networking.
Networking is a process because forming relationships is a process. Consistency is so crucial. Placing yourself in the right spaces is so crucial, and just as important as "showing up."
Article continues below advertisement
Building a company from the ground up, establishing credibility and racking in $10 mill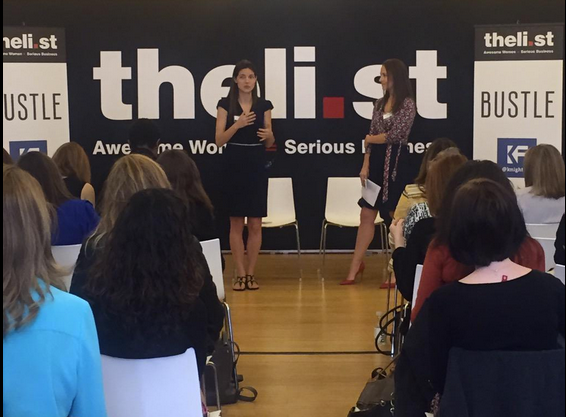 The Muse Founder Kathryn Minshew talked about what it took to build a team and raise $10 million. It took a lot of grit, and the people on your team have to know this isn't just an after-school program.
@kmin talks about looking for people who care about what you're doing and can look beyond working at the "sexy start-up". #PowerHabits — Her Agenda (@HerAgenda) May 14, 2015
Kathryn talked extensively about establishing creditibility and how exactly The Muse did that. Much of that involved using the values of their own mission, and narrowing in on strong strategies that displayed those.
We started with what we knew, career content, & looked at other platforms that we could use to establish credibility. – @kmin #PowerHabits
Article continues below advertisement
If you don't have a lot of cash to compensate people, you need something else. We used our mission for that. @kmin #PowerHabits
Jill Abramson Life Update!
She gave insight on journalism, right now, from where she's looking.
Article continues below advertisement
. on the new Facebook and NYT deal: "the news organizations that are doing it are smart to do it." — Elizabeth Plank (@feministabulous)
"it's not like theres some big idea out there thats going to save journalism-its going to be trying diff things."- — Her Agenda (@HerAgenda)
Opportunity doesn't knock just once. Another will come along. Opportunity +time go together and are friends @JillAbramson #PowerHabits
Money advice. Lots of Money advice.
Founder of GoldBean Jane Barrett and Financial Therapist Amanda Clayman teamed up to give the room (and all those live streaming) solid money advice. They talked a lot about catapulting oneself out of a place where money is a burden and stress factor. Whether you have a lot, or a little.
Article continues below advertisement
On Leadership:
Almost every speaker touched on leadership. Alyssa Mastromonaco, who went from Deputy Chief of Staff for Operations of the Obama administration to COO of VICE, really drove the point of being in tune with the needs of your staff.
My key take away here was that leadership is not about me. Yes, it is this wild ride of self discovering and figuring out what you're good at, but it's so you can support your team and delegate in a way that makes the most sense.
Discussion on how being the boss is about empowering others to make great decisions, not telling them what to do. #PowerHabits
As a boss, I've recognized what I'm not going to get good at and delegated it. Know where your limits are. @jenbee #PowerHabits @thelist
Article continues below advertisement
Finding The Off Switch & Avoiding Burn Out
It's important to come up with tangible ways to decompress and knowing when the power off. Plus, no better way to close this conference than swapping tips on how to decompress.
You can find a full list of all women who spoke at The Li.st's first #PowerHabits Conference here, as well as more of the #PowerHabits conversation.