What Does It Mean To Be A Black Girl?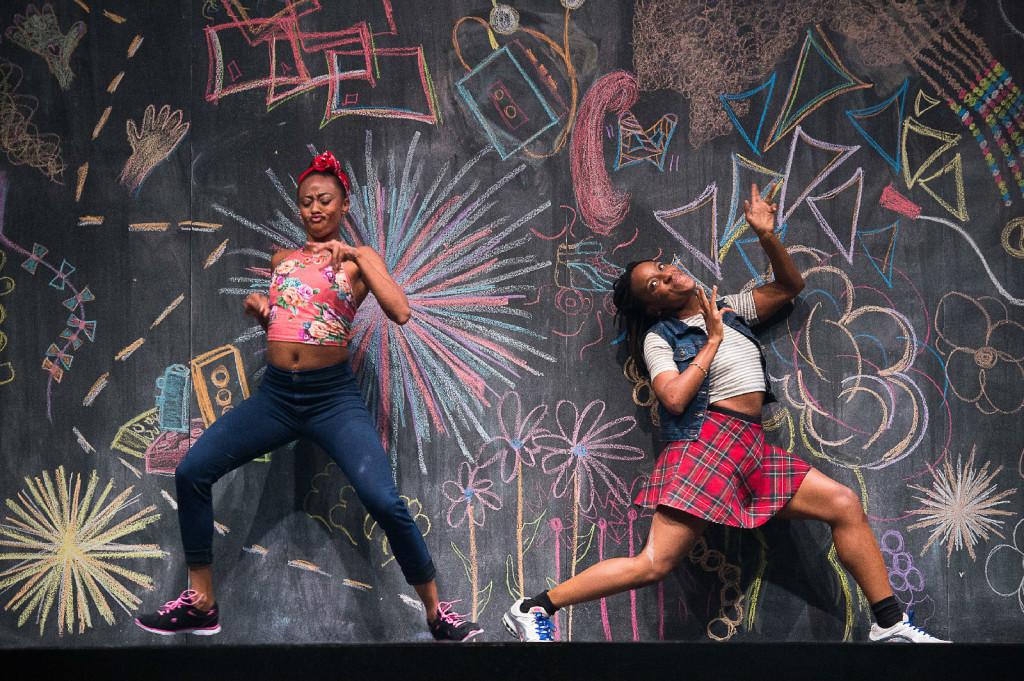 Fana Fraser and Beatrice Capote – Image by Christopher Duggan
In the era of #BlackLivesMatter, along with the emergence of disturbing images like the video from #AssaultAtSpringValleyHigh, what does it mean to be a Black girl? Moreover, how does society treat Black girls and how does that impact who we ultimately become as Black women?
Choreographer Camille A. Brown, attempts to tell the story of the complexities of what it means to be a Black girl through a unique dance piece titled, Black Girl: A Linguistic Play. It ran September 22-27th at The Joyce Theater in New York City.
Two years in the making, the play takes us through the story of Black girls from childhood through adulthood told through a series of dances that remind you of the games that we often played on the playground. From hand games to double dutch, from best friends to frenemies, all those elements of being a girl in the city. Themes of finding yourself, finding your friends, and then growing closer to or envious of them as life comes at you are explored through dance.
The stuff that was on the stage is not what we see in the media," said Brown during a discussion after the play. "[This piece explores] conflict, competition, resolution, vulnerability, exhaustion…but constantly we are only put into the angry Black female or strong Black female tropes."
The audience really connected with the theme of friendship between Black women and the complexities of attention, competition and opportunities (or lack there of).
"What does it mean when the Black girl shows up for herself?"
Much of the play focuses on the childhood games like Red light, Green light, Double Dutch, and various social dances. Brown says that in childhood we are in our truest form as our truest selves because society hasn't influenced who we are yet. That point in particular made me pause and reflect, 'am I my true self or is my self a reaction to the way society responds to me?'
Article continues below advertisement
The play offers a great starting point for discussion around the spectrum of Black girlhood. The playbill showcases a section about the history of particular dances and offers historical context to the hand games we play and the connection to something called "patting Jumba" that emerged during the 18th century. Although significant, we must keep in mind that Black girlhood is more than sassy dance moves, rhythmic steps, booty shaking and hand games. I found myself unable to identify with the majority of the play in particular head tilts, lip smacks and hand gestures as markers of Black girlhood. Yes, that's part of it– for some people– but not all of it. I'm a Black girl, and I can't jump double dutch, I can't do the heel-toe, or twerk. However, this is the point. Black girls are diverse, there's not just one type or one way to be a Black girl.
Brown's work is a starting point in the effort to move Black girls and Black women from the margins to the center and ultimately create spaces where we can tell our own story.
Watch the video below to see Camille A. Brown speak about the play and also experience a little snippet of the play: