What It Really Takes To Make It As a TV Reporter In A Top 10 Market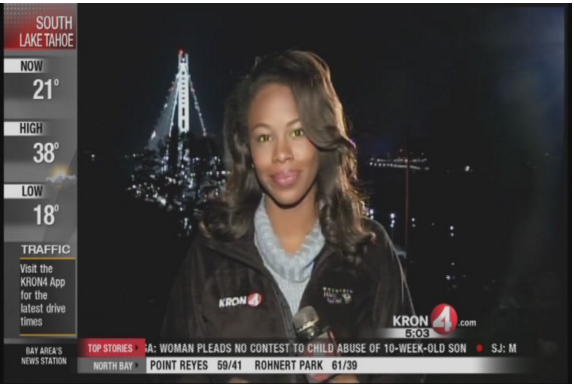 The glitz and glam of broadcast journalism is a draw for tens of thousands who pursue careers in front of the camera, but that perception isn't always a reality. Averi Harper is a reporter at KRON-TV in San Francisco, one of the youngest in the top 10 market. Here, she offers her advice for young women who want a career in the industry.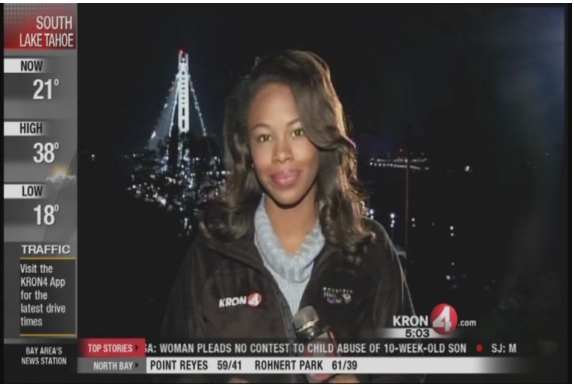 1. Be in it for the right reasons.
I've met so many people who want to go into the news industry because they believe it's a pathway to becoming rich and famous. Now while you'll hear about the multimillion dollar contracts of network anchors like Matt Lauer or Robin Roberts, that's far from the norm. In fact, at your first job working in television, you could make as little as $20,000 a year. On top of that, you'll probably have to work in a small market in a corner of the country you'd never thought you'd visit. You'll work long hours, on holidays and on weekends.
As for dreams of having a makeup artist, hairstylist, and even a photographer—that's what they are, dreams (at least when you're starting out). At my first job, in Greenville, North Carolina, I carried nearly 50 pounds of camera in hot humid weather to shoot, write and edit my own stories. Despite those circumstances, I continued, because I knew the work I was doing was important. I knew that where I lived there were stories to be told in communities other reporters were afraid to venture into and that kept me motivated. Television is a true labor of love. Those first jobs are meant to weed out bad apples.
Article continues below advertisement
2. Network, network, network.
Your first job in television is the hardest to get and a good resume reel isn't all it takes to be hired. I got my first job through my alumni network at the University of North Carolina at Chapel Hill. I saw reporting job posted for the ABC affiliate a couple of hours from where I went to college. I applied and the hiring manager called one of my college professors who vouched for me. Cast your net wide when you're applying for your first job. I spent months before I graduated from Columbia Journalism School researching markets, broadcast groups and stations on trade sites like TVNewscheck, Media Bistro and TV Jobs. I also applied for every job I thought I was qualified for and I didn't limit myself geographically. I applied to jobs in California, Arkansas, Louisiana, Florida and New York. After applying to each station I reached out to the News Director directly asking if I could visit the station on my own dime. Some rejected those offers and other visits were unsuccessful but it wasn't all a loss. I ended up being one of the few in my graduating class that had a reporting job on graduation day.
3. Join professional organizations.
Article continues below advertisement
4. Find a community of your peers that are working on a comparable level.
It's so helpful to have people in your network who are going through the same struggles as you are. I'm a part of a chat group with reporters around the country. We're all around the same age and it's a safe place for us to talk about what it's like to work in a newsroom. We share our stories and give each other feedback. We talk about the moves we want to make in the future and most importantly we share job openings that we know of. It's important to have people that are on your level to decompress with, because sometimes your mentors might not be able to relate to what it's like to work an entry-level job in a small market.
5. Be a student of the news.
Every day, I try to watch news broadcasts from around the country. Most stations live stream their broadcasts. I pay attention to what stories are selected, how each story is written, and what makes a story memorable. I look at the on-air presence of the reporters and anchors, the sound of their voices and how they're dressed. I read news online from several different sources every day. To improve, you have to have a healthy obsession. You have to know what's going on in the world around you. Follow your favorite news outlets on social media. Download news apps to your smart phone. With so many online resources to do just that, it's easier than it sounds.
Article continues below advertisement
6. Be willing to do what no one else is.
You have to pay your dues to get to the top and it's not always going to be easy. I'm a morning reporter. I wake up at 2 a.m. every day. I work weekends. I haven't been home in six months. I've had to report in 100 degree weather and El Nino rainstorms. I've trekked through the mud and through the smoky charred wreckage of fires to do stories. I'm not patting myself on the back. I'm not even special because there are thousands of hard-working men and women doing the same thing all over the country in pursuit of their passion. To be successful in this industry, that's what you do. You have to be willing to go the extra mile. You have to hustle for what you want because if you don't, there are so many others that are willing to do it.