What It Takes: Jennifer Kapahi Co-Founder of trèStiQue on Female Entrepreneurship Within the Beauty Industry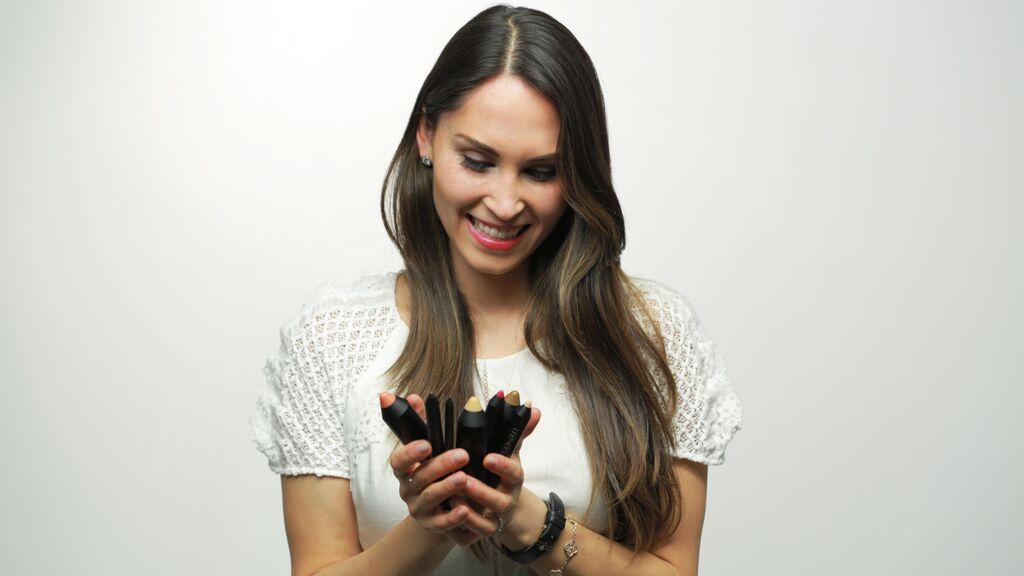 Jennifer Kapahi, of beauty brand trèStiQue, is proof that with hard work and dedication a passion can lead to a rewarding career.
Since the age of three Jennifer played and experimented with her mother's makeup. This led to a hobby she capitalized off of as a make-up artist throughout her high school and college years. Her love for makeup landed her at beauty powerhouse Revlon where she headed product development for categories such as skin, hair and nails. Her experience in the beauty industry includes leading sales and marketing efforts at Intercos, a top cosmetic manufacturing company.
With over 10 years of experience in the beauty industry, Kapahi felt the need to engage the millennial audience by creating an innovative product line that made applying beauty products more efficient. With the help of co-founder Jack Bensason, trèStiQue launched in May introducing a mess-free makeup system featuring light long-lasting ingredients that are safe for skin. Each pencil contains a magnetic sealed cap and also built-in interchangeable tools. She was inspired to create the products by the ever-changing modern woman on the go.
Kapahi spoke with HerAgenda.com about what makes the product line innovative, the challenges she faces as an entrepreneur and more.
Her Agenda: Why did you decide to work in the beauty industry and what attracted you to it?
Jennifer: Well I started in the beauty industry in high school. I was a makeup artist [and] what attracted me to it in general [is that], I was an artist. I loved art and I thought it was natural transition, for being outgoing and social. I also liked having this career path very early on in my life. I was a makeup artist in high school and college on the side, I was always inspired by beauty.
Article continues below advertisement
Her Agenda: What originally inspired you and your business partner to simplify beauty by creating trèStiQue and what is the significance behind making makeup simpler?
Jennifer: Just through my actual life. I was a product developer for Revlon for 4 years. A lot of the products they were making were beautiful but there wasn't a brand, as a millennial woman, that fit into my lifestyle. I didn't feel an actual human connection to the big guys because they're owned by corporations. I wanted to relate [more] to a smaller brand. Since we started, smaller brands have sprouted up but only two [are] ran by millennial women. There's really no one out there speaking to the consumer. I felt like starting a small company would ultimately benefit the millennials: me, my friends and then the lifestyle, simplifying [application] with built in applicators. We customize each product which hasn't been done in 10 years. We took it very seriously, [and provided something different].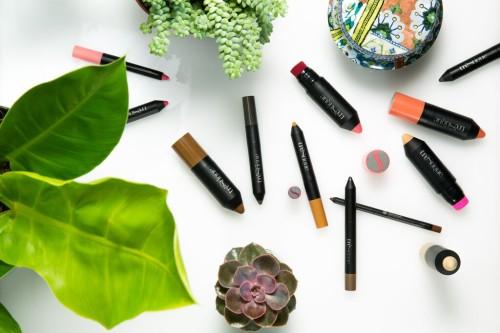 Article continues below advertisement
Her Agenda: What do you think sets trèStiQue apart from emerging beauty companies?
Jennifer: What I believe sets us apart goes back to innovation. We didn't just get a tube and put our name on it. We're innovative with the cap and the product. We thought about how [consumers] would use it in a cab, on the train and in [an] Uber. I just felt like a lot of the brands are cool, but there was a disconnect with the [consumers].
Her Agenda: What about entrepreneurship is most rewarding from your perspective?
Jennifer: From a personal perspective the most rewarding thing is to make decisions that impact your business. I think it's really awesome how much influence I can have over friends and other women. The conversations with my family and others is inspiring. It's inspiring that my decisions inspire them. I think entrepreneurship is huge now with millennials. The generation above us, I think there's a lack of entrepreneurship [among] them. I've had so many situations where people are inspired by me. If you surround yourself with an inspiring community [you'll succeed].
Article continues below advertisement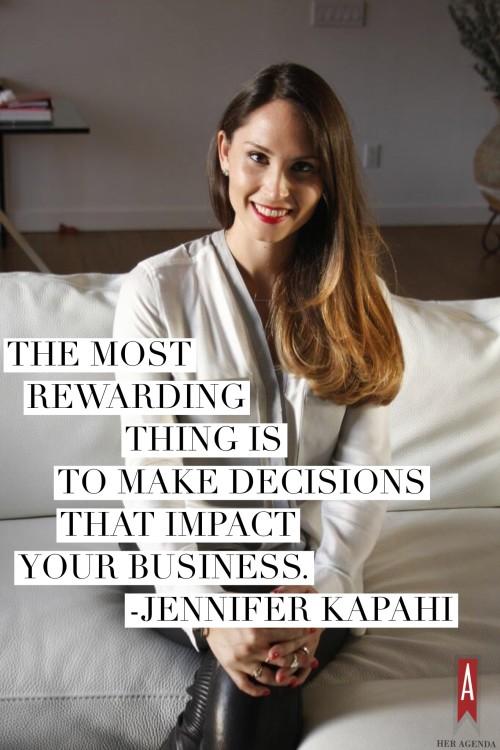 Her Agenda: Do you think e-commerce start-up companies are breaking barriers in the e-commerce industry? If so, what makes them different than major corporations?
Jennifer: I would say yes — smaller indie brands like us have the ability to stay nimble (reacting to the customers needs, requests etc.). We are also able to maintain a very strong conversation and human connection with the customer, more 1 to 1 than the big corporations. We also are able to provide custom shade recommendations via DM's & emails sent according to [the customer's] convenience and she never has to leave home.
Article continues below advertisement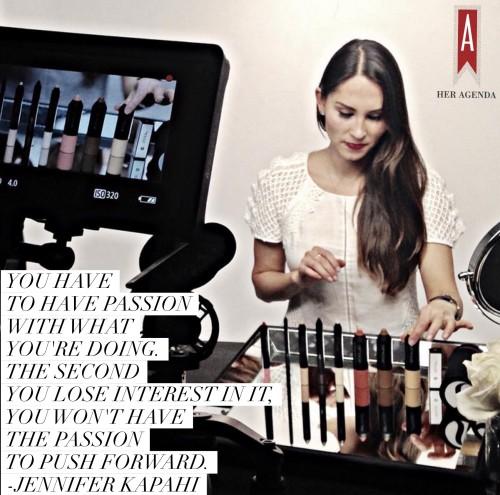 Her Agenda: What has been the biggest challenge you've overcome?
Jennifer: I think everyday has a challenge, it's hard to say just one. It's been a huge experience to learn that there's a lot of stress that's alleviated because there's always someone on top of you to take the stress [on]. But when it's your company the problem is yours. I think that what it teaches you is you always have to be ready for change and adapt. It teaches you not to take yourself too seriously. I believe you [must] take small steps towards growth, it's all for the better, as you learn you grow. Everyday I'm dealing with small problems and big problems that you have to solve everyday.
Article continues below advertisement
Her Agenda: What does a typical day-to-day consist of for you?
Jennifer: It depends on what I'm doing, I'd say there is no particular routine. We don't have a huge team, we really divide and conquer. If I'm going in the office I work on social media and product development. If I'm not in the office, I'm meeting with an investor [or something else]. Everyday it's always about being on your phone or around your computer. What's interesting is your brain never shuts down. That's what I love about it, it's always moving around and changing. That part is always exciting, you're one person and you're an octopus.
Her Agenda: Do you have any mentors who've guided you along your journey?
Jennifer: Through entrepreneurship I'd have to say my husband, he's a millennial as well. We went to college together. [I've watched] him start his company, grow and now he has four companies. He was the one who inspired me to take the leap: he said 'I believe in the product, I believe in the brand' every step of the way. If we had a board of advisers he would be on it. [He helps with] financial advising and consulting.
Article continues below advertisement
Her Agenda: What is one message or feeling you hope to leave customers with each time they purchase a product from your site?
Jennifer: I think that ultimately I want them to feel excited and intrigued. I think that if you're excited about a product you'll use it and talk about it and that will lead to you sharing and spreading it. That's what millennials do. It's so powerful when that comes organically. I think passion drives everything in life. I want them to really have that 'Wow!' feeling. I want there to be an element of discovery, there's not really anything in life that surprises us anymore and I think that's important.
Her Agenda: What words of advice would you give to those seeking inspiration and entrepreneurial guidance?
1) You have to have passion with what you're doing. The second you lose interest in it you won't have the passion to push forward. Know what you're passionate about.
2) Really look around you in your circle of friends and family. There's people around me I would've never reached out to. As you begin to ask for help, advice and suggestions, you'll be really surprised to know who can help you with your journey. It sounds silly because I would never ask for help. The more you can tap into those resources the easier it'll be for you.