What It Takes: Sally Nuamah, creator of HerStory
To say Sally Nuamah is impressive would be a severe understatement. She's a pre-doctoral fellow at the University of Pennsylvania, the recipient of the Princeton Prize award for improvement in race relations, a Gates Millennium scholar, and a PhD Candidate at Northwestern University. While she was interning for former senator, now president, Barack Obama in 2009 as his health policy intern, she began collecting footage for her documentary on education in Ghana later called "HerStory." Sally Nuamah is no stranger to the importance of education, and she wanted to explore the experiences of women in Ghana who had to overcome so much simply to get their education. Her Agenda caught up with Sally to discuss how she views education on a global scale, "HerStory" and how it's never too soon to give back.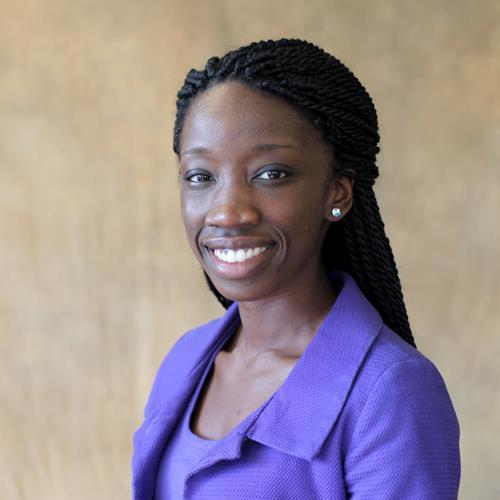 Article continues below advertisement
Her Agenda: How has your culture contributed to the way you view education?
Sally: I think it contributed a great deal to how I view education. I'm kind of split right in the middle. I was born in Chicago in the inner city, in a low income area and so I definitely identify with the African-American experience. My parents migrated from Ghana in 1980 and so I also identify with what it means to be a first generation American in the inner city. These things together have directly played into the work that I'm doing now and the guise that I have for the work because it's very clear to me that whether it is a first generation immigrant or a low-income African-American, education was the most likely mechanism for changing my life course in order for it to be better than the way I was brought into this world.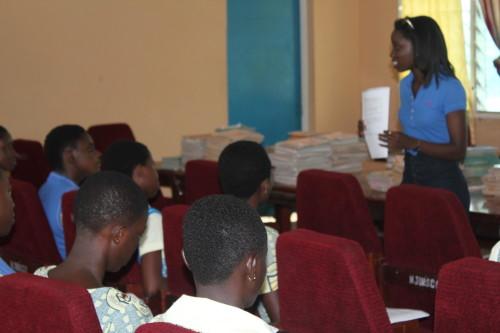 Article continues below advertisement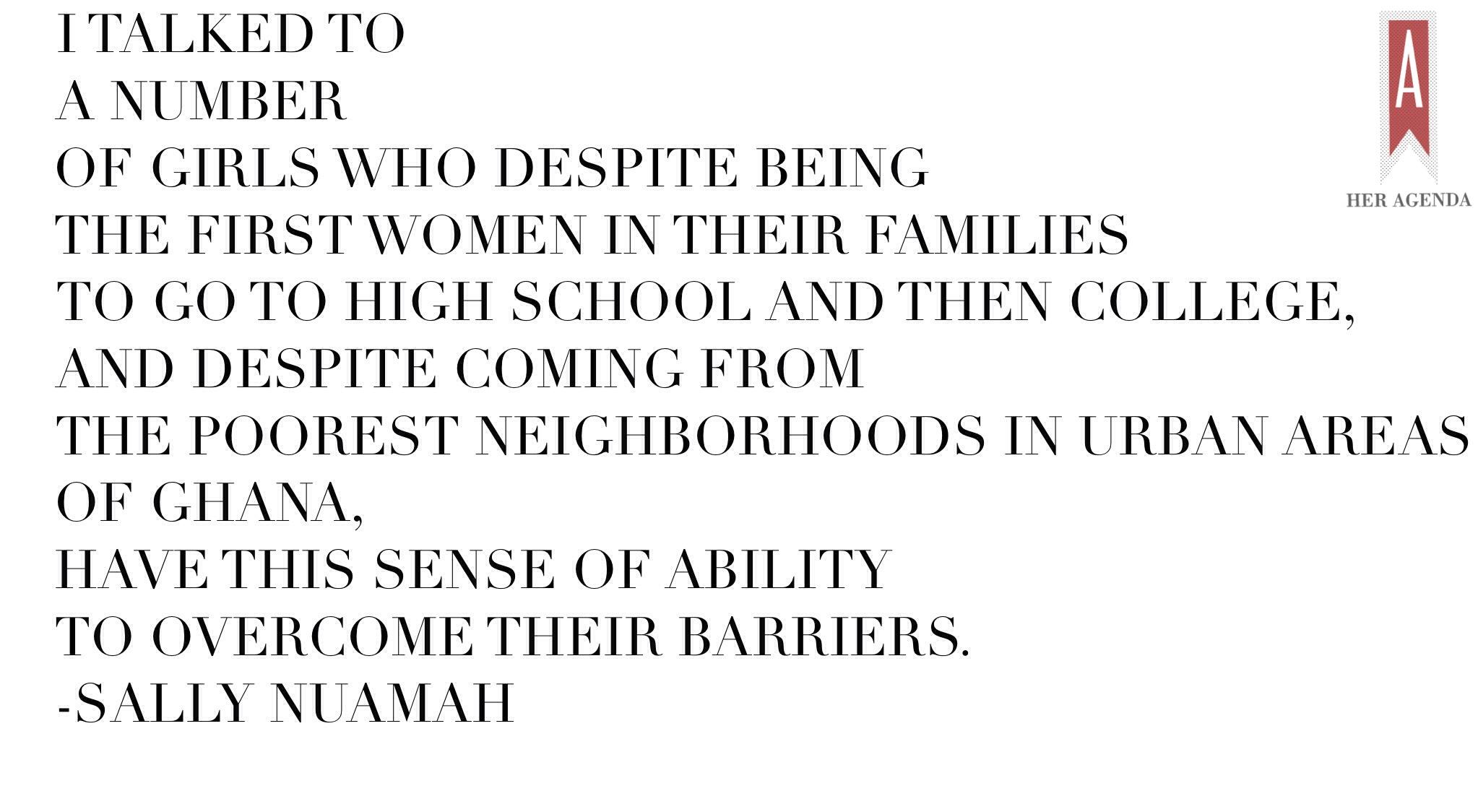 That was my big discovery. I talked to a number of girls who despite being the first women in their families to go to high school and then college, and despite coming from the poorest neighborhoods in urban areas of Ghana, have this sense of ability to overcome their barriers. You know your mother has no money, how are you going to pay for college? They just believed they could, that they will figure it out. It also details how the girl's mechanistic tactics they use to prove to people that they would be able to do it. I'm like, how do you take some of that, replicate it, and get poor people or young people around the world to have that same level of confidence. In some indirect way there is power in simple perception of just having the belief in yourself and deservingness. Deservingness plays a major role in actually making it. The documentary shows their journey, achieving their personal goals and their passion that they employ to succeed. It tries to figure out how could we borrow from that and make young people who are in similar situations in other parts of the world have the hope of believing.
Article continues below advertisement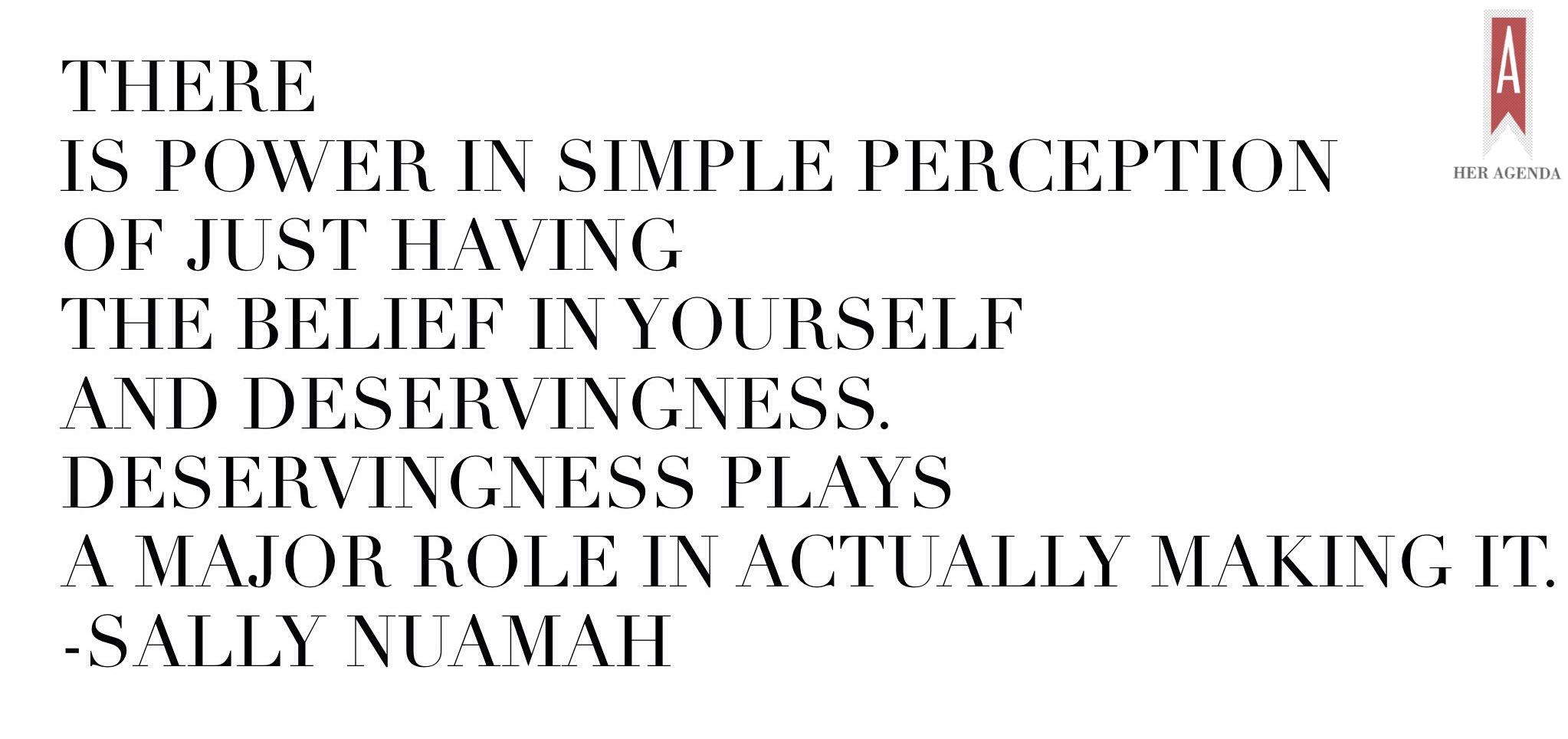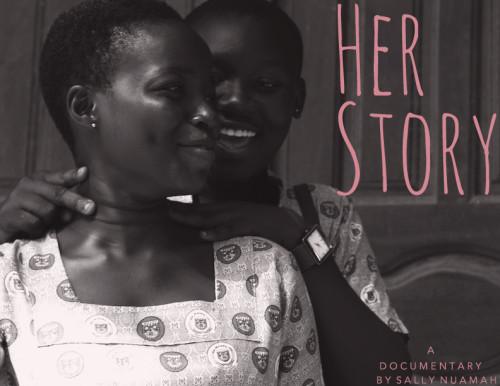 Article continues below advertisement
Her Agenda: Your documentary "HerStory" follows Lily, Esther, and Charlotte as they embark on the journey of higher education as juniors in high school in Ghana. What inspired you to showcase African women in this light?
Sally: I started the project when I was in college in 2009 and the girls and I really grew together. They knew I wasn't like a millionaire coming to save them. They were like she's a college student. It allowed us to exchange and have a rapport on a more intimate level. So now when I go back to Ghana, they're in college now, we talk about life and guys and social scenes. We literally have grown together. It's been really great. The documentary shows what young people on the other side of the world look like, and how versatile our struggles and stories are. How similar we are. That became my mission. When you think about how black girls in general are portrayed on T.V. it's HIV and AIDS, domestic violence, and stereotypical situations. It's something that is usually associated with the vulnerability of being a black teenager versus the stress in that. The film became a mechanism to demonstrate that there are a lot of young black women that have a lot of tenacity and strength and resilience and showcase that everyday.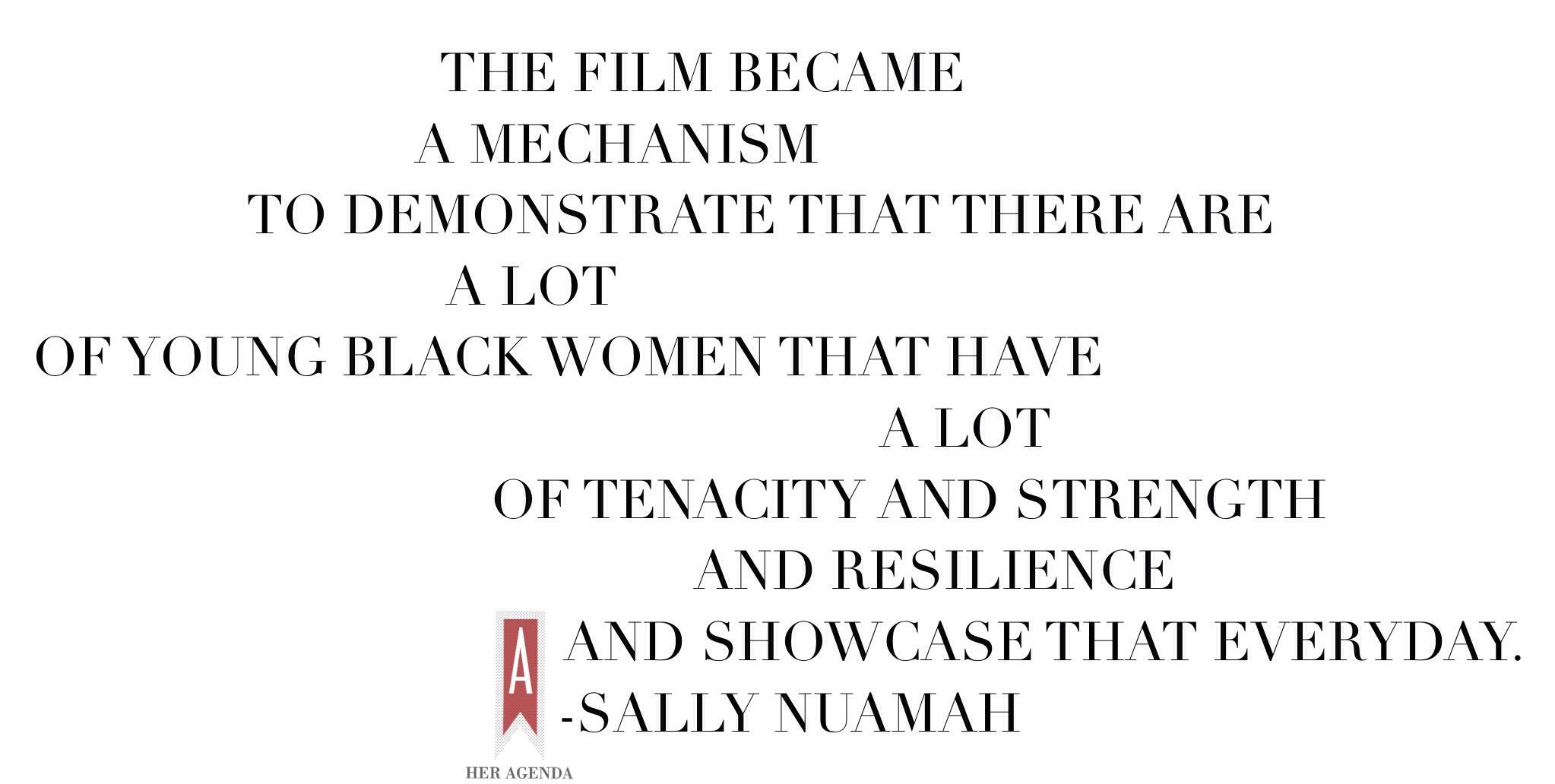 Article continues below advertisement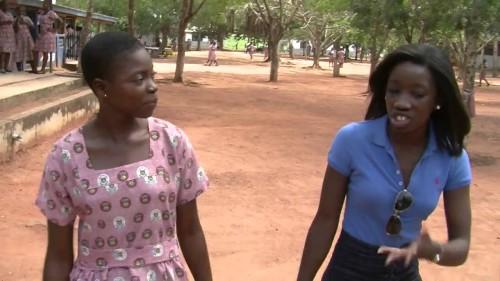 Her Agenda: What could you say is the takeaway from the documentary?
Sally: I think when you're making a film you have all of this intent on what you think the message it is going to be. I've done a few screenings before and I find that people really hold on to the message that most resonates with them but if I had it my way it would be a couple of things.
1. It would be realizing the importance of black people who constantly have been marginalized and women in particular who are marginalized the most.
Article continues below advertisement
2. To really have self worth and self vale, dignity and a perception that they really can achieve. The importance of acknowledging poor people from different backgrounds. For female education is the most probable mechanism for changing their life and their life chances. There is nothing more probable. Not being in the NBA or being a rapper. There is no other mechanism that is more probable than education.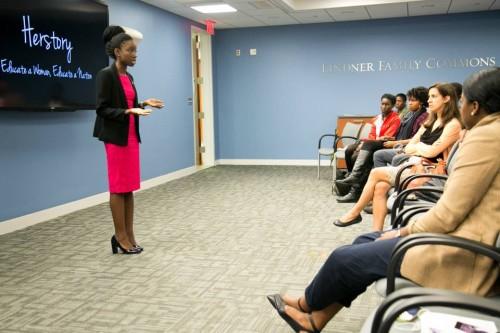 Article continues below advertisement
Her Agenda: Your work and continuous path of bringing awareness to education has earned you wide acclaim at screenings across the U.S. thus far and even landed the scholar a TEDx talk in Chicago. What advice would you give someone who wants to give back what they can even when they're at an early point in their career or still a student?
Sally: Someone can say 'First, I need to make it then go back and try to do something like this to help people' and thats the individualistic perception we have now. But I started the project in college and if I would have waited to help people I wouldn't have been able to enable these girls to go to college. I was able to be a role model but I also raised money so that they can go to college. And in one more year they'll be finishing college, so for me it's never too early to help people move ahead as you're reaching up the ladder. So I hope that by the initiative I took, just really out of passion, other people will want to join in and contribute to any way in they can in their respective communities or to these girls and acknowledge they have a role to play in uplifting others.