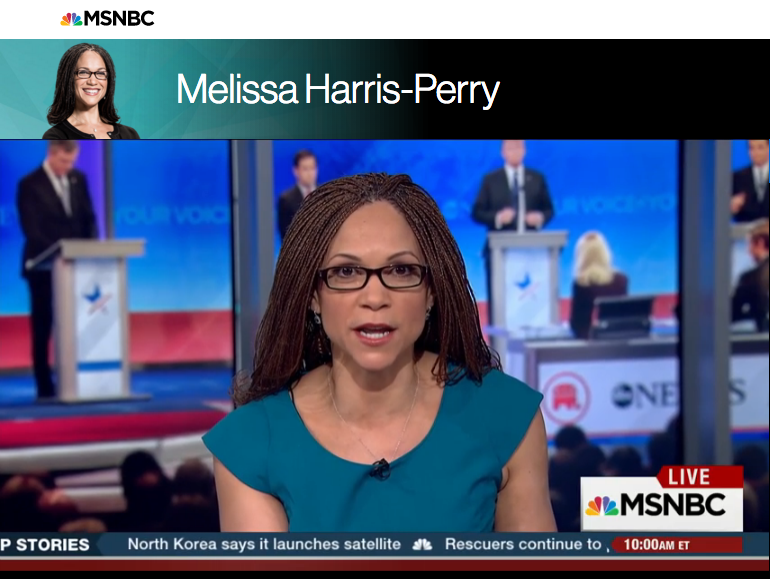 What the Melissa Harris-Perry Show Meant to Women of Color
By
Sage Howard
Mar. 18 2016, Published 3:30 a.m. ET
For any young person of color it is often difficult to find a platform within the realm of commercial media that provides us with information for us and about us, in a manner that is relatable and timely. Melissa Harris-Perry gave us that.
In an arena dominated by Anderson Cooper's and O'Reilly's Perry's show infused politics, history, and pop culture in a way that proved that Black voices, and Black women's' voices in particular, deserve a spot within the world of news commentary.
I was introduced to the show by my mother, which was surprising because my mother has never been into political talk shows. I struggled with getting into them as well, I never felt like anything the "traditional" talking-heads discussed related to me or my lifestyle, but because of my desire to study journalism, I'd often force myself to sit through dry segments with economists and experts that looked and sounded nothing like the people I normally take advice from.
The final episode of #Nerdland, which aired on Februrary 7, 2016, was the perfect reminder of why Harris-Perry's show was successful at bringing women of color together. She opened with a discussion of the Republican debate, engaging in a conversation between her and other Republican experts about each candidates' rhetoric and where specific candidates stood on topics like police and community relations. After the political commentary Harris-Perry seamlessly went on to discuss events occurring in Black popular culture in a manner that shed light on the way Beyonce's Formation, and the ridicule of famous quarterback, Cam Newton, are reflections of, and responses to, the way American culture aims to silence, shame, and erase Black bodies.
Article continues below advertisement
This discussion was then followed up with segments about The Flint water crisis with Flint's Mayor, Karen Weaver, and student engagement in the presidential election from the organization "Wake the Vote." This makes it harder to see her go. Especially during an election season where disenfranchised voters could benefit tremendously from the information her show had to offer.
Article continues below advertisement
In a recent interview about the loss of her show. Harris-Perry speaks to the lack of diverse voices on-air. "What I do think is not fine is that the end of the show is the end of a space where a lot of voices otherwise can't be," she explained in an interview with BuzzFeed's "Another Round" podcast hosts Tracy Clayton and Heben Nigatu. "I do think mass media has a responsibility to put those voices there. I don't care if I'm not on air. I want those people there."
The elimination of Harris-Perry's show is a huge loss for MSNBC, a network whose claim to fame is leveraging political media through its lineup of left-wing programming.
Harris-Perry served her audience a diverse array of topics, and included the voices of bloggers, economists, educators, students, and community activists. Experts from all walks of life engaged in public discourse to illustrate what it is like to actively exist in a space and fully accept and appreciate the reality of our existence as a member of a larger community.
Article continues below advertisement
It is our responsibility as civically engaged community members to begin to think about how our decisions of today impact the sustainability of our community in the future. It is not often that we hear political commentary that encourages us to break away from the social norm that we must privately deal with the issues we face as individuals.
Harris-Perry facilitated conversations about the history and present state of social & economic injustice, gender discrimination, police brutality, respectability politics, and popular culture. She did this with the intelligent quip, and the rhythmic seriousness – not sass – of a Black woman with a cable television time slot.
Article continues below advertisement
The topics she covered not only kept us inspired and engaged, but the woman herself is a true force. Her Ph.D. in Political Science, mixed with her insistence that her hair remained naturally styled, added to her audiences' eagerness to stay tuned and actively engaged. Harris-Perry's show was her act of rebellion from within the system. I can't wait to see what's up for her next, until then I'll be streaming reruns off Hulu & MSNBC.com.
Listen to Melissa Harris-Perry speak about the end of her show below: