What You Need To Know About Breast Cancer And Genetics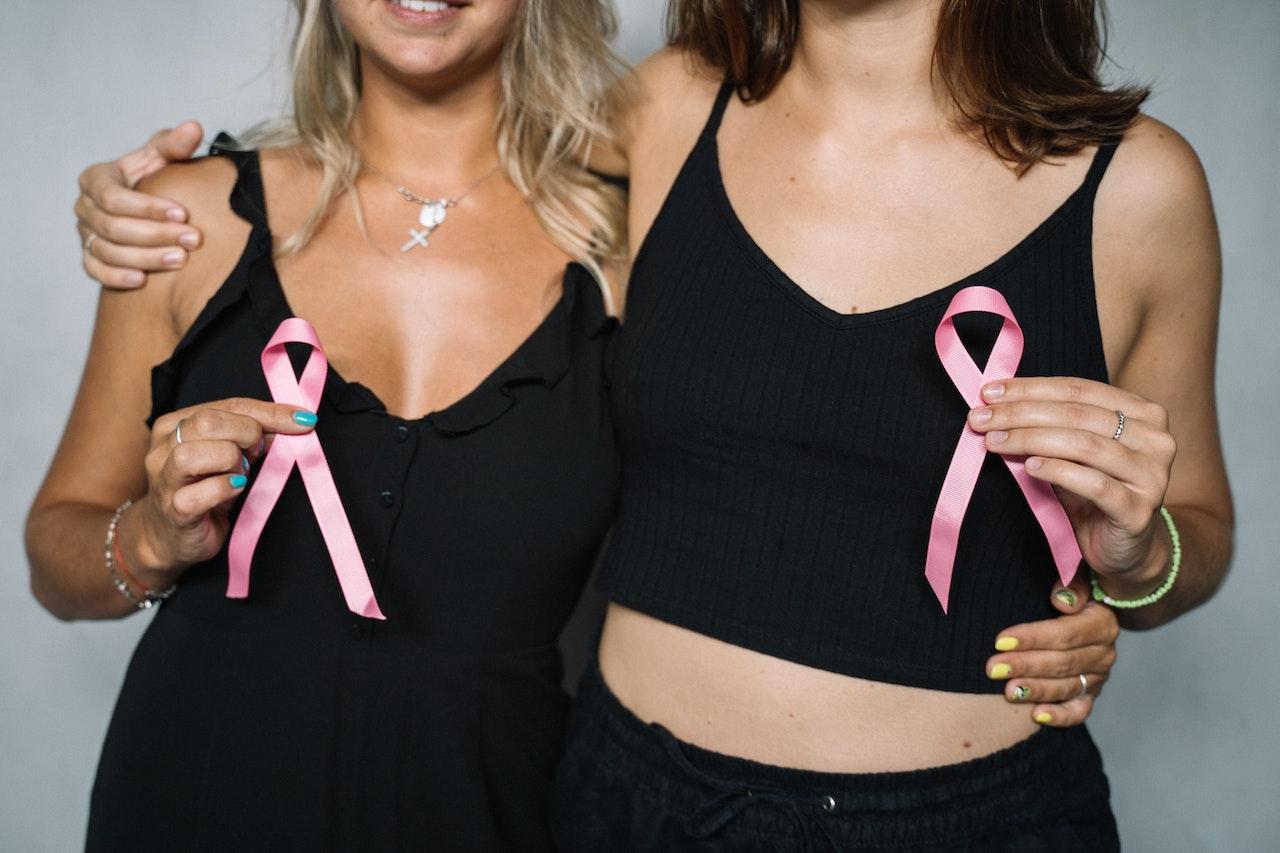 October is Breast Cancer Awareness Month, a time when we often see pink socks on professional football teams, pink ribbons on jacket lapels and coffee chains dying their lattes pink, all in the name of raising awareness and funding for breast cancer research. For many, the awareness ends with pink ribbons or a casual donation added at checkout.
For those who are high risk, however, October is just another month when breast cancer is on our minds. I am one of those people.
I have been getting mammograms and breast MRIs every six months since I turned 30, because I am at high risk of getting breast cancer. After my mom was diagnosed with it at 45 – much younger than the average age of women who are typically diagnosed – I started researching breast cancer genetics and risk factors. What I've learned has brought me some peace of mind: There are factors you can control and some you can't, and the best thing you can do is make a plan with your doctor.
Article continues below advertisement
Exploring Genetic Factors
While most breast cancers are diagnosed after age 50, people who have inherited mutations to certain genes, known as BRCA1 and BRCA2, are at a higher risk of breast and ovarian cancers, according to the Centers for Disease Control and Prevention. Those who have a mother, sister or daughter who have had breast or ovarian cancer are also at higher risk. Additionally, people who have dense breast tissue are considered at higher risk because it is more difficult to see a tumor on a mammogram.
Besides genetic factors, environmental and lifestyle factors may also contribute to your risk level. These factors include a sedentary lifestyle, poor diet, being overweight, drinking alcohol, undergoing radiation therapy and taking combined hormone replacement therapy.
Knowing The Risk
I am fortunate that I have access to my family's medical histories and can use that information to decide how best to care for myself. If you do not have access to your family's medical history, or you're unsure of whether you are at high risk for breast cancer, there are a number of options.
Article continues below advertisement
Speak with your primary care physician about doing a risk assessment. These are quick surveys that ask basic information about your medical history and your concern. Genetic testing can also be done to determine whether you are a carrier of the BRCA1 or BRCA2 gene mutation. Not everyone who has the mutation will get breast or ovarian cancer, but knowing whether you have the mutation will inform your future medical care. Lastly, regular mammography can help you catch signs of breast cancer earlier, increasing the risk of getting adequate care to treat it.
People of all ages with breasts are highly encouraged to perform monthly self breast exams, because 40% of all diagnosed breast cancers are detected by women who feel a lump. The three-step exam (in the shower with 3 fingers, in front of a mirror, laying down with 3 fingers) should be performed regularly so you know what feels normal to you and when something feels out of the ordinary.
Article continues below advertisement
Getting Additional Testing
A mammogram is a special X-ray designed to look at breast tissue, and it's an incredibly effective way to screen for cancer. As someone with both a direct relative with breast cancer history and dense breast tissue, my risk factors have increased beyond the normal risk posed to all women. According to the American Cancer Society, the average risk of a woman in the U.S. developing breast cancer sometime in her life is 13%, or a 1 in 8 chance.
I have a 1-in-3 chance of getting breast cancer, so my care team and I decided on an aggressive screening approach that included tests beyond the annual mammogram because mammograms often cannot catch a tumor in dense tissue.
In addition to mammograms, I also started having bi-annual ultrasounds, which are more likely to accurately capture anything growing in dense tissue. After two years of ultrasounds, my care team decided that bi-annual MRIs would be more efficient and effective than ultrasounds, as the technology has developed to better scan tissue for tumors.
Article continues below advertisement
Getting A Biopsy
Six months ago, my mammogram showed a spot of dense cells that were concerning to my doctor, and we decided to biopsy the mass and test it for cancer. In the biopsy process, an area of interest is numbed, a small cut is made in the breast and a hollow tube is inserted into the hole, where is it guided to the lump by an ultrasound. The tissue is pulled into the tube using a vacuum and a sample is cut from the breast.
As someone who had never undergone any type of procedure, the process was intimidating. During the biopsy, it sounded like a large stapler was inside my breast, making loud, snapping sounds as it took samples. The recovery process was minimal, thankfully, and the biopsy showed no cancerous cells.
How To Learn More About Genetics And Breast Cancer
Taking proactive steps to protect your health, especially when the process is complex and nuanced, can be very overwhelming. Speaking with your primary care physician is a great first step because they can offer advice and resources. It's also very important to establish a strong support system of family and friends. Breast cancer screening can be isolating and scary. Having someone to share your experience with can help you manage the stress.