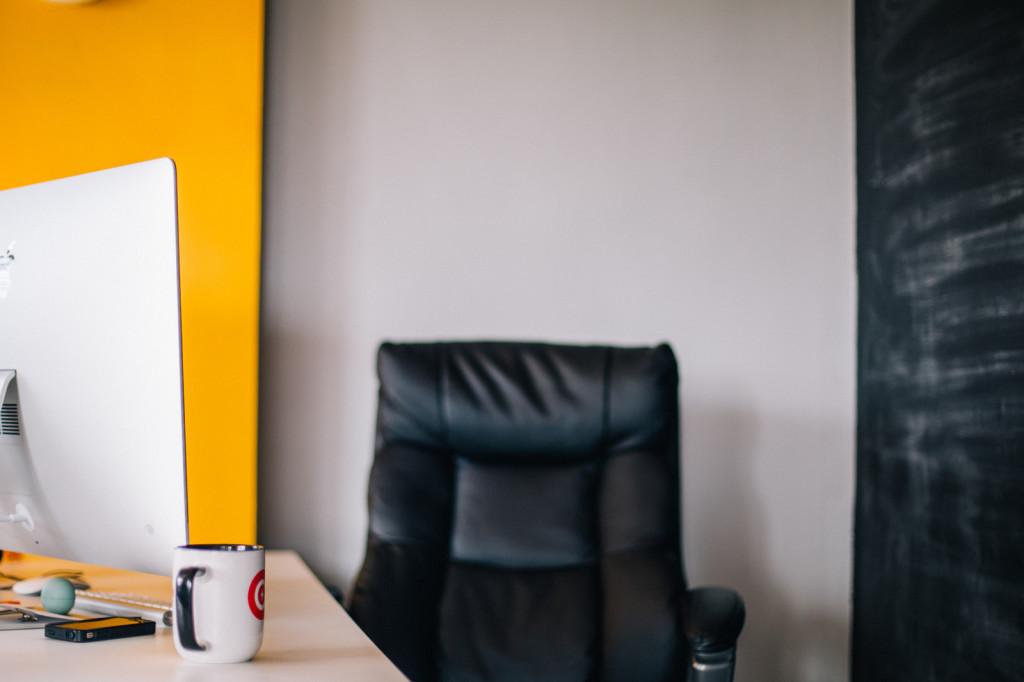 What You Need To Know About Working At A Job Without Benefits
By Skillcrush

Apr. 20 2015, Published 3:30 a.m. ET
I wake up and make a mug of tea while listening to the morning news. After I feed the dogs and make a quick breakfast, I find a sunny corner to setup my portable stand-up desk, crack open my laptop, and get to work.
I ride my bike over to the yoga studio at lunchtime to counteract all that quality time with screens. In the afternoon, I get back to business from wherever I feel like it: my home office, a coffee shop, or on the patio of our restaurant. I stay there till evening, taking a break to walk the dogs, then head out to dinner with my husband…
And that's what my work week looks like! This is my job! For me, it's a dream come true. No hours of commuting, stressing about traffic, packing a lunch, feeling stuck in a cubicle, developing a Vitamin D deficiency, or listening to the dull hum of fluorescent lighting. Some LOVE the structure of office life, I thrive in the remote office.
(Of course I often stay up until 11 finishing work and launching side projects, but that's a personal choice.)
It seems pretty unbelievable to get to control your own schedule, work where you want, and hold down an amazing job without handcuffing yourself to a cubicle. Those are a lot of benefits!
Even so, a lot of my friends don't seriously consider getting a flexible job of their own because they worry it will lack…well…benefits.
Article continues below advertisement
And it's true: if you confine your job search to only jobs that include benefits, a remote contract or a freelance gig may not fit the bill.
And when I say "flexible job" in this article, I mean: a remote job, a part-time job, being self-employed, freelancing or any other job arrangement where you have greater autonomy over when and where you work than in a traditional full-time job.
But choosing a flexible work situation does NOT mean you have to put yourself at risk. A little advanced planning and knowing what to look out for can make your transition to a dream flexible job smarter, safer, and completely doable. You can have BOTH flexibility and security, and this article will show you exactly what you need to do to get it.
What are "benefits" anyways?
Before writing this article, I wasn't entirely sure what a job "with benefits" meant, so I did some digging and deciphering for you.
If you get a full-time position (whether you work in the office or not), your employer is required by U.S. law to provide the following benefits:
Article continues below advertisement
Social security
Unemployment insurance
Workers compensation
Family and medical leave
COBRA benefits
Time off for civic duties, like voting, jury duty, and military duty
And to make matters slightly more confusing, while most of us think "full-time" means 40 hours a week, it's up to employers to determine what constitutes a full-time employee, according to the United States Department of Labor. It's usually somewhere between 30 and 40 hours a week.
But when we say "benefits," we're usually thinking about health insurance too. Under U.S. law, companies with 100 or more full-time employees are required to provide affordable health insurance coverage. And in 2016, small businesses with 50-99 employees will be required as well. "Full-time employees" for this purpose means working more than an average of 30 hours per week or 130 hours per month, according to the U.S. Government site, BusinessUSA.
Article continues below advertisement
However, (I was disappointed to learn that) employers are NOT legally required to provide other workplace and job perks like the following:
Paid vacation
Retirement benefits
Life insurance
Healthy snacks or food
Ergonomic chairs and/or stand-up desks
Reimbursements for gym memberships or health clubs
Article continues below advertisement
In other words, a job with benefits simply means there are "safeguards" for when things go wrong on the job (you get sick or hurt) or for when you are not working, whether that is by your choice or your employer's. An employer can add perks like food and fun, but that is an employer's choice.
When you work in a job situation that doesn't include traditional benefits, you just assume part of these responsibilities yourself. For example, rather than your employer paying for your Social Security through taxes, you pay Social Security taxes yourself.
What does it mean to work in a job without benefits?
Quite often, a flexible job doesn't just get you a change of scenery. Many flexible positions look a lot different on paper too. The employment contract that you sign might be different, if you even sign a contract at all.
Meaning this: flexible jobs, and remote jobs in particular, aren't always traditional full-time gigs. Alternatively:
Article continues below advertisement
You could have a full-time job at a company with less than 50 employees, such as a remote position at a startup.
You might be a contract worker who agrees to work on a certain project. Maybe you still work, say, 38 hours a week and earn a full-time income, but in this situation, your employer might not be responsible for providing benefits.
You might also own your own company, in which case, you're the boss, boss! You're self-employed, and that means you're responsible for your own benefits.
Or you could be a freelancer working on a lot of different projects. Just like the the business owner, you're self-employed and covering your own benefits.
And you could always end up working part-time in a remote job. Just like your after-school job in college, part-time work probably doesn't come with benefits.
The way I see it, you trade in some of that security blanket for the freedom and flexibility that comes with remote work.
For lots of people I know, that makes a remote job sound just plain risky.
But I think it's merely a matter of perspective.
I think that the way we work is changing.
Article continues below advertisement
The Future of Work
This isn't the same world where you took a job at the local factory at 18 and retired at 65. This is a world where you might take some time off to travel and volunteer before or after college, so you're 24 or 25 before you get your first "real job".
It's a world where you move so many times that you get holiday cards from U-Haul. It's a world where you start your career as a high school teacher, then become a chef in Europe, then get your Masters degree, then work in arts administration, and then work remotely as director of content for a tech education company. (Hmmm…sounds familiar.)
And it's also a world where the economy is uncertain, work is more fast-paced and demanding than ever, and with 53 million Americans (34%!!) freelancing, traditional jobs and working situations are no longer the norm.
You probably don't want to think about it any more than I do, but nowadays, everyone's job is uncertain in one way or another. Not to be a Debbie Downer, but I don't imagine all of those city employees in Detroit expected to see their pensions cut, no one planned for the housing bubble to burst, and who knows what healthcare and health insurance is going to look like in 20 years?
But the good news is there are things you can do to balance that uncertainty. You don't have to choose flexibility or security — there's a way to have both.
Article continues below advertisement