Why You Need to Keep Learning (and How to Do It)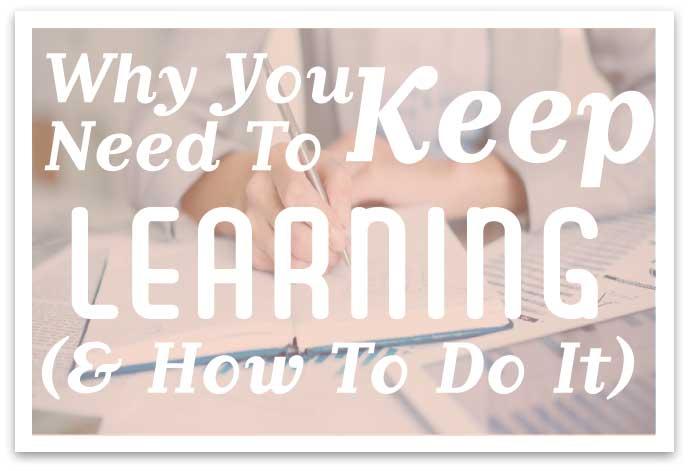 Remember how relieved you felt after graduating from college? That degree freed you from mind-numbing study sessions, maddening thesis papers and seemingly endless tests. You were able to focus on your career without worrying about grades or about going home to a mountain of homework every night. It was such a freeing feeling.
One of the biggest myths surrounding higher education, however, is that the pursuit of knowledge is over once you have that degree in hand.
Here are some tips for continuing to learn long after your graduation cap hits the ground.
Pursue a Career You're Truly Invested In
You already know that being knowledgeable about your industry is essential to advancing your career. Keeping up with your industry definitely doesn't end after you've locked down your job. You impressed your employers with your astute awareness of the industry, so you better make sure you keep it.
The easiest way to keep learning is to choose a career that you're truly interested in. This way, reading industry blogs and articles will be right up there on your list behind stalking your Facebook news feed and trolling Buzzfeed (OK, maybe that's just me – but the point stands).
Attend Conferences
Conferences and seminars are not only a great way to reinvigorate your passion for your career and to widen your network, but also to expose yourself to the best and the brightest in your industry. Many employers provide funding for conference attendance, but don't worry if yours doesn't. You can almost certainly find attendees live-tweeting sessions if you do some digging. In addition, many conferences record their sessions and make them available online at a later date.
Article continues below advertisement
Dust Off Your Language Skills (or Get Some New Ones)
Did you pick up some Spanish in college, but now feel it recessing into the dusty corners of your mind? Why not take a course now? There are many options – like your local community college, an informal language table, or an Internet-based course, to name a few. If you live in a larger city, or are even just visiting, there are definitely numerous opportunities to exercise your language skills.
The benefits of second-language learning are practically endless; even if you're not traveling anytime soon, you can also improve communication and listening skills, sharpen your mind and even boost your creativity.
Continue Training Long After Orientation is Over
Many people think that training ends after your new employee orientation. Even if you think you've mastered all of the skills essential to your current job, you should never stop training. If you're lucky enough to have an employer that offers additional training opportunities that interest you, then be sure to sign up. Even if it's not relevant to your current position, learning a new program or procedure could open you up to other opportunities and even a promotion.
Article continues below advertisement
If your employer doesn't offer training courses, don't despair! There is an abundance of free or low-cost courses available online you can use to teach yourself. Consider learning to code or picking up some new Excel skills. There is no quicker way to win the respect of your coworkers than being the only one in the office who can create a pivot table.
Never Stop Reading
Keep reading – it's good for your brain. If you haven't picked up a book since college or your last beach excursion, then why not head to your local library or bookstore. Whether you read nonfiction, classic literature, or the latest young adult series, there's absolutely no reason why you should not be reading.
Learn a New Skill
If you're a hopeless in the kitchen, try taking a beginner's cooking class. If you've always wanted to learn how to throw pottery, sign up for a class with your local arts center. Not only are you learning an invaluable skill, but courses like these are a great way to break up the monotony of the daily grind. Break away from that cubicle and get your hands dirty.
If you dedicate yourself to a lifetime of learning, you'll stay sharp both on and off the job and truly live life to its fullest. Whether it's advancing in your career or mastering a new skill, there's nothing quite like the sense of accomplishment that comes with improving yourself and learning something new.