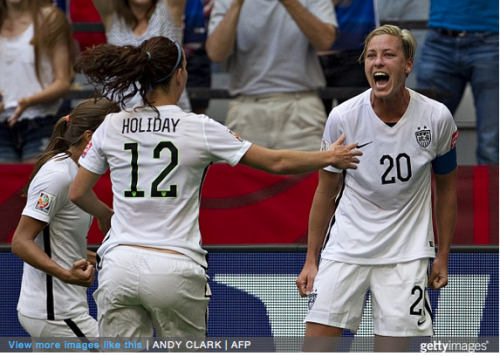 Women's World Cup Shines New Light On The Shameful Gender Pay Gap In Sports
By Mariam Sulakian

Jul. 7 2015, Published 3:07 p.m. ET
With the USA's Women's World Cup (WWC) 5-2 victory over Japan this past Sunday, the gender inequality in sports has risen yet again to the forefront. The WWC total payout this year will amount to $15 million in comparison to the men's total payout of $576 million in the World Cup last year.
Although FIFA has doubled the prize money from $1m to $2m for the 2015 WWC champions, these numbers still fall short of the $35m awarded to Germany in the Men's World Cup (MWC) last year for their win. In fact, the male winners' prize money for men last year increased by $5m, which is five times as much as the female winners' prize money increase this year.
But much of the monetary disparity branches further into the salaries of Major League Soccer and the National Women's Soccer League. For the former league, each of its nine teams pays their players between $6,842 and $37,800 annually, with most players falling into the lower income range. The minimum for men's Major League Soccer, contrastingly, is $60,000 a year.
"In aggregate, first division women's soccer players are making 98.6 percent less than professional soccer's male cohort," according to Fusion.
Article continues below advertisement
Daniel J. Flynn opposes the sexism reasoning and notes that the pay inequality stems largely from the differences in ad revenue, ratings, and attendance for the two World Cups. Thus the fact that FIFA pays the U.S. women champions four times less than the U.S. men's team that lost in the first round is purely economical.
And yet, the WWC held a record number of 25.4 million viewers, beating the numbers for the NBA Finals and Stanley Cup — oh, and surmounting also the number of viewers of the MWC last year in Brazil (compare the WWC 26.7 million viewers on Fox and Spanish television to the MWC 26.5 million viewers last year on ABC and Univision). Not to mention, the U.S. women's team has won the WWC championship three times. The men's team has never won.
Under direction of FIFA and the Canadian Soccer Association, the women also played on the 120 degree artificial turf, despite backlash by players against gender discrimination by the two associations. Artificial turf is not only inconvenient due to heat but also dangerous in that it increases the chance of players' injury.
"There's simply no justification for forcing women to play on a subpar surface when no World Cup in history—either a men's or women's contest—has ever used the material," attorney Hampton Dellinger, who represented the group of 80 international players against FIFA and CSA, wrote recently in The Almanac.
So while pay inequality may be argued economically, it remains hard to dispute the inequality regards to men and women in sports, even in terms of safety.