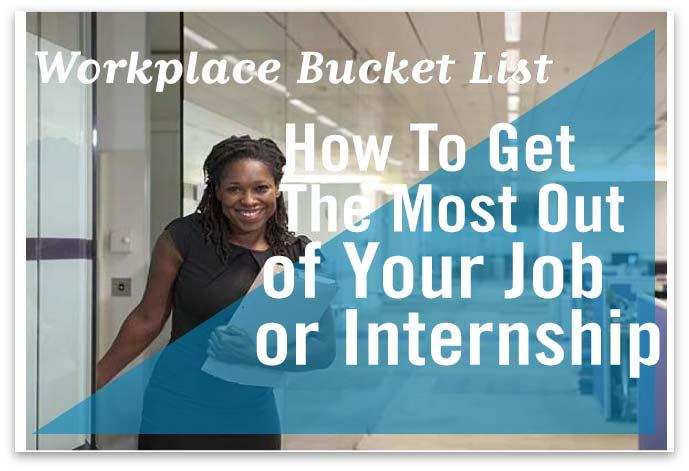 Workplace Bucket List: How to Get The Most Out Of Your Job or Internship
By
Masani Bailey
Oct. 13 2014, Published 3:31 a.m. ET
When entering a new job or internship it is important to make sure that you make the most out of your experience. In a new environment there presents new opportunities and the chance to learn from professionals who have experience in their respective industry. Making a bucket list for your job or internship will help you to make the most of it and help to fulfill the experience.
1. Meet a Potential Mentor
Finding a mentor can be harder than it sounds. When entering an internship or new job there will likely be someone there who has done your job and who has the experience you seek. Although you are out of the classroom you should still constantly be willing to learn from someone who can teach you and provide tips to you in your field of interest. Sincerely seek to learn from someone who is excelling in your field of interest.
2. Enhance Your Resume
Landing a new job or internship is always a resume boost. However, just marking the fact that you were there is not enough. When on an internship or at a job it is important to gain more. Add "getting a reference for my resume" to your bucket-list. As stated in tip number #1 learning from someone in your field who has experience is important. With their approval add them as a reference on your resume. If you're entering a new job look for a void that isn't being filled and pitch the position. Think of a create way to add to your current title that could potentially help you stand out further into your career.
Article continues below advertisement
3. Go The Extra Mile
There's a quote that states "Go the extra mile it's never crowded." This quote holds true. Getting by doing the bare minimum isn't noticed in a professional environment, however doing the most to make sure that you are a reflection of your abilities is. Volunteer to do extra tasks, arrive early and stay late to make sure all of your work is complete and if so assist others, genuinely lend a helping hand and do the most to your abilities. In the long run it is more memorable than doing just enough.
4. Create New Work Habits
Being in an environment with professionals presents the chance to observe how they work and thoroughly operate business. Ask for tips that they use that can help you in your professional life as well. Learn ways to operate better and make them a permanent work habit. Tweak the way you work and learn from your surroundings. Make it a point on your bucket list to leave your internship with new and better work habits.
5. Learn Something And Apply It To Your Life
Every new experience presents a new life lesson. Outside of growing professionally have a personal take away from a job or internship. What did you learn about yourself? How did the opportunity help you grow? In what ways could you perform better? Really think about how the experience affected you and what you discovered about yourself. If you discovered something you want to change about yourself do it and let that experience be applied to your life.
Outside of goals create a bucket list so that you are personally fulfilled during and after the process. Completing your bucket list allows for growth, reflection and can change the way you operate at your job or internships in the future.