Bevy Smith is a fashion Queen, influencer and self made woman. Starting out as receptionist at an advertising agency in the 1980's she evolved and became a marketing executive at Rolling Stone, before leaving to pursue her own endeavors full time. Bevy's career has been reincarnated time and time again. Her vivacious personality fills every room she enters and has carried her throughout many chapters in her life.
While working full time she started her exclusive Dinner with Bevy series that connects elites of both the fashion and music world. Her latest endeavor is a radio show called Bevelations on Sirius XM. While this Harlem girl is known for being fly and fabulous her journey has not been without its trials and transitions. Her Agenda was able to speak with Bevy about growing up in Harlem, building a personal brand, and starting over at 38.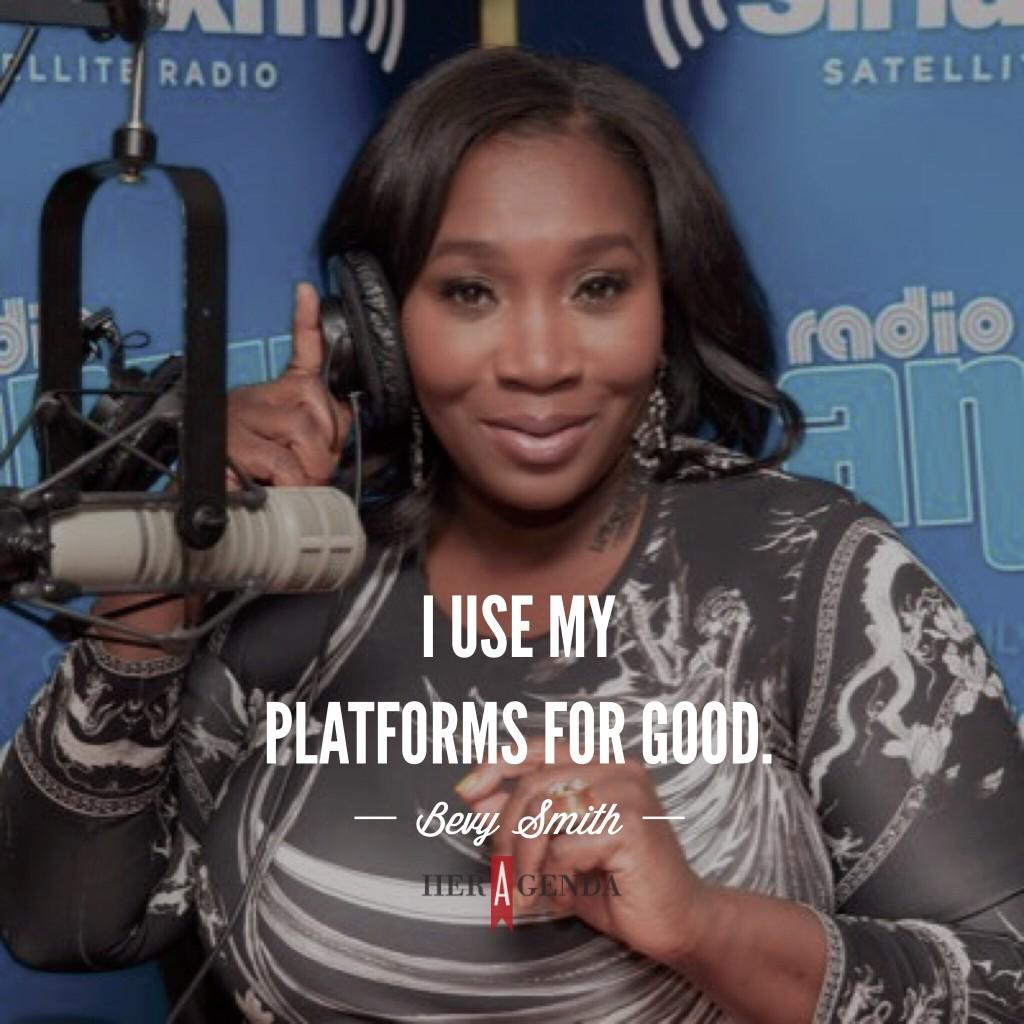 Article continues below advertisement
Her Agenda: You always speak about being a Harlem girl. How has growing up in Harlem has influenced you?
Bevy Smith: Living in Harlem has influenced my fashion career a lot. No matter their age, Harlem people tend to be very young, fly, and flashy at all times.
A lot of my innate passion for style came from my mother. It started in the household. But when I went outside, I saw so many different kind of variations on style. So I definitely came to the business in a very innate way, without even knowing that I could make a living off of being fashionable. It's just something that I was raised to do.
Her Agenda: Not many people know you spent many years in advertising and marketing, what are some skills or takeaways from the time that you spent in the advertising and marketing space that you use in other areas in your career now?
Bevy Smith: What's really amazing is that when I first started in advertising which was in the 1980's, as a kid, there wasn't this thing about being a personal brand. So the only brands that you knew of were big brands like IBM, or Kellogg's. Those were brands. People were not brands. And what really has helped me in my career now that people are brands is that I really do understand branding. I understand how to market myself. I know how to present myself in the most alluring light so that sponsors and other brands will want to align with my brand. That's how my marketing and advertising background has really come into play in my current career.
Article continues below advertisement
Her Agenda: Do you think everyone should consider themselves a personal brand despite their chosen career?
Bevy Smith: I don't think everyone is a personal brand. To be a brand you have to have a clear mandate for what you stand for. You also have to be recognizable to a large amount of people, and that doesn't necessarily mean that you have to be recognizable to millions of people. Even if you're popping on your own block, or if you're the popular kid in school, you're on your way to developing a brand, right? There's a certain philosophy that has to go behind really having a concrete brand. Even if you look at an old movie like Mean Girls or something, the Regina character had a brand. She was fly. She was a bitch. She was a hot girl, that's a brand. In order to be a brand, you have to define what it is that you stand for. And you have to live it to the fullest, and you can't deviate from that.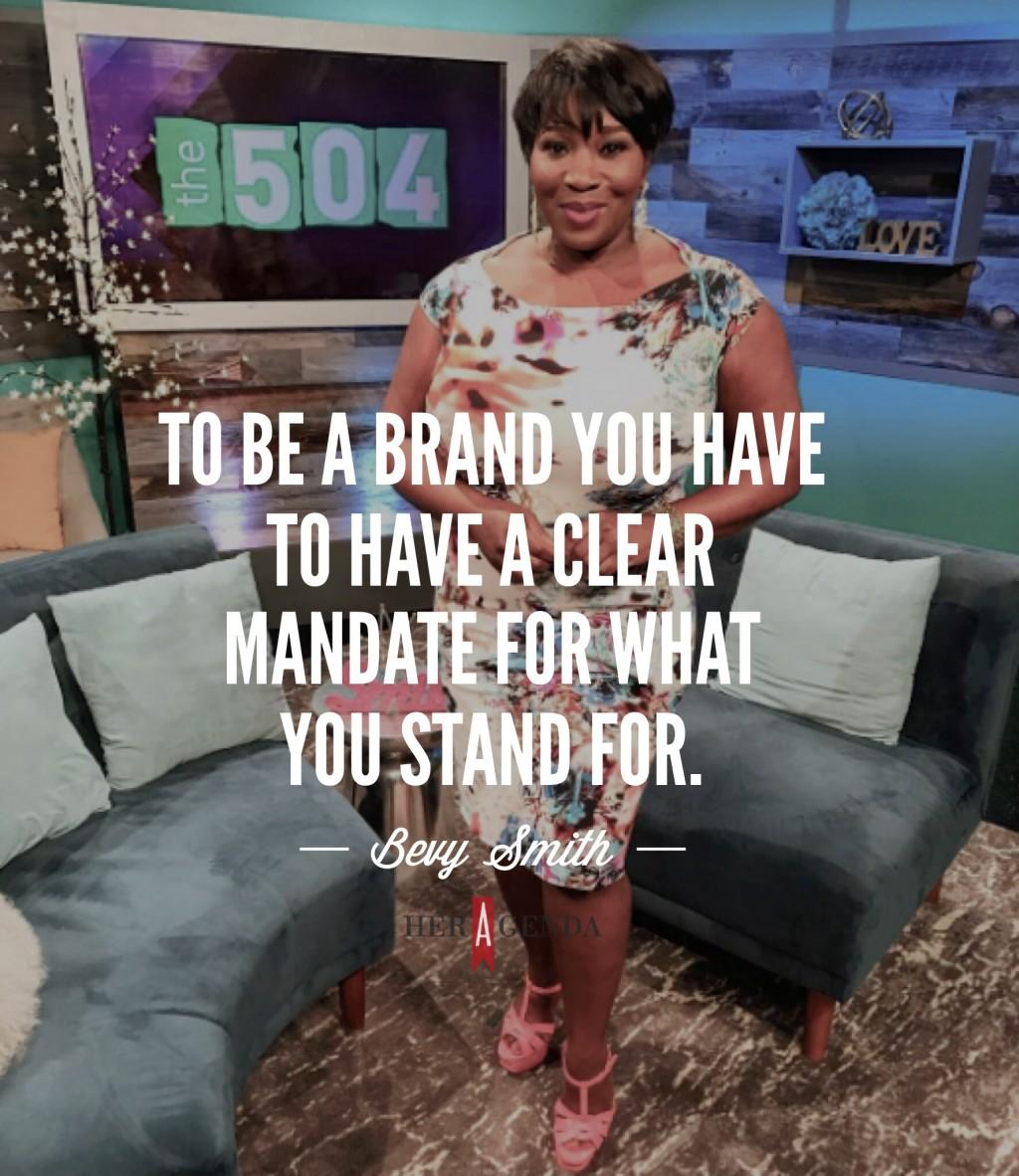 Article continues below advertisement
Her Agenda: During your time at Rolling Stone you really started to cultivate the Bevy Smith brand. How were you able to do that while working a full time job?
Bevy Smith: The way that I was able to do that at Rolling Stone is that I did not allow Rolling Stone to define me. I would not allow people to identify me as Bevy Smith from Rolling Stone as the lead. So if I'm being introduced to someone, I would tell them, 'I'm Bevy.' I was working at Rolling Stone, but I'm not Bevy Smith of Rolling Stone. I'm Bevy Smith of Harlem. I really made sure that the personal side of me was leading versus the company that I was working for. Now, in all honestly, when I was at Vibe, I was definitely Beverly from Vibe. Being at Vibe was a really amazing experience because it was like being with your family. We were very close-knit. We were moving an agenda together and we were bringing hip hop culture into the mainstream. It was not just a job, it was a mission, and it was something we took a lot of pride in. When I got to Rolling Stone, that was a check. That was a job. And so it was very easy to pull back and be like, I work at Rolling Stone, but what else is next?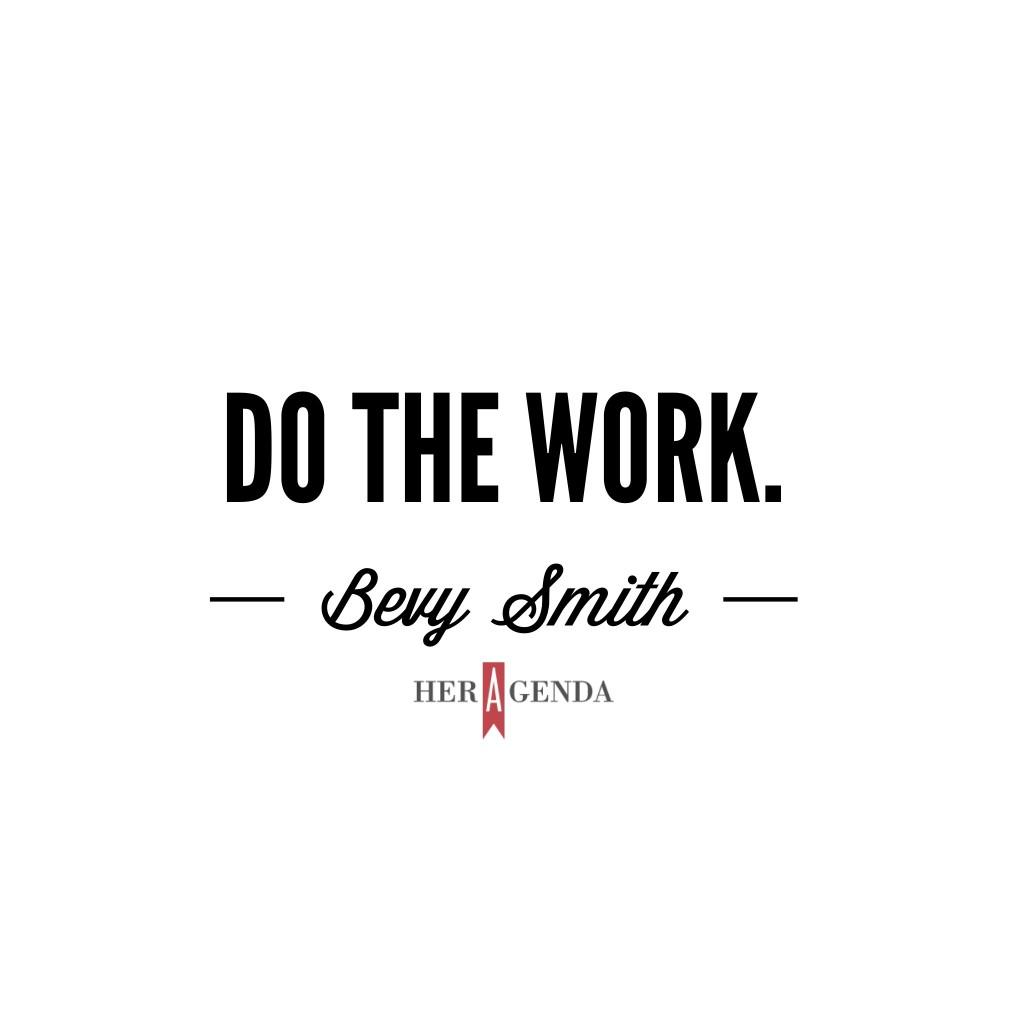 Article continues below advertisement
Her Agenda: There was a time in your life when you had an an amazing job. You were making six figures and traveling the world but you were unhappy and felt like you needed a change. Did you do any inner work at that time and what was your process like?
Bevy Smith: That probably happened when I was around 33 years old, and I didn't actually go out on my own and pursue my new life until I was 38. There was a 5-year build up.
I didn't just look around and be like, 'I'm leaving.' [But I did] look around and I realized I didn't want to do this anymore. I was very unhappy. I travel all over the world for myself now, and that's the way I like to travel. So after a little bit, traveling for work kind of wears off because you're not on your own time. You're on someone else's time. I'm never going to act like my work was hardship. I got a chance to go and sit front row at every major fashion show, have fancy dinners in beautiful locations, and hang out with fabulous celebrities. That's not an ordeal. It's not an arduous job. It just was no longer the job for me because I didn't like having someone else's agenda fueling my life. And so the introspective work that I did was that I realized that no one was going to be able to make me happy. I was going to have to do it for myself, and that was a very kind of hard thing to come to grips with because, as women especially, we're taught that we can seek happiness outside of ourselves constantly. Whether it's through validation in a relationship or you're being the popular girl or of course, many people seek validations through their career. I realized that I'm going to have to actually make a change– a major shift in my life to really get to happy.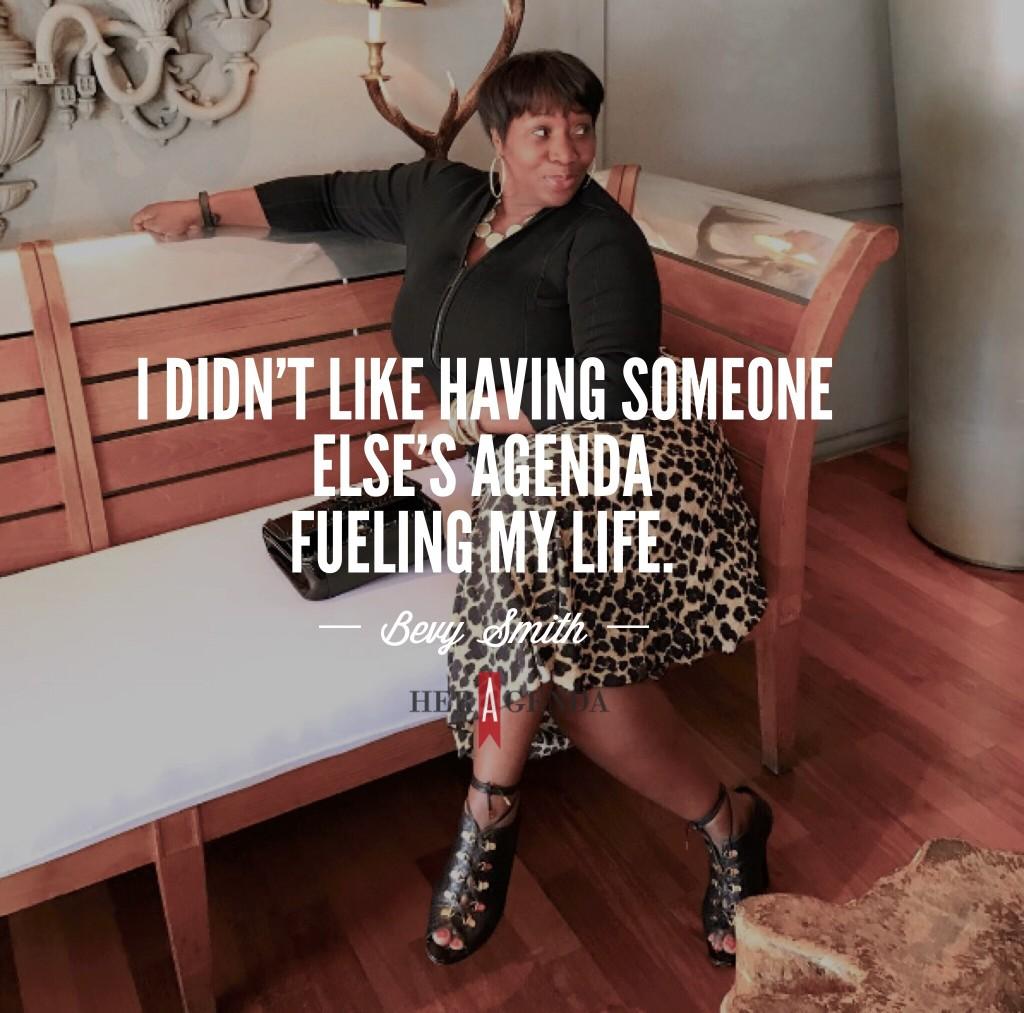 Article continues below advertisement
Her Agenda: In an interview with Soledad O'Brien, you said that we all have, within our hands something that we can use to make money. How would you encourage young women to figure out what that is?
Bevy Smith: I think it's about just sharing your gifts with the world. A lot of times, if you just share your gifts with the world, share your talent, you never know who will be the recipient of that. You never know how that person who receives your gift will actually be a catalyst for you to actually take a gift and [possibly] make it into a business.
Her Agenda: In our current political climate we see a lot of women raising their voices. How are you lending your voice to amplify causes related to women, or uplift women?
Bevy Smith: I have a very easy way to do that. I have social media. So I reach hundreds of thousands of people on various platforms of social media. And I also have a daily radio show. For International Women's Day I had Olympia Johnson from Planned Parenthood on. So that's the way I raise my voice. I use my platforms for good.
Article continues below advertisement
Her Agenda: What is a personal motto that you have or words that you live by?
Bevy Smith: It gets greater later, and do the work. If you do the work, people will recognize you and you'll be invited into the room.
[Editor's note: This interview published on June 5th, 2017. It has been edited for length and clarity.]