Cameka Smith knows a thing or two about what it means to be uncomfortable.
It was in 2009, Smith's job in higher education was downsizing and as a result she was let go. But looking at everything in hindsight, Smith now understands that it took her being let go and being uncomfortable to create the B.O.S.S. Network, Bringing Out Successful Sisters — a network created to promote and encourage small businesses, entrepreneurs and professional development for women.
"A lot of times we get comfortable and even though we have things we want to do, we're not likely to move because it's comfortable," said the Chicago native. "If you want to have success or you want to do something great — get uncomfortable."
In between her speaking engagements, hosting BOSS on Campus college workshops at Howard University or conducting panels, Smith spoke with Her Agenda to talk about her road to entrepreneurship, the importance of self-care, mentorship and her goals for the rest of 2017.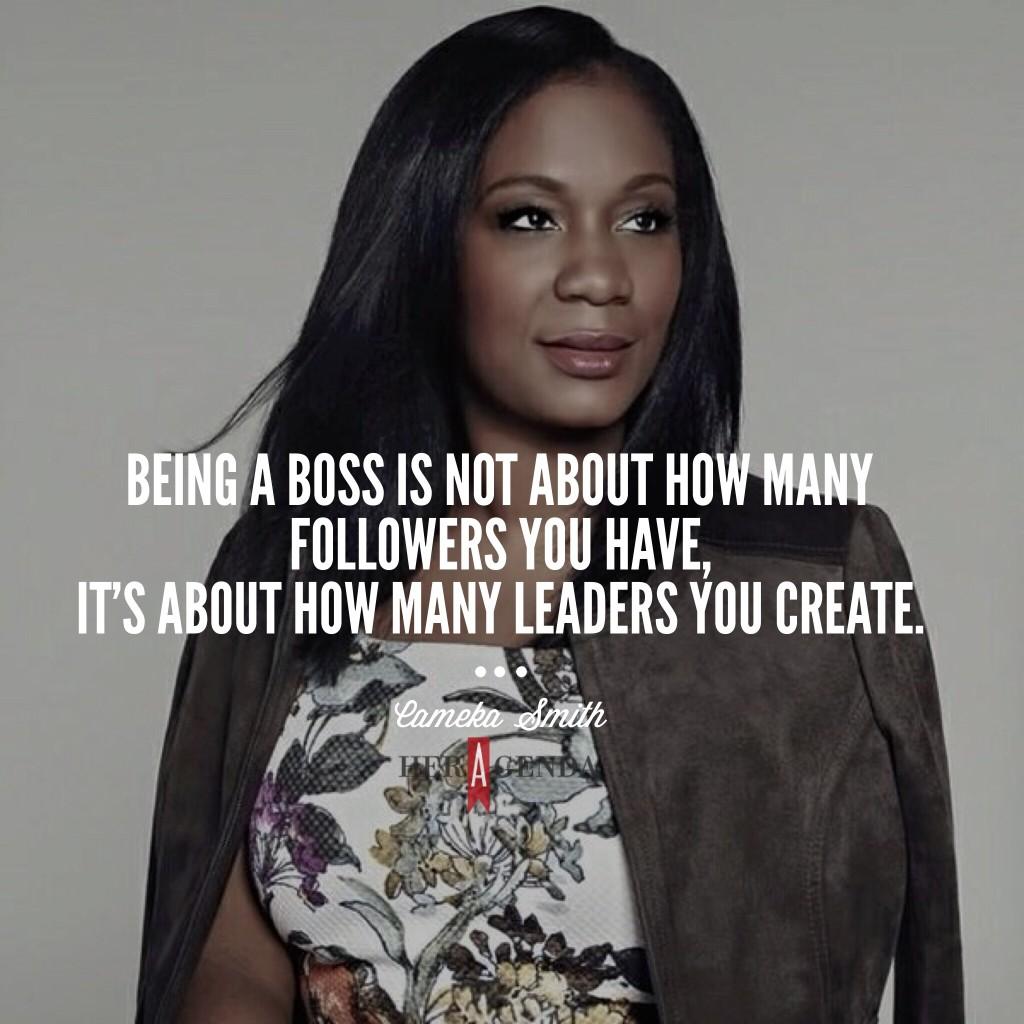 Article continues below advertisement
Her Agenda: I know you were laid off in 2009, but when did BOSS Network officially start?
Cameka Smith: 2009. Literally, I knew I had six months before I was going to be laid off. My friends were like "I remember you being at work, you'd get off and you'd be emailing us late at night, 'what do you think about this logo?'" It was great because one of the things that I have learned about business is when you have income you have freedom in your creativity. I had steady income coming in, so it allowed me to have freedom in my mind to come up with all these great ideas. When you struggle with finances, it is very hard to be creative.
I always tell people, don't quit your job and not have a plan, a savings or a pot of money that you can utilize for your business because you will struggle, [and what] you are passionate about will become a burden. Because I had my job at the time, I knew I was going to have unemployment, I had saved a lot of money because I'm very good at saving I had the freedom to be creative and to come up with these ideas and to do these things that I wanted to do. It allowed me to be able to be open to collaborating with other people and sharing my ideas and actually putting those things into place before I had a sponsor, before I had investors and before I had people to believe in my brand because I believed in it.
Article continues below advertisement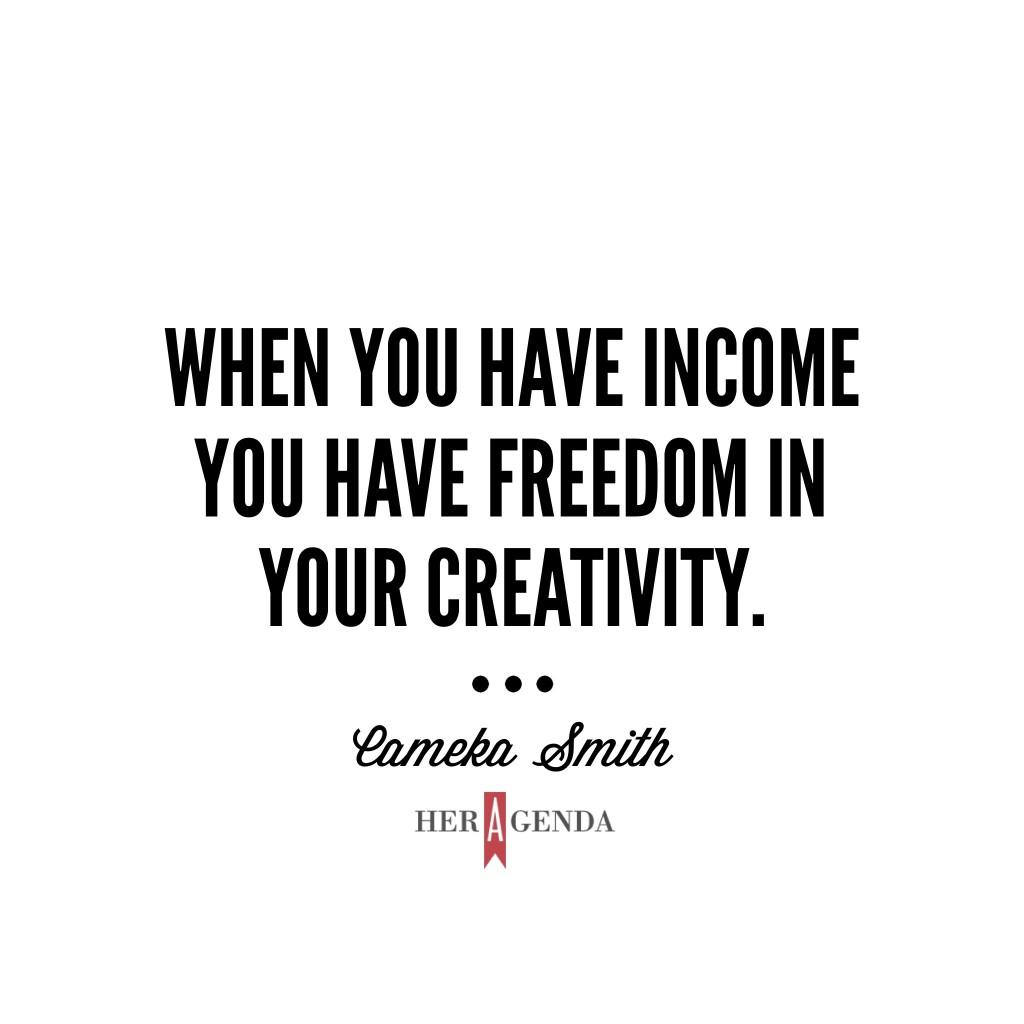 Her Agenda: You were mentioning the huge network that you have. If you could tell me just one success story of someone that's part of the BOSS Network and had a breakthrough or was able to find opportunities?
Article continues below advertisement
Cameka Smith: This is a network that we've been around for about 8 years, so there's so many success stories and the great thing about that is we went from a network of 300 of women that I knew to over 80,000 women that we've reached and 200,000 collectively on social media. So with that, we got a chance to partner with Black Enterprise Magazine and we actually recommended one of our members to pitch in their Elevator Pitch competition. One of our members made it to the final 10 and we went to Atlanta and planned an event to celebrate her. She hadn't even won yet, but we planned the event celebrate her and it was a great opportunity to showcase our brand as well.
We leveraged that opportunity and she actually won. I feel like God will meet you where you are. From there we had got so many success stories. From women who just had an idea and through partnership with other women within the network, they were able to find partners and grow their business together.
Article continues below advertisement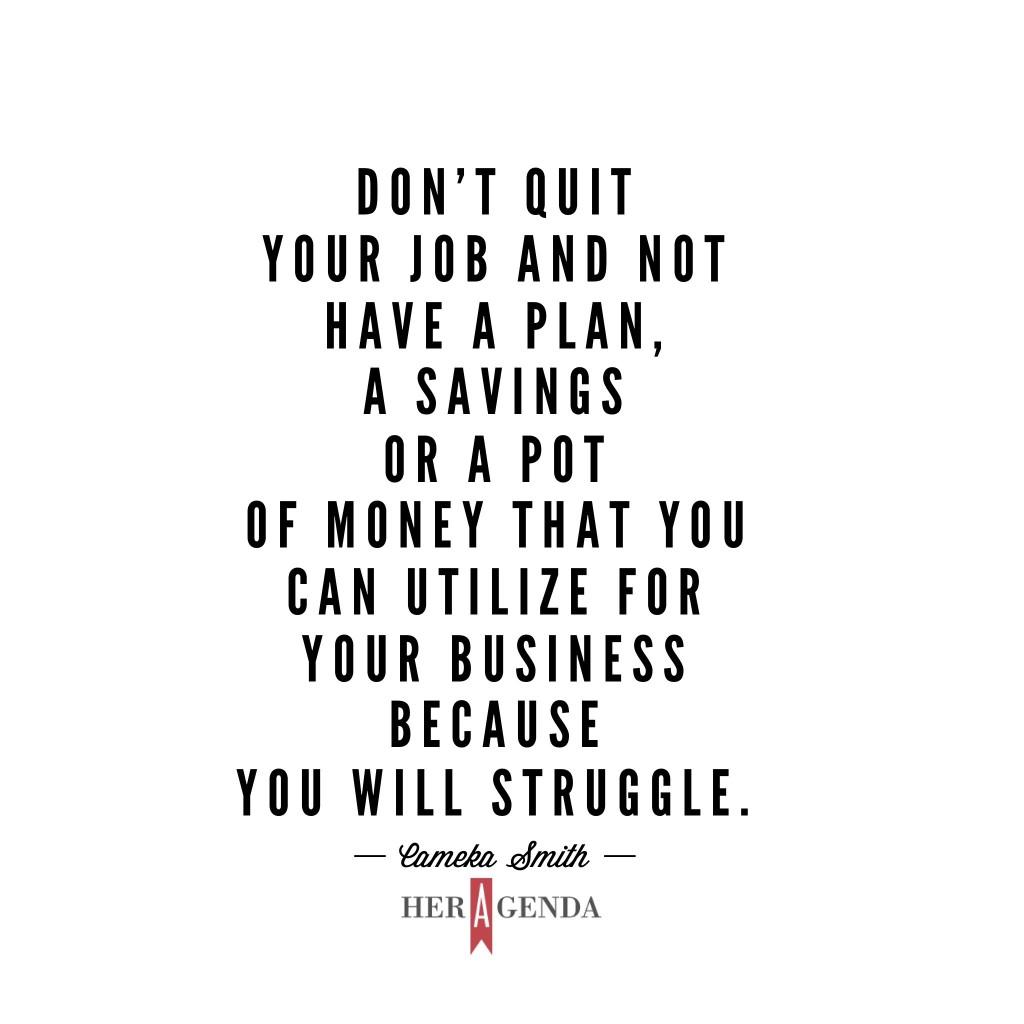 Her Agenda: It's almost been 10 years since you've been let go. What's one key or tool you feel like helped you create longevity for an entrepreneur?
Cameka Smith: That's easy: consistency. Most people, once they hit one roadblock or failure, they give up. I'm the type of person that looks as failures and challenges as an opportunity to switch lanes, to change something or go a different way. I don't look at it as something that's going to stop me. I dont overthink things. In my business, I'm really the type of person that creates and once I create I go back and adjust. Because [if] you spend so much time analyzing [and] trying to figure out your business or idea you'll never get it off the ground. You'll talk yourself out of it over and over again.
Article continues below advertisement
Her Agenda: I was reading a lot of your work in the past, you've accomplished a lot of goals that you set. What are some of your personal goals for yourself this year and what are some of your goals for BOSS Network this year?
Cameka Smith: One of my personal goals for this year that was really important to me is personal travel. It kind of felt like I was doing things, but it [was] for work — not for me. That's why I've implemented personal travel time at least two to three times a year. Me and my siblings went to Puerto Rico this year for their birthdays, and it was absolutely fabulous. We had so much fun, as siblings, hanging out and being kids again together. Making sure I'm setting out time for myself. I go to the gym in the morning before I do anything throughout my day because I'm taking care of Cameka. Because the reality is if you're here and not healthy— nothing else happens anyway.
Article continues below advertisement
Balance is what you feel is balance at that moment. One moment, balance might be making sure you're involved in your nephew's graduation or making sure you're able to volunteer and mentor at your church. Whatever it is for you. That's really my goal. To make sure I'm having ample time for Cameka. I'm doing things to make me happy outside of my work because entrepreneurship can be very consuming.
For the business? I set goals every single year with my team. We set financial goals for the business. We set speaking goals for myself. I want to speak at five major conferences a year. I want to produce five major events for the BOSS Network a year. Having those goals in place allows us to actually plan those things into action. Continue to grow. Our goal is to expand the boss network from a membership organization to a digital platform, so that all women can have access to the information that we offer, the bonus and benefits of the membership will get you what you need to actually grow in your career and business. Those are the goals we have set into place to continue to be trendy in the marketplace as our business and being able to provide a space for women that still feels like a community.
Article continues below advertisement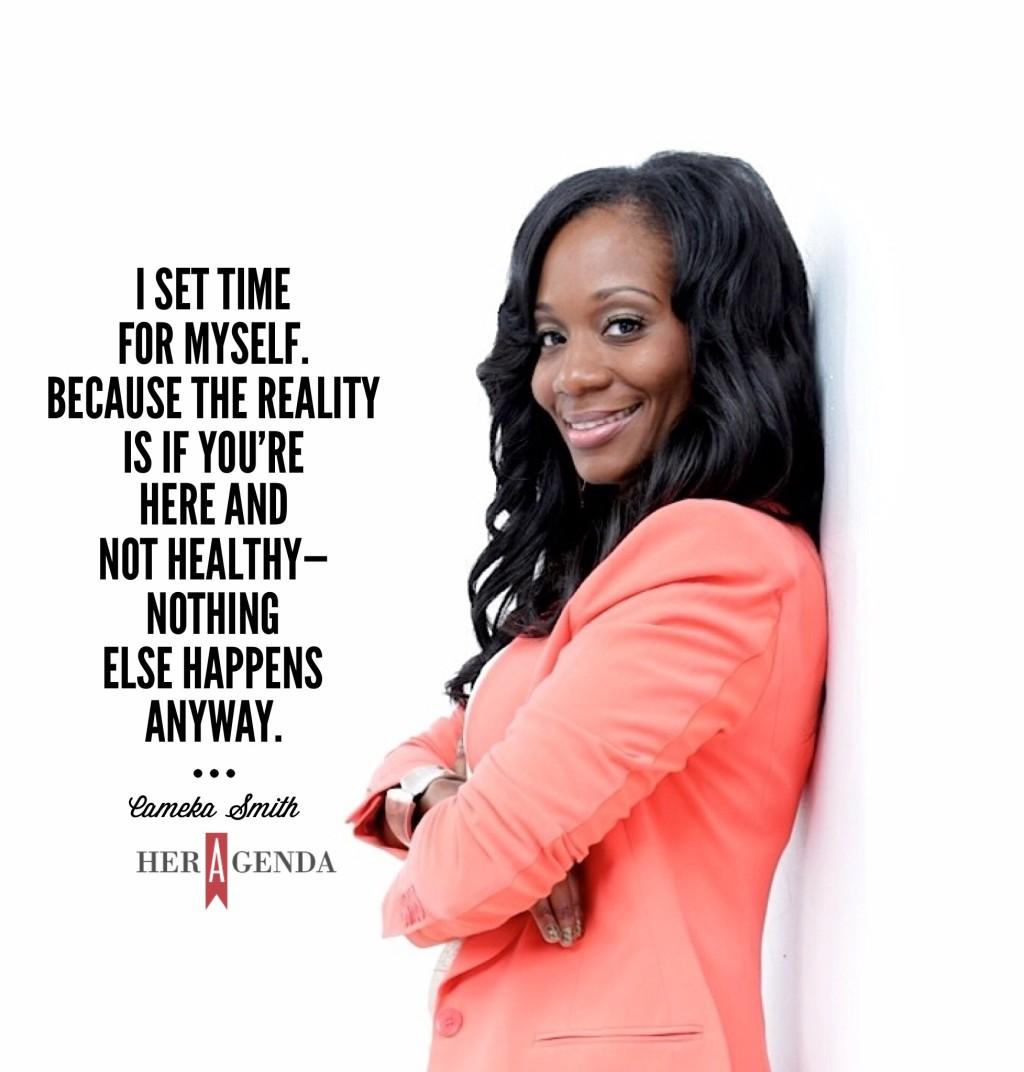 Her Agenda: I love how you mentioned community because at Her Agenda, we're all about community. Our community is very specific. Our niche is helping women bridge the gap between ambition and achievement and a lot of our demographic is young professionals, or women that are graduating from college. So my next question to you is: what would be the advice you would give to young Cameka graduating from college?
Article continues below advertisement
Cameka Smith: In 2011, we launched an initiative called Boss on Campus, and it's our non-profit where we work with people on college campuses to help them prepare for life after college. It's very career-focused initiative, while BOSS Network is very entrepreneurship focus. We just did our spring program at Howard University last week and that would be one of the questions I'd ask my panelists.
But one of the things I said is to trust yourself. Believe in yourself. Believe in your gift and talent. That's the hardest thing. You know you have these gifts and talents. You feel you have all these creative ideas and then somebody can tell you one thing like 'Oh, that's not going to happen. You can't do that. Why would you want to do that?' And you literally get deterred.
At that age, its very easy to go with the crowd. So I always tell people, don't just believe in yourself, believe in your gift. Believe in the gift that you have and don't be afraid to actually showcase them to the world because when you do that, you allow people the freedom to showcase those gifts as well. Marianne Williamson's poem ['Our Deepest Fear' was quoted] in 'Akeelah and the Bee,' and it's probably the most relevant poems when it comes to women and young people in general and how we see ourselves. I always encourage people to believe in their gift and talent and don't play small — think big.
Article continues below advertisement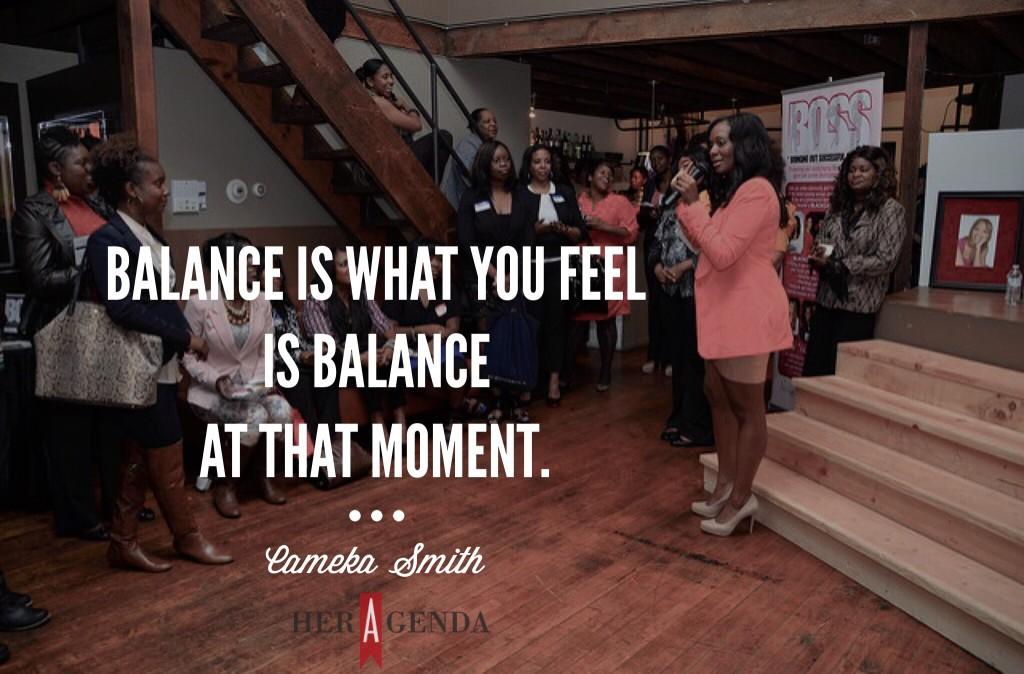 Her Agenda: You speak a lot about mentorship, what's that one lesson that your mentor has taught you?
Cameka Smith: To take care of myself, first. That was probably the best advice that anybody could've ever given me. Because it's in our nature to serve, give and help other people. And sometimes it's okay to be selfish. It's okay to take time out for you. I don't owe the world a poll from Facebook everyday. I don't owe the world every detail of my life on Instagram. I don't owe anybody anything, but what I set out to do which is provide a space for women to grow.
Article continues below advertisement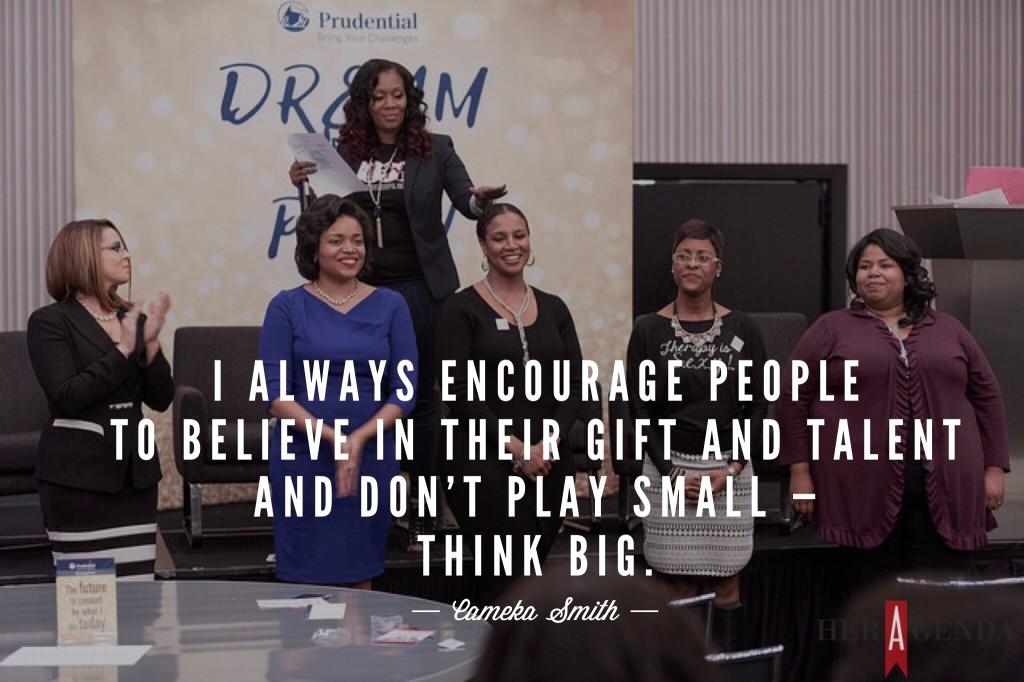 Her Agenda: What is Cameka's motto?
Cameka Smith: My motto for my business is 'Being a boss is not about how many followers you have, it's about how many leaders you create,' and I really do believe that. It just shows there's enough for everybody. It's not about how many followers you have on Facebook, it's about how many leaders can you create. How many people can you get to dream big like you to accomplish the goals like you? How many people can you pull up on your way up? That's what it's about. BOSS is not about how many followers you have, but how many leaders you create.
[Editor's note: This interview published on June 19th , 2017. It has been edited for length and clarity.]