With an enviable position at a top magazine, a bustling side-hustle and a book on the way, it's easy to assume Charreah K. Jackson is on top of the world. And you would be right.
While the creator of BossBride.com and relationships editor for Essence magazine has had her ups and downs, she's not one to dwell on negativity nor is she content to rest on her laurels.
In this interview, Charreah gets real about growing pains and living happily ever after.
Her Agenda: You are having a moment right now! What's led you here today?
Charreah K. Jackson: When life gets real, you just flow with it. It's a journey, we've all been on that journey. I'm in love with butterflies, because they really illustrate power of transformation — knowing what it feels like in the cocoon and knowing what it feels like to let some stuff go. So I'm in a good space. I'm working on me to be the best me I've ever been. Everything else is just secondary to that.
Her Agenda: And what does that process of working on yourself look like?
Charreah K. Jackson: I [just turned] 32, but I've been on a journey to discover the best version of me my whole life. Around 2014 through 2015, I went to about nine funerals in a year and a half. Fortunately, I have a big family and a lot of older relatives. So I saw all of these people at the end of life and saw what was important and what matters. And it just made me aware of how precious life was and put me on a quest to find out who I was.
Her Agenda: Most definitely. Funerals have a way of putting life in perspective. What else was going on at that time?
Article continues below advertisement
Charreah K. Jackson: There was a lot going on — I got a promotion at work, I moved, just a lot of external change made me crave some sort of stability. And I realized it would be me who created that stability. So I went through some personal development training and did Momentum Education in New York and it definitely was a catalyst for me. It was a life-changing experience for me and helped me identify roadblocks and blind spots in my life.
So for me, I was at the 10-year mark of being a cancer survivor so I had so much emotional baggage I'd never unpacked. Even though I was doing a lot of things, I was exhausted. I was living at this rapid pace. Then I started to heal from some of the emotional wounds that were there, like grieving my parents' divorce.
So last year was probably emotionally one of the most cleansing years in a lot of ways. It asked a lot out of me, but it was also probably one of my biggest growth seasons. I fell in love with myself and have the courage to let go of anything that was holding me back. Really investing myself and developing a real support system for my emotional well-being was really helpful.
Article continues below advertisement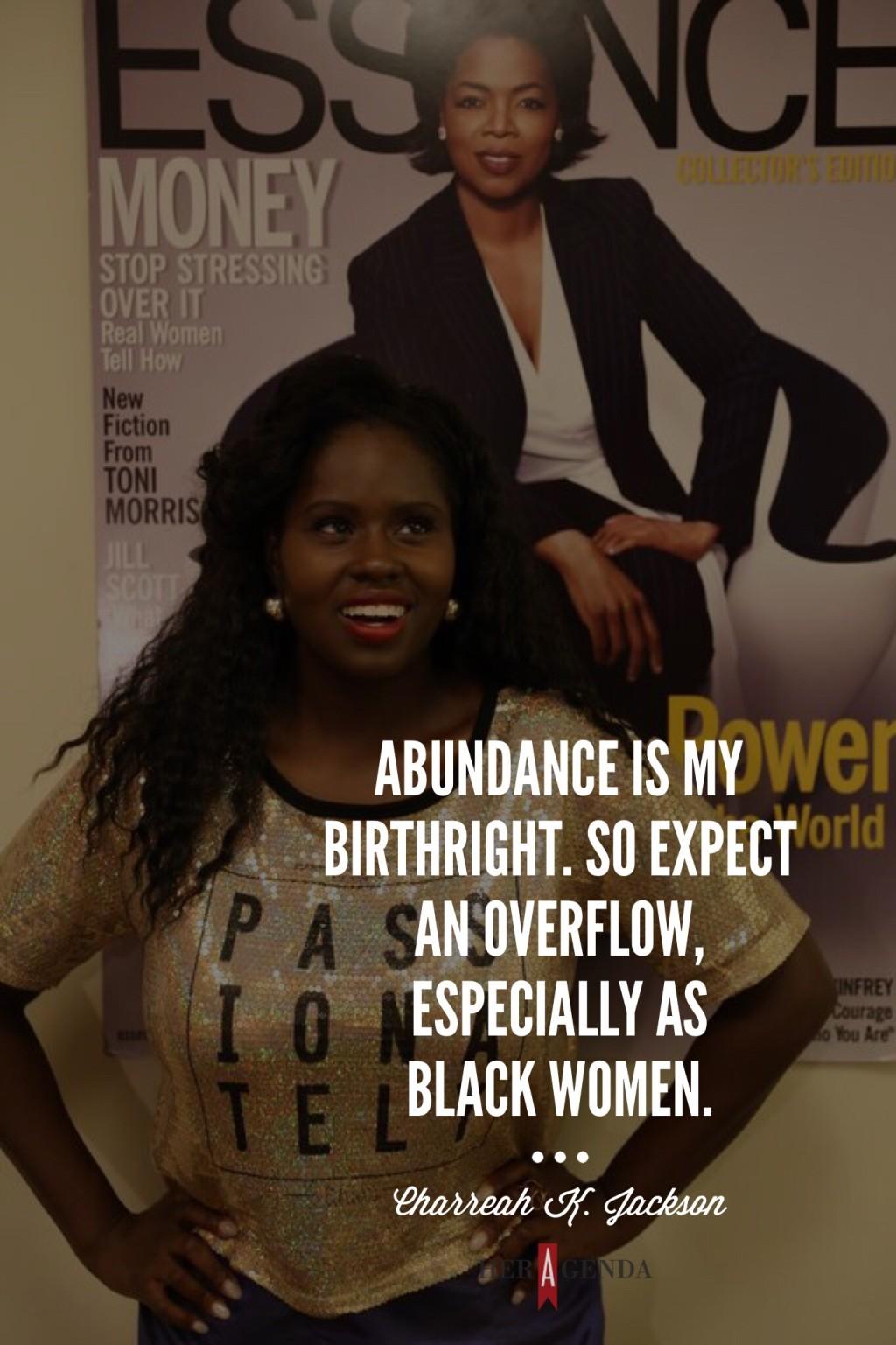 Her Agenda: You've had a lot of obstacles come your way. What is your advice for people facing those same challenges?
Charreah K. Jackson: I'm so grateful for a lot of things I didn't ask for. I'm not like yay, I got cancer; I got laid off; I ended a long-term relationship. I don't make light of what life offers, but they've been such sources of growth. It's really been an opportunity for me in those moments to connect with my higher purpose to know that everything I've been through has happened for me and not to me.
If it weren't for all of that, I wouldn't have all the blessings I do have. Everything that is yours is already yours and I'm never late for my life. I've had to combat adversity with a story that works for me. Literally I got the contract for my book the same day I broke up with my boyfriend of seven years. So it was a high-low, but I'm still blessed.
Sometimes things don't make sense to the outside world, but I trust that it will all work out. I really surrendered my life at a higher level to God. Give everything to God, like this isn't my book, this is God's book. When I decided to surrender everything, that's when it really started to change. And when I did that, I heard God say "fast until you hear from me." When you have a spiritual hunger, you hear from God more. If I'm following God, I can't mess up. I'm more courageous because I'm clear that mistakes aren't failures.
Article continues below advertisement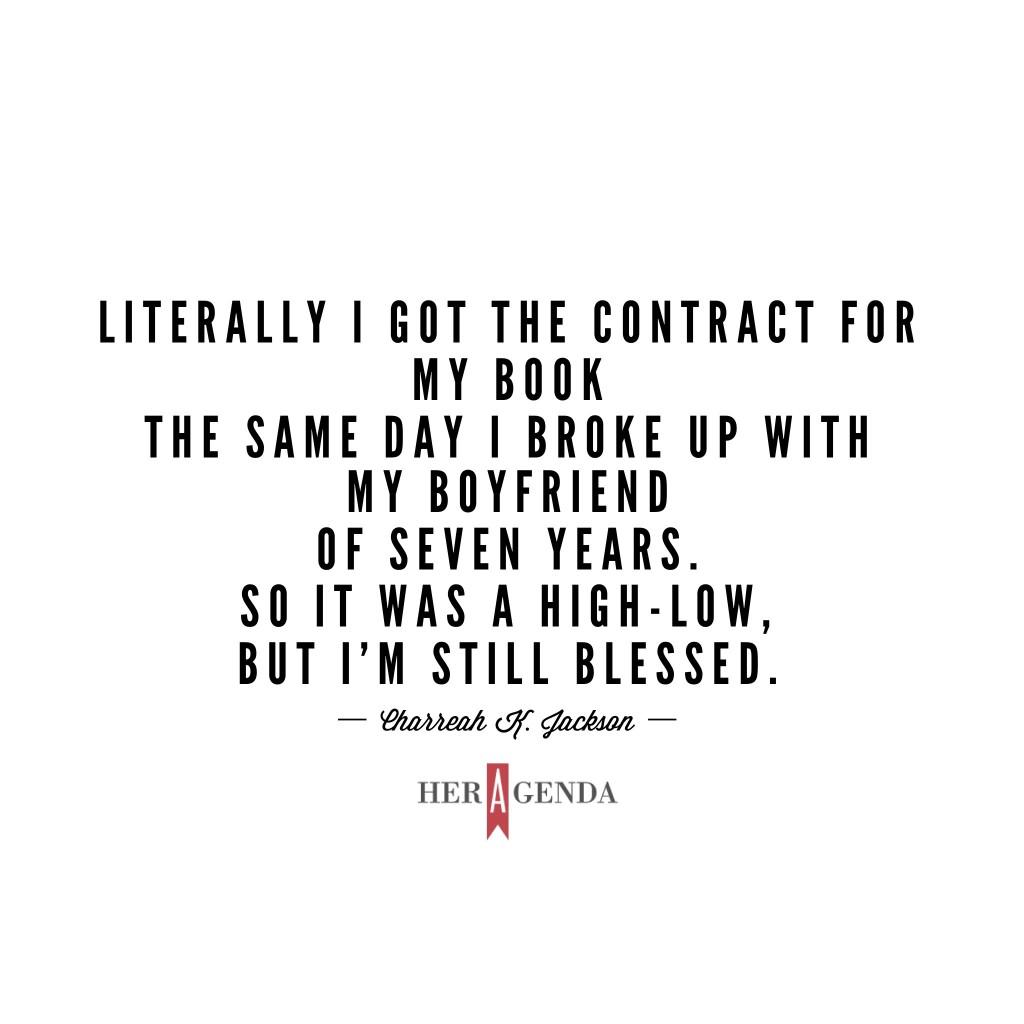 Her Agenda: Wow and with all that said, what's the biggest life lesson you've learned thus far?
Charreah K. Jackson: You are it. You are unlimited and all powerful and you're created by a Creator who loves you. You are enough. I am enough. I have enough. Everything else trickles from that — God is love, I am love. Everything I would say comes back to that core experience. That really gives me access to so many other experiences in my life. Abundance is my birthright. So expect an overflow, especially as Black women.
We've been conditioned to think there's not enough for us, a scarcity mentality. But you don't have to worry about anything. I come first in my life. I'm at the top of my to-do list always and people have had to adjust to my adjustment. I love the work that I do, but I am not my work. I'm worthy just because I am and that gives me an opportunity not to exhaust myself. Life is messy and life is best when you embrace your mess. I love Instagram, but we live in a culture that wants everything to be pretty and life was not meant to be pretty and to be filtered. The best stuff is when you allow yourself to fully be messy and know that it's okay and own it.
Article continues below advertisement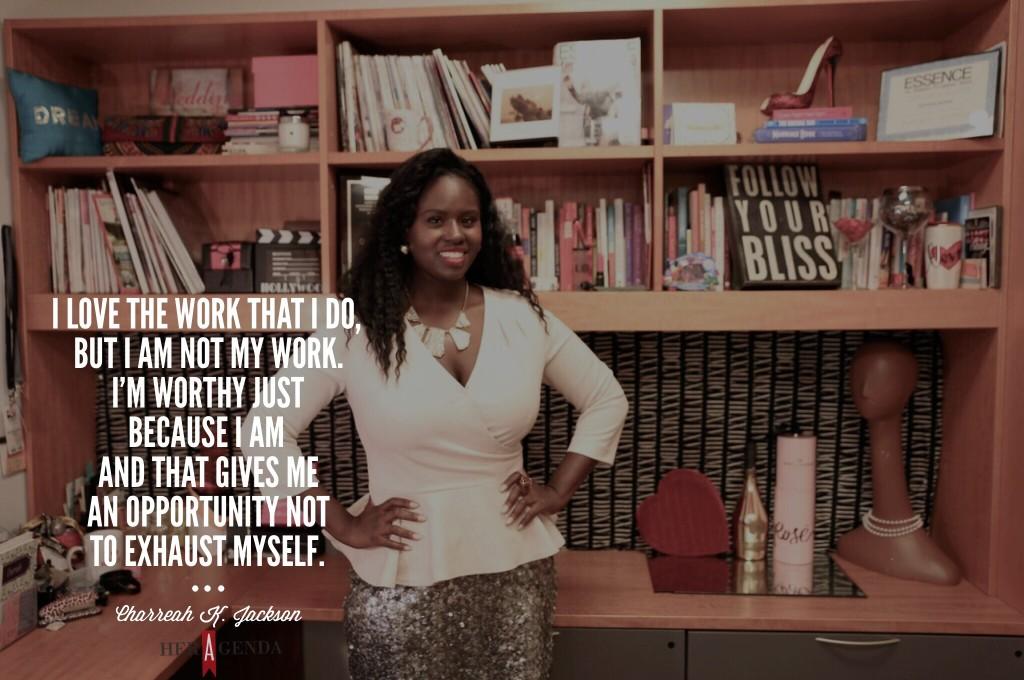 Her Agenda: How do balance a full-time job with your side-hustles?
Charreah K. Jackson: We've been conditioned to work all our lives, but the best is when I work on my life and look at the big picture. Everything I'm doing feeds each other. At the end of the day, we all have the same amount of hours. I've had to be responsible in designing a life that works for me and focusing on what's important now and getting clear on my mission. If it's not connected to my purpose, then it's more likely that it won't work. I work to ground everything in who I am. And I break down goals into smaller goals so I don't overwhelm myself and I build a support system. And I've learned that everything is negotiable.
Article continues below advertisement
Her Agenda: So tell us a little more about your book, Boss Bride, and what readers can expect.
Charreah K. Jackson: The book has grown with me, to be candid. It's still for professional women who want a career that curls their toes and want a relationship that does the same. And it also helps you design your life — that's where the magic happens. It'll be out in 2018. But you can join our online community at bossbride.com.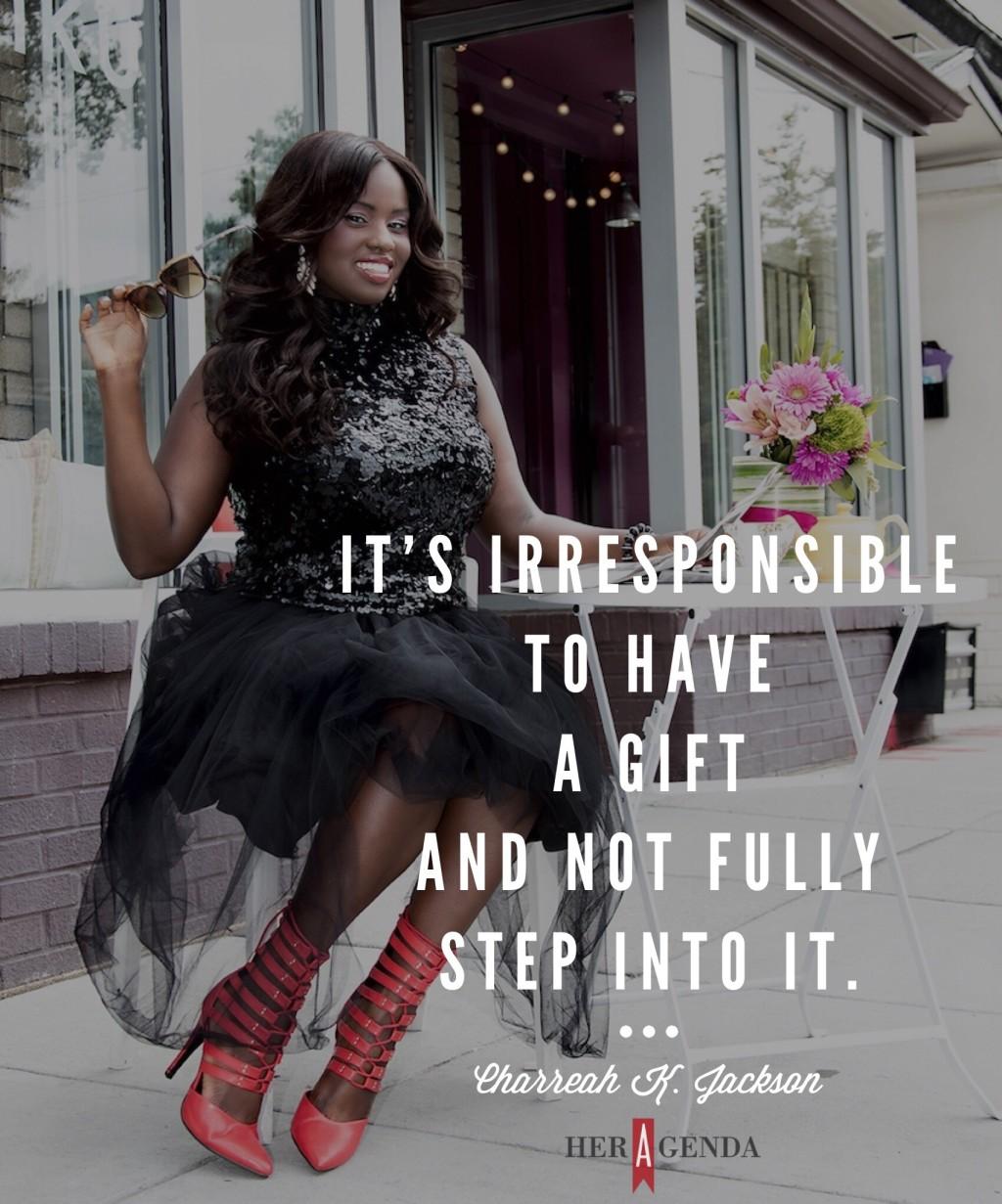 Article continues below advertisement
Her Agenda: And what words of wisdom do you have for people who may want to follow in your footsteps?
Charreah K. Jackson: You really have to love you first. So often we know more about Kim Kardashian than ourselves. So I'm way less distracted. There's no secret formula. It's irresponsible to have a gift and not fully step into it. Your dreams are not just for you. It's not about me. There are people waiting on me. There's nothing you want that someone else hasn't already done, so I've tapped into my network at a higher level. One of my goals of this year was to make a request every day because so often we're giving, but not active at receiving.