With over six years of experience in media, Christina S. Brown is one of the most influential bloggers of today.
You may recognize her from her recent appearance in a nationwide campaign with Dove. She's the editor-in-chic of not just one, but three lifestyle blogs: LoveBrownSugar, Baby Brown Sugar, and Brown Girls Love. Brown has even launched an e-commerce boutique called Shop LoveBrownSugar, where she partners with different brands to bring awareness and business to minority-owned brands.
In addition to businesswoman (thanks to her recent endeavors and her degree from University of Pennsylvania), you can find digital influencer and mentor on her resumé. Christina S. Brown's most rewarding role though is being a mom to her three-year-old daughter, Cadence.
The digital media maven took the time to chat with Her Agenda on the valuable lessons Cadence has taught her, the need to pick collaboration over competition the blogging realm, and why everything you do should start first with love.
Her Agenda: What are your strengths and weakness as a blogger?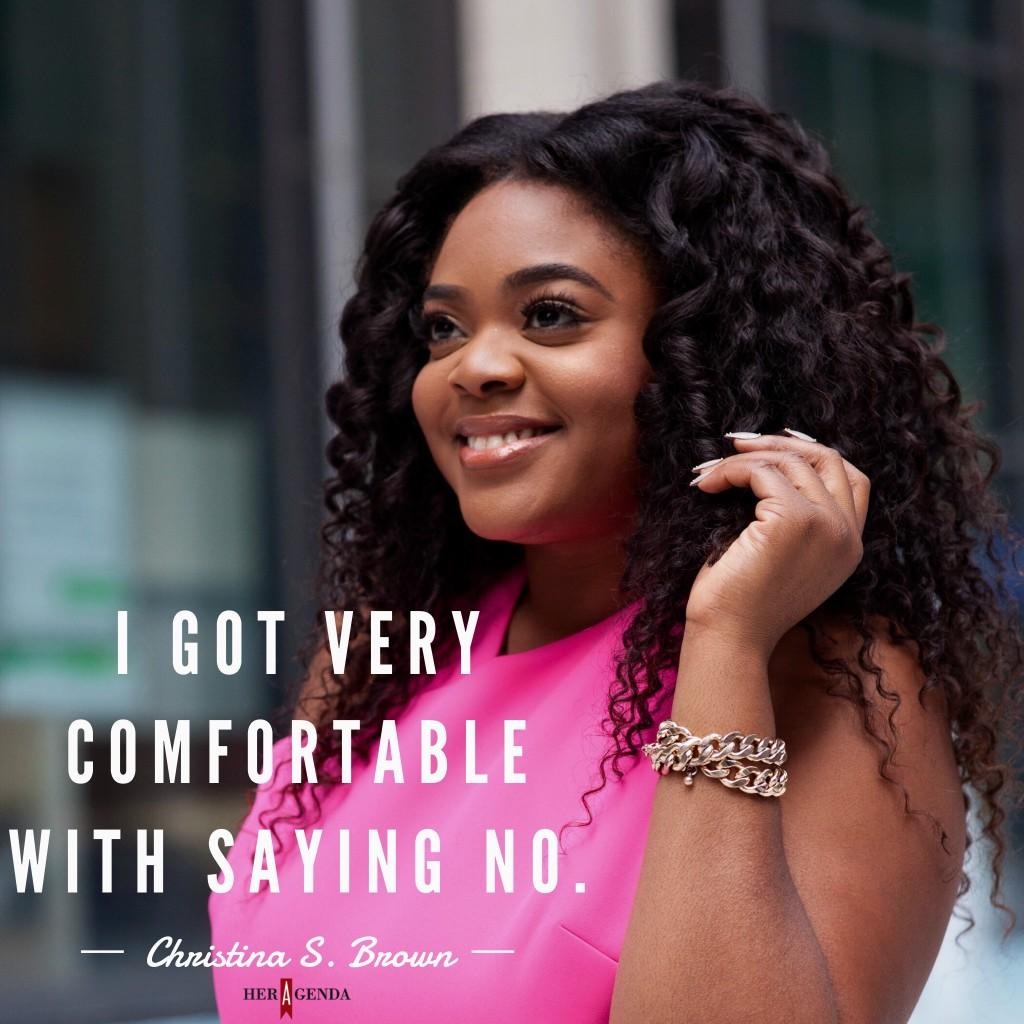 Article continues below advertisement
Christina S. Brown: One of my strengths is that I'm very discerning. Someone asked me in a previous interview how I figure which brands to feature and what to talk about on my site. I told them that I got very comfortable with saying no. I think that's what people have come to really love about my platform. I don't go on there and talk about just anyone or anything. There is always intention behind it and there has to be a reason behind why I believe in something.
One of my weaknesses is that I love so many different things that it's sometimes hard for me to choose what to focus on. I have a lot of different platforms. I have a lot going on and I think it's a strength to most people, but for me it's kind of a weakness because I wish I could focus a little more.
Her Agenda: Let's take it back seven years ago. Did you think LoveBrownSugar would be
Christina S. Brown: Oh, absolutely not! When I first started LoveBrownSugar, for me it was just a hobby. I went into it to be able to share my opinion with the hope that other people would come in and have similar views, or even just want to engage with people. But I knew I wanted to see women of color represented in a positive way in the media so, I went about creating LoveBrownSugar.
Article continues below advertisement
It was also to a point where I was really confused. There were certain things that I wanted and my blog served as a digital portfolio of my writing and the topics that we love. [There were] a lot of different intentions on why I created the blog, but never in a million years [did I think] it would blossom into me being a full-time business woman. It's crazy now to know that I operate my own business that is based on me creating a blog. I am happy because I know being able to work on that blog has inspired a lot of other people.
Her Agenda: You have a lot of hats and shoes that you wear. As far as the different roles that you're in, now that you're a businesswoman, do you ever think you'll stop blogging?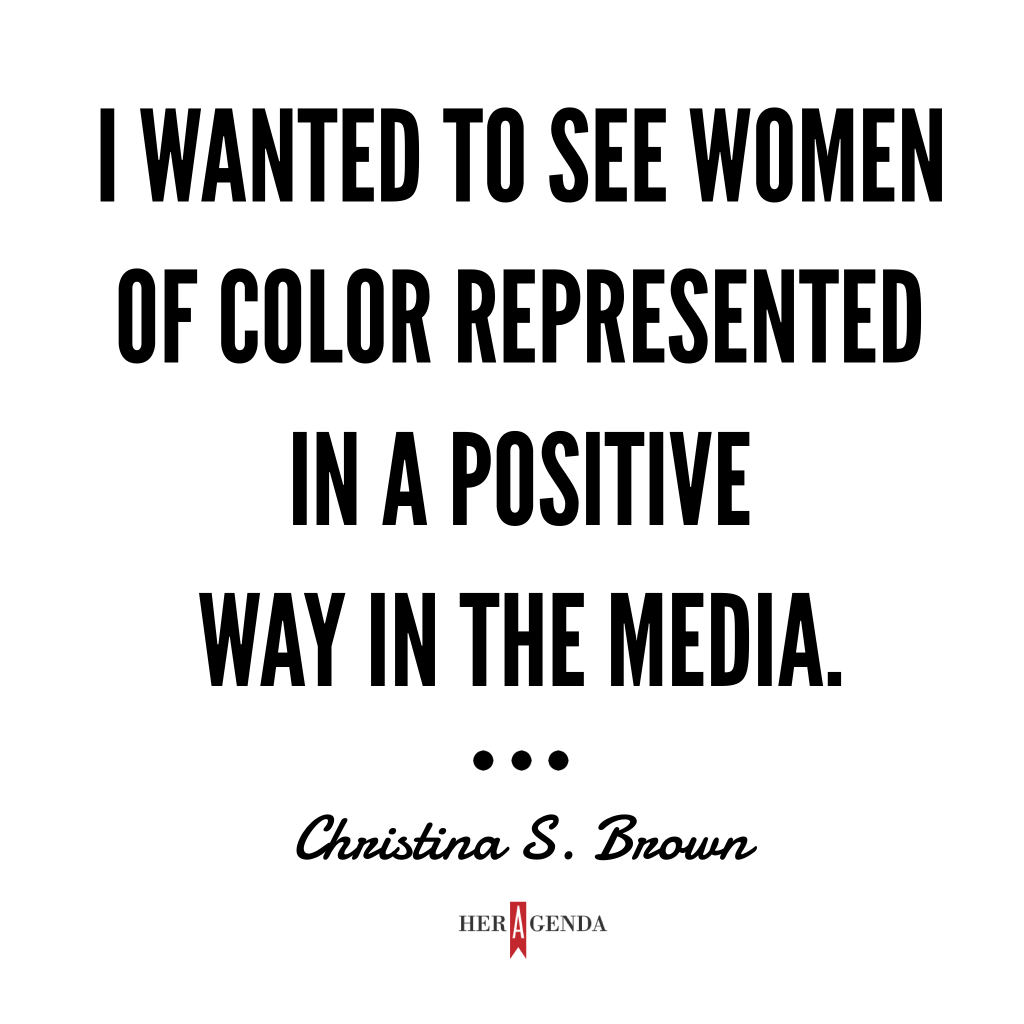 Article continues below advertisement
Christina S. Brown: I don't think I'll ever grow completely out of blogging. I'm doing less blogging now then when I first started and that is only because I wear a lot more hats now on the business side. But blogging is still something that I love. Being able to write and share my perspective and talk to women around the country and around the world and give them my opinion— that's still something that I love to do with passion. So, I don't think I'll ever stop. Will I scale back eventually? I'm sure that will come because my priorities will probably shift, but I'll never stop.
Her Agenda: Nowadays, everyone has a website, platform and brand. What's one misconception of blogging?
Christina S. Brown: One misconception of full-time bloggers is that we sit around all day in our pajamas, at our computers typing all day – it's not that simple. There is a lot more that goes into it to have a successful platform. Staying on top of trends and what's happening, every week there's a new social platform or something new that pops up that you have to be very good at in order to compete in this landscape. People think, once you have this platform you can rest on that – no. There are a lot of different elements of different areas to be successful. I always tell people, I bring my own photographer, writer, publicist — I have my own everything. I would outsource and get people to do things for me. If you want to be successful at this, you have to be really good at a lot of different things.
Article continues below advertisement
Her Agenda: We see how much your daughter has influenced you, not just as a mom, blogger, or writer, but as a businesswoman. What is that one lesson your daughter Cadence has taught you?
Article continues below advertisement
Christina S. Brown: She has definitely taught me patience. I tend to be very impatient. I think it's hereditary because my mom is very impatient [laughs]. I'm one of those people beeping at the light if it turns green. She's definitely taught me the importance of being impatient. Also the importance of sacrifice. I didn't realize some of the sacrifices my mom has made for me growing up. I wouldn't have understood them completely without Cadence coming into my life and realizing the sacrifices I had to make for her.
How much time and energy it takes to raise a small person in this society. That carried over to my business. I really feel like I've became a better businesswoman as a result of me having my daughter because certain things I would spend time on, opportunities I would pass up, I started to have to think twice about those things knowing that I have to provide for someone outside of myself. I can't ever let that fall through and I can't allow my daughter to want for anything.
I had to be sharper and smarter and more efficient with my time. My daughter has taught me a lot indirectly on things that I would need to grow, expand and change within myself, so I can be a better person – not just for her but for myself.
Article continues below advertisement
Her Agenda: You've been in the blogging space for almost 10 years, what do you think is missing?
Christina S. Brown: I will say that I'm happy with how much stuff there is now. There is a lot more diversity than when I first started blogging. People out here with different backgrounds and cultures. I do wish for more men in blogging, it's very female dominated. People like the creative industry and I wish more men of color [would participate] because there's a huge gap between men of color who have online platforms.
I wish there was more collaboration. When people talk to me about the blogging industry they say, 'It's so competitive!' It doesn't have to be that way! I don't think there should be any competition because if you're going to a place where it's about who you are — there is no competition — because every person is their own individual and has a unique perspective. I would hope to see more of that. Men, women, just different people who could work together on different projects as opposed to compete with each other. That is the only way you grow.
Article continues below advertisement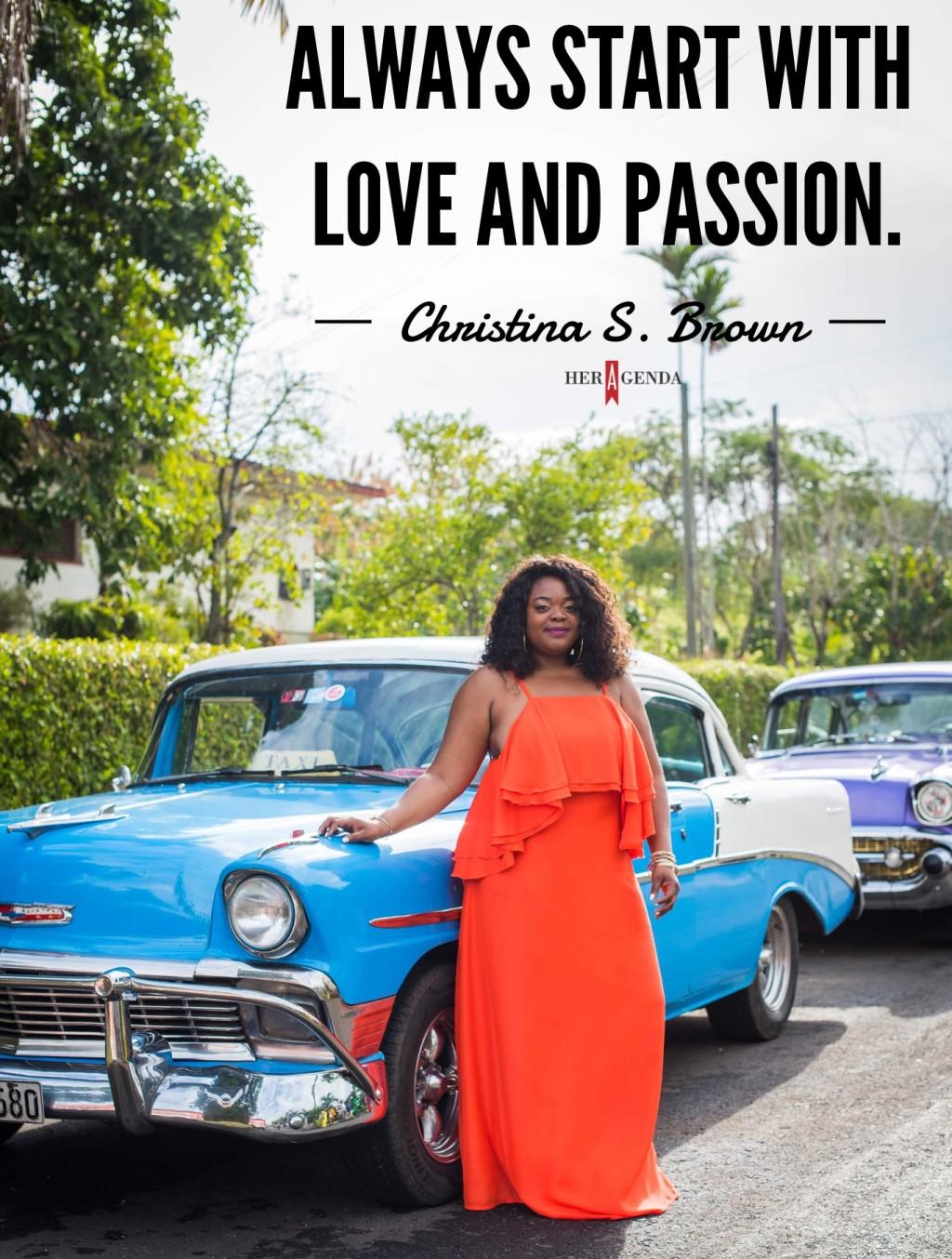 Her Agenda: What's your motto?
Christina S. Brown: My motto is start with love. That is something that I happen to share a lot of and it ties into my brand – how I approach some areas of my life. Always start with love and passion because that guarantees I'm going to put my all into something. When you love something, when you're passionate about it, you focus on it, and try your hardest to do a good job at it.
That applies to anything in life. Whether it's your business, relationships, the people that you interact with, and the position that you hold. You should always make decisions based on 'Do I love this?' Is this something that I want to do in helping people?' That's what love is. It allows you to make better decisions and allows you to find a way to make things successful by default.
[Editor's note: This interview published on May 8th, 2017. It has been edited for length and clarity.]