Our nation's current political climate is proving that now more than ever the power of using your voice is critical. Whether you are a college student or a young professional living in a big city, there is an opportunity to speak out on the issues at hand.
For Danyelle Carter, using her voice means advocating for girls and women. As the press assistant for Representative Yvette Clarke (D-NY 9th District), Danyelle's responsibilities not only include ensuring that the congresswoman is prepared for various media appearances and connecting with D.C. media, but working with her colleagues to draft and ultimately pass important legislation on issues that impact girls and women.
As a former undocumented citizen, (she received her United States residency in 2013) Danyelle has also made it her mission to ensure that the stories of immigrants, specifically those who are Black girls and women, do not go untold.
When she's not moving around The Hill, Danyelle serves as principal of Her Communications Agency, a communications and research firm dedicated to working with organizations that focus solely on the well-being of women and girls.
Her Agenda caught up with Danyelle to learn more about what inspires her work, and why right now is the time for women around the world to raise their voices and be heard.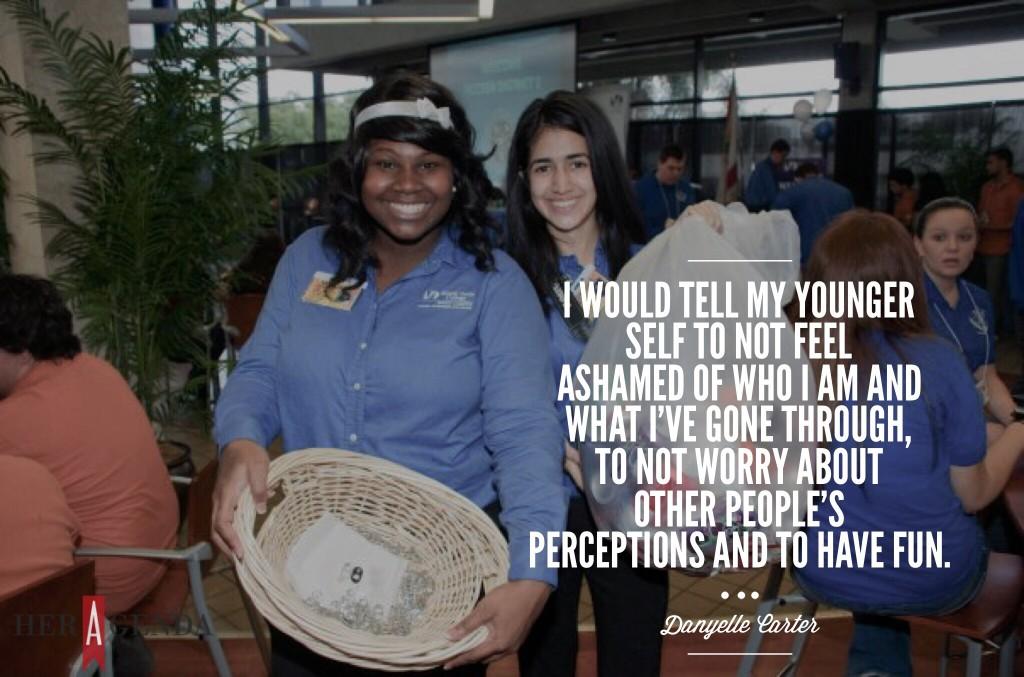 Article continues below advertisement
Her Agenda: When did you discover that you wanted to not only be an advocate women and girls, but work on policy issues that concern them as well?
Danyelle Carter: I'm an Afro-Carib (formerly) undocumented woman. When people talk about undocumented individuals, they uphold the faces and narratives of those in the Latino community. When people don't talk about Black immigrants, three million people are missing from the conversation. I not only want to be included in those conversations, I want to make sure others are included.
In March 2014, I learned that women and girls of color are affected by human trafficking more than any other group. With this information, I decided to do more for them, especially undocumented women because it's difficult for them to seek help as they'd be running the risk of being detained or deported.
Article continues below advertisement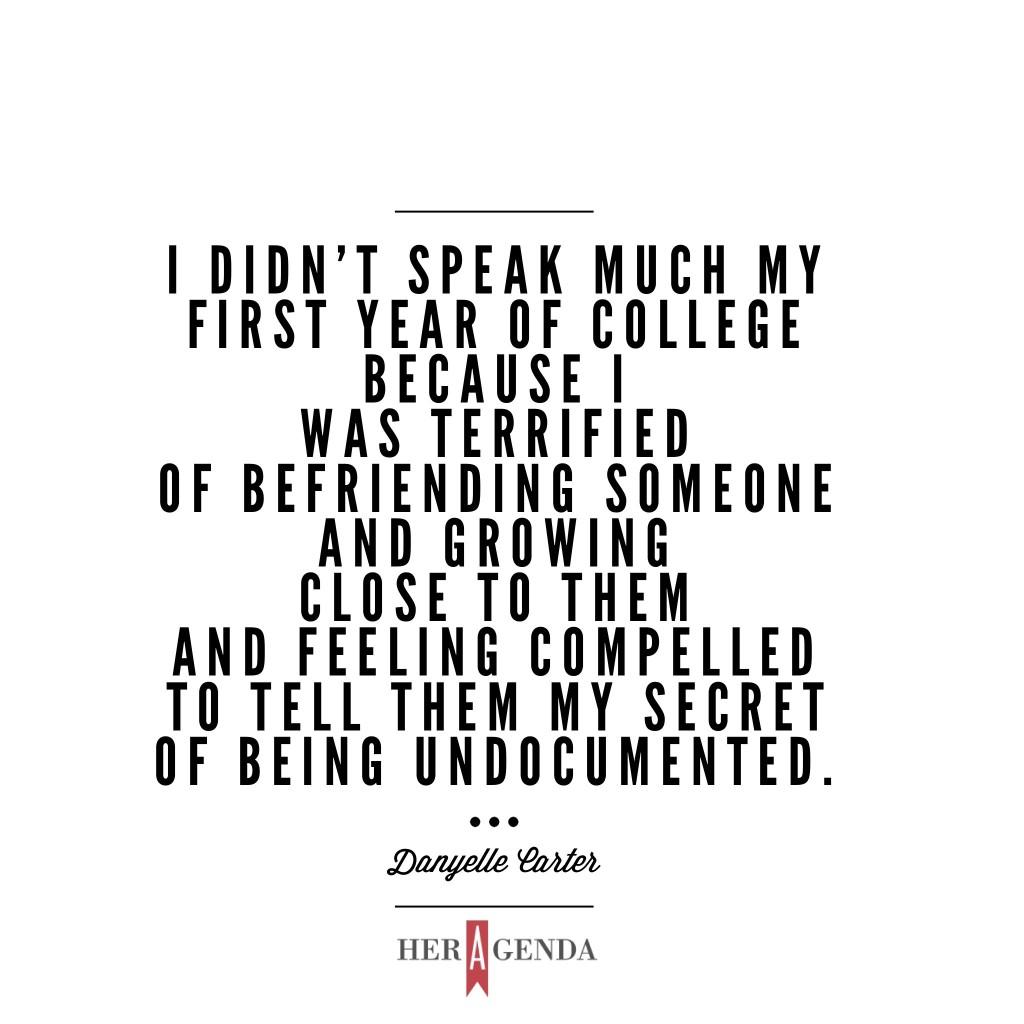 When a person is undocumented, there's a long list of things they cannot do, including getting a license, applying to schools, voting, obtaining a job, going to the doctor, adequate healthcare, and receiving any kind of financial aid to name a few. For the 5.2 million undocumented women in the United States, that list is longer. For example, if a woman doesn't have health insurance she won't be able to afford birth control. Another example is that if she is being abused, she can't seek help because she could end up being detained and deported.
Article continues below advertisement
When I became Congresswoman Clarke's press assistant, I worked on as many women and girls issues as I could. Every time I did, I would be sure to bring up including immigrant women in policy. As principal of Her Communications Agency, a firm devoted to advancing the lives of women, I am always asking where are the women? And looking at which women aren't included and how do we make sure they're no longer excluded.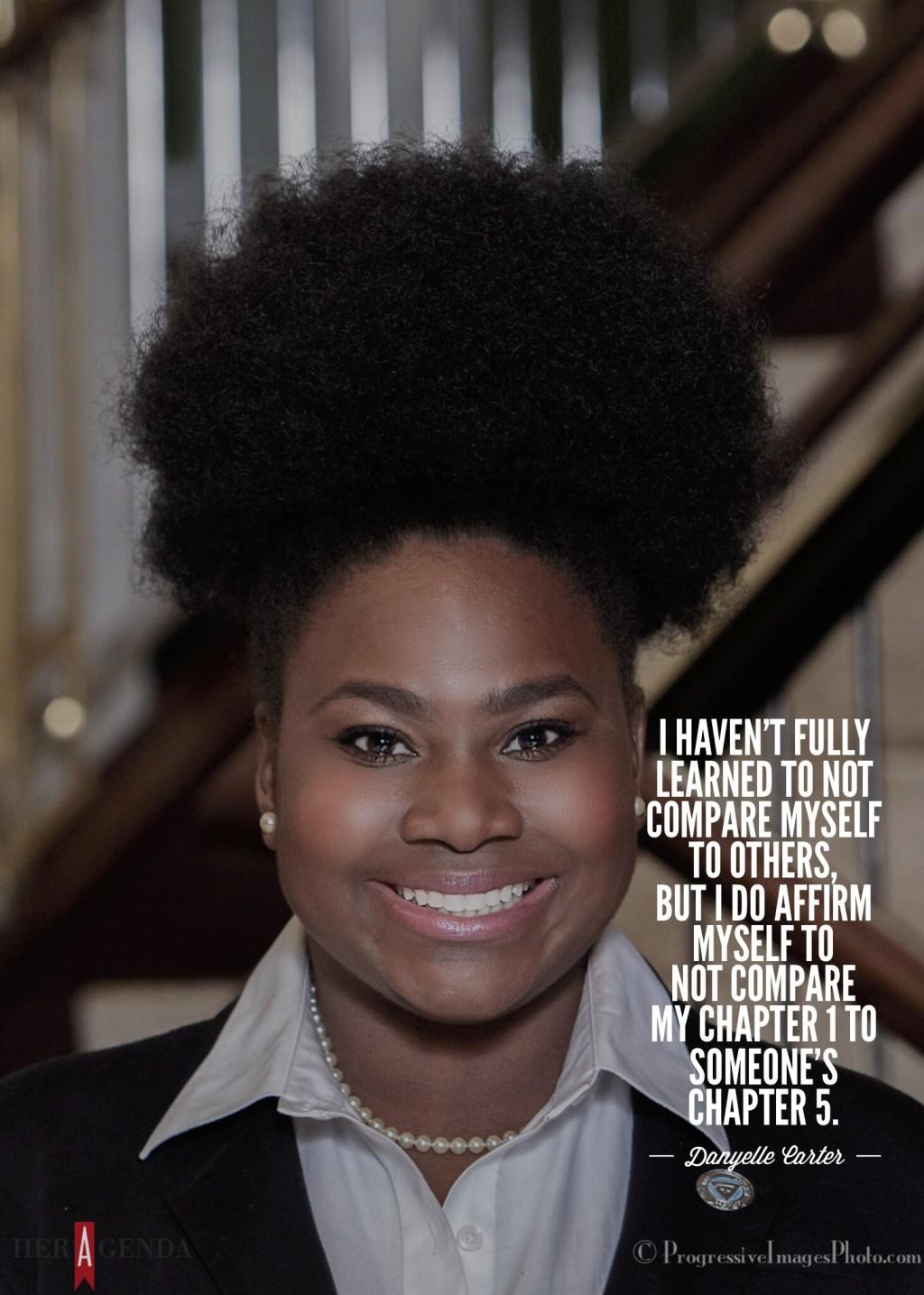 Article continues below advertisement
Her Agenda: What has been the biggest challenge you've faced in your career thus far, and what have you learned from it?
Danyelle Carter: The biggest challenge I've faced in my career thus far is comparing myself to others. I'm constantly on social media, for work, and for leisure, so after a while, it caused me to doubt my abilities, despite having more experiences, connections and know-how to be a communications and public relations professional. I haven't fully learned to not compare myself to others, but I do affirm myself to not compare my Chapter 1 to someone's Chapter 5.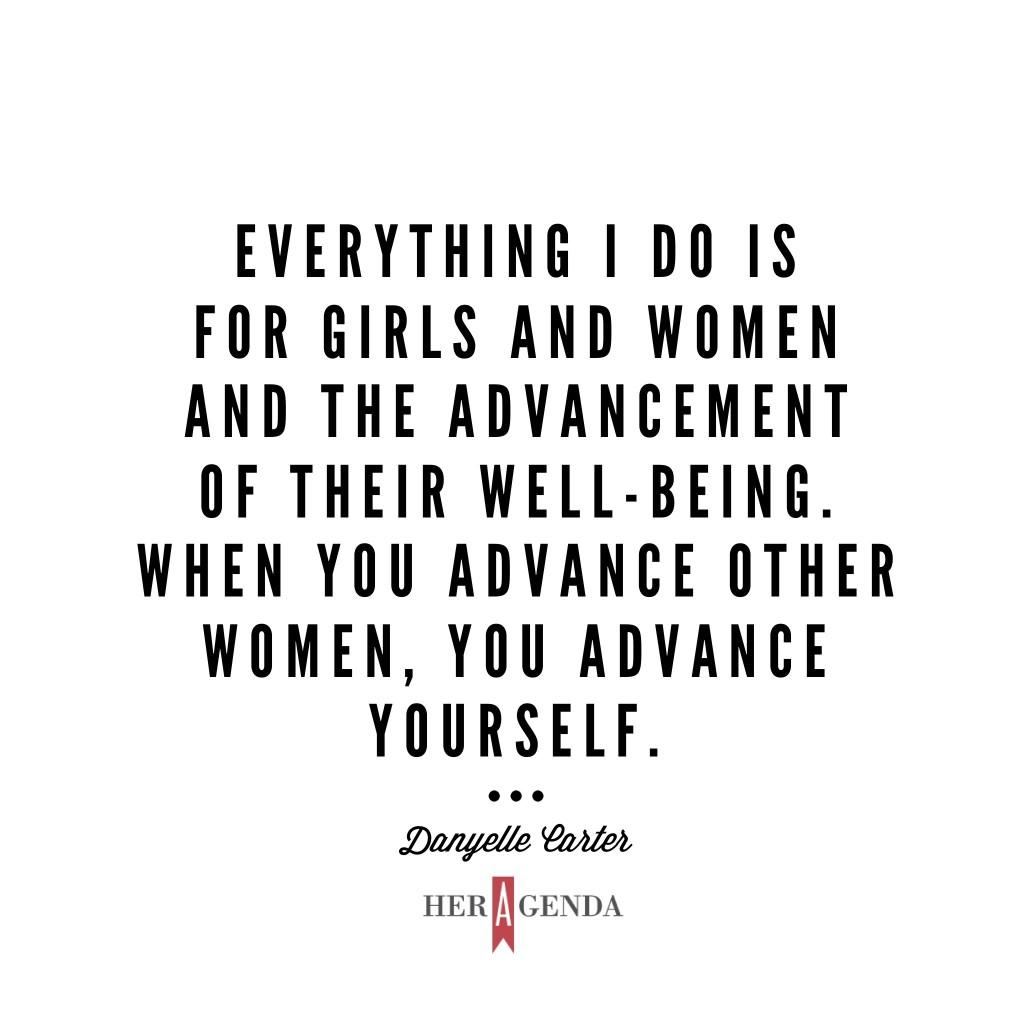 Article continues below advertisement
Her Agenda: What is one piece of advice you would give to your 22-year-old self?
Danyelle Carter: When I began attending Spelman in Spring 2013, I was intimidated by how many intelligent and beautiful Black girls I was surrounded by. I felt as though every Spelmanite was smarter, thinner, and sure of herself. I wasn't. I didn't speak much my first year because I was terrified of befriending someone and growing close to them and feeling compelled to tell them my secret of being undocumented. For a year and a half, I didn't befriend anyone, not in group projects, or student organizations. I didn't want people to know who I was because I was ashamed. On top of that, being undocumented I was taught to not get close to anyone for fear of upsetting them and them reporting me because I had upset them. It affected how I socialized and connected with other students. Today, I would tell my younger self to not feel ashamed of who I am and what I've gone through, to not worry about other people's perceptions of me and to have fun.
Article continues below advertisement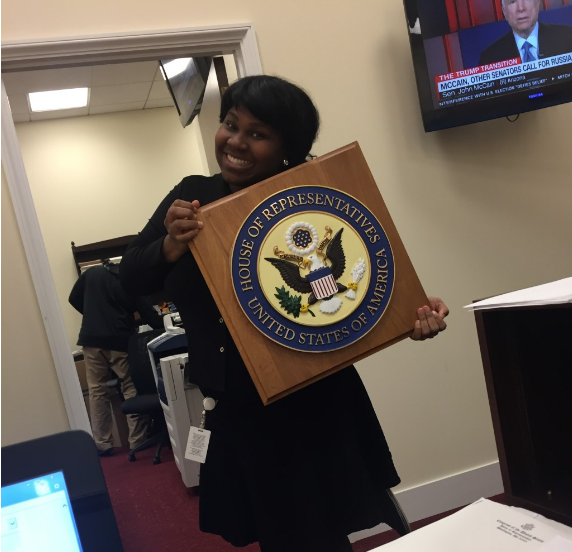 Her Agenda: What really inspired you to pursue a career in politics, and how has it been working with Congresswoman Clarke?
Article continues below advertisement
Danyelle Carter: In 2013, I received my U.S. residency card. I've been in the United States since I was two years old, but the system is so broken that it was difficult for my mom to keep saving money, and so many lawyers claimed to be working on our case — but they weren't. So in 2013, I finally received my green card and thought that assimilating into college and having a social life would be easy, but it wasn't. I started to experience a lot of anxiety. We were raised sheltered, so I didn't go out or get to go to prom or take photos in yearbooks, just out of fear of being undocumented. Growing up, we were taught to be basically be invisible. So when I got to Spelman, I was excited to be surrounded by so many amazing Black women, but I had become so accustomed to being invisible that it was very difficult to make that transition.
After going to the counseling center on campus, I learned that my anxiety stemmed from the trauma I experienced living undocumented within a subculture. Typically when people think of immigration, they don't think of a Black girl from the Bahamas who doesn't sound Bahamian. So in my work on policy I wanted to know why when it comes to legislation, why aren't Black girls also considered in the conversation? So I got my start with a legislative communications fellowship in Representative Marcia Fudge's (D-OH) office. Then, I met someone who recommended that I go to Congresswoman Yvette Clarke's office – which was perfect because they were launching the Congressional Caucus on Black Women and Girls. So, I got to make sure that Black girls who are immigrants were being included in that narrative.
Article continues below advertisement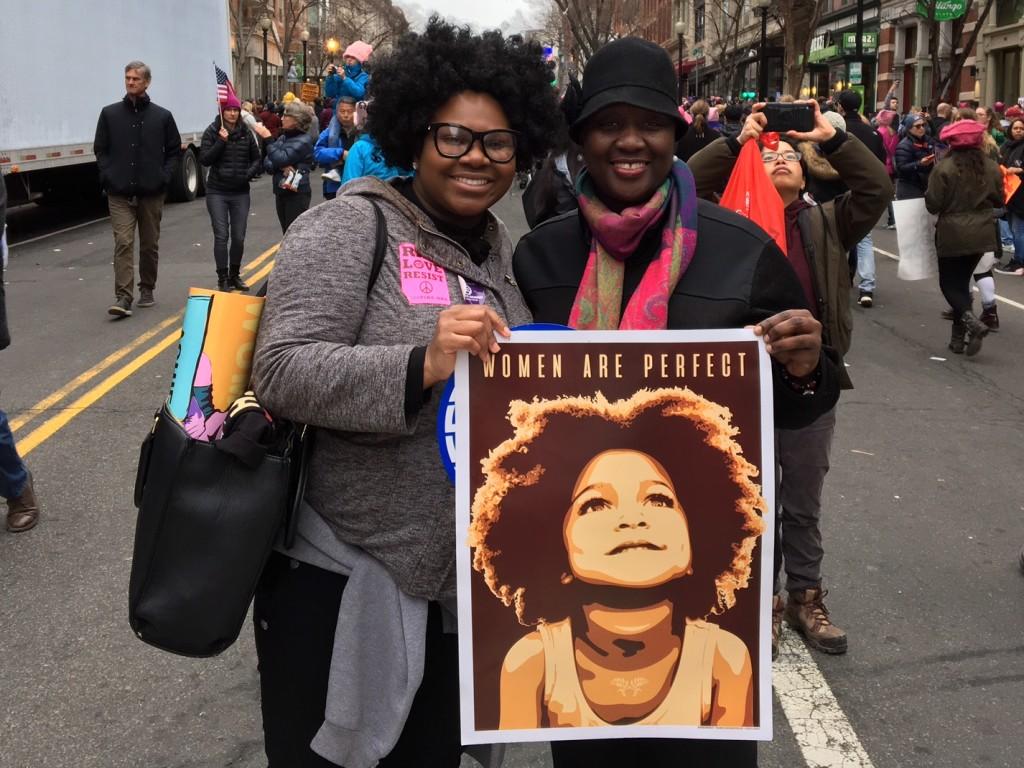 Her Agenda: Who keeps you motivated and inspired when the going gets tough?
Article continues below advertisement
Danyelle Carter: While there are many women who have inspired me until this point of my career, two women specifically played a tremendous role in the woman I have become today. First and foremost, my mother is one of my biggest inspirations, and she continues to encourage me both professionally and personally. Another woman who has been an incredible mentor for me is Asi Ofosu, who is Congresswoman Clarke's Deputy Chief of Staff. During my time on The Hill, Asi would not only encourage me to sit in on important meetings for the Sojourner Truth Legacy Project, in which I was surrounded by Black congresswomen, and I was surrounded and worked with these women for the Rep. Clarke's inaugural Black Women's Political Summit. On top of that she also encouraged me to write two pieces of legislation that will soon make their way to the floor of Congress.
Her Agenda: What have been some challenges you have faced in your career thus far?
Danyelle Carter: I've had to realize that while I do know the communications industry pretty well, I still have to keep learning. Communications is constantly merging into digital, and I have to make sure that I am up-to-date with my skill set. Attending events like the National Association of Black Journalists (NABJ) Conferences and taking writing workshops are just two of the many ways that I am always looking to improve my craft as a communicator.
Her Agenda: What's your motto?
Danyelle Carter: Everything I do is for girls and women and the advancement of their well-being. When you advance other women, you advance yourself.
[Editor's note: This profile published on January 30th, 2017. It has been edited for length and clarity.]