DeShuna Spencer is the Founder of KweliTV and host of emPower Hour on Washington, DC's 89.3 FM WPFW. Before taking on the world of streaming and radio, Ms. Spencer served as the founding publisher of emPowermagazine.com where she later launched the emPower Players Awards, recognizing activists of color.
DeShuna got her start in media while attending Jackson State University where she studied journalism and communications; later writing for The Clarion-Ledger, The Oakland Tribune, the Crisis Magazine, AOL, and the Washington Examiner. She went on to complete her first film, Mom Interrupted, centered around 6 Mom's who lost a child under the age of 30 to gun violence. Mom Interrupted was chosen as an official selection of the Alexandria Film Festival, adding to the list of DeShuna's many successes.
Her Agenda had the pleasure of speaking with the 40under40 honoree about KweliTV, taking the leap from corporate to entrepreneurship, and persevering through self-doubt.
Her Agenda: For those who may not be familiar, please tell us a little about what you do.
DeShuna Spencer: I'm a journalist by trade. I have a streaming service called KweliTV. If you google us, you'll see that we're often called the "Black Netflix", but we're much more complex than that. Our mission is to carry content that reflects the true Black experience. We have independent films, documentaries, and more from the entire African diaspora. Before starting KweliTV, I had an online magazine called emPower, which was the first company I started about 8 years ago. The mission was to use the publication as a way for people to take action on social justice issues around the world. Growing up, I always wanted to work in news, but working in a newsroom was very depressing. Primarily, I went out and interviewed women whose children had been shot and other things and it was very sad for me. When I moved here to DC, I asked myself, what can I do to make people feel empowered? Fast forward to KweliTV. People say, "I want to be on Netflix because they're the head honcho" but at the end of the day, we can control our own content by going with people who look like us. I watch every single thing that is submitted to KweliTV. If it's demeaning or typical, we don't post.
Article continues below advertisement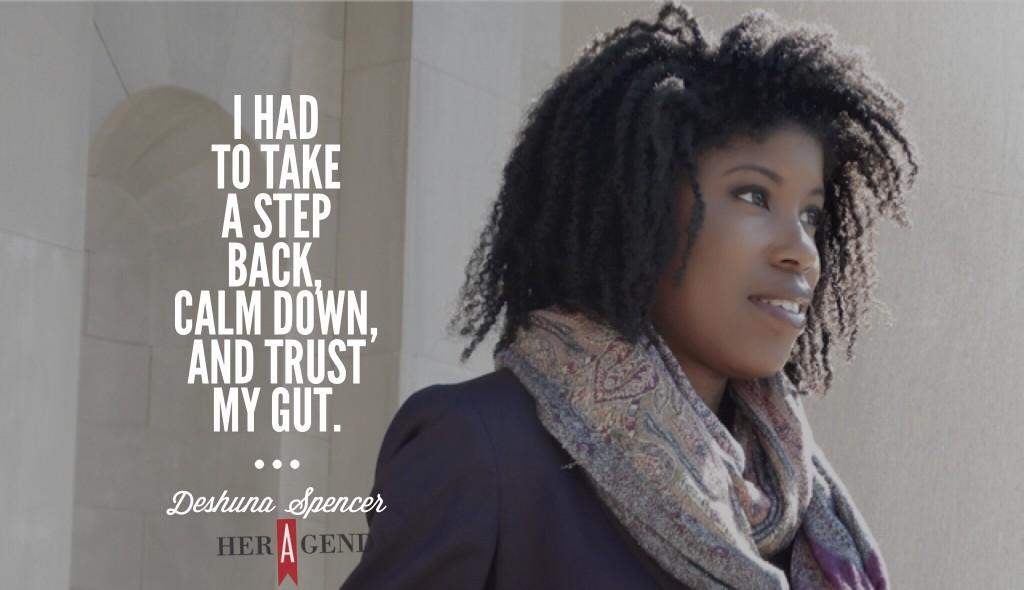 Her Agenda: What methods did you find most effective when building brand awareness for KweliTV?
Article continues below advertisement
DeShuna Spencer: Being authentic. The reality of being a startup and bootstrapping is good and bad. Bad because we don't have a huge budget. Good because people get to see me and see the person behind the brand. One thing that has been important to me is doing live streams, recording videos, and blogging about the reality of being a startup. My reason behind starting KweliTV has really resonated with our customers and has been effective as far as spreading brand awareness. Also, sticking to our mission. We've definitely met investors that would suggest that we introduce different genres similar to everyone else in order to be successful. Someone suggested that we consider introducing a ratchet channel on KweliTV. So, yes, if you want money bad enough you'll do it. But at the end of the day, I think that has also helped our customers understand our brand because we're sticking to what we believe in no matter what.
Her Agenda: How did you deal with people who aren't receptive to the idea of KweliTV? What strategies do you use to persevere during times when you're feeling stuck or unsure?
DeShuna Spencer: When you're an entrepreneur, especially a startup that's bootstrapping, lots of doubt creeps in and lots of naysayers. The biggest thing that I hear from people sometimes is, "Black people don't want a Black Sundance" or "Black people don't want to see independent films, they want to laugh." To them I say, I don't believe it because I'm looking at the numbers and more people are interested in documentaries and children's programs.
Article continues below advertisement
For me, you have to have your blinders on. I watched the Steve Jobs film and his mindset was interesting when it came to a lot of things he wanted to produce like the iPad and iPod. Those things were revolutionary. With the iPad for instance, people made fun of the name and didn't think it was ideal. I think you have to stick to your guns and have really tough skin to do this. My skin has definitely thickened over the past 8 years since I first started emPower. I wouldn't say that I was fragile, but I took to heart everything that people said. I came to terms with what I want and don't want.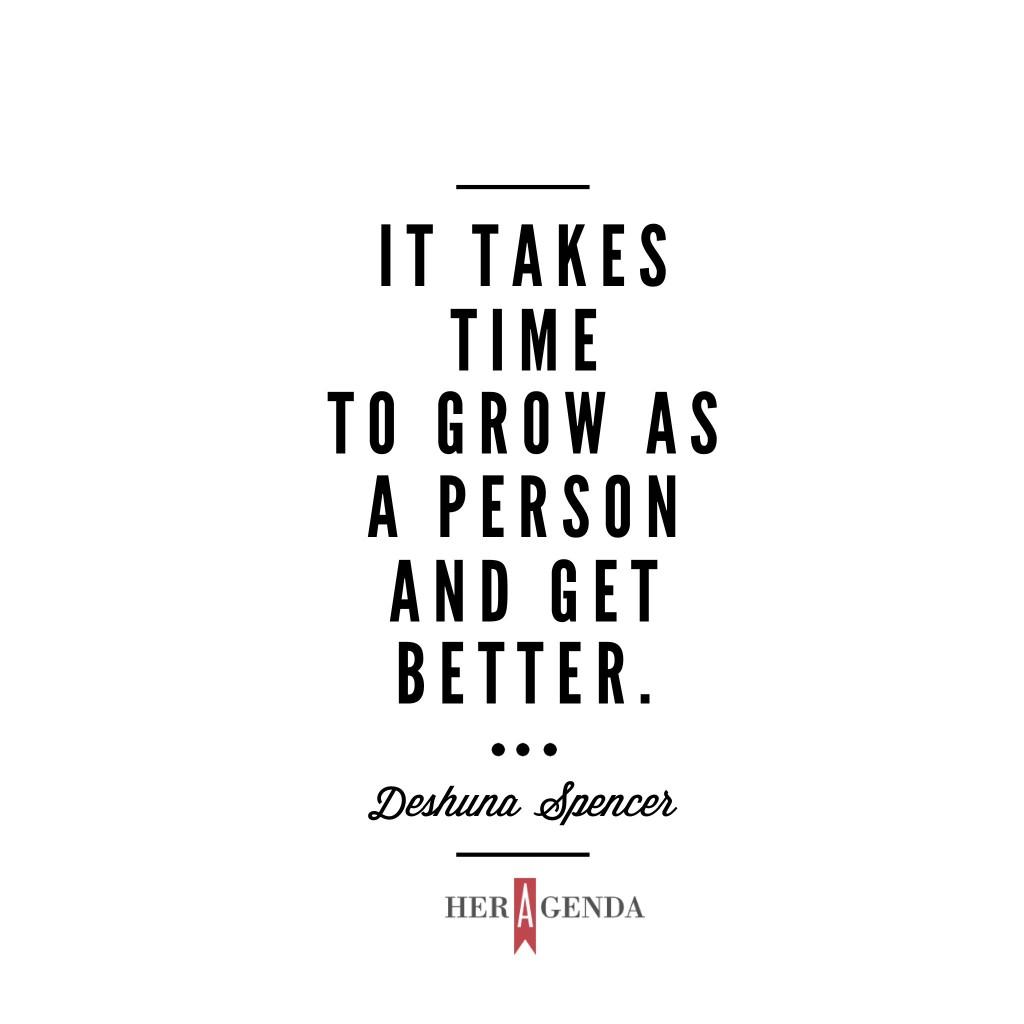 Article continues below advertisement
I can't keep changing and doubting myself just because people who are working 9-5's (no shade to that) and then going home to sit on their couches are telling me what I should and shouldn't do. I had to take a step back, calm down, and trust my gut. I have those moments where I'm curled up because I didn't get the funding or I got turned down by an investor. It's okay to cry for like ten minutes. Literally ten minutes. It's okay to wallow, but I have to pick myself back up. I think that comes from falling down so many times and saying, you know, if I really want this I have to have the blinders on and keep pushing no matter what. I listen to a lot of music. I listen to a mix of trap and gospel. I'll listen to "go get the money" on my way to a pitch, but then I'll play Tye Tribbett's Work it Out. It's a lot of sacrifice and you have to find those ways to pick yourself back up. Whether it's music, inspirational quotes, prayer (for me) and meditation.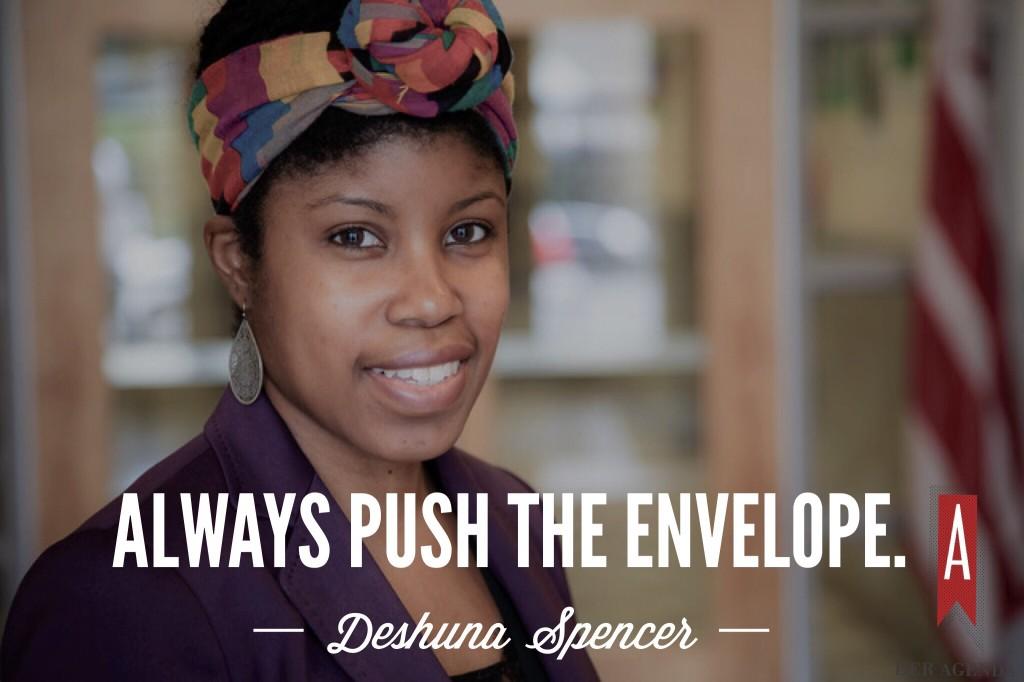 Article continues below advertisement
Her Agenda: As far as persevering through tough times, what's your advice for someone in the beginning stages of their career?
DeShuna Spencer: A lot of times people say, "you're young you have plenty of time" which is true. For me, when I was in college I knew I wanted to start something. I knew that whatever job I got, the goal was to learn what I could for later on. I think at times we take a job just because, but for what? What do you hope to gain from this experience? You need to be thinking strategically about how do I get there? Which is what I did. I knew that I needed to have certain experience in order to get where I wanted to be. When I graduated, I ended up taking an internship because I couldn't get a job in my field, but I was so determined to make sure I didn't end up taking a job that I didn't want because I knew it would never get me where I wanted to go.
Article continues below advertisement
My advice is to do anything that can keep you attached to what you want to do in life. Whether it's free or a small stipend, invest in yourself and in what you want to do. There's a book (The Outliers) about how people become successful and they speak about 10,000 hours. Every person who became extremely successful had these 10,000 hours of time they spent marinating their craft and becoming better.
Whether it was Bill Gates, Michael Jordan, Serena Williams. Beyonce didn't come out of the gate as Beyonce. I was recently watching a Kobe Bryant documentary where they speak about how during his first NBA season he wasn't doing well, so he would go home and practice shooting for 5-6 hours straight while everyone was out having fun. It takes time. Everyone has their own path. As long as you're working towards it, you'll eventually get there, but it takes time to really marinate your craft. The stuff I wrote ten years ago is horrible compared to the way I write now. I've definitely developed and grown and it takes time to grow as a person and get better.
Article continues below advertisement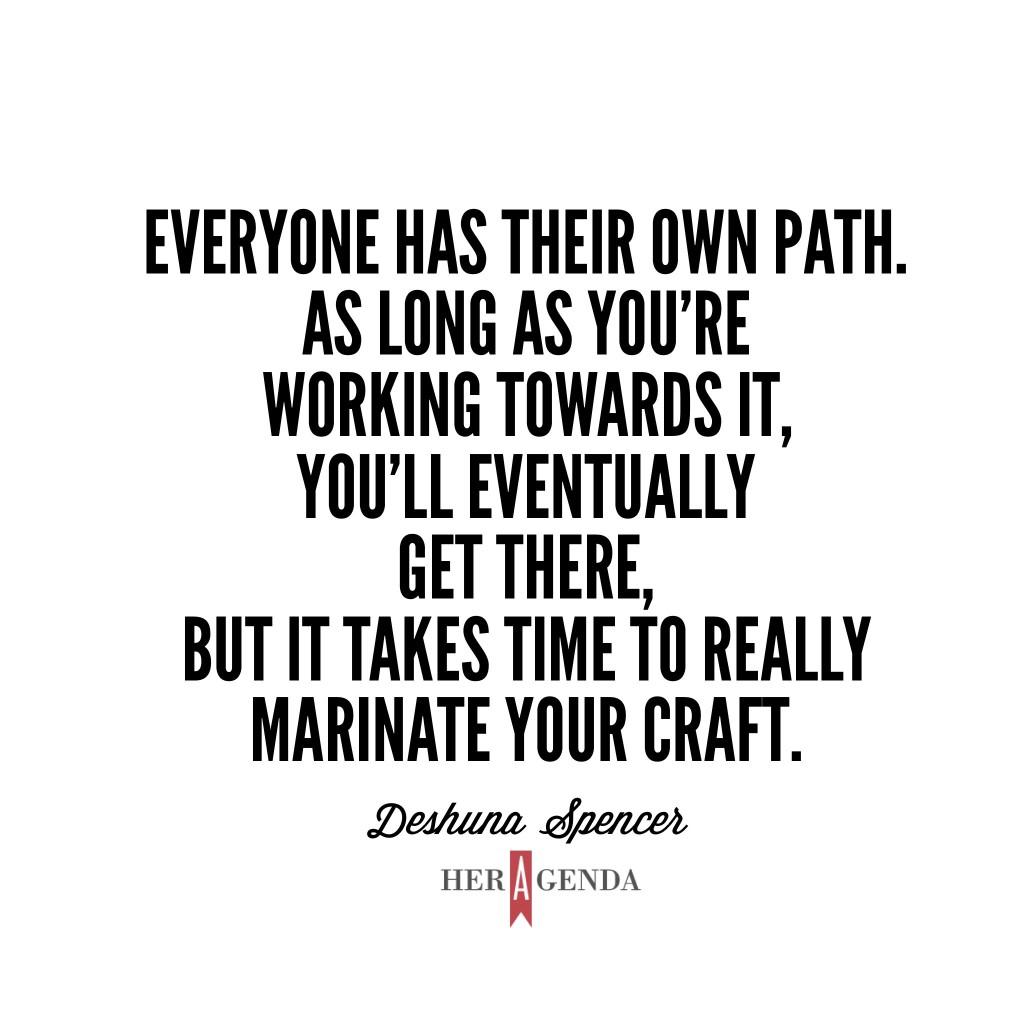 Her Agenda: What was your job before you embarked on your entrepreneurial journey? Did you form habits there that were essential to your success?
Article continues below advertisement
DeShuna Spencer: Whatever I did, I did with excellence. I never really wanted to work for anyone. I actually hate working for people. But, I also didn't like disappointing people. I remember when I left Oakland, I was 21 and I got a job at a weekly newspaper in Kentucky where I had to learn inDesign as part of the position to lay out the newspaper. On my first day I got in at 9am, and by 5pm I knew my way around. During my first two months working there I was there until midnight every night. It was a challenge. But I thrive off of a challenge. By the third month, on Thursday's once the paper was done, I would take Friday off. For me, a habit is challenging myself. Always push the envelope.
Her Agenda: What's your daily mantra?
DeShuna Spencer: It's actually a Martin Luther King Jr. quote, "Use me God. Show me how to take who I am, who I want to be, and what I can do, and use it for a purpose greater than myself."
[Editor's note: This interview published on September 25th, 2017. It has been edited for length and clarity.]