With 20 years in the industry, she knows what she's talking about when it comes to making your mark in media. After successful careers at publications such as Essence, People, and Martha Stewart Living, as well as networks such as CNN and VH1, she's turning her attention to you (yes, you) with the goal of helping you achieve your dreams.
In addition to starting Chic Rebellion Media, which creates multimedia content that empowers women, Fluker launched the Support is Sexy podcast last year to prove that there is nothing sexier than women supporting women (can we get an amen?).
Read on to learn more about her journey, and advice to keep going when you feel like giving up.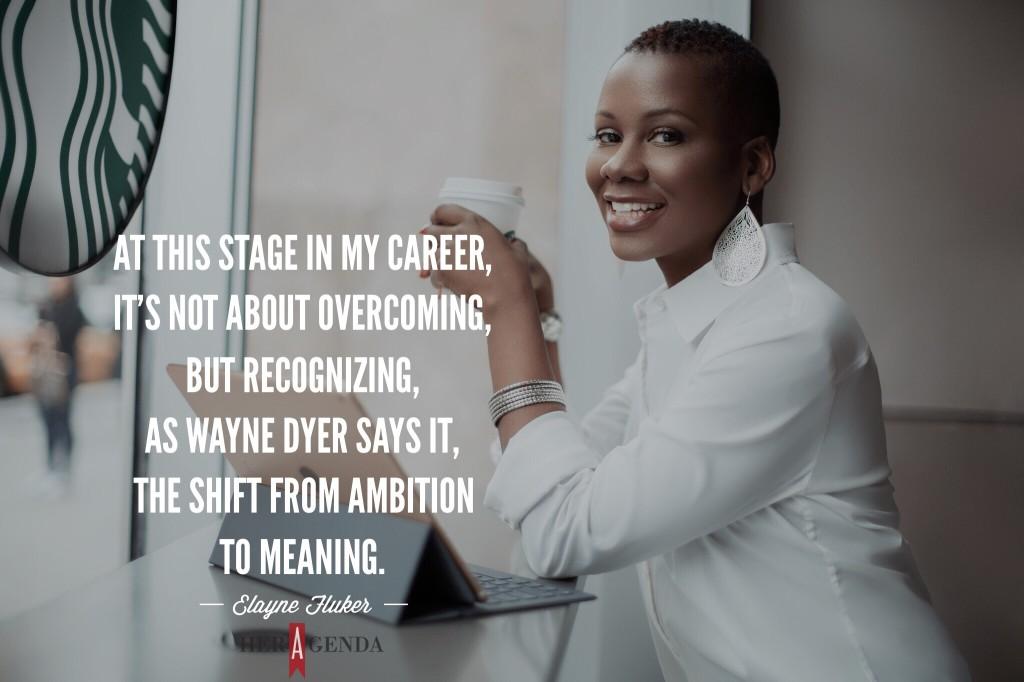 Her Agenda: You've had an impressive career in media and you're still going strong. How did you get your start?
Article continues below advertisement
Elayne Fluker: I got my start as an intern at Essence. I've always loved writing ever since I was little — my mom still has a collection of stories that I wrote. I've been writing forever and never really thought of it as a profession. When I went to school at Hampton University, I initially had a major in business because that's what people did and I had no idea what I wanted to do. But it was while I was in college and after speaking to an advisor, that the advisor told me to think about English and I could be a teacher or a writer. That's when I decided I love doing this and I could figure out a way to do this. I didn't have a job when I graduated and applied via snail mail to some entertainment companies. I remember telling my parents, who were living in Georgia at the time, that I was going to move back to New York and work for someplace like Essence. I started as an intern at another magazine and gently stalked the HR woman at Essence and came in for an informational interview and that's really where I got my start in media at Essence.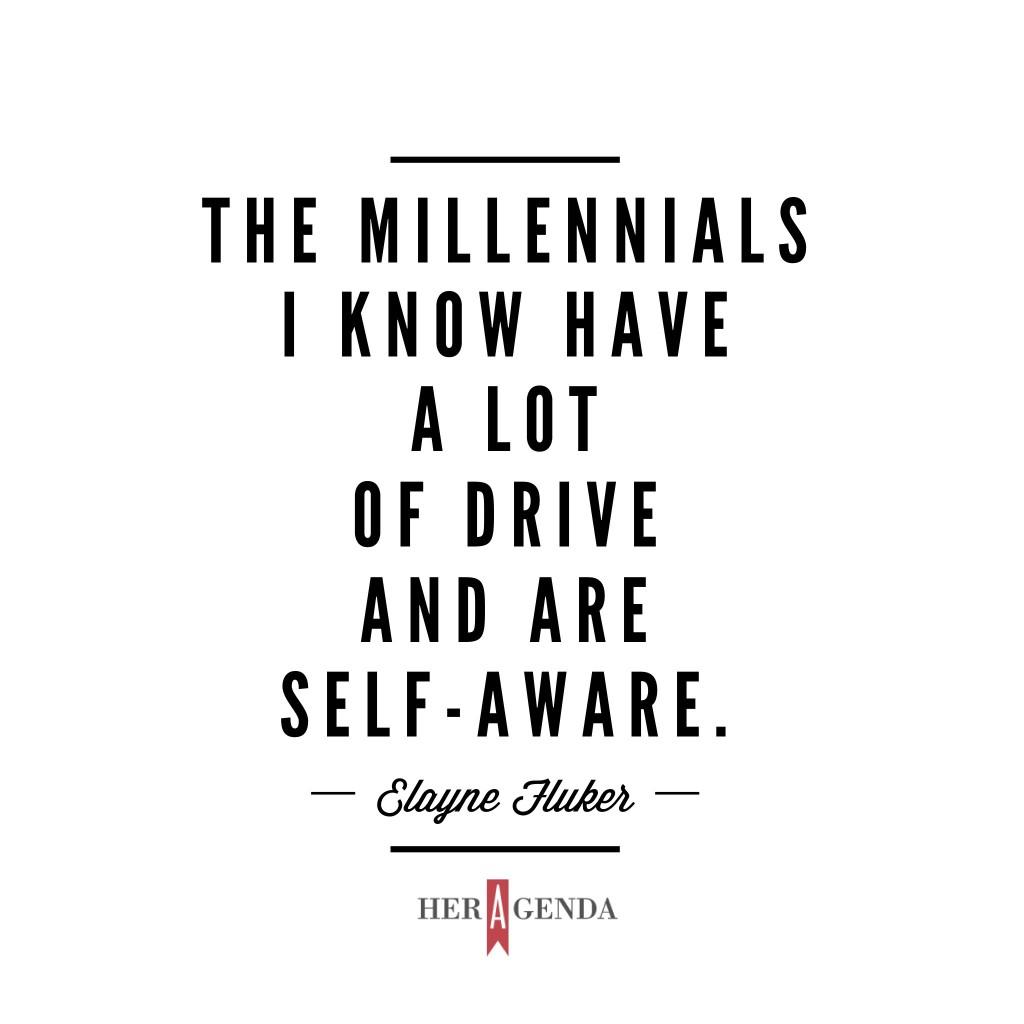 Article continues below advertisement
Her Agenda: What were some of the challenges you had to overcome to become successful?
Elayne Fluker: Entering the business and not having any experience, that was my struggle starting out. What I tapped into were the things I did have. I was very persistent. I knew that I could write. I kept telling everyone I knew I just needed to be in the building. I didn't have the fear or shame that we tend to pick up later, I had that 22-year-old bright-eye, I'm going to make it happen [mindset].
At this stage in my career, it's not about overcoming, but recognizing, as Wayne Dyer says it, the shift from ambition to meaning. What does it mean to me and the people I put it in front of? It's more about impact. It's a shift in the way I've approached business and it's not always the most lucrative option. The podcast is something I'm investing in and putting energy into that I hope will grow, and I think it will.
Article continues below advertisement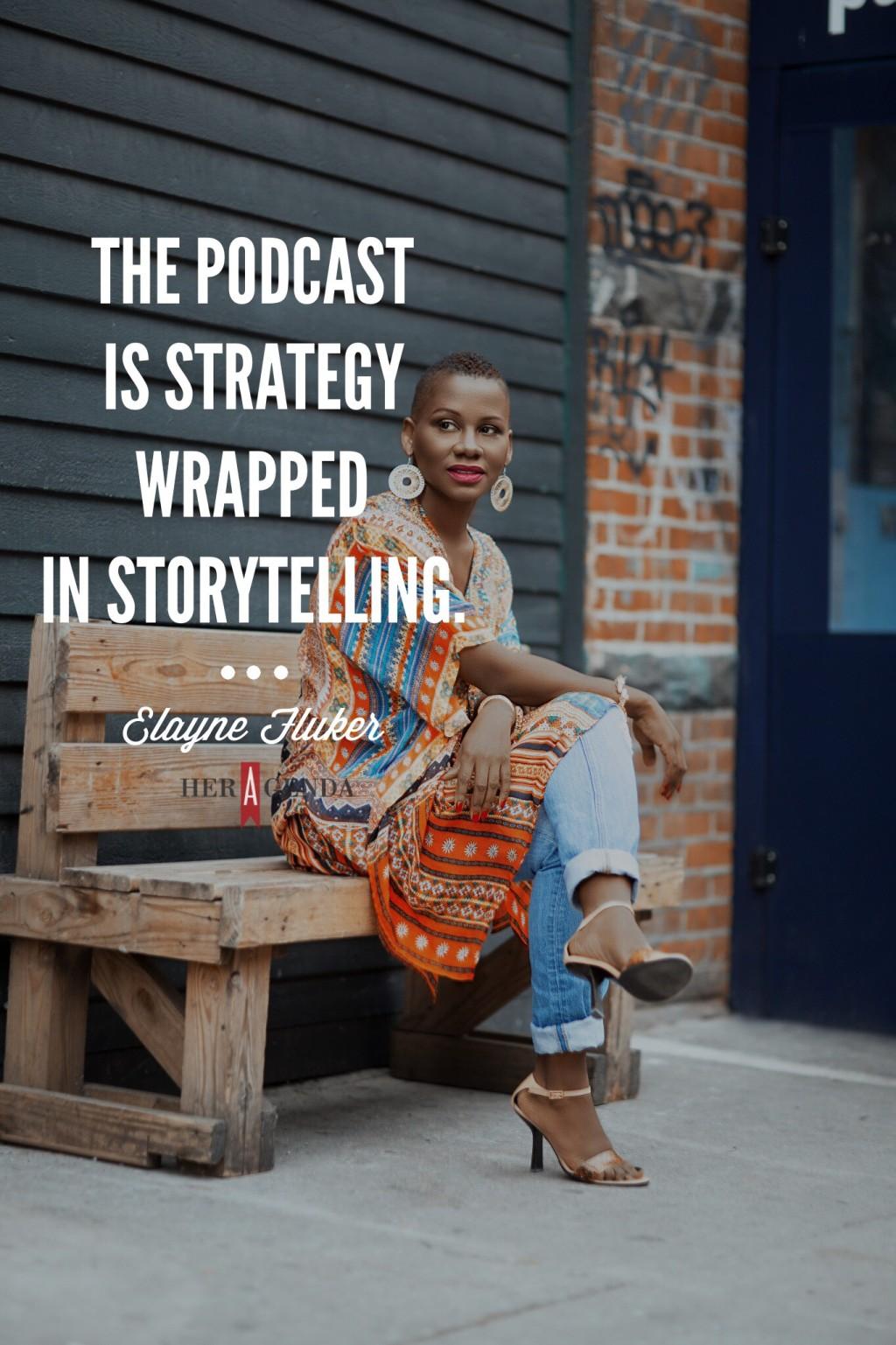 Her Agenda: I think it's something that I and some other millennials struggle with — we want the recognition and that's good, but the meaning is also important and can get overlooked.
Elayne Fluker: I think sometimes people give millennials a hard time, I love millennials. I'm fascinated by millennial women especially. I think I was lot like that in my 20s as well. The millennials I know have a lot of drive and are self-aware. I think there are more millennials who want impact, but you want it right away. I think it's a combination of the generation and you have access to so many things that are right away. There are millennials, at least the one's I've met, who do want the six-figure salary, but are also looking for impact.
Article continues below advertisement
Her Agenda: Circling back to the podcast, I love the idea of women supporting women and Support is Sexy puts that out on the front line. So how did it come about?
Elayne Fluker: The idea of Support is Sexy as a concept came about when I attended this workshop called Momentum in 2015. It's really a personal development workshop, but goes deeper into things that are blocking you. During that workshop, I was in this group with people who were captains in the their industry, but two of the things that were most difficult for us to ask for were love and support. It's about getting over "I got it" and being open to support and being aware of that. It changed and shifted my life and I started thinking about support is sexy. When you think of something as sexy, you want to try it on and be near it. It takes the shame out of it. Late last year, I started listening more to podcasts and thinking about how to get it out there and it all just came together. On July 4, 2016, I went live with the podcast. I also have the benefit of knowing so many fantastic women. And that's really what it's all about. I say the podcast is strategy wrapped in storytelling.
Article continues below advertisement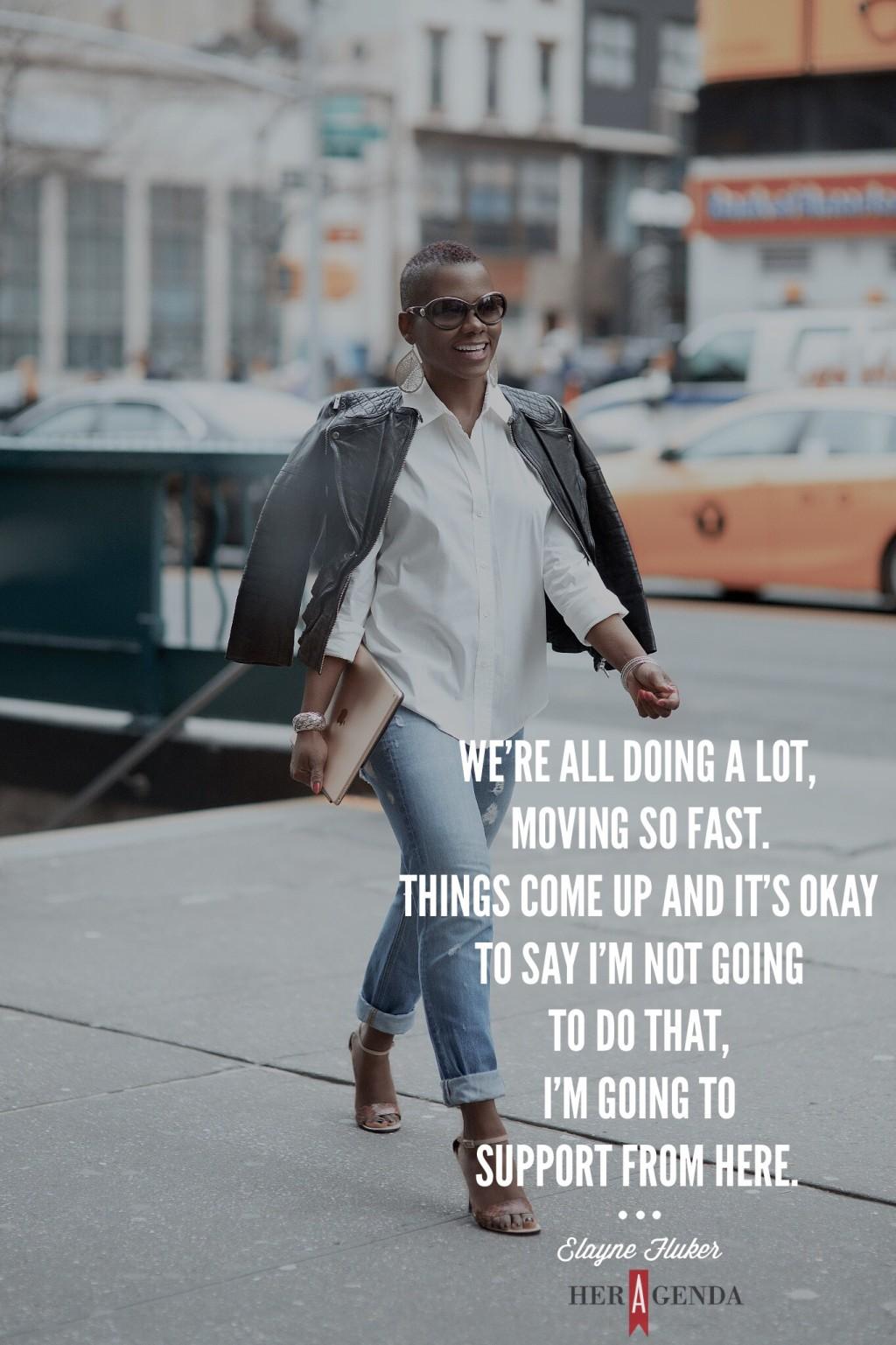 Her Agenda: With everything you do, how do you find the time for self-care?
Article continues below advertisement
Elayne Fluker: Working out, going for runs, especially has been very important for me in high times when things are going well and in the low times. In Momentum, we all talked about meditation, which I also do, 10 minutes every day. And it's also about letting go of what meditation looks like. There's a high that I get from running and that's a form of meditation or self-care for me. From a mental standpoint, they say you're the average of the five people you spend the most time with, so I make sure that I surround myself with women and people who support me even if they don't understand or know what I'm doing. And being okay with tapping out sometimes. We're all doing a lot, moving so fast. Things come up and it's okay to say I'm not going to do that, I'm going to support from here and I did that recently with the Women's March. I'm so proud of everyone who went, but I decided today is going to be a self-care day. But I'm going to take care of this woman today. Take some time for yourself.
Her Agenda: Yes, you have to guard your energy.
Elayne Fluker: Something Kierna [Mayo] shared on the podcast with me is the power in forgiving yourself. Whatever happens in your career, you didn't know then, you know now and you forgive yourself. It's those small moments of grace we give ourselves that are so important. As time goes on, you reflect back and see mistakes. But you have to forgive yourself so you can keep going, which is also self-care.
Article continues below advertisement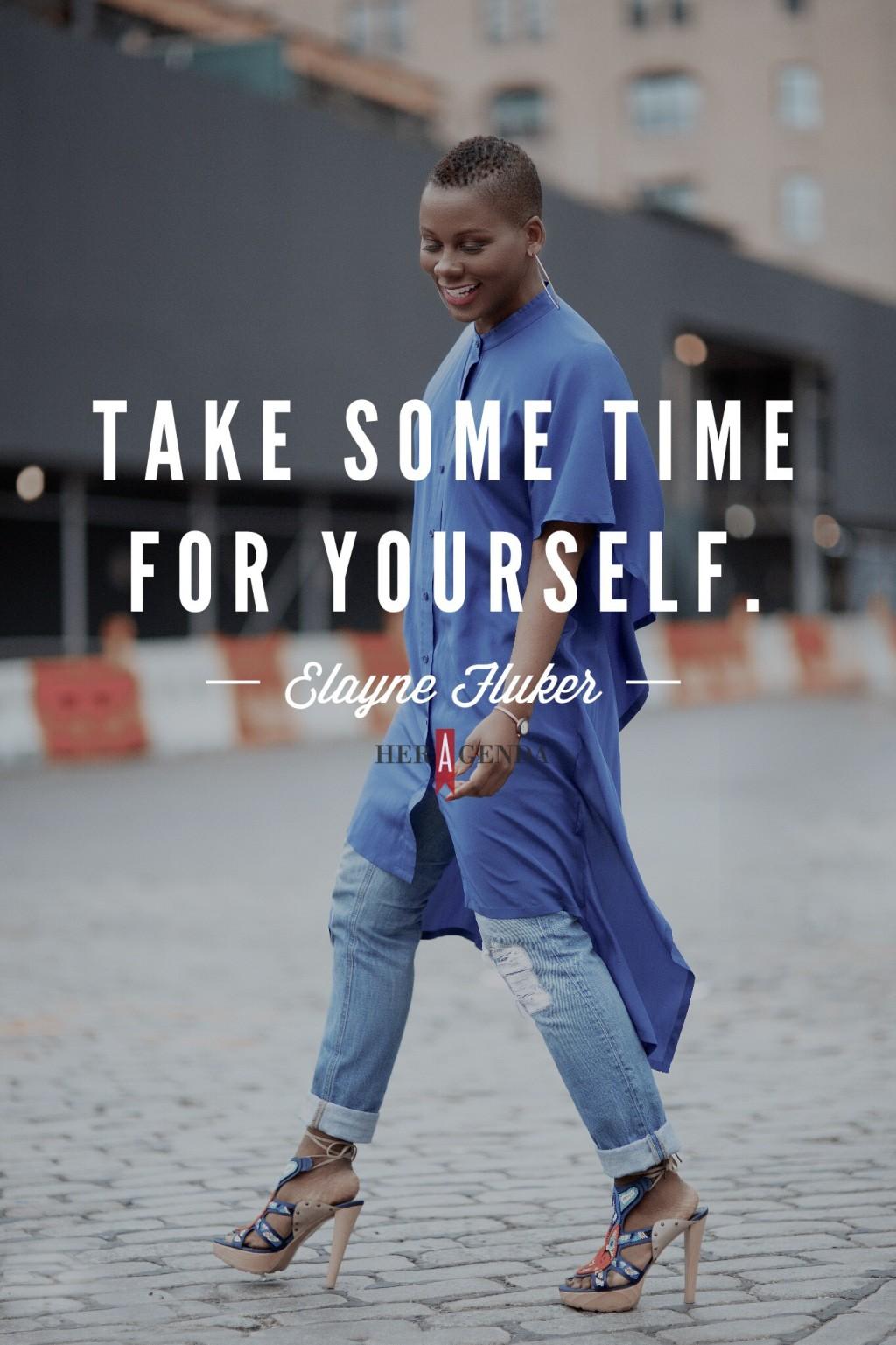 Her Agenda: What's a typical day like for you? Knowing no two days are alike, what goes into your agenda?
Elayne Fluker: I have my schedule set up so that certain days are podcast focused, meeting focused or content focused. So on Mondays, I try to ease into the week so I don't start off stressed. Every day when I wake up, I start by saying "thank you." That's my prayer every morning. And then I do 10 minutes of meditation a day. Tuesdays and Thursdays I reserve for podcast interviews. Wednesdays are when I do a lot of content and meetings. And Friday is when I do one-on-one calls and consultations. It gives me a sense of structure of how my week will go and when it changes, it changes.
Article continues below advertisement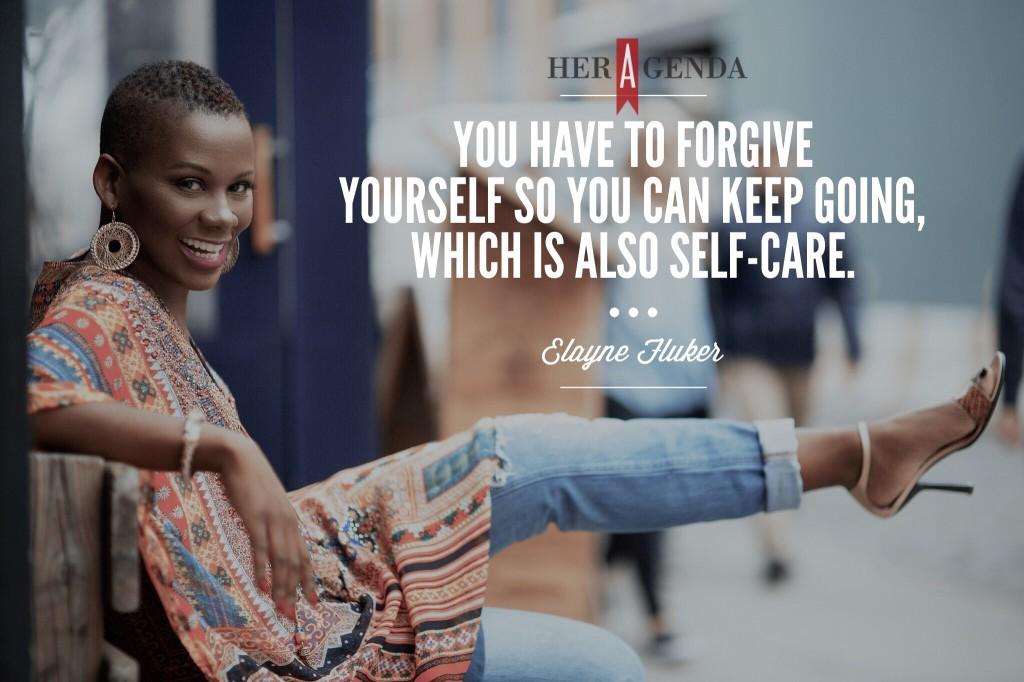 Her Agenda: That's a great strategy, I'm going to have to try that! What advice do you have for young women who want to follow in your footsteps?
Elayne Fluker: When it comes to your dreams, there may be days when you have to walk alone. During those days, walk tall. Not everybody is going to get it. Not everybody is going to understand. There's going to be days when you have to walk alone, carry your dream and keep going. It might be dark some of those days. Focus on your dream. Do the work and everything else will come. There are going to be times, I guarantee you, when you will have to walk alone and that's not a bad thing. It's something you get comfortable with, but when you have to walk alone, walk tall.
Article continues below advertisement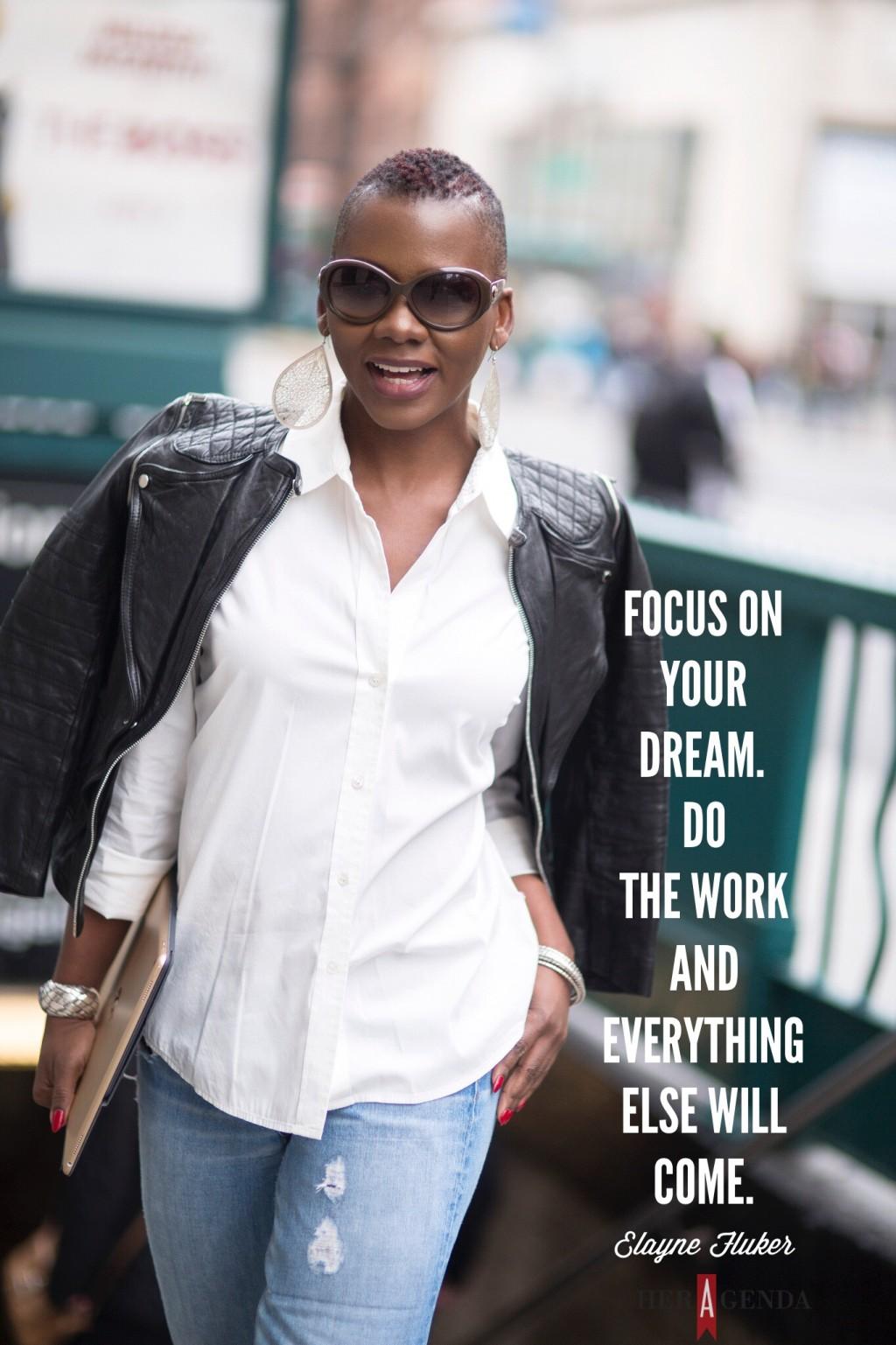 [Editor's note: This feature has been edited for length and clarity. It was published on February 6th 2017.]